The following cases are modeled on the interactive grand rounds approach. The questions within the activity are designed to test your current knowledge. After each question, you will be able to see whether you answered correctly and read evidence-based information that supports the most appropriate answer choice. The questions are designed to challenge you; you will not be penalized for answering the questions incorrectly. At the end of the activity, there will be a short post-test assessment based on the material presented.
CASE 1: PATIENT HISTORY AND PRESENTATION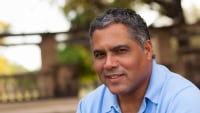 Jose, a Hispanic male, 58 years of age has been a construction worker living with type 2 diabetes (T2D) for the past 15 years. He presents to his endocrinologist for a follow-up visit to discuss his ongoing care and diabetes management. He reports that he finds it difficult to manage and monitor his glucose levels, often experiencing 2 to 3 episodes of hypoglycemia per week. Jose reports that during these periods of low blood sugar, he finds himself sweating, trembling, and may feel hungry. He has never had an episode of Level 3 (severe) hypoglycemia but is employed as a construction worker and fears "going low" at work. At his job, he often does not have the time to test his glucose levels and does not always have a break for lunch. On workdays, he arises at 5 AM, has coffee, pan dulce (a Mexican sweet bread), and occasionally a tortilla with beans and rice, and then drives 1.5 hours to his job site, where he starts work at 7 AM.
Jose's endocrinologist reviews his medical history, current treatments, and lab results with him to determine how to move forward in managing his T2D and problematic hypoglycemia (Table 1).
Table 1. Jose's Medical History
Patient information

58 years old
Height: 5'8"
Weight: 175 lb
BMI: 26.6 (overweight)

Personal and family medical history

History of T2D on maternal side
Diabetic retinopathy
Nonsmoker
Consumes 1 to 2 alcoholic beverages per day
Experiences 2 to 3 hypoglycemic episodes per week
Married and lives with his wife
Has 3 grown children

Prior/current treatments

Basal insulin
Metformin (maximal tolerated dose)
DPP-4 inhibitor
Rapid-acting insulin injection before dinner
Statin
ARB

Physical exam
Laboratory evaluations and symptoms

HbA1c: 8.3%
FPG: 115 mg/dL
Patient reports 2 to 3 episodes of hypoglycemia per week based on either blood glucose readings or symptoms

Resulting in level 2 hypoglycemic (moderate) events: < 54 mg/dL (3 mmol/L)

Usually noted by symptoms, as the patient typically does not have his blood glucose meter with him)

Accompanied by symptoms of sweating, trembling, and feeling hungry

Creatinine ratio: 45
eGFR: 67 mL/min/1.73 m2
ARB, angiotensin receptor blocker; BMI, body mass index; DPP-4, dipeptidyl peptidase-4; eGFR, estimated glomerular filtration rate; FPG, fasting plasma glucose; HbA1c, glycated hemoglobin.