The following cases are modeled on the interactive grand rounds approach. The questions within the activity are designed to test your current knowledge. After each question, you will be able to see whether you answered correctly and read evidence-based information that supports the most appropriate answer choice. The questions are designed to challenge you; you will not be penalized for answering the questions incorrectly. At the end of the activity, there will be a short posttest assessment based on the material presented.
This activity includes a discussion of therapeutic products that have not been approved by the US Food and Drug Administration (FDA) or European Medicines Agency (EMA), off-label uses of approved products, or data that were presented in abstract form. These data should be considered preliminary until published in a peer-reviewed journal. Readers should verify all information and data before treating patients or employing any therapies described in this or any educational activity. A qualified healthcare professional should be consulted before using any therapeutic product discussed herein.
CASE 1: A male patient in his late 70s presenting with difficulties reading
A 78-year-old man, Peter, is referred to you by his optometrist because of mildly reduced visual acuity, mild functional visual impairment and zones of atrophy surrounding the fovea in both eyes. Peter reports difficulty reading in low light, saying that "the words are jumbling sometimes and suddenly appear and disappear." He is active and fit for his age, though he has a history of tobacco use and has been treated for benign prostatic hyperplasia. His mother lost vision from age-related macular degeneration (AMD) in her 80s. His visual acuity is 6/9 in both eyes, and spectral-domain optical coherence tomography (SD-OCT) shows regions of signal hypertransmission into the choroid of > 250 microns with associated retinal pigment epithelium (RPE) loss.
Imaging. Peter's color fundus photography, fundus autofluorescence (FAF) images and optical coherence tomography (OCT) images show multifocal lesions surrounding the fovea in both eyes (Figures 1, 2, and 3).
Figure 1. Color Fundus Photography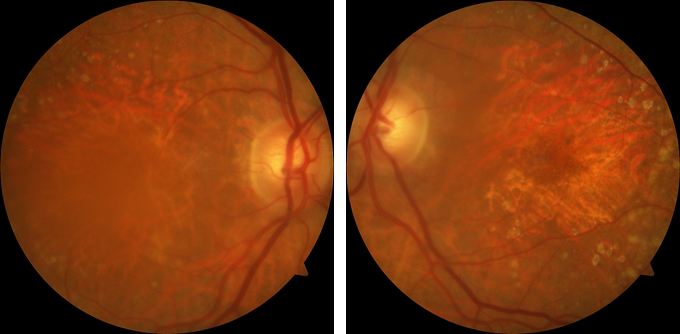 Color fundus photographs show crystalline (regressing) medium-sized drusen temporally with zones of atrophy in which the large choroidal vessels are seen more clearly in both eyes (images courtesy of Emily Luu).
Figure 2. Fundus Autofluorescence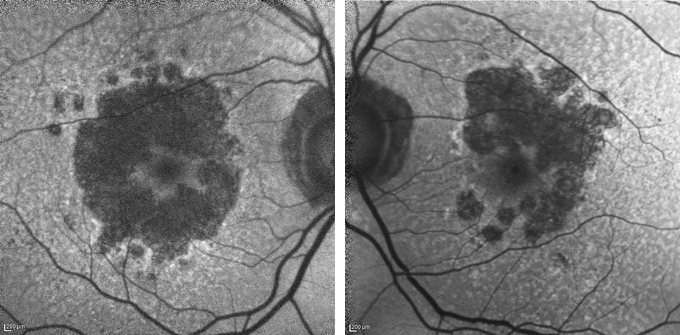 FAF shows hypofluorescence corresponding to RPE loss encircling the fovea in both eyes and almost completely in the right eye. The regressing drusen are moderately hyperautofluorescent. There is also hyperautofluorescence of the lesion boundaries, which is more pronounced along the outer than the foveal-facing borders (images courtesy of Emily Luu).
Figure 3. OCT Imaging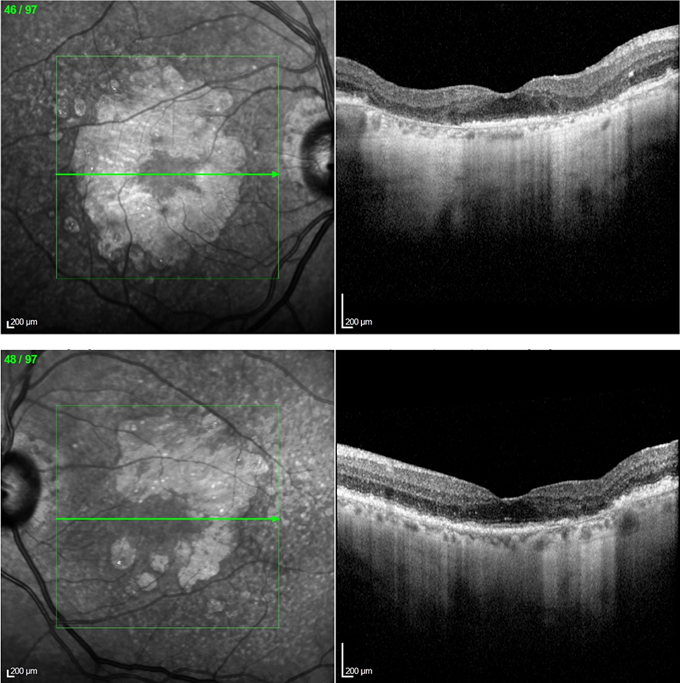 OCT shows increased penetration of the signal into the choroid in zones corresponding to the atrophy seen on FAF imaging. Subretinal debris is seen elsewhere, and there are also multiple hyper-reflective dots in the outer nuclear layer of the left eye (bottom image) (images courtesy of Emily Luu).