Clinical Context
The following message is repeated in households containing children and adolescents a million times daily in the United States: "If you don't a) finish your homework b) clean your room c) feed the dog, I'm taking away your games!"
Parents worry incessantly about the potential negative effects of video games, and children are always quick to reassure us that these games are somehow healthy. And this conversation is taking place increasingly frequently. The authors of the current study cite a 2022 survey of children between 2 and 17 years of age that found that 71% played video games, a 4 percentage point increase since 2018. Video games also have been associated with increased risks for depression and aggression.
However, the link between video games and cognition in children has been more controversial. Previous research has found that video gamers had improved measures of attention and visuospatial working memory capacity vs non-video gamers. The current study uses data from the Adolescent Brain Cognitive Development (ABCD) study, the largest long-term study of brain development among children, to demonstrate improved cognitive outcomes in video gamers vs non-video gamers.
Study Synopsis and Perspective
School-age kids who spend hours a day playing video games may outperform their peers on certain tests of mental agility, according to a new study published October 24, 2022 in JAMA Network Open.
This case-control study, performed by psychiatrists at the University of Vermont researching kids and gaming, compared cognitive performance and blood oxygen level-dependent signal in video gamers and non-video gamers during response inhibition and working memory.
Children were administered a screen time survey that asked how much time participants were engaged in different types of screen time on typical weekdays and typical weekend days. Screen time categories included in the survey can be found in the figure below.
Figure. Screen time categories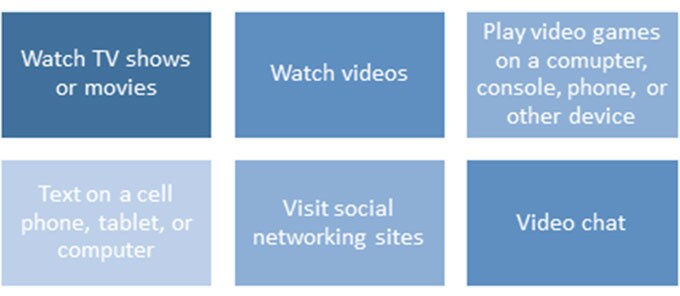 Response choices included none, less than 30 minutes, 30 minutes, 1 hour, 2 hours, 3 hours, or 4 hours. Non-video gamers were those who reported never playing video games. The video gamer group was selected as children who played at least 3 hours per day (21 hours per week) or more. This threshold was selected as it is above the recommended daily screen time guideline of 1 to 2 hours per day from the American Academy of Pediatrics.
Study Highlights
The study enrolled 2217 children at 9 or 10 years of age at 21 centers in the United States. Most recruitment was performed in schools, and participants were generally healthy. Participants included in the study had valid neuroimaging and behavioral data. Exclusions included common MRI contraindications, history of major neurologic disorders, and history of traumatic brain imaging.
All children underwent a health assessment that included an evaluation for psychiatric and behavioral issues. They also answered survey questions regarding average daily screen time, including video games.
Participants completed the Stop Signal Task, which assesses processing speed and impulse control, as well as the n-back task, which measures working memory.
Participants underwent functional magnetic resonance imaging (fMRI) during these tests to assess brain activity.
The main study analysis compared testing along with fMRI results in video gamers and non-video gamers. The study analysis accounted for demographic variables, as well as behavioral and psychiatric pathology.
1278 children who reported 0 hours of video gaming per week were compared with 800 gamers who played at least 21 hours of games per week. The mean age of children was 9.9 years, and 63.1% were female.
Video gamers and non-video gamers had generally similar characteristics at baseline, but video gamers were more likely to be male and have lower parental income.
The overall performance on cognitive testing fit within the norms of historical models. Video gamers demonstrated significantly better scores in both the Stop Signal Task and n-back task compared with non-video gamers.
Correct answers on the Stop Signal Test were associated with increased brain activity in the bilateral precuneous among video gamers vs non-video gamers. Incorrect answers were not associated with a difference in fMRI studies.
Similarly, video gamers had increased brain activity in the bilateral parts of the dorsal posterior cingulate gyrus, subparietal cortex, middle and superior frontal gyri, and precuneus.
fMRI study results demonstrated higher activity for video gamers among both girls and boys.
Adjustment for behavioral and psychiatric problems failed to alter the study's main conclusions.
What to know:
Children who regularly spent 3 or more hours per day gaming were able to score higher on standard cognitive tests that measured short-term memory and impulse control.
Video gaming, which requires active mental engagement, could have some benefits, but it is unclear whether gaming sharpens kids' minds or simply that children who excel in certain mental tasks are drawn to video games.
Gamers also showed higher levels of activity in parts of the brain associated with attention and working memory.
There was no evidence that video gamers who played at least 3 hours a day were worse off in terms of mental health, rule breaking, or attention problems than kids who never gamed.
The American Academy of Pediatrics recommends screen-time limits, and no changes are being recommended based on the findings, because although the study shows possible benefits, it also does not prove that video gaming and the genre of games played cause no harm.
This is a summary of the article "Association of Video Gaming With Cognitive Performance Among Children" published in JAMA Network Open on October 24, 2022.[1] The full article can be found on jamanetwork.com.
Clinical Implications
71% of US children and adolescents play video games, a 4 percentage point increase since 2018. Video games have been associated with increased risks for depression and aggression, but previous research has found that video gamers had improved measures of attention and visuospatial working memory capacity vs non-video gamers.
The current study demonstrates that school-age video gamers performed better than non-video gamers in measurements of impulse control and working memory. These differences were supported by evidence from fMRI of greater brain activity among video gamers.
Implications for the healthcare team: The healthcare team can advise children and caregivers that video games may improve certain cognitive functions. However, no changes to recommended screen time limits have been made.