What is the most common cause of chronic liver disease in the United States? Did you guess "alcohol-related liver disease"? How about "chronic hepatitis C"? At one time, yes, these were the most common causes. But not any longer. The epidemiology of liver disease in the United States has changed.[1] Today, the most common cause of chronic liver disease is nonalcoholic fatty liver disease (NAFLD). And 95% of people with NAFLD do not know they have it.[2]
Medscape recently sat with the world-renowned endocrinologist, educator, and fatty liver disease expert, Scott Isaacs, MD, to explore the alarming rise of NAFLD.
Medscape: What is NAFLD, and how does it impact patients?
Scott Isaacs, MD, FACP, FACE: NAFLD represents a spectrum of fatty liver disease ranging from steatosis to progressive steatosis with inflammation, fibrosis, cirrhosis, and finally, hepatic decompensation (Figure 1).[3] Fueled by the obesity and type 2 diabetes (T2D) epidemics, NAFLD affects approximately 1 in 3 people in the United States.[4] Of them, up to 30% have the more severe form of NAFLD, called nonalcoholic steatohepatitis (NASH).[5] In people with T2D, the prevalence of NASH may exceed 37%.[6] NASH is a risk factor for hepatocellular carcinoma, the leading indication for liver transplant in women, and soon to be the number 1 cause of liver transplant in men.[1,7]
Figure 1. The Spectrum and Progression of NAFLD[4]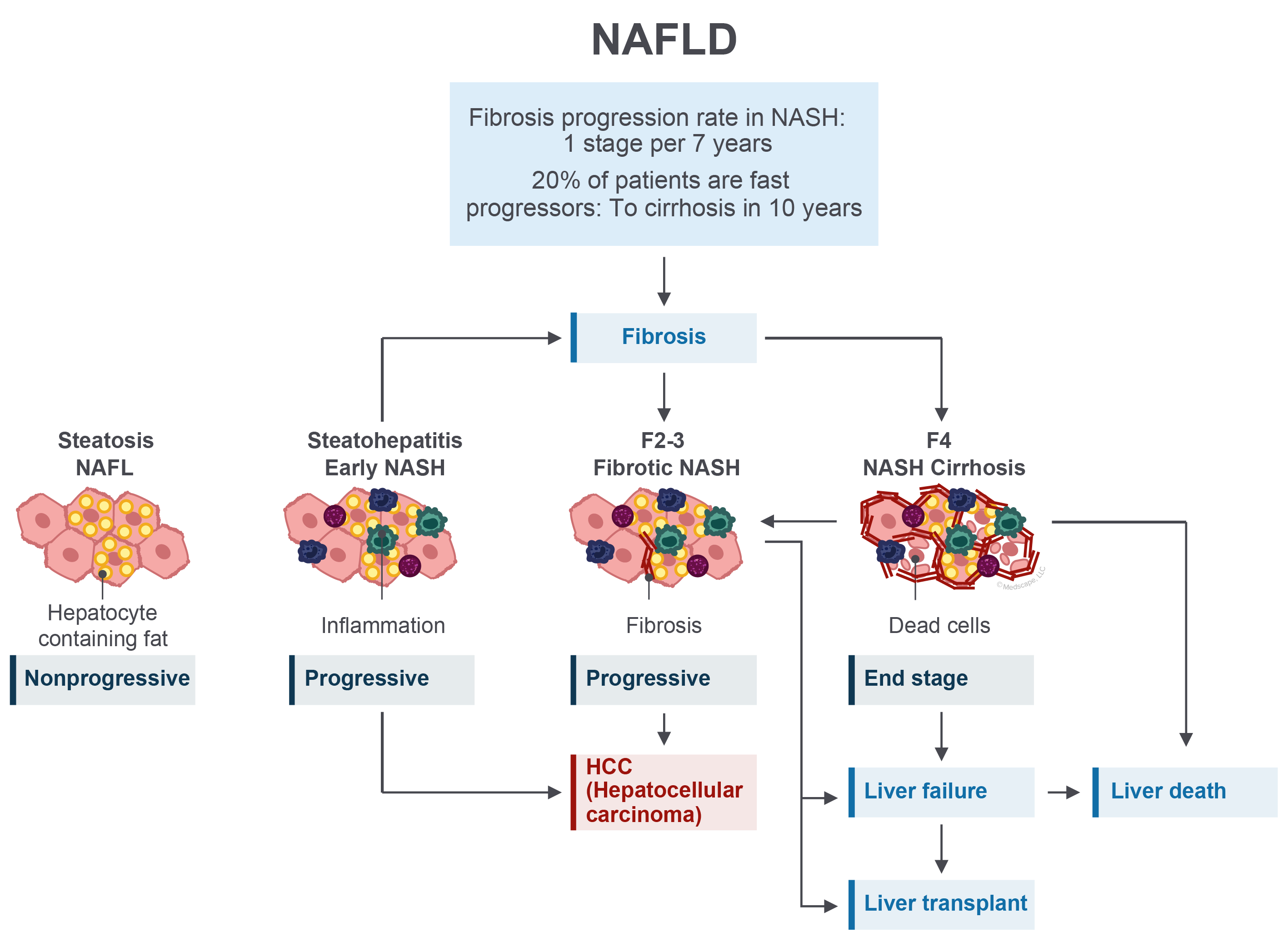 But the primary cause of death in people with NAFLD is not liver disease…
Please answer this question to complement your learning experience.