---

Credits Available

Physicians - maximum of 1.25 AMA PRA Category 1 Credit(s)™

Nurses - 1.25 ANCC Contact Hour(s) (0 contact hours are in the area of pharmacology)

Psychologists - 1.25 APAPO Continuing Education Credit(s)

Nurse Practitioners - 1.25 AANP Contact Hours (0 contact hours are in the area of pharmacology)

Physician Assistant - 1.00 AAPA hour(s) of Category I credit

You Are Eligible For
---
Target Audience and Goal Statement
This activity is designed for psychiatrists, psychiatric nurse practitioners (NPs), advanced practice nurses (APRNs), physician assistants (PAs), primary care practitioners, nurses, and the full multidisciplinary team of behavioral health professionals, such as psychologists, social workers, counselors, Veterans Affairs-affiliated practitioners, criminal justice professionals, community advocates, and others who seek to improve the care of patients with mental health disorders.
The goal of this session is to address the myths and misconceptions among clinicians and stakeholders from a variety of disciplines about TD to improve TD management and positively impact patient outcomes and quality of life.
Upon completion of this activity, participants will:
Discuss with patients the quality of life impact that even low Abnormal Involuntary Movement Scale (AIMS) scores may have in addition to stigma associated with TD.
Describe the clinical risk factors for the development of TD, the prevalence of TD in patients currently taking antipsychotic medication, and the impact on patient quality of life.
Utilize mechanism of action (MOA), key clinical trial data, and current guideline recommendations to appropriately implement and/or adjust therapy for TD symptom management without specialist referral.
Describe why anticholinergics are not recommended for TD treatment.
Implement strategies to ensure appropriate novel vesicular monoamine transporter 2 (VMAT2) dosage for each individual patient.
---
Disclosures
Disclosure of Relevant Financial Relationships
HMP Education is an independent provider of continuing medical education. HMP Education has no proprietary or financial interest in medical or healthcare products over which the FDA (USA) or EMA (EU) has regulatory authority.
In accordance with our disclosure policies, HMP Education is committed to ensuring balance, independence, objectivity, and scientific rigor for all accredited continuing education. These policies include assigning relevance to, and mitigating, all perceived or real relevant financial relationship (conflicts of interest) between any individual with control over the content and any ineligible company (commercial interest) as defined by the ACCME and CPME.
Any individual with control over accredited content, including planner, faculty, and reviewer, is required to globally disclose:
Individual relationship(s) or lack thereof, and its nature, with any/all ineligible company, and;
Any investigational, off-label, or non-FDA approved content or discussion
HMP Education has reviewed these disclosures, assigned relevance based on the relationship and scope of content, and identified those with the potential to compromise the goals and educational integrity of the education. Relevant relationships, or lack thereof, are shared with the learner.
Education has been independently peer-reviewed to validate content, mitigate identified financial relationships (conflicts of interest), and ensure:
All recommendations involving clinical medicine is based on evidence that is accepted within the medical profession as adequate justification for their indications and contraindications in the care of patients.
All scientific research referred to, reported, or used in accredited continuing education in support or justification of a patient care recommendation conforms to the generally accepted standards of experimental design, data collection, and analysis.
Content is appropriate, fair and balanced, unbiased, referenced, and non-promotional.
All relevant financial relationships have been mitigated.
---
---
Accreditation Statements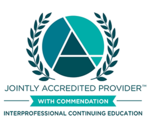 In support of improving patient care, HMP Education is jointly accredited by the Accreditation Council for Continuing Medical Education (ACCME), the Accreditation Council for Pharmacy Education (ACPE), and the American Nurses Credentialing Center (ANCC), to provide continuing education for the healthcare team.
For questions regarding the content of this activity, contact the accredited provider for this CME/CE activity noted above. For technical assistance, contact [email protected]
---
Instructions for Participation and Credit
There are no fees for participating in or receiving credit for this online educational activity. For information on applicability and acceptance of continuing education credit for this activity, please consult your professional licensing board.

This activity is designed to be completed within the time designated on the title page; physicians should claim only those credits that reflect the time actually spent in the activity. To successfully earn credit, participants must complete the activity online during the valid credit period that is noted on the title page. To receive AMA PRA Category 1 Credit™, you must receive a minimum score of 70% on the post-test.

Follow these steps to earn CME/CE credit*:
Read the target audience, learning objectives, and author disclosures.
Study the educational content online or printed out.
Online, choose the best answer to each test question. To receive a certificate, you must receive a passing score as designated at the top of the test. In addition, you must complete the Activity Evaluation to provide feedback for future programming.
You may now view or print the certificate from your CME/CE Tracker. You may print the certificate but you cannot alter it. Credits will be tallied in your CME/CE Tracker and archived for 6 years; at any point within this time period you can print out the tally as well as the certificates from the CME/CE Tracker.

*The credit that you receive is based on your user profile.