Materials and Methods
This systematic review and meta-analysis was conducted and reported in compliance with the Preferred Reporting Items for Systematic Review and Meta-analysis of Diagnostic Test Accuracy Studies (PRISMA-DTA)[10] and the Grading of Recommendations, Assessment, Development and Evaluation (GRADE) guidelines[11, 12]. The study protocol was published online prior to commencing the literature search[13]. Study selection, data extraction and risk of bias appraisal were undertaken by at least two authors (SH, GSD). Disagreements were resolved by obtaining the opinion of a third independent author (AL) and majority decisions prevailed.
Data sources
MEDLINE (www.PubMed.org) and EMBASE (www.Embase.com) were searched from inception until 30 March 2021, without language restrictions. The query combined appropriate database specific statements using Medical Subject Heading (MeSH) or Emtree terms, and filters for studies of diagnostic accuracy were applied[14–16]. Reference lists of retrieved papers were also hand-searched to identify additional studies. Complete search strategy details are reported in (Supplement eTable 1).
Study selection
We included all studies evaluating the test accuracy of OCTA and/or OCT against the reference standard FA in diagnosing mCNV. Any combination of OCTA and/or OCT test device assessed against FA was included. Exclusion criteria were case reports, review articles, non-human studies and any article type where primary data to calculate sensitivity and specificity against the reference standard was not completely reported. Endnote software (Clarivate Analytics) was used to manage references. After removal of duplicate studies, articles were screened by title and abstract to identify studies that needed to be retrieved in full text for detailed assessment of eligibility.
Data extraction and risk of bias assessment
Data regarding study design, population, index test and reference test procedures, and outcomes were extracted from eligible studies. All included studies were appraised for risk of bias using the following domains from the revised Quality Assessment of Diagnostic Accuracy Studies (QUADAS-2) tool:[17] (1) was consecutive or random sampling used to obtain the patient sample; (2) was a case-control design avoided; (3) were there inappropriate exclusions; (4) were index test results interpreted without knowledge of the reference standard results; (5) were reference standard results interpreted without knowledge of the index test results; (6) was there an appropriate interval between the index test and reference standard; and (7) were all patients included in the analysis. Studies were rated 'high', 'low' or 'unclear' for risk of bias, and results graphed using a 'traffic light system' as proposed in the GRADE guidelines[11]. The 'unclear' category was used only when insufficient data was reported to permit a judgement.
Data synthesis and analysis
Clinical recommendations. The GRADE guidelines for assessing certainty of the evidence with respect to study design, risk of bias, indirectness, inconsistency, imprecision and publication bias were used to frame clinical recommendations[11, 12]. The GRADE assessment framework is supported by published reporting guidelines including PRISMA-DTA and Cochrane[10, 18–20].
Outcomes
The primary outcome was test accuracy, calculated as the sensitivity and specificity of OCTA or OCT against FA at the initial patient presentation. Downstream consequences of care (management decisions, health outcomes, resource utilisation)[21] delivered using OCTA or OCT alone vs FA were investigated as secondary outcomes.
Statistical analysis
Given the limitations of all available statistical models and methods to test for publication bias in test accuracy studies, and lack of a standardised method to register test accuracy studies[12], we intended to assess publication bias using Deeks' test[22] only if 10 or more studies were identified for inclusion.
Pooled estimates with 95% confidence intervals (95% CI) of sensitivity and specificity for each index test (OCTA and OCT) were obtained using a bivariate model. Estimates of the positive likelihood ratio, negative likelihood ratio, and positive and negative predictive values were back-calculated from the pooled estimates of sensitivity and specificity. Study differences in patient populations, patient selection, risk of bias, clinical setting, disease severity, scan density, scan quality and retinal thickness were considered as sources of heterogeneity.
All statistical analyses were conducted using RevMan 5.4.1 (The Cochrane Collaboratio®, Oxford, England, 2020), and the SAS macro MetaDAS v1.3[23].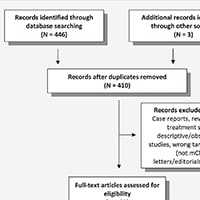 Enlarge