The most recent Centers for Disease Control and Prevention (CDC) guidelines provide a streamlined approach to assessing patient risk using the following criteria: inconsistent condom use, sex with an HIV-positive or status-unknown partner, or diagnosis with a bacterial STI in the past 6 months (Figure 1).[2] For PWID, the guidelines recommend that providers ask whether patients share needles.[2] Providers can also use the "5 Ps," a defined format for taking a sexual history that involves asking patients about their Partners, Practices, Protection From STIs, Past History of STIs, and Pregnancy Intention.[4]
Personally, I really like the CDC's new approach of asking 3 main questions of sexually active patients and 2 questions of PWID. This strategy keeps us from labeling people and putting them boxes where they may not necessarily belong. Patients may fall within some common high-risk groups that may confer inaccurate levels of perceived or assumed risk, such as MSM or people who trade sex to meet their needs.[3] Patients in nontraditional risk groups, such as adolescents[5] or cisgender women,[6] may be overlooked if providers only discuss PrEP with "typical" high-risk patients.[3]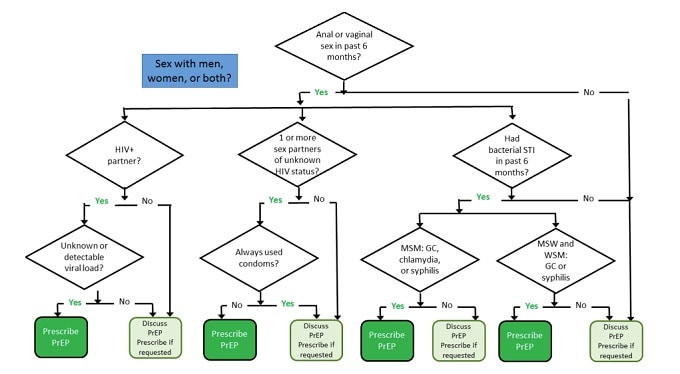 GC, gonorrhea, WSM, women who have sex with men.
Medscape: PrEP has been available in some form since 2012; why is coverage still relatively low in the United States?
Dr McGee: PrEP is now available in some form for all sexually active populations, including adolescents.[2] As of 2020, less than 10% of the more than 1 million people vulnerable to HIV in the United States were using PrEP.[7] The reasons behind the low usage can be divided into patient-level, provider-level, and system-level barriers to care.[8] Patients face issues with stigma as well as monetary and structural barriers to care, such as lack of access to efficient transportation systems or lack of funding in the local healthcare system.[8,9] For some groups, mistrust of the medical system due to historical and ongoing discrimination may lessen their interaction with preventative health care, leaving them at higher risk of HIV infection.[10-13]
Knowledge gaps, among both providers and patients, are a significant barrier in many areas.[8,14,15] Certain patient populations, such as PWID, may be unaware that they could benefit from PrEP.[16] Providers may also avoid prescribing PrEP due to fears about risk compensation; in reality, patients who would benefit from PrEP are generally already engaged in behaviors that might increase the risk.[8,15] Providers may lack training in identifying at-risk patients, or they may perceive prescribing PrEP as complicated.[17] In my experience, PrEP isn't complicated at all. If providers can take time to do continuing education on PrEP, I think they'll find that it fits very nicely into their clinical practice and mirrors a lot of the other health promotion/disease prevention work that they're already doing.
Medscape: What are some strategies that could be used to increase PrEP usage among these vulnerable groups?
Dr McGee: There are many reasons that folks aren't regularly engaging with health care. Stigma is a major factor, as are lack of health insurance or other financial means to pay for health care.[8] Thus, nontraditional sites are one way for people to potentially be prescribed or at least educated about PrEP. School- and university-based student health centers are a great example -- people between the ages of 13 and 34 are underserved in PrEP care and education.[13] Lesbian, gay, bisexual, transgender, queer/questioning (LGBTQ)+ centers could be another nontraditional avenue for reaching populations that might really benefit from PrEP.
Community-based organizing and advocacy are needed to identify the best solutions for each population. Other strategies such as mobile health clinics for people experiencing homelessness or syringe exchange sites for PWID have a lot of potential to reach underserved populations.
Physical locations aren't the only way to reach PrEP candidates. We use technology all the time within the healthcare setting -- reaching our patients should be no different. New, innovative methods can be used to access PrEP candidates, especially young people, such as employing telehealth[18-20] and apps[21] to increase education and coverage.
Medscape: What types of PrEP treatment are currently available?
Dr McGee: Currently, we have 3 different Food and Drug Administration (FDA)-approved regimens for PrEP. Regardless of the drug or delivery regimen, all patients should be screened for HIV infection before beginning PrEP, and HIV testing should be repeated every 2 to 3 months.[2] Oral PrEP is the most established and well-known delivery route, and there are currently 2 options: tenofovir disoproxil fumarate/emtricitabine (TDF/FTC) and tenofovir alafenamide/emtricitabine (TAF/FTC).[2] TDF/FTC is suitable for all sexually active patients weighing more than 77 pounds (35 kg), whereas TAF/FTC is approved for adult and adolescent sexually active men and transgender women at risk of HIV acquisition.[2] A double-blind phase 3 trial showed that daily TAF/FTC was noninferior to TDF/FTC (incidence rate ratio, 0.47; 95% CI: 0.19, 1.15), although TAF/FTC exhibited superior metrics for bone density and renal endpoints.[22] Generally, patients must take medication daily to effectively reduce the risk of HIV infection, but TDF/FTC can be delivered in pericoital dosing in which patients take pills before and after sexual activity as needed.[2]
A newer product is the cabotegravir long-acting injectable (LAI), which was approved by the FDA in late 2021.[23] Intramuscular injections are given every 8 weeks for sexually active adults and adolescents (> 77 pounds [35 kg] in weight).[2,23] Prior to injection, patients can be prescribed oral cabotegravir for approximately 1 month to ensure that they can tolerate the LAI regimen.[2] In clinical trials, cabotegravir LAI delivery was generally well tolerated, with injection-site reactions being the most commonly reported adverse effect.[24] In a recent double-blind clinical trial with 4566 adult participants, cabotegravir LAI showed higher efficacy than TDF/FTC oral PrEP, likely because of differences in adherence in the oral delivery group (HR, 0.34; 95% CI: 0.18, 0.62).[24]
Medscape: What are the advantages and disadvantages of oral PrEP delivery vs LAI delivery from a logistical perspective?
Dr McGee: Delivery method needs to be tailored for each patient. For some patients, cabotegravir injections are an attractive option because they may find it difficult or inconvenient to take a pill every day.[18,19] For others, taking a daily pill is not a barrier and can even provide a greater sense of agency over one's own care.[15,19,25,26] Patients with a fear of needles might prefer oral delivery, whereas others might gravitate toward LAI delivery to reduce the stigma associated with having PrEP medication in their cabinet. Patients who take PrEP risk being labeled as promiscuous, and they also risk being assumed HIV-positive because the same medications that are used for prophylaxis are used to treat active HIV infection.[27]
At the provider level, there are advantages and disadvantages to both delivery routes. LAI delivery has the advantage of allowing closer monitoring of patients because they must come into clinic more frequently. Conversely, some patients may struggle to adhere to an injection schedule, which can put them at risk of HIV infection -- or even drug-resistant HIV infection -- if they miss an appointment.[28]
At the systems level, I think LAI treatment may be more difficult to implement in many healthcare settings because of the way our healthcare system is set up in the United States. It is not as simple as writing a prescription and sending the patient to the pharmacy. Private practices risk losing money if they have cabotegravir on hand without knowing whether a patient's health insurance formulary allows for reimbursement for LAIs. Discussions with insurance regarding approval can take a lot of time that realistically just isn't available in many primary care clinics. Oral delivery can be more convenient, although access to reliable care and pharmacy may represent a barrier.[29]
Medscape: What would a team-based approach to implementing PrEP look like in clinical practice?
Dr McGee: An important aspect of team-based care is ensuring that all staff who work with patients feel comfortable talking about sexual health so that patients can be screened appropriately. In primary care practices, frontline staff, such as medical assistants or nurses, are often the ones screening patients for substance use, depression, and other mental health challenges with standardized questionnaires. We can include sexual health and other health promotion/disease prevention activities in this process to guarantee that all patients are being screened for HIV risk, which also results in higher rates of HIV testing.[30] In using this strategy and including all team members in the process, we're normalizing the idea that discussions about sexual health should be a routine part of well-patient care.
In my practice, we're fortunate to have a well-developed collaborative approach to patient sexual health. We work together to do a same-day start, which is now the standard in PrEP care (Figure 2).[31] The patient starts by talking with our social workers for a psychosocial assessment before speaking with a medical provider, which is typically our PA. Next, our on-site pharmacist does an insurance coverage analysis to help the patient understand what their out-of-pocket costs are going to be and then counsels them on adherence and side effect management. The patient is then able to begin the medication as soon as they leave the appointment, which has been shown to greatly improve patient uptake and adherence.[31]
Figure 2. Timelines for Standard, Same-Day Prescription, and Same-Day Start PrEP Delivery[31]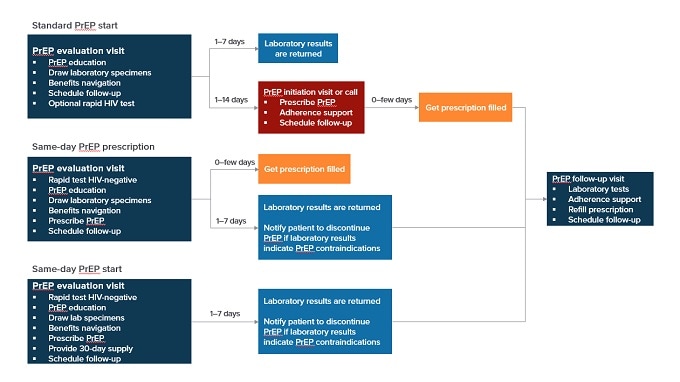 Medscape: Communication is a big part of PrEP uptake and adherence. How can NPs, PAs, and other members of the team communicate more effectively with patients about HIV risk?
Dr McGee: Self-reflection is important here -- you may find that you need additional education about language or terminology to help you effectively communicate with your patient population about sexual health. Deficits in our own knowledge, such as lack of clarity on common vernacular terminology, can be uncomfortable. If you don't know exactly how to ask somebody whether they have anal sex, you're probably not going to ask. Many excellent educational resources on PrEP can be found online. The National Clinician Consultation Center has a PrEP phone consultation line,[32] which is also fantastic for providers who don't have a colleague or mentor who can answer their PrEP-related questions. Another great resource is the CDC's online HIV Risk Estimator Tool.[33] You can introduce the tool to your patients or even do it together while they're in the office. This set structure can alleviate some discomfort during conversations about PrEP and can give the patient a way to continue assessing their own risk outside the healthcare setting.
Medscape: What advice would you offer providers with patients who may feel uncomfortable discussing their sexual health or HIV risk?
Dr McGee: In my experience, patient discomfort is very rare in clinical practice if providers approach the topic in a way that helps patients feel at ease. Risk reduction in general is very much within the NP and PA wheelhouse, and sexual health can be folded into the normal series of screenings.[30] My experience has been that if a patient-provider pair become comfortable talking about things like sexual health, they also then become comfortable talking about other sensitive topics like substance use.
That said, there might still be patients who are uncomfortable talking about sex in general or HIV risk in particular. In my practice, I let them know that I understand, and that I will bring this topic up again in a subsequent visit. In communicating your intentions to the patient, you've let them know that PrEP and HIV risk are something you are willing to talk about. In acknowledging their discomfort and opening a door for further conversation, you have started building a relationship with your patient. That relationship is what helps patients become comfortable talking about their sexual health with you as their provider.
Medscape: What is the key takeaway that you'd like providers to have regarding successful team-based implementation of PrEP in practice?
Dr McGee: Providers should consider patient sexual health an important part of overall health and well-being. PAs and NPs have a lot of experience with risk reduction and health promotion/disease prevention in the primary care setting; PrEP is an extension of the skills that providers already have. I use the same approach to talk with my patients about PrEP as I do to talk about smoking cessation. Creating that frameshift in thinking about sexual health within one's own practice can be challenging, but, ultimately, it can also be very rewarding. We need to take extra care in reaching groups with mistrust of the healthcare system or those who might need extra help overcoming fears about stigma. Integrating PrEP discussions and prescription into routine preventative care will result in increased HIV testing and better outcomes for our patients and for the community as a whole.[30]