The following cases are modeled on the interactive grand rounds approach. The questions within the activity are designed to test your current knowledge. After each question, you will be able to see whether you answered correctly and read evidence-based information that supports the most appropriate answer choice. The questions are designed to challenge you; you will not be penalized for answering the questions incorrectly. At the end of the activity, there will be a short post-test assessment based on the material presented.
CLINICAL CASE 1: Patient History
A 23-year-old White male university student presented with subacute vision loss in the left eye and reduced color vision in the right eye after a party at a friend's house. During the evening he accidentally walked into an open kitchen cupboard door while intoxicated due to excess alcohol drinking and has a small laceration to his right forehead. No altered consciousness or headaches were reported, and the patient has not noted any pain in his eyes. He is a moderate cigarette smoker with the occasional use of cannabis socially. He has no current medical conditions or medication, and he wears prescriptive lenses (left eye: -3.50; right eye: -3.00) with no astigmatism corrections.
Case 1: Clinical Exam
Visual assessments showed a central scotoma in the left eye and visual acuity of 20/200. Color vision was impaired in both eyes. A full ophthalmologic exam was performed including assessment of visual acuity, visual field, color vision, contrast sensitivity, fundoscopy (Figures 1 and 2), and optical coherence tomography (OCT) of both eyes.
Figure 1. Fundoscopy Images of the Left and Right Eyes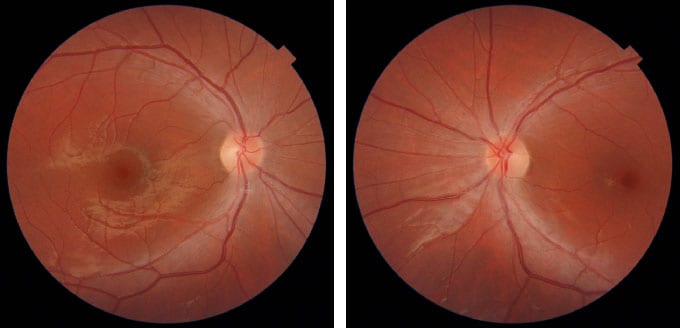 Images courtesy of Valerio Carelli, MD.
Images courtesy of Valerio Carelli, MD.