Medscape: Dr Samantha Hill, director of Diversity, Equity, and Inclusion for Graduate Medical Education and assistant Professor in the Department of Pediatrics, Division of Adolescent Medicine at the University of Alabama at Birmingham, joins us today to discuss best practices for implementing pre-exposure prophylaxis (PrEP) treatment in primary care settings. Dr Hill, we appreciate you taking the time to speak with us.
Dr Hill: Thank you for having me.
Medscape: Let's get started. How does clear communication about PrEP improve patient outcomes and help to reduce the spread of HIV?
Dr Hill: We need to start one step before clear communication: we need to make sure clinicians communicate about PrEP at all. As recently as 2017, an online survey found that only 28% of primary care providers felt comfortable discussing PrEP, and only 17% had previously prescribed PrEP.[1] We also need to think about how we talk about HIV and PrEP. A sex-positive approach can create positive rapport, opening the door for providers to have full, productive conversations that help patients to understand their risk levels.[2, 3]
Second, I believe in communicating that PrEP is for everyone. PrEP can benefit patients regardless of age, gender, sexual identity, sexual preference, gender identity, or where they live.[4] PrEP has been on the market since 2012 and has been proven to be safe and effective.[1,4] Most patients who are prescribed PrEP already know about the benefits and actively initiate those conversations with their providers,[5] while those who are unaware of PrEP may miss an opportunity to protect themselves and their sexual partners.[6]
What are some of the major risk factors for HIV that would make a patient a good candidate for PrEP?
Most HIV exposure (89%) happens through sexual contact.[7] The standard risk groups are men who have sex with men (MSM), persons who inject drugs (PWID), people who engage in sex work and individuals with history of other sexually transmitted infections (STIs), unclear partner HIV status, multiple sexual partners, or sex without a condom.[8] However, not everyone in these categories needs PrEP, and many people who don't fit established risk profiles can benefit from PrEP.[16; 4]
Patients and providers both need to understand that risk is not just from individual behavior, but from the behaviors of all people in a behavioral network.[9] For example, sexually active heterosexual women or people in monogamous relationships who could benefit from PrEP due to network factors rather than individual risk factors might be overlooked during patient-provider discussions.[9]
What are some barriers that prevent access to PrEP among individuals who are at risk of contracting HIV?
There are many factors that affect PrEP uptake and adherence among risk groups [Figure 1].[10] Both patients and providers have knowledge gaps that can limit PrEP access.[11,6] Providers may not discuss PrEP, or they may deny PrEP for patients who they believe don't need PrEP.[12 ] Stigma surrounding PrEP usage, whether from a patient's partner, community or the healthcare system, also prevents some at-risk individuals from accessing care.[13,5]
Transportation can be another barrier in areas with inefficient public transit systems[10] For individuals who work nine to five, clinic visits during the day may not be feasible. When patients must visit multiple locations for care, they lose time and income. These barriers can cause major challenges for adherence, especially with treatments like PrEP that require repeat visits and testing.[10] PCPs and specialists like gynecologists can help by integrating STI and HIV testing and PrEP discussions into routine exams and other preventative checkups.
Figure 1. Barriers to PrEP Usage Among Black and Latinx Transgender Women in Southern California[10]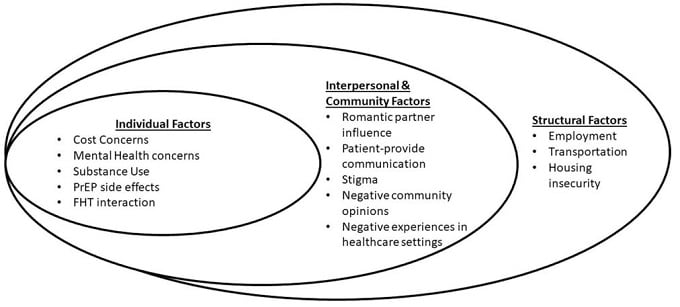 Source: Reprinted by permission from Copyright Clearance Center: Springer Nature. AIDS and Behavior. Ogunbajo, A., et al. Multilevel Barriers to HIV PrEP Uptake and Adherence Among Black and Hispanic/Latinx Transgender Women in Southern California. 25, 2301–2315 © 2022 Springer Nature Switzerland AG (2021).
In your own practice, what strategies do you use to have open conversations about sexual history with your patients?
I try to relate patient sexual history to aspects of their lives like mental health, substance use, and future goals to better incorporate their sexual health into their lifestyle overall. I ask patients in my clinic whether they can tell me a little bit about their sexual encounters, whether those experiences have been pleasurable, and if there are things that bother or worry them about sex. After that, I let the patient lead the conversation. This gives me a better idea of how to frame the conversation about sex, about HIV prevention, and then about PrEP specifically.
It's important to be mindful of patients who may feel uncomfortable talking about sex or HIV risk or who belong to communities where it is not culturally acceptable to talk about sex. Make sure to give patients space to share the values of their culture or religion. Goal setting around sexual health can help patients internalize their risk. These individuals also benefit from education about sex or reproductive health that can be found online.
What questions should providers be asking their patients when taking a sexual history?
The CDC recommends using the "5 Ps": Partners, Practices, Protection from STI, Past History of STIs, and Pregnancy Intention.[14] The 5 Ps are a useful framework, but I always counsel my students to avoid just reading the 5 Ps off the CDC's website. Providers should be confident about the Ps so they sound authentic when discussed. This is not about being a cool doctor. It's about creating a comfortable environment for patients and safeguarding their health. For that reason, I avoid using the word "risk," which can shut down conversations and imply judgment. I also add a few additional Ps in my clinic to link harm reduction with overall sexual health: Pleasure, Pronouns, and Permission.
Permission is key when taking a sexual history. Try asking: "Can you tell me about the first time you chose to have sex? Have there been times where you haven't been able to choose to have sex, but you had sex anyway?" In my experience, this question can reveal risk factors for HIV[15] that would not have come up in conversations about consensual sex.
The best way to think about HIV prevention is to really think about the entire context, including drug use and mental health.[16] It's important to counsel PWID[17] and young people[18] about being sober when deciding with whom to have sex. This holistic approach to patient health ensures that important conversations about HIV risk and PrEP are not overlooked when thinking about patient wellbeing.
What advice would you have for providers who feel uncomfortable talking about sex with their patients?
My first suggestion would be to partner with your network. If there is another provider on your team who is more comfortable talking about sex and risk, do an appropriate bridge at the end of your session. Every clinic should have a PrEP champion who is very comfortable identifying risk, prescribing the medication and helping the patient figure out how to pay for treatment.[19]
The things that help me most are being comfortable with silence and being comfortable with awkwardness, especially with younger populations and populations who may have had negative experiences in healthcare. I ask questions and listen to how they respond verbally, but I also watch how they respond physically. I may see from how their body responded to the question that I need to dig deeper. Being comfortable with that silence really allows the patient time to reflect and possibly respond.
It is also helpful to have these conversations repetitively with patients who seem resistant to PrEP use. I usually use language like: "Thank you for sharing the reasons why you're not interested in PrEP. Is it okay if I bring this up at the next visit?" Sometimes, my patients who need it most will say no. You must respect that and keep the door open.
How can providers ensure fear of stigma doesn't halt conversations about PrEP or safe sex practices?
All of the "isms" -- racism, sexism, classism, and so on -- impact how patients are treated[20] and how they interpret care. Stigma is not limited to the outside world – PrEP users may experience bias in our own clinics and pharmacies. Medical mistrust already fuels low PrEP uptake among Latino sexual minority men,[21] Black people,[22, 23] and transgender persons,[7] among others. Clinicians should avoid making assumptions about patients and HIV risk because they fit within the box that has been categorized as "at risk." Clinicians with faulty assumptions, such as fears about risk compensation or patient adherence, may avoid prescribing the treatment.[6,11,22]
When caring for adolescents, patients may be concerned about parental access to sensitive health information.[24] The AAP Committee on Adolescence and Council on Clinical and Information Technology suggests that providers consider adjusting viewing settings within patient-accessible portals to allow for greater privacy.[24] Listing PrEP on the Explanation of Benefits can also be problematic for some individuals, such as those with shared insurance with a partner or parent. It's critical to assure patients that our discussions about HIV prevention are completely confidential and to educate patients about potential disclosures of PrEP use.[2,24,25]
The literature on PrEP use shows clear inequities in access and treatment. Which groups are most affected?
There are barriers to PrEP access at the patient, provider, and system levels.[ 26] These barriers disproportionately affect certain groups; race, age, geographic location, sexuality, and sexual identity all impact level of HIV risk [Figure 2].[7] Racial minorities, such as Black, Latinx, and Indigenous populations, historically have higher levels of medical mistrust and lower access to healthcare, which can exacerbate already disproportionate HIV burdens among certain populations.[7] Transgender women have less access to HIV preventative care.[3] Individuals between the ages of 13 and 34 years represented 57% of new HIV cases in 2020,[7] but they're also the least likely to know that they have HIV[27] or to seek treatment.[28]
Rural areas, especially in the South, deal with inequities caused by prejudice against groups who use PrEP and limited access to care.[7] Patients in these areas may be uncomfortable picking up medication or being seen at a clinic.[13] Things like mobile delivery in nondescript vehicles are going to be key to reaching rural areas.[29] Seven of the states that are designated as key priority areas for HIV are on that list because of their rural burden.[7]
Figure 2. Disparities in HIV Burden Among Different Age, Race/Ethnicity, and Geographic Cohorts[7]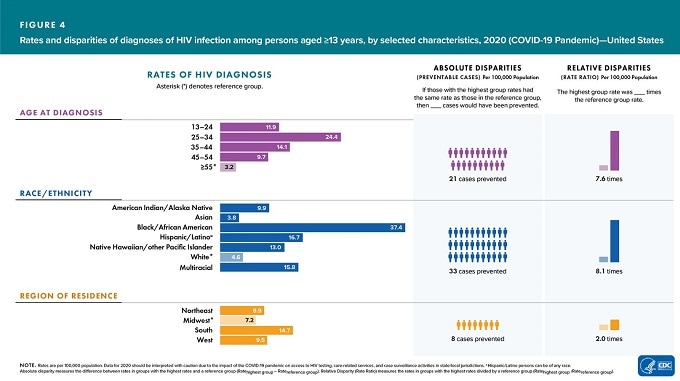 Rates are per 100,000 population. Note that data may have been impacted by the COVID-19 pandemic. Source: Centers for Disease Control and Prevention. HIV Surveillance Report, 2020; vol. 33.
How can PrEP coverage be increased in the Southeastern United States?
Telehealth has the potential to really help some of these populations.[13] Even so, some regions may have low financial resources or limitations on the use of telehealth over in-person visits, so accessing patients remotely is not a cure-all.
PrEP should be presented as a menu of options, similarly to how we look at birth control. In one electronic survey that looked at cisgender, HIV-negative Black women in the South, PrEP medication formulation was the strongest predictor of willingness to use PrEP (37.5% importance).[13] Different patients have varying preferences: some individuals may prefer the agency of daily PrEP pills while other patients might like the convenience and discreet nature of a long-acting injectable (LAI).[6,13,30, 31]
What is the key takeaway that you'd like providers to have from reading this article?
Providers should feel more comfortable identifying patients who may be at risk from HIV and realize the importance of taking thorough sexual histories and mentioning PrEP to all eligible patients. The CDC's "5 Ps" are a great jumping-off point for implementing comprehensive sexual histories in one's own practice.[14] Many at-risk patients are not aware that they are at risk or that they themselves could benefit from PrEP,[6] and equity cannot be achieved while only people who already know about PrEP can get it. As providers, we need to step up and ensure that all patients are afforded the same opportunities to protect themselves and the community from HIV spread.
This transcript has been edited for style and clarity.