Abstract and Introduction
Introduction
Inhalation of asbestos fibers can cause malignant mesothelioma, a rapidly progressing and lethal cancer of the mesothelium, the thin layer of tissues surrounding internal organs in the chest and abdomen. Patients with malignant mesothelioma have a poor prognosis, with a median survival of 1 year from diagnosis. The estimated median interval from initial occupational asbestos exposure to death is 32 years (range = 13–70 years).[1] Occupational asbestos exposure is most often reported in men working in industries such as construction and manufacturing; however, women are also at risk for exposure to asbestos fibers, and limited data exist on longer-term trends in mesothelioma deaths among women. To characterize deaths associated with mesothelioma and temporal trends in mesothelioma mortality among women in the United States, CDC analyzed annual Multiple Cause of Death records from the National Vital Statistics System for 1999–2020, the most recent years for which complete data are available. The annual number of mesothelioma deaths among women increased significantly, from 489 in 1999 to 614 in 2020; however, the age-adjusted death rate per 1 million women declined significantly, from 4.83 in 1999 to 4.15 in 2020. The largest number of deaths was associated with the health care and social assistance industry (89; 15.7%) and homemaker occupation (129; 22.8%). Efforts to limit exposure to asbestos fibers, including among women, need to be maintained.
Malignant mesothelioma deaths were identified for 1999–2020 and included any death certificates for which an International Classification of Diseases, Tenth Revision (ICD-10) code for malignant mesothelioma was listed in the CDC WONDER Multiple Cause of Death mortality data.* Given the predominantly occupational etiology and long latency of mesothelioma, analysis was limited to deaths of women aged ≥25 years. The annual death rate (per 1 million women) was age-adjusted to the 2000 U.S. standard population. Age-adjusted death rates were mapped by state using geographic information system software (MapInfo Pro v2019.3; Precisely). Joinpoint Regression Program† software (version 4.9.0.0.; National Cancer Institute) was used to evaluate time trends in deaths and log-transformed age-adjusted rates. Standard information about the usual industry and occupation§ was identified in the 2020 NCHS Mortality Multiple Cause of Death file for decedents in 46 states and New York City.¶ Occupations classified according to the four-digit 2012 U.S. Census Bureau coding system and the two-digit simple industry recode based on the 2012 North American Industry Classification System** were examined using SAS software (version 9.4; SAS Institute).
During 1999–2020, 12,227 (age-adjusted death rate: 4.59 per 1 million women) malignant mesothelioma deaths occurred among women aged ≥25 years in the United States; 11,093 (90.7%) occurred among women aged ≥55 years, 11,447 (93.6%) occurred among White women, and 11,561 (94.6%) among non-Hispanic women (Table 1); 11,499 (94.0%) had malignant mesothelioma listed as the underlying cause of death. Mesothelioma deaths were classified as mesothelioma of pleura (968; 7.9%), peritoneum (1,119; 9.2%), pericardium (35; 0.3%), other sites (1,385; 11.3%), and unspecified location (8,842; 72.3%). The annual number of malignant mesothelioma deaths increased 25%, from 489 in 1999 to 614 in 2020 (p<0.001), and the annual age-adjusted death rate declined from 4.83 per 1 million women in 1999 to 4.15 in 2020 (p = 0.038). During 1999–2020, the annualized state mesothelioma age-adjusted death rate exceeded 6.0 per 1 million women in seven states: Louisiana, Maine, Minnesota, Montana, Oregon, Washington, and Wisconsin (Figure).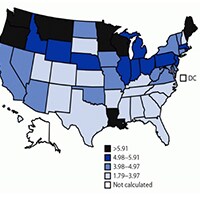 Enlarge
Industry and occupation information was available for 567 (92.3%) of 614 malignant mesothelioma deaths among residents of 47 jurisdictions that occurred in women aged ≥25 years during 2020 (Table 2). Among 21 industry groups, the three with the most deaths were health care and social assistance (89; 15.7%); education services (64; 11.3%); and manufacturing (50; 8.8%). One hundred thirty-two occupations were reported on death certificates for malignant mesothelioma decedents among women during 2020. The three occupations with the highest numbers of mesothelioma deaths were homemakers (129; 22.8%); elementary and middle school teachers (32; 5.6%); and registered nurses (28; 4.9%).