---
Target Audience and Goal Statement
This activity is designed to meet the educational needs of medical oncologists, surgical oncologists, urologists, and other healthcare professionals who care for patients with bladder cancer.
In this Expert Exchange-based format, learners will be immersed in a lively and dynamic discussion between key thought leaders in the world of bladder cancer. Using clinical cases, 2 top experts will discuss current hot topics across the disease continuum, and in doing so, provide answers to pivotal clinical questions.
Upon completion of this activity, participants will be able to:
Appraise the expanding clinical trial evidentiary base across all stages of the bladder cancer disease continuum, including newly approved indications, recently reported data, and current consensus guideline recommendations for treatment of NMIBC, MIBC, and locally advanced/mUC.
Examine the evolving bladder cancer management calculus, with a focus on evidence-based treatment sequencing strategies and/or combinatorial regimens incorporating platinum chemotherapy, immune checkpoint inhibitors, targeted therapies, and antibody-drug conjugates.
Design evidence-supported treatment plans for patients with bladder cancer, both in first line and post-progression, by effectively integrating consensus guideline recommendations with patient-centric factors (ie, performance status, kidney function, PD-L1 expression, FGFR mutation, cytopathology, urinary markers, etc.).
Identify immune-mediated adverse events (imAEs) that may occur in patients with bladder cancer receiving immune checkpoint inhibitors, either as monotherapy or in combination, and implement adaptive imAE anticipation, recognition, and management strategies.
---
Disclosures
Disclosures
CME/CE Provider Disclosure Statement (COI Resolution, Off Label, Disclaimers)
In accordance with the Food and Drug Administration, the speaker has disclosed that there is the potential for discussions concerning off-label uses of a commercial product/device during this educational activity.
Any person who may contribute to the content of this continuing education activity must disclose relevant relationships (and any known relationships of their spouse/partner) with commercial interests whose products or services are discussed in educational presentations. A commercial interest is defined as an entity producing, marketing, re-selling, or distributing health care goods or services consumed by, or used on patients. Relevant relationships include receiving from a commercial interest research grants, consultant fees, travel, other benefits, or having a self-managed equity interest in a company.
Disclosure of a relationship is not intended to suggest or condone any bias in any presentation but is made to provide participants with information that might be of potential importance to their evaluation of a presentation.
It is the policy of Creative Educational Concepts, LLC, (CEC) to ensure independence, balance, objectivity, and scientific rigor and integrity in all their CME/CE activities. Activity planners, faculty, peer reviewers, and CEC staff must disclose to the participants any relationships with ineligible entities whose products or devices may be mentioned in this CE activity, or with the commercial supporter of this CE activity. An ineligible entity is defined as any entity producing, marketing, re-selling, or distributing health care goods or services consumed by, or used on, patients. Financial relationships may include research grants, consultant fees, travel, advisory boards, consultancy, speakers' bureaus, other benefits, or having a self-managed equity interest in a company.
CEC has evaluated, identified, and mitigated any potential conflicts of interest through a rigorous content validation procedure, use of evidence-based data/research, and a multidisciplinary peer review process. The following information is for participant information only. It is not assumed that these relationships will have a negative impact on the presentations.
---
---
Accreditation Statements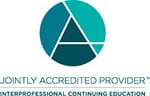 In support of improving patient care, Creative Educational Concepts is jointly accredited by the Accreditation Council for Continuing Medical Education (ACCME), the Accreditation Council for Pharmacy Education (ACPE), and the American Nurses Credentialing Center (ANCC), to provide continuing education for the healthcare team
For questions regarding the content of this activity, contact the accredited provider for this CME/CE activity noted above. For technical assistance, contact [email protected]
---
Instructions for Participation and Credit
There are no fees for participating in or receiving credit for this online educational activity. For information on applicability and acceptance of continuing education credit for this activity, please consult your professional licensing board.

This activity is designed to be completed within the time designated on the title page; physicians should claim only those credits that reflect the time actually spent in the activity. To successfully earn credit, participants must complete the activity online during the valid credit period that is noted on the title page. To receive AMA PRA Category 1 Credit™, you must receive a minimum score of 66% on the post-test.

Follow these steps to earn CME/CE credit*:
Read about the target audience, learning objectives, and author disclosures.
Study the educational content online or print it out.
Online, choose the best answer to each test question. To receive a certificate, you must receive a passing score as designated at the top of the test. We encourage you to complete the Activity Evaluation to provide feedback for future programming.
You may now view or print the certificate from your CME/CE Tracker. You may print the certificate, but you cannot alter it. Credits will be tallied in your CME/CE Tracker and archived for 6 years; at any point within this time period, you can print out the tally as well as the certificates from the CME/CE Tracker.

*The credit that you receive is based on your user profile.