Methods
US jurisdictions (the 50 states plus New York, NY, and Washington, DC) report cases of legionellosis (referred to as LD)[1] to CDC through the National Notifiable Diseases Surveillance System (NNDSS). We included data from 1992 (the earliest year of electronically available data) through 2018. Although 2019 data are available, completeness of the data reported by more than one third of US jurisdictions is uncertain because of the coronavirus disease pandemic[12]. LD was not reportable in Connecticut during 1992–1996 or in Oregon or West Virginia during 1992–2002; we excluded cases and populations from these jurisdictions and years from analyses.
During the study period, the LD case definition changed (in 1997 and 2006); we included cases meeting the case classification criteria for reportable conditions in use at the time the cases occurred[13–15]. All 3 case definitions defined a confirmed case of LD as a clinically compatible illness with isolation of any Legionella organism from respiratory secretions, lung tissue, pleural fluid, or other normally sterile fluid; detection of L. pneumophila serogroup 1 antigen in urine using validated reagents; or a ≥4-fold rise in specific serum antibody titer to L. pneumophila serogroup 1 using validated reagents[13–15]. The 1996 case definition included the detection of L. pneumophila serogroup 1 in respiratory secretions, lung tissue, or pleural fluid by direct fluorescent antibody testing, and it required the ≥4-fold rise in antibody titer to reach ≥128. The 1990 case definition included probable cases, defined as a clinically compatible illness with demonstration of a reciprocal antibody titer ≥256 from a single convalescent-phase serum specimen.
Available patient data included age, sex, race, ethnicity, jurisdiction of residence, and date of earliest reported event in case history (event date). We did not analyze ethnicity because data were missing for 30.4% of cases. Cases were associated with the event date rather than the date reported to the health department or CDC. Event dates consisted of onset date (78%), diagnosis date (9%), laboratory result date (6%), date first reported to any public health authority (3%), and date reported to the state health department or CDC (3%); 1% of cases were missing date type.
Jurisdictions were grouped by US Census Bureau regions and divisions (Figure 1). To quantify seasonality, we calculated the annual maximum-to-minimum monthly case ratio by dividing the maximum number of monthly cases by the minimum number of monthly cases within a calendar year. For most analyses, we aggregated data within 2 time periods (baseline years [1992–2002] and increase years [2003–2018]) and then compared them. We selected 2002, the last year before annual cases numbered >2,000, as a breakpoint for our analyses to aid in comparisons with previously published work[9–11]. To quantify the magnitude of increase, we compared the age-standardized incidence in 2018 with the age-standardized average incidence for 1992–2002 (Appendix). We used bridged-race postcensal population estimates to calculate incidence[16]. Incidence was age-standardized by using the 2005 US standard population as the reference population.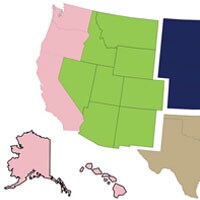 Enlarge
We performed statistical analyses by using SAS (version 9.4; SAS Institute, https://www.sas.com). We performed joinpoint regression analysis, also known as change point regression or segmented regression (Joinpoint software version 4.8.0.1, https:// surveillance.cancer.gov/joinpoint) on the age-standardized incidence and mean and median age over time to identify the optimal year when population parameters changed (Appendix).