Abstract and Introduction
Information on febrile illness caused by tick-borne encephalitis virus (TBEV) without central nervous system involvement is limited. We characterized 98 patients who had TBEV RNA in their blood but no central nervous system involvement at the time of evaluation. Median duration of illness was 7 days; 37 (38%) patients were hospitalized. The most frequent findings were malaise or fatigue (98%), fever (97%), headache (86%), and myalgias (54%); common laboratory findings were leukopenia (88%), thrombocytopenia (59%), and abnormal liver test results (63%). During the illness, blood leukocyte counts tended to improve, whereas thrombocytopenia and liver enzymes tended to deteriorate. At the time of positive PCR findings, 0/98 patients had serum IgG TBEV and 7 serum IgM TBEV; all patients later seroconverted. Viral RNA load was higher in patients with more severe illness but did not differ substantially in relation to several other factors. Illness progressed to tick-borne encephalitis in 84% of patients within 18 days after defervescence.
Introduction
Tick-borne encephalitis virus (TBEV) is a member of the genus Flavivirus in the family Flaviviridae and is transmitted to humans predominantly through Ixodes spp. tick bites. In addition to 3 well-known subtypes of TBEV (European, Siberian, and Far Eastern) that cause disease in humans, other subtypes, including the currently named Baikalian and Himalayan subtypes, have been reported [1,2].
Infection with TBEV can be symptomatic or asymptomatic. As is the case for infections with other flaviviruses, most (70%–98%) persons infected with TBEV do not experience symptoms; however, some findings in blood donors suggest that asymptomatic infections might be rare [3]. Nevertheless, when infection with TBEV is symptomatic, it can manifest as a febrile illness without central nervous system (CNS) involvement (Figure 1, panel A) but often progresses to tick-borne encephalitis (TBE) (i.e., CNS involvement caused by the virus) (Figure 1, panel B). Clinical manifestation differs in some respects according to virus subtype. In 13%–44% of patients, TBE caused by the European subtype manifests with direct CNS involvement [4,15] (Figure 1, panel C), whereas in most patients, CNS inflammation is preceded by a febrile illness, resulting in a biphasic course (Figure 1, panel B). The initial phase, which corresponds to viremia, manifests as fever, fatigue, malaise, headache, and muscle and joint pain, but in the absence of CNS inflammation; this phase usually lasts <1 week [8], and the illness then improves over a few days. The hallmark of the second phase of the disease is CNS involvement. Meningitis is the predominant manifestation in children. In adults, meningitis occurs in ≈50% of patients, meningoencephalitis in ≈40%, and meningoencephalomyelitis in ≈5%–10%. The case-fatality rate of TBE caused by the European subtype of TBEV is 0.5%–2%. In addition, ≈5% of adult patients are affected by permanent pareses, and at least one third suffer from a postencephalitic syndrome [16,19].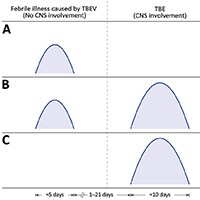 Enlarge
In general, clinical manifestations and laboratory characteristics of symptomatic TBEV infection are well described. However, this statement is valid for cases with neurologic involvement (i.e., for TBE) but less so for the initial phase of TBE, and much less so for TBEV infection manifesting solely as febrile illness without later CNS involvement. That manifestation, also called isolated initial phase of TBE, abortive form of TBE, febrile headache, summer flu, or fever form, is postulated to match clinically and serologically the initial phase of TBE, with the exception that subsequent CNS involvement does not occur. TBEV infection manifesting as febrile illness without later CNS involvement is suggested to be frequent [20,23], although not in all reports [5,6,24,25], and the scientific basis for such a conclusion is unclear. Furthermore, although the outcome of symptomatic TBEV infection without CNS involvement is believed to be favorable, no reliable data on the outcome have been published. Because clinical symptoms and signs of the illness are nonspecific, and because, in parallel to the initial phase of TBE, serum antibodies to TBEV are not yet expected to have developed, the only option for diagnosis at the time of actual illness is demonstrating the presence of TBEV RNA in the blood. However, this approach is not routine and might have a low diagnostic yield owing to several other known or unknown causes of fever, even in a region that is highly endemic for TBE. Therefore, the possibility that a febrile illness is the result of TBEV infection is usually tested for and established only after signs or symptoms of CNS involvement appear, which does not happen in case of the fever form. In that case (and if PCR detection of viral RNA in blood is not available), further clinical and microbiologic (serologic) follow-up after improvement is needed to establish the diagnosis. In this study, we analyzed in detail the clinical and laboratory characteristics of febrile illness after tick bite or exposure to ticks and its outcome in patients in whom infection with TBEV was established by the presence of viral RNA in the blood.