This CME activity was developed to be distributed on Medscape.org.
HE4: A Novel Serum Biomarker for Monitoring and Managing Epithelial Ovarian Cancer
Since the initial release of this program, an additional relevant study has been published. This information has been appended to the end of the activity.
Introduction
In the United States approximately 200,000 women each year undergo surgery for evaluation and treatment of an ovarian cyst or pelvic mass, with approximately 10% ultimately found to be malignant.[1] Epithelial ovarian cancer (EOC), which includes ovarian, fallopian tube, and primary peritoneal epithelial cancers, are the second most common gynecologic cancer behind uterine corpus malignancies.[2] However, EOC is the single deadliest gynecologic cancer, estimated to kill nearly 14,000 women in the United States annually.[3,4] Unfortunately, about 80% of new EOC cases are detected and diagnosed at an advanced stage and, therefore, are fundamentally incurable. The current 5-year survival rate for women with EOC decreases by stage with survival rates of 93% and 75% for localized and regional disease, respectively, compared with 5-year survival rates of only 30% for distant disease.[4] The overall 5-year survival rate is 49%. Unfortunately, the cure rate for advanced stage EOC has not changed in recent years, and most of these women will eventually succumb to the disease.[5] Identifying biomarkers that allow for earlier diagnosis of EOC would assist in improving survival rates. Establishing biomarkers to monitor for EOC recurrence and assess treatment response, which would optimize the management of chemotherapy and other therapeutic strategies, is equally important for mortality improvement. While this review will also discuss biomarker cancer antigen 125 (CA125), the primary focus will be on the utilization of the novel serum biomarker human epididymis 4 (HE4) in monitoring and managing EOC.
Screening and Assessing for Malignancy
Effective early detection strategies have been actively sought out given the more favorable prognosis of early stage EOC. Yearly transvaginal ultrasound and the serum tumor marker CA125 were prospectively evaluated in the United Kingdom Collaborative Trial of Ovarian Cancer Screening (UKCTOCS) of 200,000 postmenopausal women.[6] It was found that, while CA125 monitoring and follow-up ultrasounds could increase the number of ovarian cancers caught at an early stage, this did not translate into a survival advantage between groups overall.[7] Additionally, many women in the group receiving annual screening ultrasounds had to undergo unnecessary surgical procedures to evaluate a false-positive test.[8] Based on the UKCTOCS study and others, screening the general population of women for EOC is not currently recommended.[7-9]
It is critical to accurately assess the risk of malignancy in women presenting with an ovarian cyst or pelvic mass. An accurate assessment has implications for decisions about surgery, surgical approach, and referral to a gynecologic oncologist if the mass is determined to be at high risk for malignancy. The Risk of Ovarian Malignancy Algorithm (ROMA) is an FDA-cleared risk algorithm that utilizes CA125, HE4, and menopausal status for predicting the likelihood of finding a malignancy on surgery in women with pelvic masses.[10,11] The current American College of Obstetricians and Gynecologists guidelines on the evaluation and management of pelvic masses includes the use of risk algorithms, such as the ROMA score.[12,13] With a high combined sensitivity and specificity, the ROMA score improves the categorization of women with a pelvic mass into low and high risk groups for ovarian cancer allowing for more appropriate surgical management and referrals.[14]
Identifying Biomarkers With EOC Utility
CA125. CA125 was the first serum biomarker cleared by the FDA as an aid in monitoring recurrence or progressive disease in patients with ovarian cancer,[12] yet not for EOC screening in the general population.[15,16] CA125 was discovered in 1982 and is an extensively glycosylated protein known as MUC16, a membrane-associated mucin. It was first discovered in soluble form as CA125 in the search for an ovarian cancer biomarker. It is expressed by Müllerian epithelial cells and by a large portion of EOCs.[17] The exact function of CA125 is unknown, yet it has been postulated to suppress anti-tumor immune response[18,19] and to allow interaction of cancer cells with mesothelial cells for peritoneal seeding.[20-22]
Serum CA125 levels are elevated preoperatively in 82% of patients with EOC.[15] The rise and fall of CA125 levels have been shown to correlate with the progression or regression of disease in 93% of patients with EOC.[23] The detection of an increasing serum CA125 level, based on serial samples, can be an early indicator of cancer recurrence and will often predate the appearance of radiographically detected disease by 4-6 months after the tumor marker rise begins. One advantage of tumor marker monitoring during EOC treatment is the detection of treatment resistant disease, leading to changes in treatment strategies and discontinuation of ineffective and toxic treatments. Additionally, tumor marker monitoring can lead to lower treatment cost and less frequent imaging, resulting in reduced radiation and contrast exposure.[16]
Despite its clear utility in EOC management, CA125 does have some limitations. For example, 20% of patients' tumors do not highly overexpress CA125, so serum levels are not predictive of cancer status and cannot be relied upon for disease management.[14,24] In several studies, CA125 levels were shown to be affected by abdominal surgical procedures, such as standard cytoreductive surgeries; therefore, elevations in the weeks after such an intervention should be cautiously interpreted.[25,26] Elevated levels of this marker have also been shown to occur in many benign gynecological and general medical conditions, such as inflammatory disorders and pulmonary and cardiac diseases. Thus, alternative biomarkers have been explored both independently and in combination with CA125.[27,28]
HE4. HE4 is the only other serum biomarker that has received FDA clearance with the same indications for use as CA125 (as an aid in monitoring recurrence or progressive disease in patients with ovarian cancer).[12] HE4 is a secretory glycoprotein in the whey acidic protein family that was first discovered in male epididymis tissue. The function of HE4 in male fertility is still unclear. While there has been extensive research on HE4 expression in gynecologic cancers as a biomarker, much like CA125, very little is known about its function.[29] Some recent studies have implicated it in immune defense,[30,31] as a critical regulator of immune cell function,[32] and as a mediator of tumor-immune suppression in EOC.[33] HE4 has also been found to have immune-independent effects, such as influencing EOC cell adhesion and motility,[34] and inhibition of trypsin degradation.[35] HE4 overexpression has been demonstrated in serous (93%), endometrioid (100%), and clear cell epithelial (50%) ovarian cancers where it is believed to play a role in tumor growth.[36-39] In healthy female populations HE4 serum levels displayed clinically relevant variability by age and not by menopausal status.[40] Specifically, HE4 slowly increases with age with a sharp rise after 80 years.
When assessing malignancy likelihood, HE4 has been found to be elevated in a much higher proportion of early stage EOCs than has CA125,[41] and could potentially be elevated in > 50% of patients who do not have a high CA125 level.[42] HE4, as a single tumor marker, has been shown to possess a higher sensitivity for detecting ovarian cancer,[27] and levels are less likely to be elevated in benign gynecologic disorders than CA125,[43] especially in premenopausal patients.[41] Thus, HE4 provides superior specificity (91.8%) when compared to CA125 (59.5%) for the differentiation of benign and malignant adnexal masses in premenopausal females.[44] HE4 has proven to be a reliable marker for EOC with increased specificity over CA125 and improved sensitivity in distinguishing between benign and malignant pelvic masses.[27] However, aging and reduced renal function can lead to higher serum levels. HE4 is exclusively cleared by the kidneys; therefore, renal function changes must be considered when interpreting serum HE4 levels.
It is important to note that the serum biomarkers HE4 and CA125 can be complementary to each other, as the combination of these biomarkers is better than either alone in the risk stratification of pelvic masses. The differences between the positive predictive values and likelihood ratios of HE4 and CA125 suggest that the two markers play different roles in EOC diagnosis. As HE4 has greater specificity and is more often elevated in early-stage cancers, this increases its ability to accurately predict the presence of an EOC.[45]
Clinical Utility of HE4
Prognostic indicator. Women with tumors that highly overexpress HE4 will often have decreased time to chemotherapy resistance, decreased time to progression, and decreased survival rates.[37] It was observed that HE4 levels at diagnosis did not correlate with the achievement of complete remission, yet were implicated in the duration of remission. Using receiver operating characteristic curves, Chudecka-Glaz and colleagues confirmed that HE4 performs as well as, or better than, CA125 as an ovarian cancer prognosticator, potentially due to a better correlation of HE4 with tumor burden.[46] According to Bandiera and colleagues, a high level of HE4 is an effective prognostic factor in EOC identifying a subgroup of patients at higher risk of death. Identification of these patients earlier could allow the pursuit of more aggressive adjuvant therapy, or a more intensive monitoring plan.[47] Therefore, HE4 is a valuable supplement to CA125 for monitoring ovarian cancer therapy and serving as a prognostic indicator.[46] Additionally, for the 20% of patients who do not have CA125 as a biomarker for their cancer, HE4 is often elevated and can effectively serve as a serum biomarker to help manage their disease.[48]
To date, optimal tumor debulking and platinum chemotherapy response have been proven to be the most powerful prognostic factors for overall survival and progression-free survival of EOC patients.[49] Rong and colleagues demonstrated that HE4 is superior to CA125 in predicting platinum sensitivity.[49] Approximately 83.3% of patients who relapse or progressed in 2 years could be identified during first-line chemotherapy with 62.7% specificity based on the combination of HE4 and CA125 non-early clearance, whereas early clearance of HE4 and CA125 during first-line platinum chemotherapy was significantly associated with platinum sensitivity and improved prognosis.
Treatment response/recurrence. Vallius and colleagues showed that HE4 was a reliable serum tumor marker for monitoring treatment response in advanced EOC.[50] Their results suggested that postoperative HE4 was associated with residual tumor, primary therapy outcome, and progression-free survival in primary and interval debulking surgery patients. The combination of HE4 and CA125 also predicted the primary outcome and progression-free survival better than either alone.
Additionally, in the setting of confirmed EOC recurrence, a high serum HE4 level predicts a poor prognosis and a decrease in overall survival outcomes for these patients.[51] For women who have completed treatment and are undergoing surveillance, measuring serial serum HE4 levels to monitor for disease recurrence will show that serum HE4 levels will begin to rise 4-6 months prior to disease detection through computed tomography (CT). Primarily using serum biomarkers and physical exam for monitoring disease status leads to a reduction of the number of CT scans over a patient's lifetime. As a result, clinical benefits such as reducing the chance of contrast-induced nephropathy, allergic reaction, and cumulative radiation exposure are achieved. The benefit of monitoring patients with biomarkers includes the ability to increase frequency of monitoring and earlier detection of recurrent disease. Perhaps the best method to approach HE4 monitoring is in conjunction with CA125. Allard and colleagues studied 434 serial samples from patients undergoing treatment for EOC or being monitored for recurrence.[52] Longitudinal analysis from the serum samples showed that changes in HE4 values were not inferior to changes in CA125 values in accordance with clinical status. In patients where CA125 did not correlate with clinical status, HE4 correlated in 23.5%. In patients for whom HE4 did not correlate with clinical status, CA125 correlated in 31.6%. In all patient cases, either CA125 or HE4 correlated with clinical status for 83.6%. Therefore, HE4 proved itself a valuable biomarker for the management of the majority of EOC patients, particularly when combined with CA125 monitoring.
Practical application. In practice, HE4 serum levels are utilized prior to EOC diagnosis when evaluating patients with pelvic masses as part of the ROMA score. Patients with high likelihood of malignancy should be referred for surgery to a gynecologic oncologist. After a diagnosis, HE4 serum levels (along with CA125 serum levels) are typically monitored at least monthly while on treatment with systemic chemotherapy or immunotherapy. When chemotherapy has been completed, or when patients are on a break, CA125 and HE4 are monitored every 3 months. In patients undergoing surveillance, elevations in CA125 and HE4 are treated as a potential early indicator of recurrence/progression and as a trigger to order CT scans for confirmation. Figures 1-3 depict the use of the serum biomarkers CA125 and HE4 in monitoring patients during treatment and after treatment for the detection of recurrent disease. HE4 and CA125 levels have been shown to decrease as patients respond to chemotherapy and will often reach normal levels with complete responses. An equally important occurrence is that HE4 and CA125 serum levels will trend upward on serial testing from their baseline or normal levels with early recurrence of disease. This upward trend will often predate the ability to detect recurrent disease by CT imaging by 4-6 months.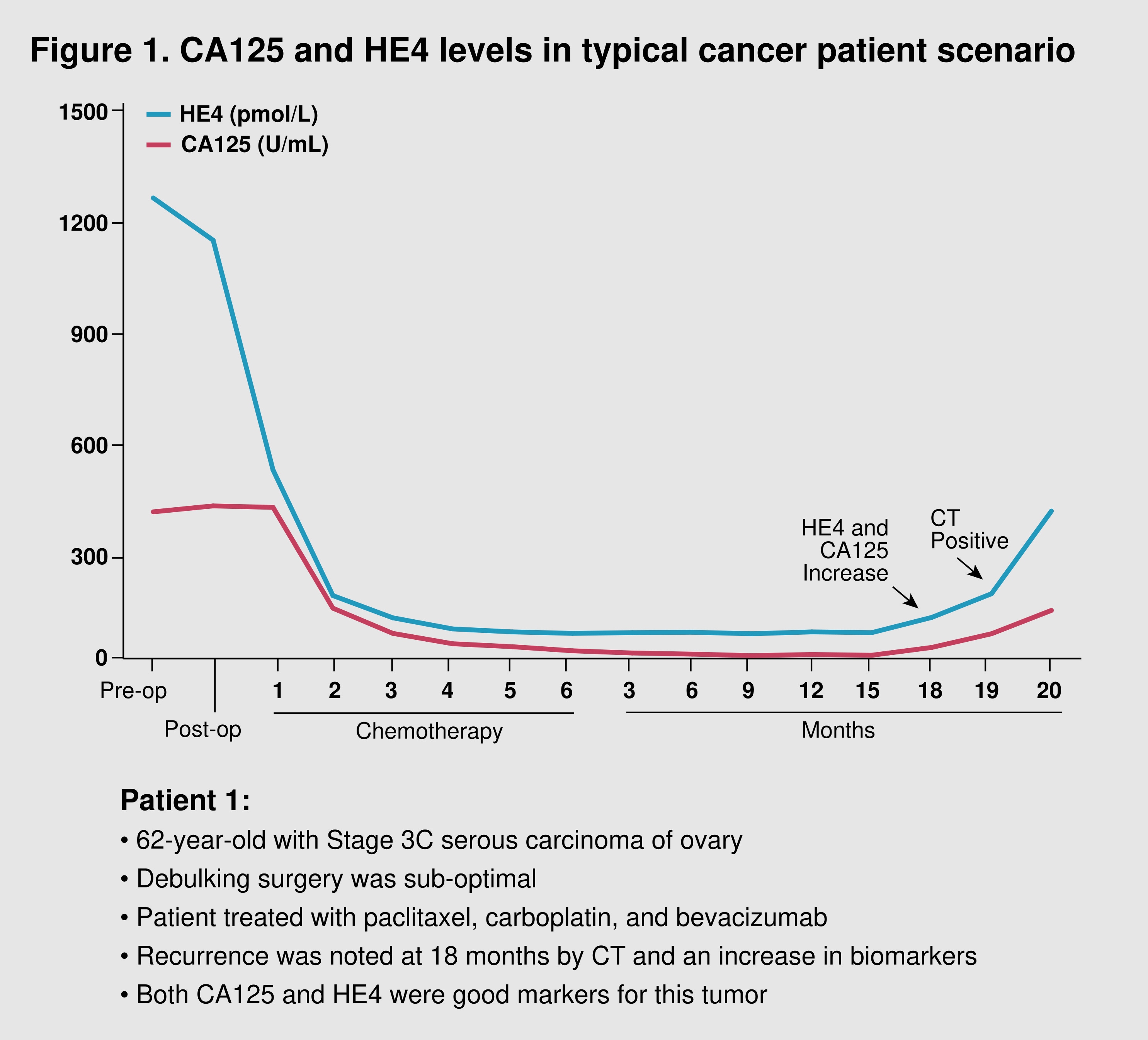 Figure 1 illustrates the biomarker response of serum HE4 and CA125 levels in response to chemotherapy with normalization of both biomarkers by the 3rd to 4th cycle of chemotherapy. After 15 months of a disease-free interval, both biomarkers start to rise, and a recurrence is confirmed by CT imaging.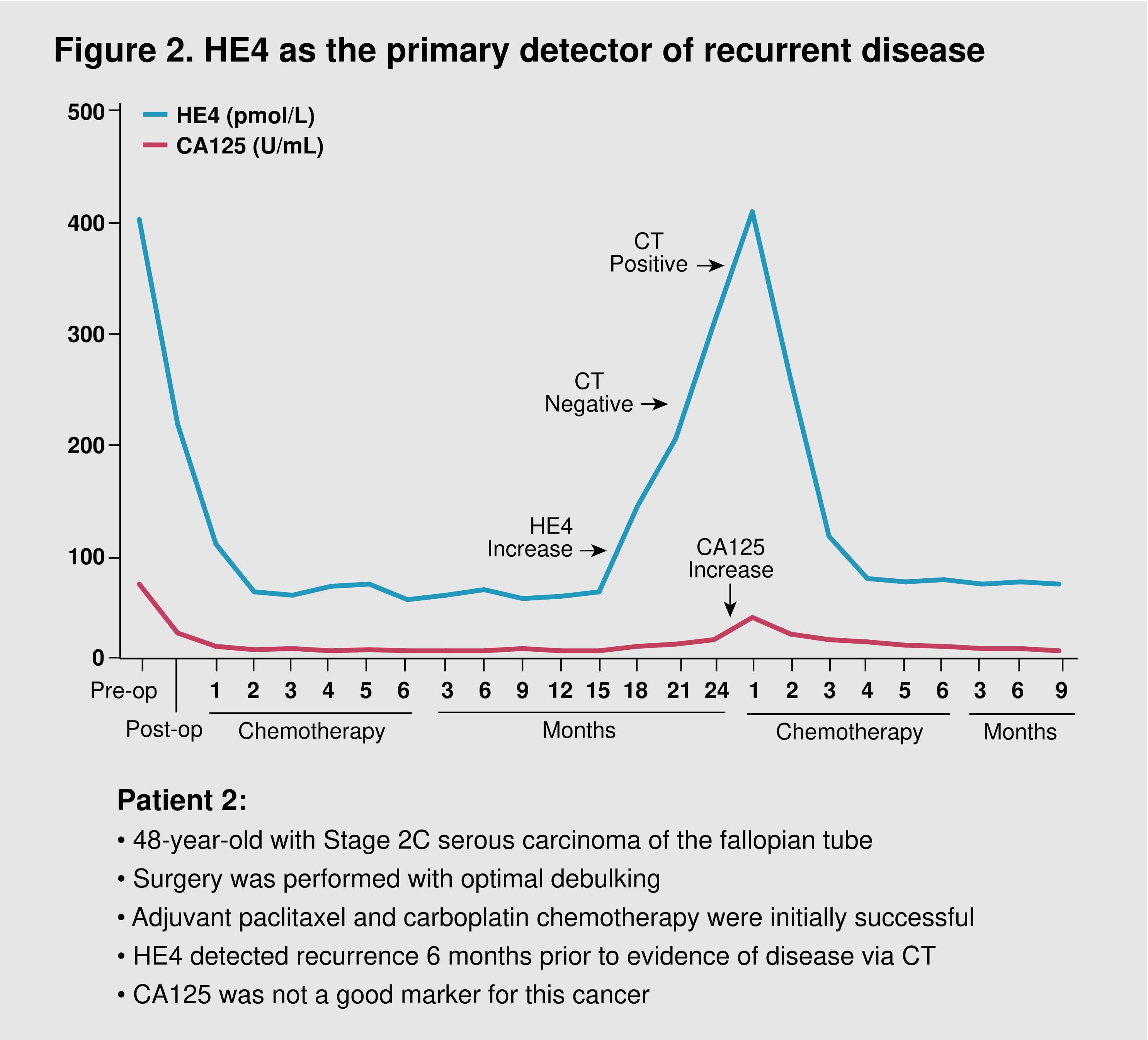 In Figure 2, HE4 and CA125 show normalization during treatment; however, HE4 has the highest amplitude of the 2 biomarkers with a much higher expression than CA125. In this patient, HE4 is the better biomarker and starts to rise earlier than CA125 by 4 months and pre-dates detection of disease by CT imaging by 6 months.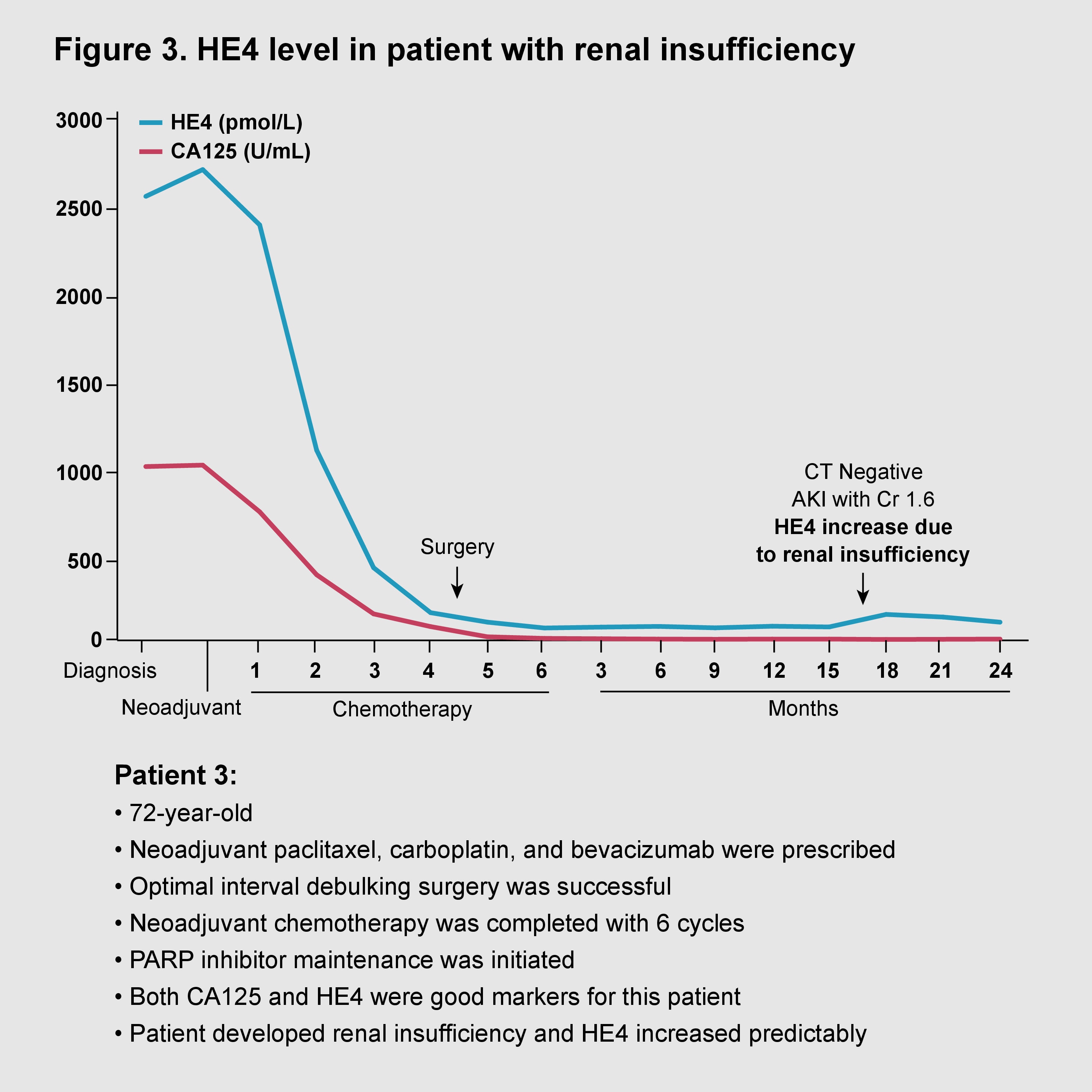 Figure 3 illustrates a patient with a good response to chemotherapy and normalization of HE4 and CA125 serum levels in response to treatment. Between 15 and 18 months of surveillance, there is a rise in the HE4 level with CA125 remaining stable. Clinical evaluation of the patient showed that she had an acute kidney injury during this time resulting in a temporary rise in HE4. This case illustrates the importance of understanding the medical conditions that can affect the serum levels of HE4 and CA125 to avoid the false diagnosis of a recurrence. In this case, HE4 was temporarily elevated due to a decrease in renal clearance.
Conclusion
While there is a need for additional research and data collection, HE4 commands a key role in monitoring and managing EOC. CA125 has been widely adopted for the management of EOC, yet HE4 is currently underutilized. HE4 shows promise in identifying early-stage disease, small volume recurrence, and in monitoring or detecting rare EOC subtypes. It can also be used for early prognostication and for earlier identification of chemotherapy resistant disease, which is key to minimizing unnecessary exposure to cytotoxic agents and development of potentially serious side effects. Ultimately, a strategy that includes monitoring both CA125 and HE4 is likely to improve care for the largest number of patients. The exact function of HE4 is unknown, yet several studies have shown that it mediates immune suppression in the cancer environment and is an exciting drug-development target and/or predictive marker. Finally, it would be prudent to consider utilizing serum HE4 level as a risk stratification factor in clinical trials, particularly because it has proven to be a more accurate predictor of tumor burden than CA125.
Addendum
Since the original posting of this CME program, a retrospective study comparing the utility of serum HE4 levels to serum CA125 levels for monitoring patients with EOC was published by Samborski et al (2022). This trial used residual longitudinal serum samples drawn during treatment and monitoring from EOC patients. A total of 129 patients representing 272 clinical periods and 1739 serum samples were evaluated. Serum levels of both biomarkers were measured at each time point. Using a 25% change in serum biomarker levels and velocity of change as benchmarks for change in disease status, HE4 and CA125 were correlated with clinical status. Velocity of change is a novel method that measures the rate of change over time. It allows for direct comparison of biomarker performance as opposed to predetermined cut points. Velocity of change performance parameters were established for both biomarkers: >5 U per month for CA125 serum levels and >10 pM per month for HE4 serum levels to indicate change in disease status. Patients undergoing monitoring were categorized as having progressive disease or non-progressive disease. The assumption was that the biomarkers studied would increase with progressive disease or not change or decrease with non-progressive disease.
Concordance comparison of a 25% change in biomarker levels of HE4 versus CA125 resulted in a ratio of 0.990, indicating that HE4 was not inferior to CA125 for monitoring EOC. Likewise, concordance comparison of HE4 and CA125 velocity of change was 0.996, once again indicating that HE4 was not inferior to CA125. As the largest study to date examining HE4 monitoring in EOC patients, Samborski et al. concluded that HE4 achieved statistical equivalency to CA125. While the accuracy of either biomarker used singly was similar (~ 80%), a combination of the two numerically increased accuracy and significantly increased sensitivity over either biomarker alone. Thus, the decision to utilize HE4, CA125, or both to monitor EOC should be based on the biomarker with the highest initial levels (Supplemental Figure).[53]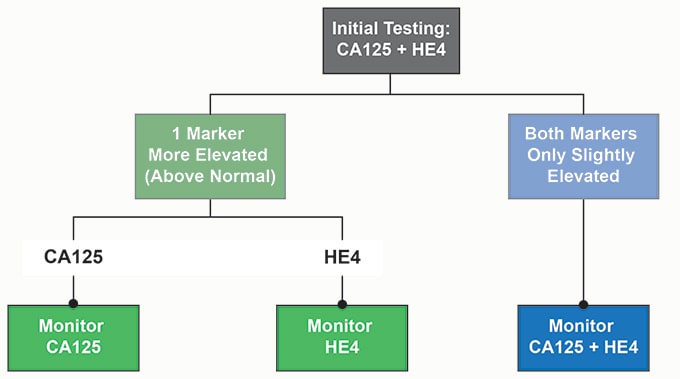 Supplemental Figure. Algorithm-based evaluation of HE4, CA125, or both for monitoring EOC.