Pre-Assessment Survey
Before you begin, please take this brief survey.
Targeting the Immune System in Multiple Myeloma: The Rationale Behind the Success Stories
Multiple myeloma (MM) is characterized by progressive immune dysregulation, including evasion of anti-tumor immune responses, driving disease progression.[1,2] This provides a rationale for targeting the immune system, which began with allogeneic stem cell transplant and immunomodulatory drugs and has now evolved to include antibody-drug conjugates (ADCs) and adaptive T-cell therapies such as chimeric antigen receptor (CAR) T-cell therapy and bispecific antibodies.[3] Each of these immunotherapeutic approaches elicits anti-tumor activity through a unique set of mechanisms of action, including direct apoptosis of myeloma cells, antibody-dependent cellular cytotoxicity (ADCC), antibody-dependent cellular phagocytosis (ADCP), complement-dependent cytotoxicity (CDC), and modulation of immune regulatory cells.[4] Immunotherapies have greatly improved outcomes for patients with relapsed or refractory (R/R) MM; however, their clinical use is challenged by availability and development of resistance, leading to continued investigation of novel approaches.
Monoclonal Antibodies
Monoclonal antibodies are a central component in the treatment of R/R MM, including the SLAMF7-targeted antibody elotuzumab and the CD38-targeted antibody daratumumab.[5,6] In the last year important updates related to the most recent addition to this group, isatuximab. Recently published results from the IKEMA study reported a 47% reduction in the risk for disease progression or death with the addition of isatuximab compared with carfilzomib/dexamethasone alone (Table 1).[7] Updated data from the phase 3 ICARIA-MM trial also demonstrated continued benefit for isatuximab when added to pomalidomide/dexamethasone in patients who received ≥ 2 prior lines of therapy, including delays in time to next treatment and progression on the next line of therapy.[8] Subgroup analyses demonstrated consistent benefit for the addition of isatuximab to pomalidomide/dexamethasone in patients with high-risk cytogenetics, older age, renal impairment, or drug resistance.[4] The upcoming 2021 63rd American Society of Hematology (ASH) Annual Meeting and Exposition will include updated data on the role of monoclonal antibody therapies in patients with R/R MM.
Table 1. Recent Data Supporting CD38-Targeted Monoclonal Antibodies in R/R MM
Trial

IKEMA[7]

ICARIA-MM[8]

Regimen

Isa/Car/Dex

Car/Dex

Isa/Pom/Dex

Pom/Dex

Prior lines of therapy

1 to 3

≥ 2

N

179

123

154

153

Median PFS, months

Not reached

19.15

11.1

5.8

HR 0.53; P = .0007

HR 0.599; P < .0001

PFS, %

2-year: 68.9

2-year: 45.7

NR

NR
Car, carfilzomib; Dex, dexamethasone; Isa, isatuximab; NR, not reported; PFS, progression-free survival; Pom, pomalidomide.
Antibody-Drug Conjugates
The US Food and Drug Administration (FDA) approval of the B-cell maturation antigen (BCMA)-targeted ADC belantamab mafodotin was based on the efficacy demonstrated in the phase 2 DREAMM-2 trial in patients who received ≥ 3 prior lines of therapy and were refractory to immunomodulatory drugs, proteasome inhibitors (PIs), and CD38-targeted antibodies.[9] Updated data with 13 months follow-up showed continued benefit in patients treated at a dose of 2.5 mg/kg, including an overall response rate (ORR) of 32% and median duration of response (DoR) of 11.0 months.[10] Ongoing trials of belantamab mafodotin in combination with PIs and immunomodulatory drugs may allow for alternative dose and schedules to reduce its reported ocular toxicity. The 2021 63rd ASH Annual Meeting and Exposition will include new data on the efficacy and safety of belantamab mafodotin, including a phase 1 study of this agent in combination with pomalidomide and dexamethasone for patients with R/R MM.[11]
Chimeric Antigen Receptor T-Cell Therapy Approaches
The development of CAR T-cell therapies is an exciting advance for patients with R/R MM and several BCMA-targeted CAR T-cell therapies have demonstrated efficacy in patients with heavily pretreated disease.
Idecabtagene vicleucel (ide-cel) was investigated in the phase 2 KarMMa trial, leading to approval by the FDA, Health Canada, and European Medicines Agency (EMA) in patients with MM after ≥ 3 prior lines of therapy, including an immunomodulatory agent, PI, and a CD38-targeted antibody. Updated results following a median follow-up of 25 months showed deep, durable responses in patients with heavily pretreated MM, with an ORR of 73% and median PFS of 8.8 months in all treated patients, increasing to 20.2 months in patients with complete response (CR) and stringent complete response (sCR) (Table 2).[12] The overall survival (OS) continues to mature and the 18-month event-free rate for OS was 65%.[13] A recent retrospective study comparing ide-cel-treated patients from the KarMMa study with a real-world patient cohort receiving traditional standards of care for triple-class exposed MM showed the CAR T-cell therapy doubled ORR and significantly prolonged median PFS and OS.[14]
Ciltacabtagene autoleucel (cilta-cel) has a dual epitope-binding domain targeting two different BCMA epitopes and has demonstrated significant efficacy in patients with R/R MM. Data from the phase 1/2 CARTITUDE-1 trial reported an ORR of 97%, including 67% with an sCR (Table 2). Median PFS was not reached. The overall 12-month PFS and OS rates were 77% and 89%, respectively. The 12-month PFS rate for patients who achieved CR or better was 85%, suggesting sustained benefit.[15] A recent 18-month follow-up showed an 18-month OS rate of 80.9%.[16] Cilta-cel is currently under review by the FDA, Health Canada, and EMA and is being explored in earlier lines of therapy in the phase 2 CARTITUDE-2 study, with initial results reporting early, deep responses and a manageable safety profile.[17]
While there are no head-to-head clinical trial data directly comparing ide-cel and cilta-cel, cilta-cel appears to result in a higher response rate and a median DoR and PFS exceeding 20 months. A number of factors could be contributing to these differences in efficacy, including variances in the patient populations, dosing, study design, and manufacturing process. Furthermore, T cell features including T cell quality, phenotype, and fitness, may also influence T cell expansion and affect clinical responses. Several strategies are currently ongoing to generate more favorable CAR T-cell therapies. These include genetic and epigenetic modifications to enhance memory-like phenotype and the use of a fully-human CAR T-cell therapy such as CT103A. Early report of the phase 1 study of CT103A showed an ORR of 97.1% and median PFS of 20 months.[18] Emerging data focused on CAR T-cell therapies for R/R MM will be presented at the 2021 63rd ASH Annual Meeting and Exposition, including subgroup and safety analyses of the KarMMa study and updated data from the CARTITUDE-1 and CARTITUDE-2 trials.[19-21]
Bispecific Antibodies Targeting BCMA
Bispecific antibodies simultaneously bind CD3 on T cells and surface markers on MM cells, redirecting activated T cells to induce myeloma cell death. The BCMA-targeted bispecific antibody teclistamab demonstrated an ORR of 65% in patients with heavily pretreated MM, including 58% with ≥ very good partial response (VGPR) (Table 2). At the recommended phase 2 dose, the median DoR was not reached. After 7 months median follow-up, 22 (85%) of 26 responders were alive and continuing treatment.[22] The phase 1 MagnetisMM-1 study is evaluating subcutaneous administration of the BCMA-targeted bispecific antibody elranatamab in patients with heavily pretreated MM, including patients treated with prior BCMA-directed therapy. The ORR was 70% overall, including 30% with CR/sCR, and with 92.3% of responders free of progression at 6 months. Of note, 3 of the 4 patients who had received prior BCMA-targeted therapy achieved a response.[23] Updated data from these studies of teclistamab and elranatamab in R/R MM are expected at the 2021 63rd ASH Annual Meeting and Exposition.[24,25]
Table 2. BCMA-Targeted Immunotherapy in R/R MM
Agent

Trial

N

ORR, %

DoR, months

Median PFS, months

Median OS, months

ADC

Belantamab mafodotina

DREAMM-2[10]

97

32

11.0

2.8

13.7

CAR T-cell therapy

Idecabtagene vicleucel

(ide-cel)

KarMMa[12,13]

128

73

10.7

8.8

18-month OS: 65%

Ciltacabtagene autoleucel

(cilta-cel)

CARTITUDE-1[15,16]

97

97.9

Not reached

Not reached

18-month OS: 80.9%

CT103A

Phase 1[18]

35

97.1

NR

20.0

NR

Bispecific antibodies

Teclistamab

MajesTEC-1[22]

40

65

Not reached

NR

NR

Elranatamab

MagnetisMM-1[23]

20

70

Not reached

NR

NR
aAnalysis focused on patients treated with belantamab mafodotin at a dose of 2.5 mg/kg every 3 weeks.
DoR, duration of response; NR, not reported; ORR, overall response rate; OS, overall survival; PFS, progression-free survival.
Clinical Application and Challenges Related to Immunotherapies for R/R MM
Treatment Selection and Sequencing. Multiple immunotherapeutic options have demonstrated significant efficacy in R/R MM and optimal patient selection and sequencing continues to be investigated. Important considerations include overall patient fitness and comorbidities, the aggressiveness of disease relapse, prior therapy exposure, safety, and patient preferences. Although CAR T-cell therapies have received regulatory approval and are typically used before bispecific antibodies are considered, older age or highly aggressive disease relapse suggest alternative options should be considered.[2] Patients with rapidly progressing disease cannot afford to delay treatment and CAR T-cell approaches can take several weeks to manufacture.[26] Bispecific antibodies offer an "off-the-shelf" alternative that is immediately available and typically requires fewer inpatient days for administration due to less cytokine release syndrome (CRS) incidence.
Patients receiving bispecific antibody therapy often achieve complete response within a few weeks and longer follow-up is needed to determine whether continuous weekly administration of such therapy is feasible and safe. Long-term T cell stimulation could in fact lead to T cell exhaustion and increase the risk for infections and secondary malignancies. It is important also to note that bispecific antibodies are demonstrating efficacy in patients progressing on prior BCMA-targeted therapy, demonstrating efficacy in patients with few treatment options left and poor prognosis.[22,23]
Adverse Events. The adverse events associated with each immunotherapeutic strategy should also be taken into consideration when selecting therapy. Monoclonal antibodies such as daratumumab and isatuximab can increased the risk for cytopenias, infections, and infusion-related reactions (IRRs), requiring careful patient monitoring and supportive care to prevent treatment interruptions and discontinuations.[27,28] Belantamab mafodotin is associated with a risk for ocular toxicities such as keratopathy, resulting in a need for careful patient monitoring and ophthalmic examinations before each dose.[29] A post-hoc analysis showed that timely dose delays or dose reductions allowed recovery of ocular adverse events and re-initiation of belantamab mafodotin to provide continued benefit.[30] Alternative dose and schedules to reduce its reported ocular toxicity are currently ongoing.
CAR T-cell therapies are associated with increased risk for cytopenias, infections, neurologic toxicity, and CRS. Neurologic adverse events have been reported in approximately 20% of patients treated with ide-cel or cilta-cel.[13,15] CRS can range from mild, flu-like symptoms to severe sepsis-like events, with median onset of 1 day for ide-cel and 7 days for cilta-cel. For both of these CAR T-cell therapies, CRS is typically low-grade and resolves with proactive supportive care.[13,16] Bispecific antibodies are also associated with cytopenias, infections, and CRS, with a lower incidence and severity of CRS and neurologic toxicity when compared with CAR T-cell therapies.[22,23] Split first dose and step-up doses have been explored to improve tolerability and reduce the risk for CRS.
Drug Resistance. Drug resistance is an important challenge in the management of R/R MM, limiting the efficacy of monoclonal antibodies and T-cell based therapies. Downregulation of target antigen expression, changes in the activity of immune effector cells, and microenvironment-related influences on immune function can contribute to resistance to immunotherapies (Figure 1).[1,31]
The overall fitness of the immune system and its ability to mount durable anti-tumor immune responses are critical determinants of the response to immunotherapies.[1] As such, a recent study performed in T cells obtained from patients treated with BCMA-targeted CAR T-cell therapy or bispecific antibody therapy has demonstrated at single cell level that resistance to these adaptive T-cell therapies can be due to reduced number of memory T cells, low CD4:CD8 ratio, and enrichment of terminally exhausted T cells. Correlative studies to identify potential biomarkers for response and resistance to immunotherapy are currently under investigation.[32] Antigen escape due to selective pressure and tumor heterogeneity is another potential mechanism of resistance, caused by genetic mutations and/or allelic loss.[1]
Figure 1. Mechanisms of Resistance to MM Immunotherapy[1]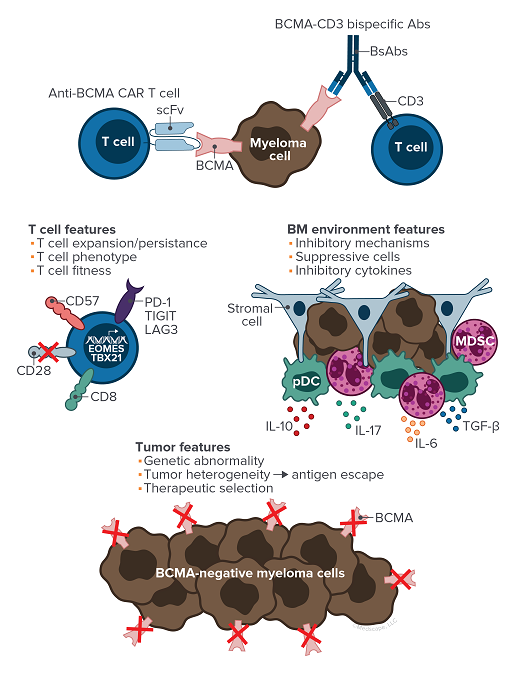 Abs = antibodies; BCMA = B-cell maturation antigen; BM = bone marrow; CAR = chimeric antigen receptor; DC = dendritic cell; MDSC = myeloid-derived suppressor cell.
Strategies to Improve Immunotherapy for R/R MM
There remains a clear need for improved anti-tumor immune response in patients with MM. Combination approaches with other immune stimulating agents and T-cell-based strategies that simultaneously target more than one antigen are being explored in an effort to overcome mechanisms of immune escape. One approach to counteract the immune evasion due to BCMA antigen loss is targeting novel targets, such as the G protein-coupled receptor class C group 5 member D (GPRC5D) and the Fc receptor-homolog 5 (FcRH5), which are highly expressed on myeloma cells.[1]
As such, the novel bispecific antibody talquetamab binds GPRC5D and CD3, leading to T cell-mediated killing of GPRC5D-expressing myeloma cells. Recent data from the phase 1 MonumenTAL-1 study in heavily pretreated MM reported an ORR of 70% after a median follow-up of 6.3 months, including high response rates in triple- and penta-refractory patients (65% and 83%, respectively). Of note, patients with disease progression following prior BCMA-targeted therapies were also included in this study. Responses were rapid, deep, and durable, with median DoR not reached. The most common adverse events included cytopenias, CRS, and dysgeusia. A total of 73% of patients receiving the phase 2 dose of 405 µg/kg every week experienced grade 1/2 CRS lasting a median of 2 days, with only 1 grade 3/4 event. Rates of neurotoxicity and injection-site reactions were low and primarily grade 1/2. Skin-related events were reported in 67% of patients.[33]
The novel bispecific antibody cevostamab targets FcRH5 and CD3. This agent recently demonstrated promising activity in a phase 1 study in patients with heavily pretreated R/R MM, with a median of 6 prior lines of therapy. Cevostamab showed an ORR of 53% in patients who received doses ≥ 3.6/20 mg, including activity in penta-refractory disease (ORR of 41%) and in patients previously treated with BCMA-targeted therapy (ORR of 63%). Responses were deep and durable, with 32% of patients achieving ≥ VGPR and 8 patients with a DoR ≥ 6 months. The safety profile was manageable, with the most common any-grade AEs including CRS, cytopenias, hypomagnesemia, and diarrhea. Grade 3/4 events were primarily hematologic, with only 2% of patients reporting grade 3 CRS.[34] Ongoing trials investigating agents targeting novel immunotherapeutic targets will be presented at the upcoming 2021 63rd ASH Annual Meeting and Exposition, including updated data from phase 1 trials of cevostamab and talquetamab in R/R MM.[35-37]
An increased understanding of the complex interactions between the malignant clones and immune cells is key to optimize these therapies and achieve more durable responses. Furthermore, a comprehensive genomic analysis of the tumor together with the study of the immune cell repertoire can help to identify patients with the highest likelihood of relapse and lead to the development of prevention strategies.[1,38]
Post-Assessment Survey
Please click on the "Next" button to proceed to a brief survey.