At later stages of MS, immune cell infiltration in the CNS declines, but neuroinflammation and neurodegeneration continue, most likely as a result of mechanisms such as oxidative stress and CNS-compartmentalized inflammation (Figure 3).[1]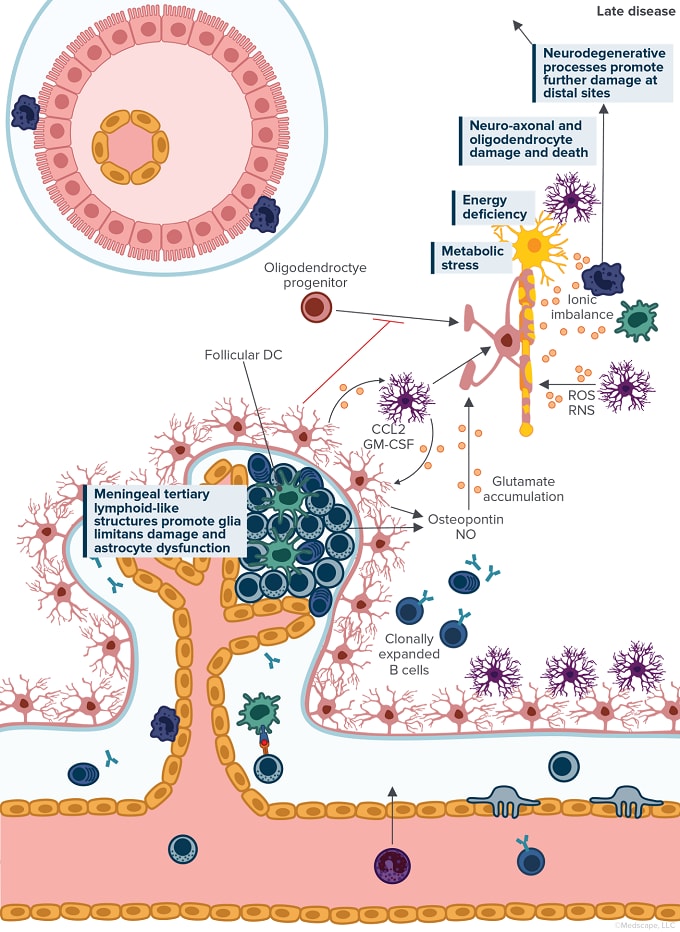 APC, antigen-presenting cell; CCL2, CC-chemokine ligand 2; NO, nitric oxide; RNS, reactive nitrogen species; ROS, reactive oxygen species.
HOW DO THESE IMMUNE MECHANISMS INFLUENCE DISEASE PROGNOSIS AND SEVERITY?
Overall, we know that age, sex, the number of spinal cord lesions, and the extent of brain abnormalities predict outcomes.[5] As far as the immune system, we know that the degree of inflammation -- as well as the microenvironment in the CNS, including its capacity for repair -- contributes to relapse activity and maybe relapse severity. We see a higher degree of inflammation in RRMS and active SPMS than we do in PPMS.[4,6] What we call an inflammatory relapse involves a wave of infiltration by activated immune cells into the CNS.[1] And we know that the type and the quantity of cells invading the CNS, along with the CNS micromilieu and factors determining repair processes, contribute to the development of MS lesions, determining the outcomes of lesions and their clinical sequelae. But at present, there are no reliable circulating biomarkers of prognosis.[6] One of the most widely studied potential markers is neurofilament, which measures the extent of neuroaxonal damage.[6,7] Another one is glial fibrillary acid protein (GFAP), which correlates with clinical severity and magnetic resonance imaging (MRI) lesion count.[7] These are markers that can be measured in serum,[7] which suggests that immune-mediated damage in the CNS can be measured in the periphery.
HOW IS THE IMMUNOPATHOLOGY OF MS TARGETED BY APPROVED DISEASE-MODIFYING THERAPIES (DMTS)?
All the approved DMTs interfere with the immune system, primarily the peripheral immune system, and they interfere in different ways.[2,3] I generally classify these therapies into 4 groups: 1) general or selective immunosuppressors, 2) immunomodulators, 3) agents that interfere with leukocyte trafficking, and 4) those that promote lymphocyte depletion (Table 1).[4,5,8-10] All those groups include platform and higher-efficacy treatments. Bottom line, these agents selectively target immune regulatory networks and thus the key players in the immunopathogenesis of MS.
Table 1. Approved DMTs for MS
Agent

Mechanism of Action

Efficacy

Immunomodulators

Glatiramer acetate[4,5,8]

Induces proliferation of anti-inflammatory lymphocytes

Modest

IFNs[4,8]

Changes cytokine balance in favor of anti-inflammatory cytokines

Modest

Dimethyl fumarate[4,8]

Changes cytokine balance by inhibiting nuclear factor erythroid 2-related factor 2 (NrF2)

Modest to moderate

Teriflunomide[4,8,10],*

Mitochondrial dihydroorotate dehydrogenase inhibitor

Modest

Classical General Immunosuppressants

Mitoxantrone[4,8,11],**

Type II topoisomerase inhibitor

High

Agents That Interfere With Leukocyte Trafficking

Fingolimod[4,8]

Sphingosine-1-phosphate receptor modulator that retains memory T cells in the lymph nodes and secondary lymphatic tissues

Moderate

Ozanimod[8]

Sphingosine-1-phosphate receptor modulator

Moderate

Siponimod[4,8]

Sphingosine-1-phosphate receptor modulator

Moderate

Natalizumab[4,5,8]

Monoclonal antibody that blocks α-4 integrin; prevents lymphocytes from crossing the blood-brain barrier into the CNS

High

Agents That Promote Lymphocyte Depletion

Cladribine[4,8,9],**

Synthetic deoxyadenosine analogue; transiently reduces B and T cells

Moderate

Alemtuzumab[4,8],**

Anti-CD52 monoclonal antibody

High

Ocrelizumab[4,8]

Anti-CD20 monoclonal antibody

High

Ofatumumab[8]

Anti-CD20 monoclonal antibody

High

*Based on its mode of action, teriflunomide can also be classified as an immunosuppressant. However, because of the selectivity of the immune suppression, and based on recent evidence about its mode of action, including its shorter- and longer-term safety profiles, teriflunomide is regarded as a selective immunosuppressant and by some experts as an immunomodulator.
**Used infrequently. Based on its mode of action, cladribine can also be classified as an immunosuppressant. However, because of the selectivity of the immune suppression, and based on recent evidence about its mode of action, including its shorter- and longer-term safety profiles, cladribine is regarded as a selective immunosuppressant.
HOW DOES OUR KNOWLEDGE ABOUT THE IMMUNOPATHOLOGY OF MS AND THE ACTION OF DMTs HELP US IN SELECTING AN APPROPRIATE TREATMENT?
When we think about treatment, we think about clinical control, which you can measure by looking at relapse rate, disability progression, inflammatory lesion development, or "no evidence of disease activity" (NEDA). But it's also about preventing the accumulation of neurological defects and later disability. The key goal is to stop or try to stop the neuroinflammation and the processes that are kicked off through inflammatory degeneration, and DMTs generally target neuroinflammation, with an indirect effect on neurodegeneration.[5]
But early intervention with the dysfunctional immune system is key. The earlier you intervene and the more completely you silence or dampen inflammation in the CNS, the better you can prevent or delay axonal injury and neuronal loss.[4,12] This is supported by data showing that initial treatment with higher-efficacy therapies, such as alemtuzumab or natalizumab, is associated with a lower risk of conversion from RRMS to SPMS and less disability.[13,14] However, we do not yet have a personalized approach where we can tailor treatments based on the individual patient's phenotype.
In principle, 3 main scenarios can be considered when treating MS as early as possible to achieve the most effective disease control possible: 1) complete prevention of secondary progression by preventing neurodegeneration from the beginning; 2) delay and attenuation of secondary progression by delaying and attenuating neurodegeneration from the beginning; and 3) delay of secondary progression with progression rates remaining unchanged.
HOW DO THE DIFFERENT CLASSES OF DMTS DIFFER IN SAFETY AND TOLERABILITY?
Platform therapies such as IFN-β or glatiramer acetate are characterized by excellent safety but only moderate efficacy.[1] The higher the efficacy of a DMT, the more intense is its intervention with the immune system, and therefore the higher the risk of (partially serious) adverse events.[1] One of the most critical adverse events is interference with immunocompetence, and a prime example of this is progressive multifocal leukoencephalopathy (PML), an opportunistic brain infection by the John Cunningham virus.[1] Theoretically, all immune therapies carry a risk of PML, but in MS, this risk is seen to be higher, especially with leukocyte trafficking agents such as fingolimod and the monoclonal antibody natalizumab.[1,5,11] Alemtuzumab has been associated with secondary autoimmune-related adverse events that can be severe.[5]
WHAT SHOULD WE CONSIDER WHEN SELECTING OR MODIFYING DMTS FOR A PATIENT WITH MS?
There are 2 key considerations: 1) disease control and 2) safety, including tolerability.[5] With respect to disease control, one important aspect highlighted in many guidelines and recommendations is the efficacy switch, also called escalation therapy or treatment optimization, where a patient is switched to a higher-efficacy therapy because of suboptimal or insufficient disease control.[5] With respect to safety, each treatment decision requires individual risk stratification and continuous pharmacovigilance.[11] Risk mitigation for DMTs should be considered right from the beginning, when a patient is diagnosed, in what we call a de-risking strategy.[11] Mitigation steps might include certain baseline diagnostics, steps to address infusion-related reactions, and monitoring, which will depend on the DMT that's used.[11] It should be noted that only IFNs and glatiramer acetate are currently approved for patients who are pregnant.[15]
One should also consider the mode of action of the current therapy when considering a switch. This is a key consideration in switching and treatment sequence recommendations.[15,16] Yet another consideration in treatment is the therapeutic concept, or whether the treatment will be administered as chronic, maintenance therapy or as pulse therapy.[11,15]
Decisions about treatment and treatment modification should always have the best possible disease control as a goal, but this must be considered in the context of the mode of action, treatment concept, and issues of safety and tolerability, and all of this must be balanced with patient preferences and implications for the patient's quality of life.[15-17] The key goal here is: 1) best possible disease control with 2) highest quality of life for the patient. That will include such issues as mode of application and whether it's feasible for the patient.
WHAT ABOUT PATIENTS WITH PPMS?
Most of what we have talked about applies primarily to RRMS, where we know more about the immunological activity as a key driver. The immune system appears to be less relevant in PPMS, and the inflammatory mechanisms seem to be different,[1] even though the genetic basis and the lesions within the CNS do not differ significantly from those seen with RRMS. Most of the treatments we have are not as effective, if at all.[1] Patients with this form of MS continue to progress whether we treat them or not.[1] However, the data suggest that while treatments generally targeting the immune system do not significantly modify disease progression, treatment with anti-CD20 DMTs such as ocrelizumab or rituximab might have some effect on this endpoint, and ocrelizumab currently is approved for PPMS.[1,4]