The following cases are modeled on the interactive grand rounds approach. The questions within the activity are designed to test your current knowledge. After each question, you will be able to see whether you answered correctly and read evidence-based information that supports the most appropriate answer choice. The questions are designed to challenge you; you will not be penalized for answering the questions incorrectly. At the end of the activity, there will be a short post-test assessment based on the material presented.
Clinical Case 1: Patient History
Anthony is a 25-year-old student who consumes a high amount of alcohol. He presents to his general practitioner (GP) with signs of severe, subacute central vision deterioration in both eyes. His GP refers him to an ophthalmologist. Anthony tells the ophthalmologist that he does not feel any pain, but that his sight is blurry and that colors seem faded. He also reports that he first noticed the problem in his left eye about 3 months ago but is now having problems with both eyes. The ophthalmologist questions Anthony further and learns that his maternal grandmother and two uncles also experienced vision problems at an early age. The initial examination confirms a bilateral loss of visual acuity, such that no plate of color vision is perceptible. Fundus examination reveals that the right disc looks hyperemic with peripapillary dilation of small vessels, and the temporal part of the left optic disc is pale; on both sides, the central retinal vessels look tortuous (Figure 1).
Figure 1. Ocular Fundus of the Patient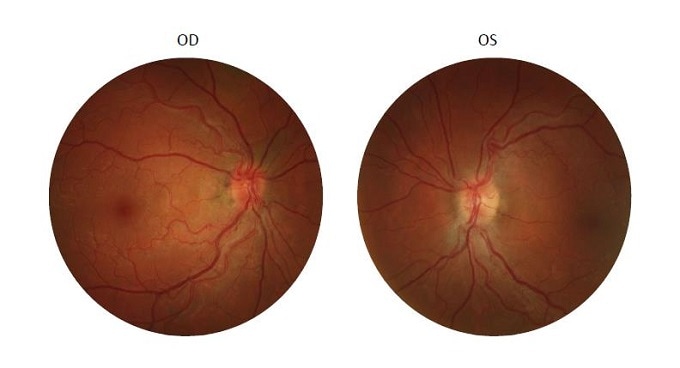 Vision loss began in the left eye and is now bilateral. The left optic disc shows pseudoedema and temporal pallor, while the right optic disc shows hyperemia, pseudoedema, and peripapillary telangiectasis. Both discs show retinal vessel tortuosity. (Photo courtesy of Catherine Vignal-Clermont, MD.)
The ophthalmologist then performs a visual field examination, which reveals bilateral central scotoma. On the optical coherence tomography (OCT), there is a thickening of the peripapillary retinal nerve fiber layer (pRNFL) on the right side and a thinning of the pRNFL on the left side; on both sides the macular ganglion cells (GC), thickness is reduced.