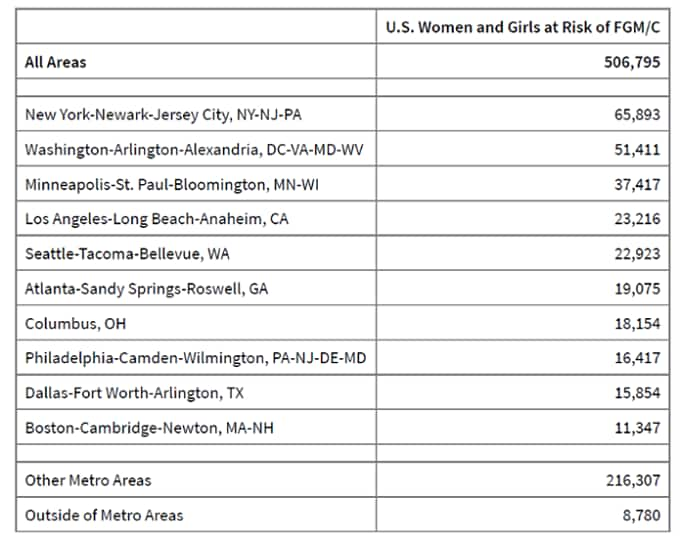 Figure 6. Girls and women in the US potential at risk for FGM/C; top 10 metropolitan data. Population Resource Bureau 2013 data[6]
Medscape: Are there guidelines for managing FGM/C?
Dr Ottenheimer: There are a number of guidelines and probably the best known guidelines come from the WHO, published in 2018. The United Kingdom (UK), Canada, and Australia also all have guidelines, but the US does not.[7-9] The current American College of Obstetrics and Gynecology (ACOG) guidance is really in the form of a statement of condemnation, but they don't have any current clinical guidelines for the treatment and care of affected women and girls.[10] It is worth noting that in August of this year the American Academy of Pediatrics (AAP) published the first guidance, actually in the world to our knowledge, on the diagnosis, management, and treatment of FGM/C in the pediatric population.[11]
Medscape: When is the best time to screen for FGM/C?
Dr Ottenheimer: One of the things that's very important to remember is that it is fundamentally a pediatric practice. Most girls and women affected by this practice will be cut before the age of 15.[1] To that end, the guidance from the AAP and thoughts of those of us in this field are that genital examination of girls should be part of their annual physical examination. It should be a normalized part of their examination and not stigmatized, because the only way to know if FGM/C happened to a young girl is to have looked at her genitals before.[11]
With the adults in my practice, I generally fold questions about FGM/C into my standard screening around past experiences of physical and sexual violence. I screen all of my patients for as many kinds of gender-based violence as I can think of. By making these questions part of my standard history taking, it loses some of its stigma and it doesn't become something that stands out from the rest of their history. Generally speaking, I would frame the question something like, "I know that not all women from your country have undergone..." -- "FGM/C" is not a word I use with my patients, I usually try to know in advance the words that are appropriate for that culture -- "...but some have experienced this. Is this something that you underwent?" (Ottenheimer D, personal communication. October 27, 2020)
I always try to avoid the word "mutilation." That is stigmatizing, and, again, it's important to remember to learn the words that your immigrant population is using for this practice. If a patient answers yes, then we go on and talk about possible complications that have affected her in the past or may be currently problematic. Two other very important points: First, not all women feel badly about this practice. You cannot make assumptions about how your patient may or may not feel. This is just part of the history-taking, this is not about judgment. Finally, it's important to remember that FGC co-occurs with a number of other types of gender-based violence, including intimate partner violence, child marriage, and forced marriage. (Ottenheimer D, personal communication. October 27, 2020)
Medscape: Who are the primary clinicians that should be looking out for FGM/C?
Dr Ottenheimer: Really, any clinician who examines female genitalia should be looking out for FGM/C. It is sometimes easy to miss if you are in a hurry, and all of us are always in a hurry in our practices now. But it's important to examine the external female genitalia for a number of reasons -- FGM/C is just 1 of them. As I said before, pediatricians should be looking at the genitalia of girls at wellness visits. PCPs, Ob/Gyns, family medicine physicians, urologists, dermatologists, emergency medicine physicians, midwives, and nurse practitioners are examples of clinicians who may examine women's and girls' genitals and should have FGM/C in the back of their mind. (Ottenheimer D, personal communication. October 27, 2020)
One important thing to remember is we have a tradition of calling other practitioners into the room when we have an extraordinary or unusual finding. That would be deeply inappropriate in this case. I have had many patients come to me and say that they haven't gone to a doctor in this country in 15 years because, the first time they went, the practitioner saw their excision and called in medical students, the physician assistant, and the nurse practitioner, and it was one of the most humiliating experience of their life. (Ottenheimer D, personal communication. October 27, 2020)
Medscape: What are the most frequent immediate and long-term medical issues, mental health issues, and sexual issues that can arise in women with FGM/C?
Dr Ottenheimer: In terms of the top 3 immediate complications, it would be very unusual for an American physician to see this. We usually are not seeing girls who have been cut in the acute setting. However, the most common immediate complications of FGM/C are bleeding, infection, and urinary retention, in addition to having experienced excruciating pain, as FGC is generally not done with an anesthetic.[1,2] In terms of chronic medical issues, the most common issues that I see are history of obstetric complications. Often women are told that they're too small or too scarred to deliver vaginally, so they are delivered by caesarean section.[1,2] Other ongoing complaints I see among affected women are chronic itching, vaginitis, and pain at the scar site.[1,2]
The top 3 mental health issues can be a little hard to sort out from other issues accompanying co-experienced gender-based violence, as well as the general state of being an immigrant. But, generally speaking, there is a high incidence of depression, anxiety, and post-traumatic stress disorder.[1,2] The experience of FGM/C probably needs to be folded into the rest of the life experience to explain these 3 disorders (Ottenheimer D, personal communication. October 27, 2020).
In terms of sexual health, the most common issue that my patients express is painful intercourse.[2] Women may experience pain because the tissue is not elastic -- scar tissue is generally no longer as elastic as the original tissue. Anorgasmia is also common.[2]
Medscape: Under what circumstances do you consider referring a woman with FGM/C to a specialist?
Dr Ottenheimer: One issue in the US is there aren't many FGM/C specialists, so referral may not be simple. You can go to the endfgmnetwork.org website [https://endfgmnetwork.org/] for a list of providers and reach out to them. Many of the issues that these women experience are issues that women who don't have FGM/C experience, such as chronic vaginitis, vaginismus, and issues of sexual dysfunction, and they can be treated by a "non-expert" who has read about the practice of FGC. However, if a specialist is needed, that list of referrals is there on the website. The ideal model for treatment is actually most prevalent in Europe, in which there are mental health, Gyn, surgical, and pelvic floor physical therapy specialists all in 1 place. (Ottenheimer D, personal communication. October 27, 2020)
Medscape: What is "reversal surgery" and when is it indicated?
Dr Ottenheimer: In the public domain, reversal surgery has 2 different meanings. One is what we would call in medicine "defibulation," which is the reopening of a sealed vaginal orifice or a partially sealed vaginal orifice to allow for vaginal delivery or sexual intercourse. It can be done as an outpatient procedure or it can be done in the operating room. Defibulation involves separating the apposed tissue, but not anything deeper than that in terms of surgical intervention. The timing of defibulation in pregnancy is a little controversial. It can be antenatal or intrapartum and it really involves a conversation with the patient and co-decision making.[2] Like I said before, there are really no guidelines from American professional organizations. But you can refer to the WHO, UK, or Australian guidelines for both how to do the procedure and when to do the procedure.[2,7,9] (Ottenheimer D, personal communication. October 27, 2020)
The other procedure that is often put under the reversal surgery umbrella is clitoral reconstruction, which is currently considered to be somewhat experimental. Because only the glans, the external portion of the clitoris, is removed, there has been some work on trying to re-exteriorize the remaining stump of the clitoris. There are studies that are encouraging, but it is still not yet an internationally or medically accepted practice.[12] Clitoral reconstruction should not be done without appropriate pelvic floor physical therapy and psychological evaluation (Ottenheimer D, personal communication. October 27, 2020). It's also very important to explain to patients who ask you, because this procedure is all over the internet, that it's not going to put back the things that were taken away. It may be an opportunity to re-exteriorize part of the clitoris, but the other portions of the external genitalia that were cut away can't really be returned.[12] It's important to mitigate patient expectations. I've had a lot of patients come to me assuming that you could just do it and all the bad things that happened before would be erased (Ottenheimer D, personal communication. October 27, 2020).
Medscape: In general, what state laws and reporting requirements should clinicians in the US know about regarding FGM/C?
Dr Ottenheimer: In 2017, the first federal case around FGM/C was prosecuted in the US. It was found that, while the judge condemned the practice of FGM/C, he felt and decided that the law at the federal level was unconstitutional.[13] Recently, that law has been rewritten and was passed by Congress. However, in the intervening 3 years, many states stepped up and created state legislation in response to the temporary absence of federal legislation.[11] Currently, there are 39 states, and the District of Columbia, with legislation prohibiting the practice of FGC (Figure 7).[14] The legislation in each state varies a bit regarding the specifics, such as addressing vacation cutting and the definition of minors. Generally speaking, all of our laws address only minors, not adults. The laws differ in the penalization of parents or guardians, even if they didn't actually do the procedure, and they differ in the allowance for a cultural practice argument or a religious tradition argument, which in some states is permitted. Something that all states have in common is that if you suspect a minor of being at risk for FGM/C or having just experienced it, you can also report that to your local child abuse authorities because it is prosecutable under child abuse law, regardless of the FGM/C law on the books in the state.[11,13]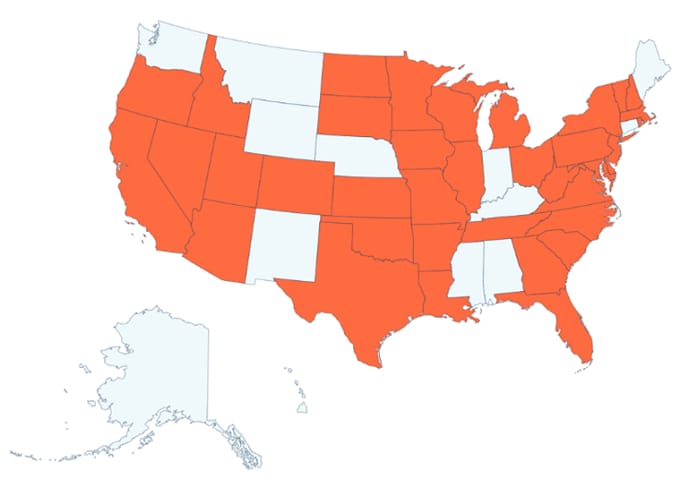 Figure 7. States with laws against FGM/C, including the District of Columbia.[14]
This transcript has been edited for style and clarity.