It began as a "do no harm" mandate by the Food and Drug Administration to test all new antidiabetic agents for cardiovascular (CV) safety, but led to the unexpected discovery that 2 new drug classes were more than just safe – they actually lowered CV risk. One of these drug classes is the sodium-glucose cotransporter-2 (SGLT2) inhibitors.[1-3] The other class is the glucagon-like peptide-1 receptor agonists (GLP-1 RAs), and in particular, liraglutide, dulaglutide, and semaglutide. In large CV outcomes trials (CVOTs), most of these agents have been shown to reduce 3-point major adverse CV events (MACE) in patients with type 2 diabetes mellitus (T2DM), including CV death, nonfatal myocardial infarction (MI), and non-fatal stroke.[4-6] Beneficial effects on the risk of renal endpoints have also been demonstrated by both drug classes.[2-7] As such, T2DM treatment goals have evolved from glucose-lowering and microvascular protection to include freedom from CV and renal events.[8]
This year's Annual Meeting of the European Association for the Study of Diabetes (EASD) promises exciting insights from recent research connecting diabetes treatment with CV and kidney health. Amid the excitement is the world-renowned endocrinologist, professor, and EASD presenter, Filip K. Knop, MD, PhD. In 2019, Dr Knop received the EASD's Minkowski Prize in recognition for his excellence in the advancement of knowledge concerning diabetes. Recently, Medscape had the pleasure of speaking with Dr Knop about new research on GLP-1 RAs and the data to expect at this year's EASD. Our conversation began with this sentiment:
Filip K. Knop, MD, PhD: The most powerful thing that we, as clinicians, can do with our understanding of the positive data from CVOTs is to use it for the benefit of our patients. Many of this year's EASD's sessions will touch on communicating to patients with T2DM the importance of protecting their CV system and how it best can be done.
Medscape: Yes! And I believe that 1 of the EASD abstracts has estimated the effect of adding a GLP-1 RA to the standard of care on CV disease-free life-years. Could you help us put those findings into context?
Dr Knop: Absolutely, this a great example of the type of information that we can use to educate our patients. The study found that the addition of semaglutide to the standard of care reduced the 10-year risk of CV disease by 20% (95% CI: 6.4, 32.6) and increased CV disease-free life-years by 1.72 (95% CI: 0.52, 2.96).[9] A patient won't understand the CV benefits of a new diabetes treatment in terms of relative risk reduction in MACE, but he/she will understand that people, very similar to themselves, who took the medication lived longer without having a heart attack or stroke.
Medscape: What have the trials to date shown us about GLP-1 RAs and stroke prevention, in particular?
Dr Knop: Nonfatal stroke has been included as a primary outcome for most CVOTs as a MACE component. A metaanalysis of 7 CVOTs enrolling ~56,000 patients with T2DM showed a 15% reduction (HR: 0.85; 95% CI: 0.76, 0.94) in the risk of nonfatal stroke when a GLP-1 RA was added to the standard of care.[10](Figure 1.) Notably, only subcutaneous semaglutide and dulaglutide reduced the risk of nonfatal stroke within their individual CVOTs (39% and 24%, respectively). Intensive glycemic control has not been shown to significantly reduce the risk of nonfatal stroke in patients with T2DM.[11]
Figure 1. Metaanalysis for the Primary Endpoint (Nonfatal Stroke)

A metaanalysis including 32 randomized trials with the SGLT2 inhibitors, canagliflozin, dapagliflozin, and empagliflozin, showed neutral effects on stroke risk in patients with T2DM (RR: 1.0; 95% CI: 0.92, 1.09).[12] However, data presented at the 2020 American College of Cardiology conference suggested that SGLT2 inhibitors may offer stroke protection in a subset of patients with T2DM and reduced kidney function.[13,14] An open session at EASD is dedicated to the discussion of 5-years of accumulated CV data gathered from SGLT2 inhibitor CVOTs.
Medscape: What can we hope to learn at EASD about GLP-1 RAs and neuroprotection?
Dr Knop: Insights will be offered into the potential mechanisms of GLP-1 RAs for neuroprotection and post hoc analysis of the neuroprotective effects seen in CV trials. One post hoc analysis assessed the effects of GLP-1 RAs on stroke subtypes in high-risk patients with T2DM from the LEADER, SUSTAIN 6, and PIONEER 6 CVOTs. The study showed stroke risk reduction (HR: 0.82; 95: CI: 0.68, 0.98) with an indication of the greatest benefit on strokes caused by small vessel occlusion.[15]
Studies are also demonstrating the effectiveness of GLP-1 RAs against cognitive decline and neurodegenerative diseases, as well as brain insulin resistance.[16,17] In the REWIND study, a CVOT investigating the CV safety of dulaglutide, participants were assessed using 2 different cognitive tests (ie, Montreal Cognitive Assessment and Digit Symbol Substitution Test) at baseline and regular intervals during more than 5 years of follow-up.[18] A post hoc analysis showed that substantive cognitive impairment was reduced by 14% for those treated with dulaglutide as compared with placebo (HR 0.86: 95% CI: 0.79, 0.95; P = .0018).
Medscape: What do we know and what can we expect to learn at EASD about GLP-1 RAs and metabolic outcomes?
Dr Knop: We know from previous studies that intensive glucose-lowering does not translate into improvements in CV outcomes.[19-20] Therefore, a more comprehensive approach to CV risk prevention has become attractive. We know that the GLP-1 RAs can reduce body weight, lower systolic blood pressure (BP), and marginally improve circulating lipid concentrations; however, all GLP-1 RAs are not the same in their effects.[21] For example, weight loss has been more pronounced with subcutaneous semaglutide, followed by oral semaglutide and liraglutide.[4-6,22,23] (Figure 2.)
Figure 2. Weight Change Achieved in CVOTs With GLP-1 RAs Compared With Placebo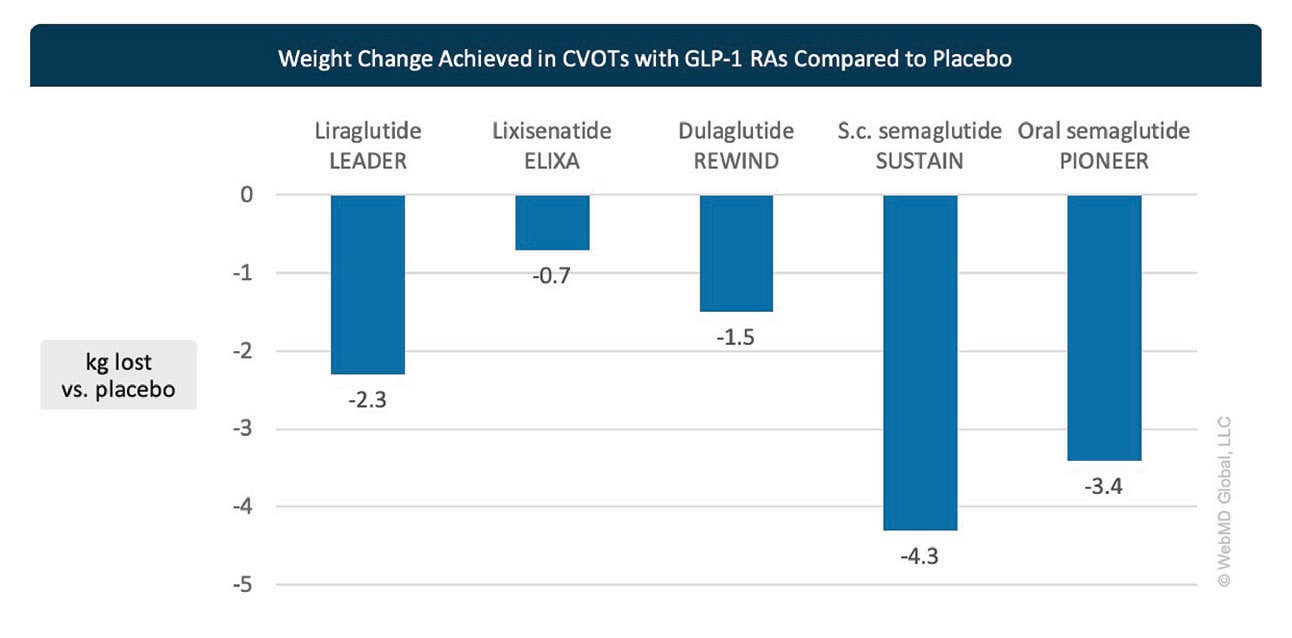 Data surrounding oral semaglutide are likely to garner some attention at EASD, both as the latest GLP-1 RA to receive FDA approval and for its oral formulation, which is unique to this class of agents. A post hoc analysis of the PIONEER trial program will demonstrate the effectiveness of oral semaglutide for glycemic control and body weight reduction compared with placebo, liraglutide, and other antidiabetic drug classes, including the SGLT2 inhibitors and dipeptidyl peptidase-4 inhibitors.[24]
The scientific community is eager to understand why the GLP-1 RAs and SGLT2 inhibitors reduce CV risk in patients with T2DM. This curiosity is reflected by the number of EASD meeting abstracts and sessions exploring comorbidity and potential mediators of CV benefit (ie, glycemic control, weight loss, BP-lowering, lipid-lowering). In a session of my own, Dr M. Roosima will present a metaanalysis of 7 GLP-1 RA CVOTs demonstrating that better glycemic control is likely a mediator of CV risk reduction with the GLP-1 RAs.[25] Dr H. Gerstein will present a post hoc analysis of REWIND evaluating the degree to which dulaglutide's reductions in HbA1c, body weight, and systolic BP contributed to its significant lowering of MACE.[26] And here is a spoiler alert, the results of the latter suggest that most of the CV benefits of dulaglutide on MACE are not individually attributable to the HbA1c, body weight, or systolic BP-lowering effects of dulaglutide.
Medscape: In thinking about CV risk factors that aren't necessarily metabolic, do you anticipate any new data on the treatment of high-risk patients with peripheral artery disease (PAD) and T2DM?
Dr Knop: Yes, indeed. There is a post hoc analysis of LEADER and SUSTAIN-6 to be presented at EASD. Approximately 15% of patients in both trials had PAD at baseline, and the GLP-1 RAs lowered their absolute relative risk for MACE by at least 4%.[27,28]
Medscape: Several of the CVOTs have also demonstrated renoprotective effects with the newer antidiabetic medications. What do we know and what can we expect to learn on this topic at EASD?
Dr Knop: Both GLP-1 RAs and SGLT2 inhibitors have shown consistent renal benefits in CVOTs, but renal endpoints have mostly been assessed as secondary outcomes. (Table 1.)
Table 1. SGLT2 Inhibitor and GLP-1 RA Renal Outcomes From CVOTs
SGLT2 Inhibitors

Trial

Medication

Renal Composite *

(HR, 95% CI)

CANVAS[2]

N = 10,142

Canagliflozin

0.60

(0.47, 0.77)

DECLARE TIMI[1]
N = 17,160

Dapagliflozin

0.53

(0.43, 0.66)

EMPA-REG OUTCOME[7]

N = 7068

Empagliflozin

0.54

(0.40, 0.75)

GLP-1RAs

LEADER[5]

N = 9340

Liraglutide

0.78

(0.67, 0.92)

SUSTAIN-6[6]
N = 3297

Semaglutide

0.64

(0.46, 0.88)

REWIND[4]

N = 9901

Dulaglutide

0.85

(0.77, 0.93)
*Composite renal outcomes were defined differently in individual CVOTs, but most commonly included a variation of sustained increase in macroalbuminuria, renal replacement therapy, doubling of serum creatinine (sCr) or a ≥ 30% decline in estimated glomerular filtration rate, end-stage renal disease, or renal death.
Data from the VERTIS CV trial of the newest SGLT2 inhibitor, ertugliflozin, were recently presented at the 80th American Diabetes Association Scientific Sessions.[29] Ertugliflozin was noninferior to placebo for MACE reduction, but did not meet the secondary endpoint for superiority. The HR for the combined renal outcome (ie, composite of renal death, renal replacement therapy, or doubling of serum creatine) was 0.81 (95.8% CI: 0.63, 1.04). We are looking forward to hearing the renal outcomes that will be presented in a late-breaking EASD session.
You can expect EASD 2020 to explore the mechanisms of renoprotection and potential mediators of renal benefit with both drug classes. The SGLT2 inhibitors are thought to protect against renal function decline by stabilizing the estimated glomerular filtration rate (eGFR), whereas the GLP-1 RAs reduce the progression of albuminuria.[30,31] However, a post hoc analysis will be presented of the REWIND study that showed a 17% risk reduction in renal function-related outcomes with dulaglutide that wasn't driven by albuminuria, but rather by the significantly lower proportion of participants with sustained eGFR decline ≥ 40%.[32]
Differences in the renoprotective mechanisms of SGLT2 inhibitors and GLP-1 RAs may play out in larger trials dedicated to assessing renal outcomes. For the SGLT2 inhibitor class, the CREDENCE (canagliflozin) and DAPA-CKD (dapagliflozin) renal outcomes trials have completed. In CREDENCE, canagliflozin reduced the risk of ESRD or death in patients with T2DM and CKD by 30% (HR: 0.70; 95% CI 0.59, 0.82; P = .00001) compared with placebo.[33] In DAPA-CKD, dapagliflozin reduced the risk of kidney failure or death by 39% (HR: 0.61; 95% CI 0.51, 0.72; P = .00001) compared with placebo, with reductions of 36% and 50% in patients with and without T2DM, respectively.[34]
No GLP-1 RA trials have been published that assessed renal outcomes as a primary endpoint; however, several post hoc analysis of CVOTs will be presented at EASD.[32,35,36] An open session addressing potential mediators of renal benefit includes a post hoc analyses of SUSTAIN and LEADER. In this study, the renal benefits of semaglutide and liraglutide were modestly mediated by improved glycemic control, weight loss, and BP-lowering, and are therefore likely to be driven by other, potentially direct, mechanisms.[37] The FLOW trial (semaglutide), which is the first dedicated GLP-1 RA renal outcomes trial, is marked for completion in 2024.[38]
Medscape: You also have a poster presentation at EASD 2020 on GLP-1 RAs and gastrointestinal (GI) adverse effects.[39] Any teasers for your colleagues?
Dr Knop: Weight loss occurs with GLP-1 RAs irrespective of GI adverse effects. It's a common misconception that weight loss occurs as a result of the GI adverse effects.
Medscape: Any closing remarks that you'd like to offer to your colleagues?
Dr Knop: Recent diabetes and cardiology guidelines recommend GLP-1 RAs and SGLT2 inhibitors with proven CV benefits in patients with T2DM and established CV disease or high/very high CV risk.[8,40] The CAPTURE study, a cross-sectional, observational study of CV disease prevalence in adults with T2DM across 13 countries, will be presented at EASD.[41,42] This study uncovered that 1 in 3 adults with T2DM attending a primary or specialist healthcare visit in 2019 had established CVD, and yet fewer than 25% received a GLP-1 RA or SGLT2 inhibitor with an approved CV indication. As clinicians managing patients with T2DM, there is clear room for improvement. We finally have antidiabetic drugs with proven CV benefits; let's use them, as appropriate, to improve and prolong the lives of our patients with T2DM.