Component 1: How Intraocular Lens Innovation Drives Refractive Outcomes
Medscape recently sat with Dr Eric Donnenfeld to discuss the latest guidance on the latest cataract surgery lens technology. Dr Donnenfeld is an internationally recognized expert and pioneer in refractive, cornea and cataract surgery and one of the leading refractive and cataract surgeons in the United States. Dr Donnenfeld is on the editorial board of 9 journals and has participated in over 40 FDA studies. He is one of the first 5 people in the world to perform both laser vision correction and laser cataract surgery.
Medscape: Where are we in the evolution of intraocular lens options (IOL) for refractive cataract surgery?
Dr Eric Donnenfeld: The innovation to optimize visual outcomes by way of IOL design, delivery systems, and advances in biomaterials has been absolutely remarkable. Sir Harold Ridley implanted the first polymethyl methacrylate (PMMA) IOL in 1949,[1] and improvements in cataract surgery have shown no signs of slowing down since. (Figure 1.)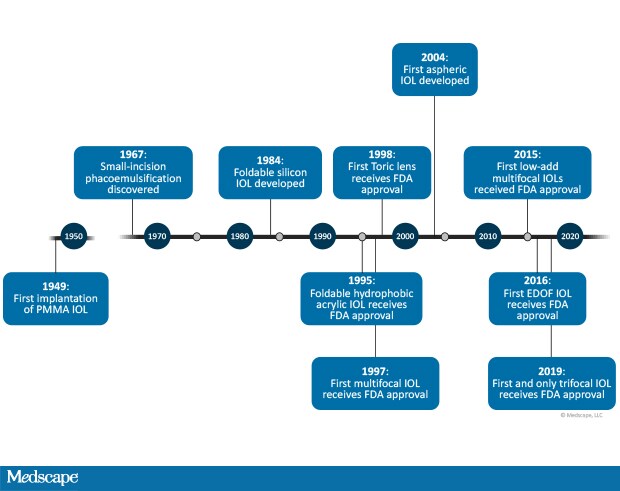 1949 FIRST IMPLANTATION OF PMMA IOL
1967 SMALL-INCISION PHACOEMULSIFICATION DISCOVERED
1984 FOLDABLE SILICONE IOL DEVELOPED
1995 FOLDABLE HYDROPHOBIC ACRYLIC IOL RECEIVES FDA APPROVAL
1997 FIRST MULTIFOCAL IOL RECEIVES FDA APPROVAL
1998 FIRST TORIC LENS RECEIVES FDA APPROVAL
2004 FIRST ASPHERIC IOL DEVELOPED
2015 FIRST LOW-ADD MULTIFOCAL IOLs RECEIVE FDA APPROVAL
2016 FIRST EDOF IOL RECEIVES FDA APPROVAL
2019 FIRST AND ONLY TRIFOCAL IOL RECEIVES FDA APPROVAL
The foldable IOL was among the first discoveries to revolutionize cataract surgery. These foldable lenses could fit through the smaller incisions made possible by small-incision phacoemulsification, which reduced recovery time and astigmatism.[2] Soon after, the use of hydrophobic acrylic materials rapidly reduced the use of silicone. Meanwhile, we've moved from 1-piece designs to 3-piece designs and back again, with the key difference being lens foldability. We've made our lenses aspheric and reduced chromatic aberration to increase the quality of vision, and the most major recent advance we've had in lens technology has been presbyopic IOLs.
Medscape: What types of presbyopic lenses are available?
Dr Donnenfeld: Presbyopia IOLs are in a state of perpetual progress shifting from monofocal to bifocal IOLs, and now to extended depth of focus (EDOF) and trifocal IOLs. In addition, bifocal, EDOF and trifocal toric IOLs can correct corneal astigmatism at the time of cataract surgery. Accommodating IOLs are a promising but still a developing field in premium IOL technology. (Figure 2.)
Figure 2. FDA-Approved Presbyopia-Correcting Lens Options[3]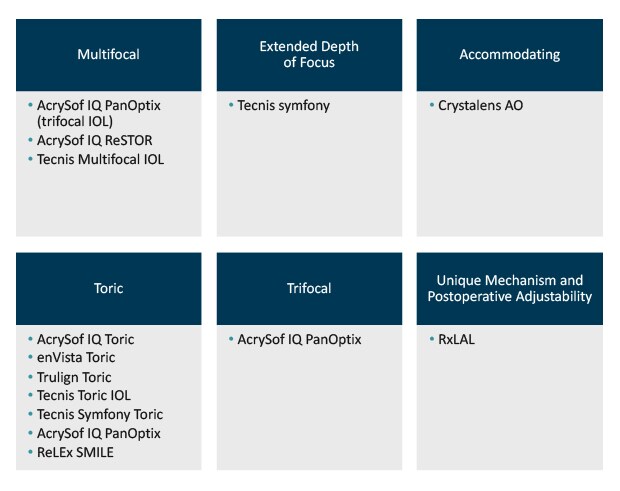 But there's more to optical design than focality. Presbyopic IOLs can be classified as refractive or diffractive.[4] Refractive IOLs refract or bend light to the desired focal range, and must be exact with regard to transition between zones of refraction and pupil size under various lighting conditions since this can lead to glare, halo, and out-of-focus vision. For these reasons, innovation has primarily focused on diffractive optical designs.
Medscape: On that note, how do diffractive optics improve the quality of vision?
Dr Donnenfeld: If we've learned one thing from embracing diffractive optics, it's that quality of vision is at least as important as the quantity of vision. Diffractive multifocals generally feature concentric annular zones, with the width of each zone becoming progressively smaller towards the edge of the lens.[4] Both refractive and diffractive lenses rely on simultaneous vision. Still out-of-focus light in a refractive multifocal is concentrated into rings. In a diffractive IOL, this light can be spread out uniformly over a larger area, making it far less noticeable.[5] Apodization further assists in light energy distribution, with the goal of adding to visual comfort. The lower add bifocal and EDOF lenses have smaller halos that make quality of vision better with these IOLs than with high add bifocal IOLs.
EDOF and trifocal IOLs represent a new generation of diffractive IOLs. EDOFs are quite unique in harnessing a pattern of light diffraction that elongates the focus of the eye. The EDOF IOLs show good visual outcomes with less loss of contrast sensitivity at distance and fewer photic phenomena than traditional multifocal diffractive IOLs.[6] The contrast sensitivity of EDOF IOLs may be the same or higher than that of trifocal IOLs, but EDOFs tend to have less near visual acuity than trifocal IOLs.[7-9] I should mention that most comparative studies have been conducted with Tecnis Symfony®, the only FDA-approved EDOF lens available in the US. Overall, clinical evidence suggests that good visual outcomes and a high degree of spectacle independence are achieved in patients implanted with the PanOptix®, FineVision®, AT LISA®, and Tecnis Symfony® IOLs. However, every IOL has its benefits and limitations, which along with patient's needs and clinical conditions are important factors to consider while selecting an IOL to achieve best possible postoperative outcomes.[10]
Medscape: You mentioned that the quality of vision is at least as important as the quantity of vision, what are other contributors to patient satisfaction with PCIOLs?
Dr Donnenfeld: There are quite a few (Table 1), but the most obvious answer is avoiding postsurgical complications. Posterior capsular opacification (PCO) is the most common complication with rates of up to 43% within the first year after cataract surgery.[11] But, we are discovering ways to lessen the incidence with modern material and design features. For example, there's been a lot of debate about whether lenses should be hydrophilic or hydrophobic, with the latter biomaterial reducing capsular adhesion in the fibronectin structure and lowering Nd:YAG laser capsulotomy rates.[12,13] Sharp- and rounded-edge designs may also play a role in outcomes, with studies showing that sharp optic edges are superior at lowering PCO and the rate of Nd:YAG laser capsulotomy compared with lenses with round-edge design.[12-14]
Table 1. Contributors to Patient Satisfaction With PCIOLs
| | |
| --- | --- |
| | |
| Chromatic aberration correction | |
| | Preloaded delivery systems |
| Dysphotopsia (halo and glare) reduction | Quality of the ocular surface |
Medscape: What other complications are associated with IOL implantation, and how can we mitigate risk for patients?
Dr Donnenfeld: Although not common, IOLs can become malpositioned or dislocated following implantation. Delivery of an IOL in the capsular bag using a preloaded delivery system can prevent manipulation during surgery and surgical error.[15-17] IOLs are inserted using these systems through incisions as small as ~2.0 to 2.2 mm, which is refractively neutral and produces very little cylinder. The lens opens nicely, and fixates well with little rotation. Small incisions can also reduce the risk of infection in the early postoperative period.[15,18] There are a few delivery systems available in the United States. Using delivery systems for toric IOLs, negates most of the concern about late rotation of the lens, and the concern of the lens going off axis due to the haptics.
Medscape: What is considered a success in most patients? Is it complete spectacle independence?
Dr Donnenfeld: Many patients will be thrilled with less dependence on glasses, whereas others desire almost complete spectacle independence. While we should never guarantee this, we ought to take a close look at every patient's unique visual goals. For example, low-add designs and EDOF IOLs elongate focal points, providing a continual, high-quality of vision. But for some patients, this isn't enough. We need to identify these patients pre-operatively by asking questions about lifestyle and visual goals. From there, I might consider mix and match options (eg, a low-add IOL in one eye with a higher-add lens in the fellow eye) or bilateral trifocal lens implantation. In my opinion, one of the most significant advances in IOL technology taking place within the last year is the introduction of trifocal IOLs.
Medscape: Which trifocal IOLs are approved for use in the United States?
Dr Donnenfeld: While there are several options in Europe, at present, only one trifocal IOL is FDA-approved for use in the United States. (Table 2) The AcrySof IQ Panoptix is a 1-piece aspheric hydrophobic PCIOL with a unique intermediate focal point located at 60 cm (versus 80 cm) and a near focal point at 40 cm. The focus curve is fairly flat so that patients maintain 20/20 to 20/25 vision at all distances.[19] The 4.5 mm nonapodized, diffractive zone allows high light utilization, transmitting 88% of light to the retina at a 3.0 mm pupil size, and provides optimized performance in a wide range of lighting conditions due to low dependence on the pupil size. This light energy is distributed 25% each for near and intermediate and 50% for distance vision. The new trifocal is also available in a toric design and gives surgeons the option of selecting whether or not to add blue-blocking.
Table 2. Trifocal IOLs
AcrySof IQ Panoptix (EU, United States)
AcrySof IQ Panoptix Toric (EU, United States)
Medscape: If given a crystal ball, what might be the next major innovation in refractive cataract surgery?
Dr Donnenfeld: I believe the next exciting development will be in accommodating IOLs; this is where the majority of efforts in innovation are currently placed. The accommodative lens contains a smooth central surface situated within the ciliary muscle in such a way that it moves forward or backward when the ciliary muscle contracts. As a result of their design, accommodative IOLs as a whole produce fewer visual disturbances compared with multifocal IOLs.
Medscape: This has been an absolute pleasure, Dr Donnenfeld. Thank you!
Dr Donnenfeld: My pleasure.
Donnenfeld's "Don't Forgets"
Hitting the refractive target is key to patient satisfaction
The most common source of refractive error is residual astigmatism
Presbyopic IOLs offer improved quality of life and should be discussed with all patients having cataract surgery