After March 23, 2020, a change to regulatory requirements for biosimilar products may drastically increase the number of biosimilar insulins available in the United States. This increase in market competitiveness is hoped to reduce insulin prices and ultimately increase the number of individuals with diabetes who can afford their insulin. Medscape recently sat with Susan Cornell, PharmD, CDE, a professor, author, clinical pharmacist, and certified diabetes care and education specialist (CDCES) to discuss biosimilar insulins and what DCES need to know to prepare themselves to better manage persons with diabetes.
Brief History of Biosimilar Insulins
Medscape: Nearly 100 years after the development of insulin, there are technically still no generic insulins available. What is the difference between a "generic" drug and biosimilar insulin?
Susan Cornell, PharmD, CDCES: Insulin is a large, complex, relatively unstable protein derived from living cells or organisms.[1] Modern manufactured insulin is a biologic, and most biologics are made using recombinant DNA technology. The structure and function of the biologic depend heavily on the conditions in which it is manufactured, and these details are proprietary (ie, cell line, environmental conditions, etc). This makes it virtually impossible for other manufacturers to produce identical copies of an existing insulin. A biosimilar is highly similar to the existing insulin, but not identical, so they are not generically equivalent (Table 1).
Table 1. Comparison Between Generic and Biosimilar Products[2,3]
| | Generic Product | Biosimilar Product |
| --- | --- | --- |
| Reference molecule characteristics | Small, stable brand name medication | FDA-approved biologic (large, complex protein, susceptible to light, heat, agitation, etc) |
| Manufacturing process | Chemical synthesis; active ingredient is identical to the brand medication | Produced in living cells using recombinant DNA technology; manufacturing process differs from reference biologic |
| Development and validation | Bioequivalence studies, simple analytical methods | Significant research (ie, comparative PK/PD, safety, and immunogenicity); specialized analytical methods |
| Structural comparison to reference drug | Structurally identical | Highly similar; same amino acid sequence, but minor parts of the structure may differ without affecting the drug's clinical activity |
| Approval requirements for equivalence | Data must demonstrate that the generic is the same as the brand in bioequivalence (eg, rate and extent of absorption) and therapeutic equivalency (eg, efficacy and safety) | Data must demonstrate the biosimilar has no clinically meaningful differences in safety, purity, or potency compared with the reference biologic |
| Administration | Generally oral | Generally injected, commonly administered by a device |
PD = pharmacodynamics; PK = pharmacokinetics
Medscape: There currently are no biosimilar insulins approved in the United States, but there are a couple of FDA-approved follow-on insulins.[4,5] Can you briefly explain the difference?
Dr Cornell: It boils down to a difference in approval pathways. There has been a longstanding quirk in biologic product approval with some proteins licensed under the Public Health Service (PHS) Act and some—notably insulin—regulated as drugs under the Food, Drug, and Cosmetic (FD&C) Act. Follow-on insulin products are currently approved through an abbreviated FDA approval pathway—505(b)(2)—under the FD&C Act.[3] Biosimilars are licensed under section 351 of the PHS Act. According to current statutory definitions for equivalence, it is technically not possible to submit a biosimilar for insulin in the United States. It is possible, however, to submit a follow-on insulin for approval (Table 2).
Table 2. Comparison Between Biosimilar Insulin and Follow-on Insulin[2,3]
Follow-on Insulin
Biosimilar Insulin
Approval pathway
NDA approved via 505(b)(2) of the FD&C Act
Biosimilar Section 351(k) of the PHS Act
Approval requirements for equivalence
Must provide new data for any proposed change to the reference biologic product
Data must demonstrate the biosimilar has no clinically meaningful differences in safety, purity, or potency compared with the reference biologic product
Reference products
Lantus® (insulin glargine)

Humalog® (insulin lispro)

None; no insulin products are licensed under the PHS Act, so no reference products exist
Approved products
Basaglar® (insulin glargine) Admelog® (insulin lispro)
None
FD&C = Food, Drug, and Cosmetics; NDA = New Drug Application; PHS = Public Health Service.
The confusion is expected to clear in March 2020 when all biologics become regulated through section 351(k) and are referred to as biosimilars. Abbreviated biologic applications for biosimilar insulin products will be accepted by the FDA through section 351(k) with reference to previously approved insulin products.[3]
Medscape: How do current follow-on insulins compare to existing insulin products with regard to safety and efficacy?
Dr Cornell: Basaglar® (insulin glargine) was the first follow-on basal insulin to be approved in the United States in 2015.[5] A full range of preclinical and clinical studies in persons with type 1 and type 2 diabetes demonstrated that Basaglar was similar to Lantus® regarding HbA1c reduction, safety, and PK/PD profile (Figure 1).[6-10] Basaglar is administered using the manufacturer's KwikPen® injector for Humalog®; however, whereas the maximum dose of Humalog delivered is 60 units, the maximum dose of Basaglar delivered by the KwikPen is 80 units.[5,11]
Figure 1. PK/PD Comparison of Lantus vs Basaglar[6,7]

PD = pharmacodynamics; PK = pharmacokinetics.
Admelog® (insulin lispro) was approved in the Unites States in 2017 as the first short-acting, follow-on insulin for the treatment of type 1 and type 2 diabetes.[4] Admelog's approval was based on efficacy data with Humalog and two 6-month, open-label, randomized, noninferiority trials.[12,13] Admelog is administered using the SoloSTAR® pen, developed for the administration of Lantus.[4]

As a side note, starting in 2020 there will be insulins referred to as "authorized generics," which include a short-acting insulin lispro and mealtime insulin aspart and insulin aspart mix. By mid-April 2020, insulin lispro Junior KwikPen, insulin lispro protamine, and insulin lispro mix 75/25 KwikPen will be available. These agents are essentially identical to their reference product because the same manufacturer makes both. "Authorized generics" are not true generics, follow-on insulins, or biosimilars, but they cost about half the price of their brand-name counterparts.
What to Consider When Using Biosimilar Insulin to Manage Blood Glucose
Medscape: Where do biosimilar insulins fit into clinical practice?
Dr Cornell: Cost savings may be the strongest driver for biosimilar insulins, which are expected to cost anywhere from 10% to 40% less than their reference products. While this is very encouraging, we must be mindful of the person who is stable on one long-acting basal insulin, but whose insurance has changed, and now they are being switched to a different product for cost purposes. Educating the person with diabetes is paramount. We must not just make the change and hope the person with diabetes figures it out. The individual needs to be informed of all relevant information about the use of the biosimilar insulin and understand the rationale behind the switch. Notably, diabetologists in Canada and Europe have issued position statements recommending that only new patients be initiated on biosimilar insulin and that patients stable on a reference biologic should not be switched to a biosimilar.[14,15]

Being described as a biosimilar or follow-on insulin does not mean the products are interchangeable; substitution cannot occur without the intervention of the healthcare provider who prescribed the reference product.[3] Currently, there are no biosimilar insulins or follow-on insulins approved in the United States as interchangeable drugs. To be licensed as an interchangeable drug, the product must demonstrate biosimilarity to the reference product and produce the same clinical result as the reference product in any given individual. If a biologic product has been administered more than once to an individual, the risk in terms of safety or diminished efficacy of alternating or switching between the biologic product and the reference product must not be higher than the risk of using the reference product without such alternation or switch.
Educating Individuals and Caregivers Is THE KEY
Medscape: On that note, what information needs to be conveyed when treating with biosimilar insulin?
Dr Cornell: Hands down the more important pieces of information to be conveyed are how to use the device and proper injection technique.[16] When switching from a vial and syringe to a pen, a pen to a vial and syringe, or even from a pen to a different pen, it is critical that the person understands how to use the device properly and has all of the supplies necessary to do so. Otherwise, the medication on its own is futile. Also, as more biosimilars become available, don't assume that the insulin will be compatible with an existing delivery device. The combinations of insulin and device may differ widely in their dosing characteristics.

Also, take the opportunity to reinforce the need to alternate the injection site. Opt for terms such as "change the location" over "site rotation," which can be misinterpreted by the person with diabetes as "rotate the needle in the skin."

I will frequently guide the individual by saying, "Monday is here, Tuesday is here," and show them a little map around their abdomen.

There's also something that I recently learned about called the nocebo effect. A nocebo effect is said to occur when a person's negative expectations of a treatment causes the treatment to have a more negative effect than it otherwise would have. In this context, it would be if the individual were to think, "oh, this is a follow-on biologic and not the real thing, so it's not going to work as well," and that is not true. The product will work as well as long as it is being used correctly. Making sure the person with diabetes is comfortable with the product's safety and efficacy is essential.

Empower persons with diabetes to practice the American Association of Diabetes Educators Self-Care Behaviors® (AADE7). These are the cornerstone of diabetes self-management education and support.[17]
Medscape: What exactly are the AADE7?
Dr Cornell: The AADE7 are 7 self-care behaviors that promote successful and effective diabetes self-management (Figure 2).[17]

Figure 2. AADE7 Self-Care Behaviors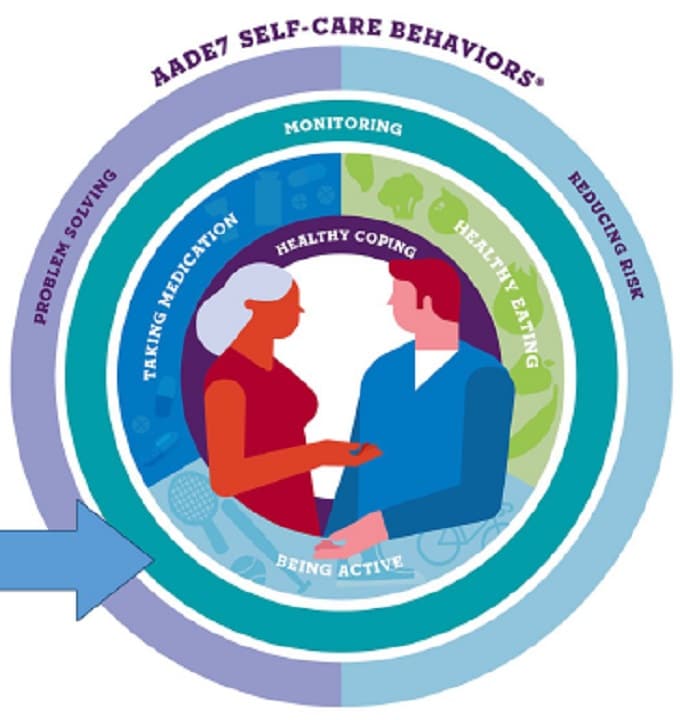 Healthy Coping must begin before learning can occur. Healthy Eating, Being Active, and Taking Medication are foundational behaviors. The information and knowledge gained from Monitoring help to drive behavior change. Reducing Risk and Problem-Solving influence motivation, goal setting, and the ability to transform goals into action.
Medscape: When do you refer to a DCES?
Dr Cornell: Persons with diabetes should be able to see a DCES any time they need (Table 3). Definitely upon diagnosis, at least once a year if not more frequently, and especially when their medication has changed or the dose is adjusted. I will also refer to a DCES when an individual undergoes a significant life change; stressful events raise blood sugar.

Table 3. Four Critical Times to See a Diabetes Care and Education Specialist
When to see a DCES

When the person is first diagnosed with diabetes

At least once a year

When the person with diabetes experience changes that affect self-management such as financial or emotional distress

When the person with diabetes experience changes in provider, insurance, or living situation
The healthcare provider making that referral needs to stress the importance of the referral to the person with diabetes. Often they will think, "why do I need to see an educator? I could just get that information online." They aren't aware of the tools and skills that the DCES can equip them with to help self-manage their condition.

Think of the amount of time a person with diabetes spends with their healthcare providers – about 2% to 5% of their time. They need to be able to self-manage their diabetes, and it is the DCES who is best suited to help them achieve self-management so they can live a good, healthy life during the 95% to 98% of the time they are not with us.
Add It All Up for Improved Outcomes
Medscape: This has been very insightful. Thank you, Dr Cornell. Are there any parting points you would like to share with your colleagues?
Dr Cornell: Diabetes care and education specialists need to be aware of the nuances of using biosimilar insulins for diabetes management.[18] And yes, two things come to mind. I'd like to use case scenarios to illustrate them.

Case 1: Michael has type 2 diabetes and was switched recently from Lantus to Basaglar. He received the pen and the pen needles, but no one showed him how to use the pen device. He went for 2 weeks without using any insulin. A point-of-care finger stick showed a blood glucose level of 476 mg/dL. It had been explained to Michael that the biosimilar insulin would lower his costs. He understood. But no one showed him how to use the device.

Case 2: Barbara gets her insulin from the free clinic. Her type 1 diabetes is well-managed by 38 units of degludec once daily. She has no hypoglycemia, and her HbA1c is 6%. The clinic runs out of degludec, and they need to switch Barbara to Basaglar. The prescriber approves the substitution. Switching from a longer-acting basal to a shorter-acting basal will increase Barbara's risk for hypoglycemia. We need to either monitor her very closely at a 1-to-1 unit insulin switch or decrease the dosage of Basaglar by about 20%. Set the expectation with Barbara that it may be a few weeks until her blood glucose levels are stable again and make her aware about the potential for hypoglycemia. The DCES should follow up with Barbara once a week, either via phone or in person, until she is stable again.