Medscape recently sat with Dr Bradley E. Chipps, former President of the American College of Allergy, Asthma, and Immunology and lead author of The Pediatric Asthma Yardstick, the latest guidelines for treating pediatric asthma.[1] The yardstick guidelines are the first to provide practical guidance on the use of controller treatments, for different levels of severity, and in each of the 3 distinct age groups of childhood: adolescence (12 to 18 years old), school-aged (6 to 11 years old), and young children (5 years old and younger).
Medscape: What prompted development of the Pediatric Asthma Yardstick in 2018?[1]
Bradley E. Chipps, MD: An increased focus on children was needed in the context of clinical practice guidelines for asthma. The NAEPPE EPR-3 guidelines[2] were last updated in 2007, and current pediatric practice had come to rely mostly on extrapolations from adult recommendations. Children present special challenges in managing uncontrolled disease, and we needed an applicable resource that could aid physicians.
Now, it is important to note that NAEPP EPR-4 guidelines have been released for public comment since publication of the Pediatric Yardstick. The EPR-4 guidelines are an extremely valuable contribution to the asthma community, but they will focus on 6 priority topic areas. The Pediatric Asthma Yardstick provides step-up in care strategies that are comprehensive, practical, and specific to pediatric patients with poorly controlled asthma.[1]
Medscape: Can you walk us through a case showing how to apply the "step-up in care" strategies included in the Pediatric Asthma Yardstick?
Dr Chipps: Absolutely. Let's use a recent patient case: Isabelle is a 10-year-old girl with a history of asthma that began in early childhood. Her asthma had been adequately controlled for the past year with a medium-dose inhaled corticosteroid (ICS) (beclomethasone dipropionate 80 mcg twice daily) and albuterol as needed (Global Initiative for Asthma [GINA] step 3). In the past 6 months, however, Isabelle had one visit to the emergency department (ED) for an asthma exacerbation, and more recently she was placed on a course of oral corticosteroids due to poor symptom control. Her pediatrician referred her to my pulmonary care center suspecting that she needed an adjustment in her current treatment regimen.
Medscape: What features indicated that Isabelle may need a change in her current treatment or a "step-up in care" of her asthma?
Dr Chipps: The "step-up" concept is pretty straightforward: children with uncontrolled asthma should undergo an increase in the level of care. However, when and how to step-up treatment is not always clear-cut.
In our case, Isabelle was on step 3 therapy with a medium-dose ICS. The Pediatric Asthma Yardstick recommends to "step-up" care from GINA step 3 to GINA step 4 if either of the following occur:
The patient's asthma is poorly or not well-controlled for ≥ 2 months according to their history and/or a validated questionnaire
The patient has experienced a severe exacerbation requiring oral corticosteroids, an ED visit, or hospitalization while on step 3 therapy and optimal adherence
Isabelle was requiring a high level of support and she had poor symptom control. Despite treatment with her ICS, she recently received a course of oral corticosteroids and had an exacerbation that sent her to the ED. Notably, a recent severe asthma exacerbation strongly predicts the likelihood of future exacerbations. Patients aged 6 to 11 years old enrolled in the 3-year TENOR study who had a recent severe exacerbation were 3 times as likely to have a severe exacerbation within the next 6 months (n = 563; OR = 3.08; 95% CI 2.21, 4.28).[3] Severe exacerbation was defined in the study as ≥ 1 or more corticosteroid bursts.
Medscape: What was your next step in managing Isabelle's treatment?
Dr Chipps: Before making any adjustment to Isabelle's therapy, we had to ensure that the change in her symptoms was due to asthma and not to any other contributing factors. (Table 1.) We talked with Isabelle and her parents to measure adherence, assess inhaler technique, and understand their perceptions of the disease and its treatment.
Table 1. Common Factors Leading to Poor Asthma Control[1]
Environmental exposures (eg, allergens, irritants, viruses)
Comorbid conditions contributing to morbidity (eg, rhinosinusitis, obesity, respiratory infection, gastroesophageal reflux disease)
Difficulty using inhalers; improper technique
Poor adherence to the management plan, which may reflect fear of medication adverse effects or "not wanting" to have to take medication
Not recognizing symptoms or ignoring the need for using medication; belief that the medication is not necessary
Poor understanding of controller treatment, including belief that they should feel an immediate effect or that it can be taken only when symptoms are noticeable
Inconvenience, including using multiple medications/inhalers and having to take medications several times a day
Lack of parental support in following treatment plan; family stress; emotional upsets; violence
Cost, including lack of insurance or medication not covered by insurance
Lack of access to health care
Medscape: Did you use any other tests or tools to evaluate Isabelle's asthma?
Dr Chipps: Yes, there are several validated questionnaires to assess asthma control and guide the individualization of care. In Isabelle's case, I used the Childhood Asthma Control Test (cACT) and Composite Asthma Severity Index (CASI).[4,5] The cACT is appropriate for patients aged 4 to 11 years. Seven questions are asked of the parent and child to assess symptom frequency, sleep disturbance, and activity limitations. CASI is appropriate for ages 6 to 17 years and is composed of 5 domains: daytime symptoms and albuterol use (last 2 weeks); nights with symptoms and albuterol use (last 2 weeks); lung function (current); controller treatment (current); and exacerbations (last 2 months).
I also measured Isabelle's fractional exhaled nitric oxide (FeNO), peripheral blood eosinophil, and Immunoglobulin (Ig) E levels. A FeNO level > 35 ppb in children suggests eosinophilic airway inflammation mediated by interleukin (IL)-4 and IL-13.[6] A high peripheral blood eosinophil count indicates that inflammation is mediated by IL-4 or IL-5 cytokines; notably, a level ≥ 400 cells/uL is also associated with increased risk for exacerbation.[7-9] These noninvasive biomarkers help to determine the endotype driving a patient's asthma. Measurement of specific and total serum IgE levels is useful in distinguishing between allergic and non-allergic asthma phenotypes and determining the severity of disease in children.[10,11]
Medscape: What were the "step-up" options for Isabelle according to recommendations provided in the Pediatric Asthma Yardstick?
Dr Chipps: The treatment options when moving a child of Isabelle's age from GINA step 3 to step 4 are summarized in Figure 1.[1] Several options are offered to allow for individualizing treatment. The recommendations are based on prior guidelines,[1,12,13] available data, and the clinical experience of myself and my fellow Pediatric Asthma Yardstick authors.[14-18]
Figure 1. Yardstick recommendations for stepping up "school age" children (6 to 11 years old) from GINA step 3 to step 4.[1]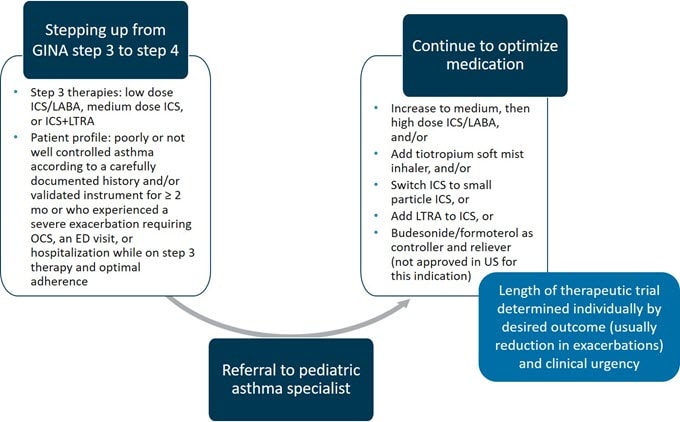 Medscape: What was the chosen course of treatment for Isabelle's asthma?
Dr Chipps: Montelukast 5 mg once daily at bedtime was added to her medium-dose ICS, but after 2 weeks, she continued to have symptoms and was using her albuterol inhaler several times a week. In response, we added tiotropium to her existing regimen at a total dose of 2.5 mcg/day, given as 2 inhalations of 1.25 mcg once daily. At her 1-month follow up, Isabelle's asthma was well-controlled. She had experienced few symptoms and was able to perform daily activities without shortness of breath, chest tightness, coughing, or wheezing.
Medscape: At what point would you have considered moving Isabelle from GINA step 4 to step 5?
Dr Chipps: Had Isabelle's asthma not been responsive to the addition of leukotriene receptor antagonists (LTRAs) and tiotropium, I would have considered introducing a biologic agent (step 5). (Figure 2.)
Figure 2. Yardstick recommendations for stepping up "school age" children (6 to 11 years old) from GINA step 4 to step 5.[1]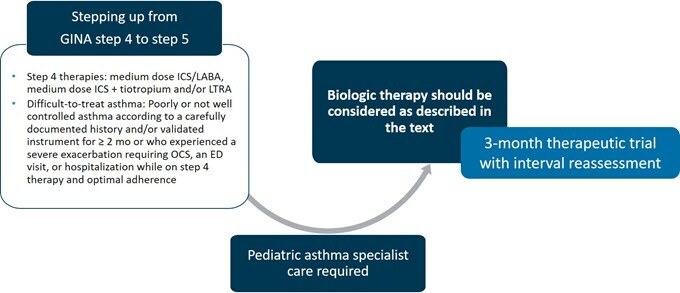 The FDA has approved 2 biologic drugs for use in pediatric patients -- omalizumab and mepolizumab. These agents have not been compared in head-to-head trials; however, specific patient and disease characteristics may guide treatment selection. As we touched upon earlier in our discussion of biomarkers, shifting from phenotype evaluation to endotype analysis in asthma has allowed for the identification and application of individualized therapy.
Omalizumab is a monoclonal anti-IgE available since 2003 for children aged ≥ 6 years who have moderate to severe persistent asthma inadequately controlled with an ICS.[19] Patients with demonstrated IgE-mediated hypersensitivity to a perennial allergen (eg, house dust mite, animal dander, cockroach, mold) are candidates for omalizumab. The patient's IgE level, in addition to weight, is used to determine dosing.
Mepolizumab is an IL-5-targeted agent that was first approved in 2015 as add-on therapy to treat severe eosinophilic asthma in children aged ≥ 12 years. This indication was just expanded in September 2019 to include children as young as 6 years of age.[20] Patients with an elevated eosinophil count of > 150 cells/μL at treatment initiation or > 300 cells/μL in the 12 months prior to treatment initiation are candidates for mepolizumab.
Clinical tips from Dr Chipps
The Pediatric Asthma Yardstick provides practical guidance to clinicians for implementing sustained, step-up treatments for inadequately controlled asthma in children. Recommendations are structured around patient profiles and reflect factors such as age, severity of symptoms, frequency of exacerbations, and response to previous therapies
Children with uncontrolled asthma should undergo a step-up in care. Pediatricians and family physicians are encouraged to refer asthma patients to a pediatric asthma specialist at lower steps and referral is highly recommended before adjusting therapy at the higher steps
Untreated comorbidities may result in poor asthma control. It is important to treat comorbidities before escalation of asthma therapies
Family members have an extensive impact on the level of asthma control in school-age children. We have to engage and educate the whole family as everyone needs to be on the same page