Medscape recently sat with Dr Bradley E. Chipps, past president of the American College of Allergy, Asthma, and Immunology, to discuss the latest guidance on step-up care strategies for poorly controlled asthma. Dr Chipps is well known for his role as the lead author of the adult Asthma Yardstick and the Pediatric Asthma Yardstick, user-friendly guidelines for adjusting controller therapy and/or introducing other asthma treatment options for patients who require a sustained step-up in care.[1,2] We shaped our conversation around the case of Justin, a 20 year old, college student with poorly controlled, T2-high, eosinophilic asthma.
Case Introduction
Justin is a college student with severe, T2-high asthma that has progressively worsened over the past 6 years since his diagnosis. "My mom is freaking out and made this appointment because I had an attack last week," he tells you. After gentle prodding, you discover that this is his third exacerbation requiring OCSs in 10 months. The latest attack occurred while he was at a party. A friend had to rush him to the ED because he was without his albuterol inhaler and could not get his symptoms under control. Justin also admits to getting "a little short of breath walking between classes." He is currently on a regimen of high-dose ICS-LABA (budesonide 160 mg/formoterol 4.5 mg) and uses an albuterol inhaler only when needed.
Medscape: Dr Chipps, what would be your first step in managing this patient?
Bradley E. Chipps, MD: His "forgetting" his reliever medication makes me suspect lack of adherence. I would further explore Justin's medication adherence, assess his inhaler technique, and check for comorbidities. I would use the Asthma Control Test (ACT), in particular, as an objective measure of his asthma control and to gauge his perception of his disease and its treatment. Many young adults, and patients in general, underestimate the seriousness of their asthma. We may need to reset Justin's understanding of the severity of his disease and what good symptom control should look like.
I would also consider using a once-a-day ICS-LABA formulation, with a second dose administered as needed. When adherence to maintenance therapy is a concern, as-needed ICS-LABA is effective at preventing severe exacerbations and may reduce a patient's reliance on and overuse of SABA as a reliever medication.[3,4] Studies show significant improvement in adherence to treatment with once-a-day preparations among asthmatics.[5-7] In fact, the first head-to-head study was just published comparing adherence to fixed-dose ICS-LABA combinations given once daily vs twice daily.[5] Patients treated with once-daily fluticasone furoate/vilanterol were up to 3 times as likely to achieve 80% adherence vs patients who received twice-daily ICS/LABA, specifically budesonide/formoterol and fluticasone propionate/salmeterol.
Medscape: How would you "step-up" Justin's therapy if his symptoms persisted despite treatment with a once-daily, high-dose ICS-LABA?
Dr Chipps: If we are able to determine that adherence is not (or is no longer) a concern, I would add tiotropium 5 ug once daily to his current course of therapy.[1] If his uncontrolled asthma continued to persist, I would add a LTRA. If he were having symptoms every day, I would consider adding a macrolide antibiotic. In the randomized, double-blind AMAZES trial (n=420), adults with persistent symptomatic asthma experienced a clinically significant reduction in asthma exacerbations and improved quality of life when treated with oral azithromycin 500 mg 3 times weekly vs placebo as add-on therapy for 48 weeks.[8]
Medscape: Can we predict asthma exacerbations in T2-high patients, such as Justin?
Dr Chipps: A recent exacerbation remains the strongest predictor of a future exacerbation, and Justin has had 2 requiring OCS in the last year. In an analysis of the TENOR study data, the odds of a recent severe exacerbation predicting a future severe exacerbation were over 6-fold (n=2780; OR=6.33; 95% CI: 4.57, 8.76).[9] In a 7-year study of asthma patients in the United Kingdom (n=51,462), the strongest predictor for an exacerbation was a previous exacerbation, even when it occurred up to 5 years prior. Further, the likelihood of a future exacerbation increased with the number of previous exacerbations.[10]
Notably, several biomarkers of T2 inflammation (ie, blood eosinophils, serum IgE, FeNO) are associated with risk for exacerbations in patients with severe refractory asthma.[11] Blood eosinophil count, in particular, can be a good predictor of exacerbation. In a recent study, patients with a blood eosinophil count >400 cells/μL were 1.4-fold more likely to have 2 or more exacerbations.[12]
Medscape: How and when would you implement Step 5 of the Asthma Yardstick and GINA guidelines in Justin's case?
Dr Chipps: Both the Asthma Yardstick and GINA guidelines refer to phenotype-guided biologic treatment in step 5 as add-on therapy for patients with poorly controlled asthma despite high-dose ICS-LABA (Figures 1 and 2). If Justin's asthma does not improve with tiotropium or LTRA add-on therapy, it will be prudent to measure his eosinophil count, FeNO, and IgE level. We should be asking ourselves what is the cause and immunopathologic mechanism underlying his poorly controlled disease?
Figure 1. The Asthma Yardstick Step-Up Strategy[1]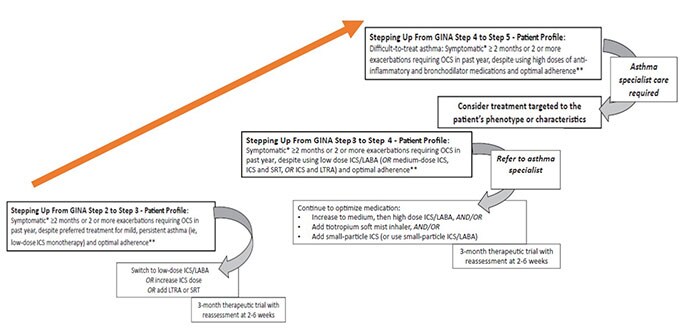 *Symptomatic indicates poorly or not well-controlled asthma according to a validated instrument, such as the Asthma Control Test, the Asthma Control Questionnaire or the Asthma Therapy Assessment Questionnaire.

**Before stepping up therapy, assess the patient for nonadherence, potential comorbidities, and other factors that might negatively affect response to therapy and to confirm that the increased level of symptoms is attributable to asthma.
Figure 2. The GINA Asthma Treatment Strategy[13]

*Off-label; data only with bud-form; †Off-label; separate or combination ICS and SABA inhalers; ‡Low-dose ICS-form is the reliever for patients prescribed bud-form or BDP-form maintenance and reliever therapy; #Consider adding HDM SLIT for sensitized patients with allergic rhinitis and FEV1 >70% predicted; ¶High dose ICS-LABA was moved from step 4 to step 5 in 2019 update.
Case Follow-Up
At 2-week follow-up, Justin's lab values came back as an IgE of 60 IU/mL, a blood eosinophil count of 450 cells/μL, and a FeNO of 35 ppb. His specific IgE was negative. These findings are indicative of eosinophilic asthma with a T2 pattern underlying the inflammation.
Medscape: What treatment options are available for severe T2 eosinophilic asthma?
Dr Chipps: There are 4 FDA-approved monoclonal antibodies that have demonstrated efficacy as add-on therapy for patients who have the eosinophilic asthma phenotype (Table 1). These agents target the interleukin (IL) cytokines believed to regulate asthmatic airway inflammation through the activation and recruitment of eosinophils. Mepolizumab, reslizumab, and benralizumab target the IL-5 pathway either with monoclonal antibodies to IL-5 itself (mepolizumab, reslizumab) or to the IL-5 receptor (benralizumab). Dupilumab is a monoclonal antibody to the IL-4 receptor alpha, which modulates both the IL-4 and IL-13 pathways.
Table 1. Biologic Treatment Options for T2 Eosinophilic Asthma [14-18]
| Drug | Route | Frequency | Suggested AEC | Adverse Effects[14] |
| --- | --- | --- | --- | --- |
| Mepolizumab[15] | SC | Every 4 weeks (home administration) | >150‐300 cells/μL | Rarely causes hypersensitivity reactions; can cause activation of zoster |
| Reslizumab[16] | IV | Every 4 weeks | >400 cells/μL | Black box warning: ~0.3% risk of anaphylaxis in clinical trials |
| Benralizumab[17] | SC | Every 4 weeks for first 3 doses, then every 8 weeks (home administration) | >300 cells/μL | Rarely causes hypersensitivity reactions |
| Dupilumab[18] | SC | Every 2 weeks (home administration) | >150 cells/μL and/or FeNO level ≥25 ppb | Rarely causes hypersensitivity reactions; higher incidence of injection site reactions (up to 18%) and hypereosinophilia (4‐14%) |
AEC = absolute eosinophilic count.
Mepolizumab
In major clinical trials, mepolizumab reduced asthma exacerbations by ~50%, improved asthma control, and led to a reduction in chronic OCS use.[19-21] Data suggest that patients with a history of eosinophil counts >300 cells/μL and 2 or more exacerbations per year are likely to have a reduction in exacerbations.[22] Patients with a greater exacerbation rate (eg, 3 per year) or on chronic OCS may respond at levels as low as 150 cells/μL. Mepolizumab is also indicated for the treatment of eosinophilic granulomatosis with polyangitis at a dose of 300 mg each month.[15]
Reslizumab
At the "cut-off" eosinophilic count of 400 cells/μL that was used in clinical trials, reslizumab reduced asthma exacerbations by ~50% and improved lung function within 4 weeks of initiating therapy.[23-25] There are no studies to date that have evaluated the OCS‐sparing effect of reslizumab.
Benralizumab
Benralizumab reduced asthma exacerbations by 50% in major clinical trials, regardless of baseline eosinophil count.[26-28] However, the effect on exacerbations was greatest in patients with an eosinophil count of ≥300 cells/μL.[14,28] Further, improvements in lung function and QOL were only significant for patients with higher eosinophil counts. OCS use was reduced in patients on long-term OCS with an eosinophil count of ≥150 cells/μL.[29] Benralizumab appears to be equally effective independent of atopy.[30]
Dupilumab
In clinical trials, dupilumab significantly reduced the frequency of asthma exacerbations by 50%-70%, improved lung function within 2 weeks of initiating treatment, and decreased OCS use.[31,32] The benefits of dupilumab were more pronounced in patients with a higher blood eosinophil count and FeNO level at baseline. [31] Unlike the anti‐IL‐5s, baseline FeNO is a predictor of clinical response to dupilumab. Dupilumab is also indicated for the treatment of moderate-to-severe atopic dermatitis and nasal polyposis.[18]
Medscape: Are there any notable emerging treatment options?
Dr Chipps: At least one newer agent in phase 2b study, tezepelumab, is showing promise as a treatment option for patients with T2-low or T2-high asthma. Tezepelumab is a first-in-class human monoclonal antibody that binds to thymic stromal lymphopoietin (TSLP). TSLP is an upstream cytokine overexpressed in the airways of severe asthmatics and capable of orchestrating a cascade of inflammatory responses via its activity on dendritic cells, T and B cells, T2 innate lymphoid cells, eosinophils, and mast cells. In a phase 2, randomized, double-blind, placebo-controlled trial, tezepelumab as add-on therapy reduced exacerbation frequency in severe asthmatics with uncontrolled disease by ~60%-70% vs placebo (P <.001), regardless of blood eosinophil counts, FeNO, or IgE level at enrollment.[33]
Practical Tips From Dr Chipps:
The Asthma Yardstick provides practical guidance to clinicians for implementing sustained, step-up treatments for inadequately controlled asthma in adults. Recommendations are structured around patient profiles and reflect severity of symptoms, frequency of exacerbations, and response to previous therapies.
Adults with uncontrolled asthma should undergo a step-up in care. However, it is important to treat comorbidities and assess medication adherence before escalating therapy. A previous exacerbation is a strong predictor of future exacerbations, as is very poorly controlled asthma.
The currently approved biologic agents targeting eosinophilic phenotype reduce exacerbation rates by approximately 50%. A higher baseline eosinophil count and a history of exacerbations predict greater response.
Clinicians should consider baseline eosinophil count, concurrent use of systemic corticosteroids, patient comorbidities, and patient perception of dosing convenience (ie, frequency, route, whether self- or provider administered) when selecting a biologic.