Abstract and Introduction
Abstract
The lone star tick, Amblyomma americanum, is a vector of Ehrlichia chaffeensis and E. ewingii, causal agents of human ehrlichiosis, and has demonstrated marked geographic expansion in recent years. A. americanum ticks often outnumber the vector of Lyme disease, Ixodes scapularis, where both ticks are sympatric, yet cases of Lyme disease far exceed ehrlichiosis cases. We quantified the risk for ehrlichiosis relative to Lyme disease by using relative tick encounter frequencies and infection rates for these 2 species in Monmouth County, New Jersey, USA. Our calculations predict ≥1 ehrlichiosis case for every 2 Lyme disease cases, >2 orders of magnitude higher than current case rates (e.g., 2 ehrlichiosis versus 439 Lyme disease cases in 2014). This result implies ehrlichiosis is grossly underreported (or misreported) or that many infections are asymptomatic. We recommend expansion of tickborne disease education in the Northeast United States to include human health risks posed by A. americanum ticks.
Introduction
Tickborne diseases are a growing public health concern in the United States.[1] Lyme disease, caused by the bacterium Borrelia burgdorferi, is the most frequently reported vectorborne illness in the Northeast[2] and has been the subject of widespread education campaigns aimed at preventing human encounters with its vector, Ixodes scapularis (the black-legged tick). Unfortunately, such campaigns focus comparatively less attention on other medically important ticks in Lyme disease–endemic areas;[3] therefore, persons living in these areas may not fully recognize the threat posed by these species. Specifically, the much more aggressive lone star tick, Amblyomma americanum, transmits the agent of human monocytic ehrlichiosis and may serve as the vector for several other emerging tickborne pathogens.[3–5] Historically found primarily in the Southeast United States but with established distributions along the Atlantic Coast and into the Midwest,[6]A. americanum ticks are active concurrently with I. scapularis ticks; aggressively attack humans in all tick life stages (adult, nymph, and larvae); and are typically by far the more numerous of the 2 ticks where they are sympatric.[7,8]
Given the abundance and aggressive host-seeking behavior of A. americanum ticks, it is reasonable to expect high rates of human encounters with them.[8–10] In recent years, submissions of A. americanum ticks to the Monmouth County Mosquito Control Division's passive tick surveillance program (Tinton Falls, New Jersey, USA; offering free tick identification to residents since 2006) have been increasing steadily while submissions of I. scapularis ticks remain nearly level (Figure 1), suggesting increased human exposure to A. americanum ticks relative to I. scapularis ticks.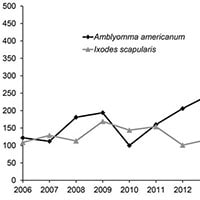 Enlarge
A. americanum ticks are known vectors of ≥2 human pathogens, Ehrlichia chaffeensis and E. ewingii,[10,11] which cause human ehrlichiosis, an illness often marked by an initial prodrome of undifferentiated fever, headache, myalgia, nausea, malaise, thrombocytopenia, leukopenia, and hepatic injury (elevated serum transaminase levels).[12] More severe complications (including toxic shock–like symptoms and meningitis or meningoencephalitis) may occur in some untreated persons (including immunocompromised patients), and death rates as high as ≈3% have been reported.[12,13]
The number of ehrlichiosis cases attributable to E. chaffeensis that have been reported to the Centers for Disease Control and Prevention (Atlanta, GA, USA) has increased steadily since the disease became reportable, from 0.8 cases/million persons/year in 2000 to 3.0 cases/million persons/year in 2007.[13,14] However, some evidence suggests that ehrlichiosis may be substantially underreported[12] and even reported cases may be misclassified because of cross-reactivity between E. chaffeensis, E. ewingii, and other Ehrlichia and Anaplasma agents in widely used serologic tests.[15–17] Health risks may be compounded if physicians are less familiar with ehrlichiosis than Lyme disease, particularly because initial symptoms may be relatively vague, resembling a viral syndrome typical of an array of tickborne diseases,[14] which creates the potential for diagnostic confusion where I. scapularis and A. americanum ticks are sympatric.[10] Ehrlichiosis could also be misdiagnosed as Rocky Mountain spotted fever if a patient is co-infected with Ehrlichia sp. and Rickettsia amblyommatis, (formerly Candidatus Rickettsia amblyommii [18]), a species cross-reactive in tests for rickettsial pathogens[19] and commonly present in ≥40% of field-collected A. americanum ticks.[4]
This study quantified the risk to humans of ehrlichial infections, relative to Lyme disease risk. We used data obtained from tick surveillance programs in Monmouth County, New Jersey, an area with a high reported incidence of Lyme disease and increasing A. americanum tick encounter rates.