The following cases are modeled on the interactive grand rounds approach. The questions within the activity are designed to test your current knowledge. After each question, you will be able to see whether you answered correctly and read evidence-based information that supports the most appropriate answer choice. The questions are designed to challenge you; you will not be penalized for answering the questions incorrectly. At the end of the activity, there will be a short post-test assessment based on the material presented.
Onychomycosis is a common infection that can lead to potentially severe complications in patients who have impaired circulation, peripheral neuropathy, or are immunocompromised. This infection is particularly common in patients with diabetes, many of whom have one or more of these conditions. Onychomycosis treatment reduces risks, but is complicated by the potential for drug-drug interactions between systemic antifungals and the large number of medications often taken by these patients. Several topical therapies are available, including two newer agents that became available in 2014, increasing the potential for individualized treatment selection. The following case-based activity will test your ability to select appropriate therapies in 2 patients with type 2 diabetes and onychomycosis, while bringing you up to date on risks and management of toenail infections in this vulnerable patient population.
Case 1: Albert
Albert is a 55-year-old man with type 2 diabetes who presents to your office with 10 thickened, elongated, yellowed toenails (Figure 1). He reports that he first noticed the changes in his toenails about 3 months ago, at which time most of his nails were already involved. Albert was diagnosed with type 2 diabetes 4 years ago, and his blood sugar is currently poorly controlled on metformin alone. He has elevated triglyceride levels for which he is taking a low dose of simvastatin. He is clinically obese, which may have contributed to the fact that he did not notice his toenail infection until it was well entrenched.
On clinical examination, you observe that all of Albert's toenails are yellow in color and 6 have white lateral streaks. Two nails show involvement extending proximally to the lunula. Several nails, including both great toenails, show subungual hyperkeratosis that is greater than 2 mm thick and two are onycholytic. You estimate that at least 75% of the overall area of Albert's toenails is infected, with involvement seen in all 10 toenails.
Figure 1. Onychomycosis of the toenails.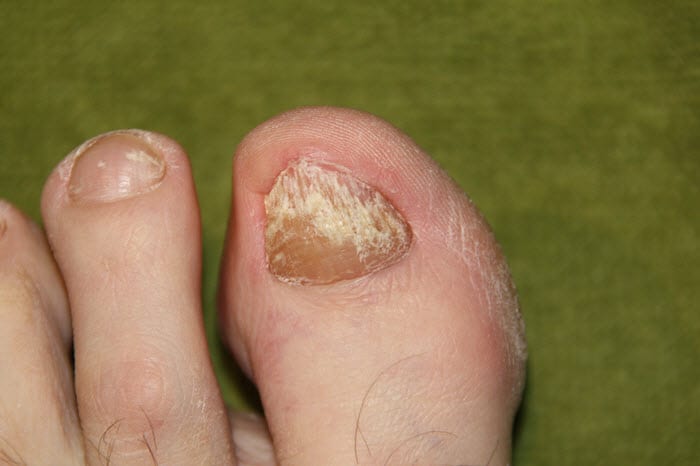 Photo courtesy of Warren Joseph, DPM.