The following cases are modeled on the interactive grand rounds approach. The questions within the activity are designed to test your current knowledge. After each question, you will be able to see whether you answered correctly and read evidence-based information that supports the most appropriate answer choice. The questions are designed to challenge you; you will not be penalized for answering the questions incorrectly. At the end of the activity, there will be a short post-test assessment based on the material presented.
Case 1: Patient History
Daniel is a 57-year-old white man with chronic hepatitis C virus (HCV) infection, who was recently seen by a primary care physician (PCP) for the chief complaints of fatigue that has worsened over the past 3 to 4 months, pain upon swallowing, decreased appetite, and recent weight loss. Upon questioning Daniel, the PCP learned that Daniel was diagnosed with human immunodeficiency virus (HIV) infection 6 years ago, but he has never been in HIV care or treated with antiretroviral therapy (ART). Before Daniel was referred to you, selected laboratory tests (Table 1) and a FibroScan® were done.
Table 1. Daniel's Test Results Sent With Referral
| Test | Result |
| --- | --- |
| HIV RNA, copies/mL | 65,000 |
| CD4 cell count, cells/mm3 | 190 |
| HCV RNA, IU/mL | 2.3 million |
| HCV genotype | 1a |
| HBV | HBsAg negative, anti-HBs negative |
| HAV | anti-HAV negative |
| FibroScan®, kPa | 15.5 |
anti-HAV = hepatitis A virus antibody; anti-HBs = hepatitis B virus surface antibody; HAV = hepatitis A virus; HBsAg = hepatitis B surface antigen; HBV = hepatitis B virus; HCV = hepatitis C virus; HIV = human immunodeficiency virus; kPa = kilopascal.
You perform an esophagogastroduodenoscopy and order additional laboratory tests (Table 3).
Table 2. Daniel's History and Physical Examination
| History | Findings |
| --- | --- |
| Medical | Odynophagia, dysphagia, GERD, risk of HIV/HCV was intravenous drug use |
| Social | Divorced with 2 adult children, currently drinks 2-3 beers/week |
| Current medications | 1 multivitamin tablet daily |
| Physical Examination | Findings |
| Vital Signs | BP = 130/87 mm Hg, HR =75 bpm, RR = 15/min, afebrile |
| General impression | Appears tired and uncomfortable |
| BMI | 27 kg/m2 |
| Skin | Clear, no rash |
| Chest and lungs | Clear to auscultation |
| Head and neck | Oral candidiasis |
| Abdomen | Soft, normal bowel sounds |
| Lower extremities | Unremarkable |
BMI = body mass index; BP = blood pressure; bpm = beats per minute; DS = double strength; GERD = gastro-esophageal reflux disease; HR = heart rate; RR = respiratory rate.
Table 3. Daniel's Additional Test Results
Test
Result
Hemoglobin, g/dL
WBC count, cells/μL
Platelet count, cells/μL
Prothrombin time, sec
INR
12.1
5000
125,000
12
1.0
Metabolic panel
AST, U/L
ALT, U/L
Alkaline phosphatase U/L
Total bilirubin mg/dL
Albumin g/dL
All WNL
87
63
65
2.0
3.8
Creatinine, mg/dL
cGFR, mL/min
1.0
110
EGD
No evidence of varices, esophageal candidiasis
CTP classification
A
ALT = alanine transaminase; AST = aspartate transaminase; cGFR = calculated glomerular filtration rate; CTP = Child-Turcotte-Pugh; EGD = esophagogastroduodenoscopy; GERD = gastroesophageal reflux disease; INR = international normalized ratio; WBC = white blood cell count; WNL = within normal limits.
You prescribe Daniel fluconazole 100 mg by mouth daily for esophageal candidiasis (Figure 1) and explain that it is a sign of advanced HIV infection or acquired immune deficiency syndrome (AIDS).
Figure 1. Endoscopic Image of Esophageal Candidiasis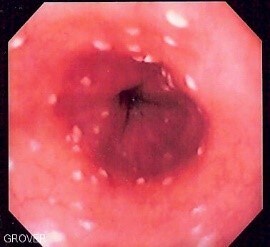 You also schedule a return appointment in 1 week to review his test results and to educate him about the benefits of treating his HIV infection and HCV infection, and the serious consequences of not being treated. You point out that both treatment regimens are much simpler and more tolerable than a decade ago, and the HCV treatment regimen is relatively short. Daniel agrees to your treatment recommendations.