Abstract and Introduction
Abstract
In April 2014, a kidney transplant recipient in the United States experienced headache, diplopia, and confusion, followed by neurologic decline and death. An investigation to evaluate the possibility of donor-derived infection determined that 3 patients had received 4 organs (kidney, liver, heart/kidney) from the same donor. The liver recipient experienced tremor and gait instability; the heart/kidney and contralateral kidney recipients were hospitalized with encephalitis. None experienced gastrointestinal symptoms. Encephalitozoon cuniculi was detected by tissue PCR in the central nervous system of the deceased kidney recipient and in renal allograft tissue from both kidney recipients. Urine PCR was positive for E. cuniculi in the 2 surviving recipients. Donor serum was positive for E. cuniculi antibodies. E. cuniculi was transmitted to 3 recipients from 1 donor. This rare presentation of disseminated disease resulted in diagnostic delays. Clinicians should consider donor-derived microsporidial infection in organ recipients with unexplained encephalitis, even when gastrointestinal manifestations are absent.
Introduction
Each year in the United States, ≈30,000 solid organ transplants are performed.[1] It is estimated that 0.3%–2.0% of transplants may be complicated by donor-derived infection, most commonly of bacterial or viral origin.[2–4] Parasitic and fungal infections, including microsporidiosis, make up a minority of donor-derived infections.[2–4] Maintaining a high index of suspicion for donor-derived infection in solid organ transplant recipients and prompt investigation of illness suspected to be donor derived are critical because multiple recipients often receive solid organs from a common donor. Thus, identification of donor-derived infection in 1 recipient has consequences for the clinical care of the other recipients.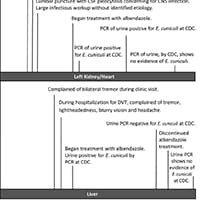 Enlarge
Potential donor-derived disease transmission events are reported to the Organ Procurement and Transplantation Network (https://optn.transplant.hrsa.gov/) per policy and reviewed by the Network's ad hoc Disease Transmission Advisory Committee, which categorizes each by the likelihood of disease transmission. Through representation on this advisory committee, the Centers for Disease Control and Prevention (CDC), with support from state and local health departments, leads investigations of select cases of public health importance. In April 2014, CDC was notified of a renal transplant recipient hospitalized with signs and symptoms of encephalitis (Figure 1). Postmortem testing revealed infection with microsporidia, and concern was raised for donor-derived central nervous system (CNS) infection. We conducted an investigation to 1) identify other ill recipients from the common donor, 2) determine whether the illness was donor derived, and 3) make treatment recommendations for the surviving recipients.