The following cases are modeled on the interactive grand rounds approach. The questions within the activity are designed to test your current knowledge. After each question, you will be able to see whether you answered correctly and read evidence-based information that supports the most appropriate answer choice. The questions are designed to challenge you; you will not be penalized for answering the questions incorrectly. At the end of the activity, there will be a short post-test assessment based on the material presented.
Onychomycosis is a common fungal infection of the nails estimated to affect approximately 14% of the North American population.[1-3] The infection is frequently chronic and has high rates of recurrence after treatment, posing significant clinical and therapeutic challenges. Historically, treatment options have been limited, with oral antifungals representing the mainstay of medical treatment. Although oral antifungal agents can be effective, potential side effects, drug-drug interactions, and other medication-management challenges limit their use in many patient groups. The 2014 approval of 2 new topical agents has expanded the onychomycosis treatment armamentarium. Increased treatment options enable greater optimization of treatment based on patient disease presentation, comorbidities, and lifestyle factors. Understanding the best use of various treatments can greatly improve treatment outcomes and quality of life for more patients. Through the use of 2 challenging patient cases, this activity will test your knowledge of the patient, disease, and treatment considerations inherent to promoting good outcomes in patients with onychomycosis of the toenails.
Case Presentation – Case 1
Karen is a 52-year-old woman who is concerned about some recent changes she has noted to several of her toenails. She tells you at today's visit that she noticed some discoloration of one of her great toenails during the previous summer but did not "think much of it." She has frequent pedicures and assumed that her nail polish had perhaps discolored her nails. However, she has noticed that several nails now show similar changes. Karen is an active person, having started regularly swimming and taking group fitness classes several times per week about 5 years earlier. She tells you that the appearance of her nails makes her want to hide her feet when she is at the pool and gym.
Karen's medical history reveals a 20-year history of mild plaque psoriasis, although she is not currently experiencing any symptoms. She is otherwise in excellent health, with a body mass index (BMI) of 23.6 kg/m2 and blood pressure of 124/78 mm Hg. Her last primary care visit was 9 months ago, and her lipid values were in a healthy range at that time. Karen drinks alcohol approximately once per week and reports that she has never smoked. She takes several vitamin supplements but is not currently taking any prescription medications.
You examine Karen's feet, noting that the great toenails on both feet are yellowing and thickened, and an additional 2 toes on her right foot and 3 toes on her left foot show similar changes (Figures 1 and 2). There is no clinical evidence of bacterial infection, and her circulation appears strong. Karen has no memory of any trauma to her feet and reports no pain associated with the nail changes. Karen is married and has 2 children who no longer live at home. She cannot recall any other family members who have mentioned similar symptoms.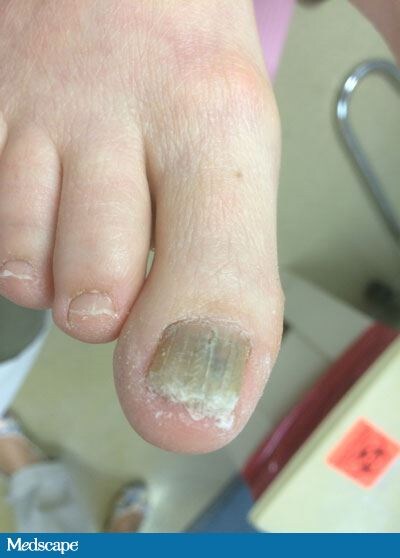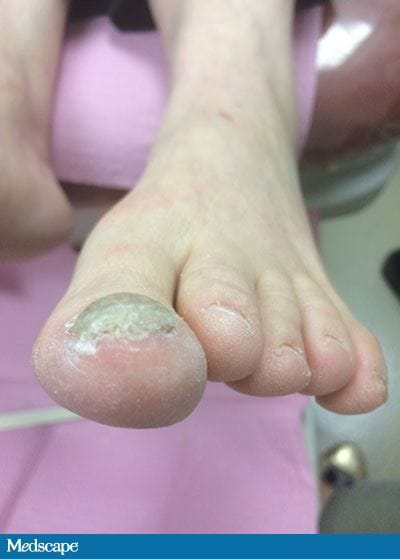 Figures 1 and 2. Case patient's feet at initial visit. Images courtesy of T. Vlahovic, DPM.