Parental resistance is often cited as a reason for low rates of HPV vaccine uptake. However, according to the 2012 National Immunization Survey -- Teen (NIS-Teen), 15% of parents who did not intend to vaccinate their daughters against HPV in the following 12 months cited lack of healthcare provider recommendation as the main reason for not planning to vaccinate.[2] Other reasons noted were a lack of knowledge or the impression that the HPV vaccine is not needed; these are factors which could be addressed by appropriate information from a healthcare provider. Coupled with data on missed opportunities, the focus on improving HPV vaccination rates should begin with a review of the interactions between the healthcare provider and the adolescent patient, as well as the healthcare provider and the parent.
Recommending HPV vaccine should be part of the conversation about all vaccines that adolescents receive. A successful conversation with a parent can be achieved with a little advance preparation to answer questions about vaccines and vaccine science. Healthcare providers' willingness to share their knowledge and to strongly recommend HPV vaccination will help parents feel comfortable about the decision to vaccinate, and will ultimately improve HPV vaccination rates and decrease the burden of HPV-associated disease, including cancers. Medscape spoke with Jay E. Berkelhamer, MD, adjunct professor of pediatrics, Emory University School of Medicine and Morehouse School of Medicine, Atlanta, of Atlanta, Georgia; Katherine Brewer, MSN, RN, senior policy analyst, department of nursing practice and policy, American Nurses Association, Silver Spring, Maryland; Jamie Loehr, MD, Cayuga Family Medicine, Ithaca, New York; and Larry Pickering, MD, professor of pediatrics, Emory University School of Medicine, Atlanta, Georgia, and senior advisor to the director, National Center for Immunization and Respiratory Diseases, Centers for Disease Control and Prevention, Atlanta, Georgia, about ways to engage parents in productive conversations about the importance of HPV vaccination in adolescents.
Medscape: How common are HPV infections?
Jay E. Berkelhamer, MD: Most sexually active people will acquire at least 1 type of HPV infection at some point in their lives. HPV is the most common sexually-transmitted infection; it is estimated that about 79 million people in the United States, most in their teens and early 20s, are infected with HPV.[3] HPV is transmitted through the genital contact, most often during sexual intercourse; HPV is also transmitted through other types of intimate sexual contact (eg, skin-to-skin contact, oral sex). Most people who acquire HPV never know they have been infected.
Medscape: What types of cancers are caused by persistent HPV infection?
Jamie Loehr, MD: Every year in the United States, 14 million people, mostly teens and young adults, become infected with HPV; these infections lead to more than 26,000 cancers annually with approximately 9300 and 17,500 HPV-related cancers in men and in women, respectively[4,5] (Figure 1). Human papillomavirus has been associated with several types of cancer: anogenital (cervical, vulvar, vaginal, penile, anal) and oropharyngeal (back of the throat, including the base of the tongue and tonsils). While 90% of HPV infections resolve spontaneously, persistent HPV infections can lead to anogenital and oropharyngeal cancers.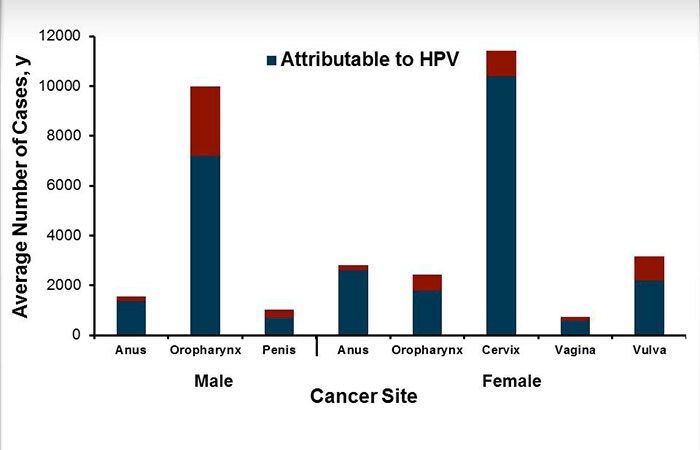 Recent US population-based studies conducted by the Centers for Disease Control and Prevention (CDC) show that nearly 70% of cervical cancers, 55% of vaginal cancers, 79% of anal cancers, and 62% of oropharyngeal cancers are attributable to HPV types 16 or 18.[6] While the United States has a strong cervical cancer screening program, other cancers caused by persistent HPV infection -- including those of the penis, vagina, vulva, oropharynx, and anus -- are often diagnosed in late stages of disease since there are no routine screening programs to detect precancerous lesions in those sites. At late stage, these cancers are often difficult and painful to treat and can result in disfigurement and death.
Cervical cancer is the most common HPV-associated cancer among women, and while it was once the leading cause of cancer death for women in the United States, it is the most preventable of all of the gynecologic cancers. However, even with an excellent cervical cancer screening program in the United States, there are still approximately 11,000 cases of cervical cancer each year in the United States, and approximately 4000 women die from cervical cancer each year.[7] More than 1 in 3 cervical cancers occur in women age 20 to 44 years,[8] the prime reproductive years. For these women, treatment of cervical cancer may result in the inability to start a family or to have additional children. High-grade dysplastic lesions may require treatment that can result in adverse obstetric morbidity, including severe or extreme preterm delivery, severe or extreme low birth weight, and perinatal mortality.[9,10] HPV-associated disease affects not only the women who endure diagnosis and management, but potentially the children whose health or home lives are adversely disrupted by the treatment and, potentially, the death of a parent.
Cancers of the oropharynx are more common in men; it is estimated that more than 2370 new cases of HPV-associated oropharyngeal cancer are diagnosed in women and nearly 9356 are diagnosed in men each year in the United States.[4] Many oropharyngeal cancers are now being identified as HPV-related cancers; population-level incidence of HPV-positive cancers increased by 225%, while the incidence of HPV-negative cancers declined by 50%.[11] HPV vaccines that are currently licensed in the United States are not indicated for the prevention of oropharyngeal cancer. Although studies have not yet established whether HPV vaccines prevent these cancers, it is possible that they do because HPV vaccines are known to prevent other cancers caused by HPV types that are associated with oropharyngeal cancers.
Medscape: Can you tell us more about the HPV vaccine?
Katherine Brewer, MSN, RN: Many cancers caused by HPV can be prevented with vaccination. Both HPV vaccines licensed by the United States Food and Drug Administration (FDA), HPV2/bivalent HPV vaccine (Cervarix®, GlaxoSmithKline, Inc., Philadelphia, Pennsylvania)[12] and HPV4/quadrivalent HPV vaccine (Gardasil®, Merck & Co., Inc., Whitehouse Station, New Jersey),[13] protect against infection with HPV types 16 and 18, which cause 70% of cervical cancers. The quadrivalent HPV vaccine also provides protection against HPV types 6 and 11, which cause 90% of genital warts. Quadrivalent vaccine has also been shown in clinical trials to protect against the HPV types that most commonly cause cancers of the anus, vagina, and vulva, and is licensed for the prevention of precancers and cancers in these anatomic sites. Only the quadrivalent vaccine is licensed for use in males.[14]
CDC's Advisory Committee on Immunization Practices (ACIP) recommends HPV vaccination for all 11- and 12-year-old girls and boys.[13] Both vaccines (bivalent and quadrivalent) are administered as a 3-dose series. The series can be started at age 9 years. Vaccination is also recommended for females age 13 through 26 years and males age 13 through 21 years who have not completed the vaccination series; and males age 22 through 26 years may also be vaccinated.[13] The ACIP also routinely recommends HPV vaccination for persons who are immunocompromised as a result of infection (including human immunodeficiency virus infection), disease, or medications, and men who have sex with men,[14] through 26 years of age for those who did not get any or all doses when they were younger.
Medscape: What is the current state of HPV vaccine coverage in the United States?
Larry K. Pickering, MD: Each year, CDC tracks vaccination coverage among adolescents using the National Immunization Survey (NIS)-Teen. The NIS-Teen provides us with a "report card" of vaccination coverage that shows us how well we are doing in protecting our nation's teens against vaccine-preventable diseases. Data show that completion of the 3-dose HPV series for females is far below the Healthy People 2020 objective of 80%. According to NIS-Teen, while vaccination coverage with 1 dose of HPV vaccine in females has increased from 25% in 2007 to 53% in 2011, no appreciable increase in vaccination coverage was observed in females between 2011 and 2012 (54% in 2012),[1] see Figure 2.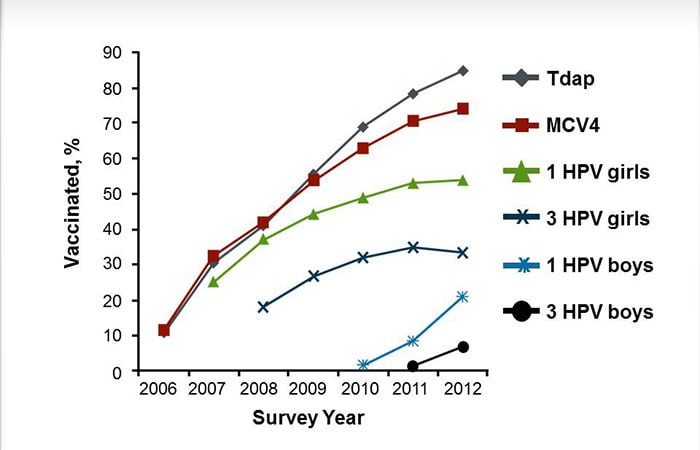 Meanwhile, coverage rates for the other vaccines recommended for adolescents -- meningococcal conjugate vaccine and Tdap vaccine -- have increased since measurement of coverage began in 2006 (Figure 2). The coverage rates for the other adolescent immunizations show the opportunities that are being missed to immunize adolescents against future HPV infection. To this point, 84% of girls age 13 through 17 years who have never received a dose of HPV vaccine saw a healthcare provider in 2012 and received at least 1 vaccine recommended for their age group, but not HPV vaccine even though it's safe to receive the vaccines concomitantly (ie, during the same visit at different anatomic sites).[15] Had each of those girls also received HPV vaccine, coverage levels for the first dose of the HPV vaccine series could be as high as 93%.[1] Healthcare providers often cite a lack of preventive healthcare visits among the adolescent population as a barrier to vaccination[16]; however, these data clearly demonstrate that healthcare access is not the main impediment to HPV vaccine uptake (Figure 3).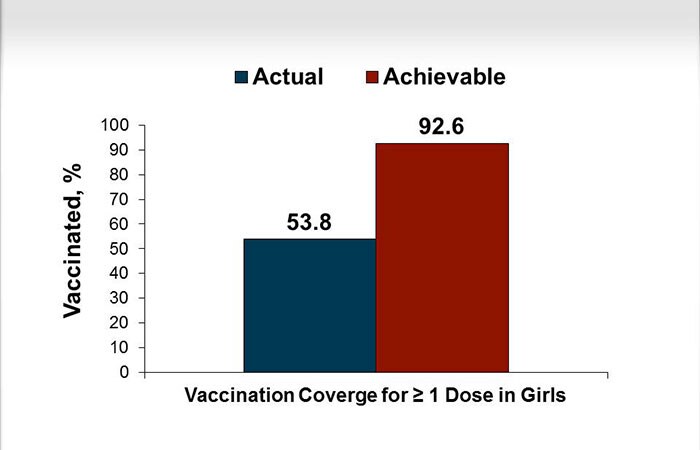 Medscape: What can healthcare providers do to reduce the number of "missed opportunities" in their practice or clinic?
Dr Loehr: Healthcare providers need to make strong recommendations for HPV vaccination to patients when they are 11 or 12 years old. Data from the 2012 NIS-Teen show that among parents with no intentions of vaccinating their daughter in the next 12 months, 15% cite "lack of healthcare provider recommendation" as a reason for not vaccinating (Figure 4).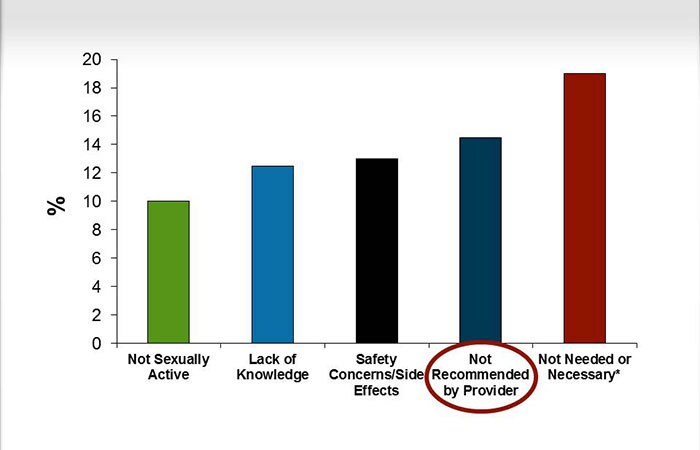 A strong recommendation for HPV vaccination is straightforward and doesn't single out the HPV vaccine as different from other recommended vaccines. In their conversations with parents, healthcare providers should bundle all vaccines recommended for adolescents together by saying something such as, "Your child is due for 3 shots today: meningococcal conjugate vaccine, HPV vaccine, and Tdap vaccine." This may help parents understand that all of the vaccines recommended for adolescents are equally important, whether they are required for school entry or not. Parents should be assured that HPV vaccine can safely be given during the same visit as the other vaccines recommended for adolescents.[15]
The patient's immunization record should be reviewed at every healthcare encounter. Review of immunization records can be achieved by office staff who can provide reminder notes to healthcare providers and Vaccine Information Sheets to parents at the beginning of visits. Alternatively, the electronic health record or the public health immunization information system can be used to provide prompts to healthcare providers and office staff to promote delivery of indicated vaccines. Whatever the approach taken to review patients' immunization records, the review must be followed by vaccination in order to be effective. That is, it is important for healthcare providers and office staff to remember to act on the prompts and not fall into a pattern of ignoring them. This is critical to improve HPV vaccination rates to prevent another generation left vulnerable to devastating cancers.
Medscape: What information might inspire more confidence in healthcare providers in recommending HPV vaccination?
Dr Berkelhamer: Recently published studies should help boost healthcare providers' confidence that HPV vaccine is effective. Postlicensure studies are important for assessing the real-world impact of vaccination on populations, and multiple efforts at reviewing the HPV vaccine impact on early term (HPV infection and anogenital warts), mid-term (cervical lesions), and late-term (HPV-associated cancers) outcomes are ongoing. Studies of these outcomes show that use of HPV vaccine is having a powerful effect on HPV infections and related diseases. A study examining the prevalence of HPV infections in girls and women before and after introduction of the HPV vaccine demonstrated a significant reduction in vaccine-type HPV in US teens. Since the vaccine was recommended routinely for females in 2006, vaccine-type HPV prevalence decreased 56% among females age 14 to 19 years.[17] Results of smaller, clinic-based studies in the United States also support these findings. The impact of quadrivalent HPV vaccine on anogenital warts in the United States is being monitored using analyses of health claims data from managed care organizations. A recent ecologic analysis examined trends in anogenital warts from 2003 to 2010. The study found a 38% decrease after 2007 among females age 15 to 19 years.[18]
Published reports of prevalence of HPV infection with vaccine-type anogenital warts from several other countries further demonstrate both the direct effect of vaccination and the ability of vaccination to reduce transmission of HPV (indirect effect). For example, Australia has high HPV vaccine coverage, greater than 80% for at least 1 dose and greater than 70% for 3 doses in target age groups. There have been declines in prevalence of HPV infections and in incidence of precancerous lesions and genital warts in young women. It is worth noting that HPV vaccine had only been recommended for girls in Australia, but the declines in genital warts were also observed in young men, showing there has been a decrease in transmission of HPV.[19]
Medscape: What knowledge has been gained about HPV vaccine safety in the years since the quadrivalent vaccine was first licensed and approved for use?
Dr Pickering: In the United States, postlicensure vaccine safety monitoring and evaluation are extensive for all vaccines, including HPV vaccines. Multiple studies show that HPV vaccination is safe. Of the reports received by the Vaccine Adverse Event Reporting System following administration of quadrivalent vaccine, most have been classified as "nonserious."[2] For the serious adverse events reported, there have been no unusual patterns or clustering that suggest events were caused by the quadrivalent vaccine. Reports in females following receipt of the quadrivalent vaccine peaked in 2008 and decreased each year thereafter; the proportion of serious reports also decreased. The quadrivalent vaccine has a similar safety profile as other vaccines recommended for this age group.
Since HPV4 became available globally, vaccine safety studies and monitoring activities have been conducted, and no serious safety concerns have been identified. The two largest safety studies conducted, which included 200,000 girls in the United States[20] and 1 million girls in Denmark and Sweden,[21] found no increase in any of 200 categories of illness evaluated, including autoimmune diseases and venous thromboembolic diseases.
Syncope can occur after any medical procedure, including vaccination. Although uncommon, syncope has been reported among vaccine recipients of both sexes following vaccination. The ACIP recommends that adolescent patients be vaccinated while seated or lying down, as well as observed for 15 minutes after vaccination.[22]
Medscape: What could improve HPV vaccine acceptance in the United States?
Ms Brewer: Research shows that HPV vaccine acceptance, like that for any other vaccine recommended during childhood or adolescence, is influenced predominantly by a strong recommendation from a healthcare provider.[23] The most successful approach is to group the HPV vaccine recommendation with the recommendation for the other routinely recommended vaccines. A healthcare provider can tell a parent, "Today your child is due for 3 vaccines to prevent meningococcal meningitis, most cancers caused by HPV, as well as a booster for protection against tetanus, diphtheria, and pertussis, or whopping cough." When the vaccines are introduced together, the parent perceives them all as part of the routine schedule, and equally important. Suggesting that parents consider HPV vaccine, or mentioning casually that HPV vaccine is available, does not constitute a strong recommendation. Giving a strong recommendation entails presenting the HPV vaccine just as one does for the Tdap and meningococcal vaccines.
Research has shown that parents want to vaccinate their children to prevent cancer.[24,25] Cancer prevention should be the reason given to parents who ask why their child needs HPV vaccine. The healthcare provider can say to the parent, "HPV vaccine will help protect your child from many of the cancers caused by HPV infection. We know that HPV infection is dangerous since about 26,000 people in the United States get cancer from HPV every year. We know that the HPV vaccine is safe since in the years that HPV vaccine has been given in the United States, no serious safety concerns have been identified."
Finally, some parents will be concerned that their child is too young to receive HPV vaccine and speculate that their child is years away from participating in any type of sexual activity. Healthcare providers should stress the importance of vaccinating prior to exposure by responding with something like, "Vaccines only work if they're given before exposure; we don't try to guess when precisely children will be exposed to other vaccine-preventable diseases. We give all vaccines at the earliest age that they have been shown to be safe and effective. HPV vaccine is also given when kids are 11 or 12 years old because it produces a higher immune response at that age. That's why it is so important to start the shots now."
Healthcare providers should be prepared to reply with evidence-based responses to the questions that parents commonly ask about HPV infection, HPV disease, and HPV vaccine. CDC provides tips for talking to parents about HPV vaccine that are based on research and principles of health communication.[26] When parents have questions, a strong recommendation can be supported by highlighting that HPV vaccine has been proven to prevent infection with the types of HPV that most commonly cause several types of cancer, by stressing that this prevention should begin today, well before the child is exposed to HPV, and by reassuring parents and adolescents that vaccination is safe and the protection should be long lasting.[27-29]
HPV vaccine is cancer prevention, and YOU are the key!
Educational Impact Challenge
What did you learn from this activity? Please click on the "Continue" button to proceed to a brief survey to see how your knowledge improved after the education. You can also see how your answers compare with those of your peers.