Introduction
Anticoagulant medications have served as the principle therapy to prevent thrombosis for a variety of cardiovascular diseases over many years. Heparin was the initial anticoagulant developed and used in clinical care; however, it is available only in a parenteral form that limits the duration of therapy.[1,2] With the discovery of oral vitamin K antagonists (VKAs), the indications broadened and the duration of anticoagulation therapy increased. Oral anticoagulants are now commonly prescribed medications around the world and are being utilized in the treatment of a wide variety of diseases for which prevention or resolution of thrombosis is needed.[3]
VKA medications (eg, warfarin, acenocoumarol, phenprocoumon) are currently the most commonly prescribed oral anticoagulants.[4] These agents work through the inhibition of clotting factors that are dependent upon vitamin K. The vitamin K-dependent factors include factors involved in the formation of thrombus (factors II, VII, IX, and X) and those that inhibit the formation of thrombus (protein C and protein S). During the initiation of a VKA, the effects of the drug are predominately on protein C and protein S. As a result, patients are transiently at an increased risk of thrombosis immediately after initiation of a VKA. This increased risk of thrombosis persists until the drug fully inhibits factors II, VII, IX, and X. After a few days of therapy, the effect of the drug on the coagulation factors predominates and the anticoagulant properties of the drug are manifest.[5] This class of medications has a long history of utilization and is currently indicated to prevent thromboembolism in a diverse group of patients including those with atrial fibrillation (AF), deep venous thrombosis, and mechanical heart valves.[3]
While VKAs are utilized throughout the world due to their broad indications and affordability, there are numerous challenges associated with their use. The pharmacodynamics and pharmacokinetics of warfarin therapy are complex and differ between patients. Genetic polymorphisms, concomitant medications, ongoing tobacco abuse and diet can affect the dose of warfarin required to achieve the desired level of anticoagulation.[6] As a result, the dosing of warfarin is highly variable and requires individualized testing and monitoring. This is especially problematic given that the therapeutic window required when using this drug is relatively narrow. Inadequate dosing can leave patients exposed to thrombotic complications, while excess dosing can expose patients to hemorrhagic complications such as intracranial hemorrhage and gastrointestinal bleeding. As a result of its narrow therapeutic window, observational studies of patients treated with warfarin have found they spend as much as 25% to 40% of their time outside the therapeutic window.[7] Similar results have been shown in patients participating in clinical trials in which only 50% to 70% of the time is spent in the therapeutic range. [8] Patients who spend large amounts of time outside the therapeutic range are at increased risk for both thrombotic and hemorrhagic complications (the former from inadequate anticoagulation and the latter from excess anticoagulation). Therefore, it is critical to maximize the amount of time in which patients are at the desired level of anticoagulation.
Importance of Pharmacokinetics and Pharmacodynamics
Knowledge of the pharmacokinetic and pharmacodynamic properties of an agent is necessary to understand how to use the medication in clinical practice. The pharmacokinetics of a drug describe how it reaches the site of action and how long it remains in the body. Drug absorption, distribution, metabolism, and excretion are the critical processes that determine the pharmacokinetics of a drug. Once at the site of action the pharmacodynamics of a drug, defined as the effects of the drug on the body, become important and determine the physiological action of the drug. Thus, the pharmacokinetics and pharmacodynamics of an agent determine the dose frequency and the level of dosing required to maintain safe and effective levels of anticoagulation.
The limitations of warfarin therapy led to the development of novel oral anticoagulants (NOACs). With improved pharmacodynamics and pharmacokinetics, these drugs are designed to have a predictable anticoagulant effect, resulting in safer drug administration. An ideal anticoagulant should be taken orally, have a rapid onset of action, and a rapid offset. In addition, its effects should be easily reversible given the potentially devastating effects that traumatic injuries or bleeding can have in patients on anticoagulation therapy. The ideal anticoagulant should also be efficacious and have reliable pharmacodynamics, with minimal off-treatment effects. Finally, the dosing of the ideal agent should result in reliable efficacy across a wide variety of comorbidities and patient states with minimal drug-drug interactions.
Pharmacodynamics of Novel Oral Anticoagulant Drugs
The pharmacodynamics of the different NOACs are relatively similar, in contrast to their pharmacokinetics, which are best understood in the context of each individual agent. The coagulation cascade is a complex system of multiple interrelated processes that are finely regulated to achieve a level of homeostasis that does not promote excess coagulation (and thus unintended thrombosis), while at the same time allowing for a level of thrombosis that is able to promote hemostasis and prevent spontaneous bleeding. Current NOACs target either factor Xa or thrombin, also known as factor IIa (Figure 1). Factor Xa serves as the link between the intrinsic and extrinsic coagulation systems. Activated factor Xa catalyzes the conversion of prothrombin to thrombin. Whereby factor Xa inhibitors (eg, rivaroxaban, apixaban, edoxaban) prevent the formation of thrombin, direct thrombin inhibitors (eg, dabigatran) directly target the coagulation cascade through the inhibition of thrombin. Inactive thrombin is unable to convert fibrinogen to fibrin, thus decreasing the formation of thrombus.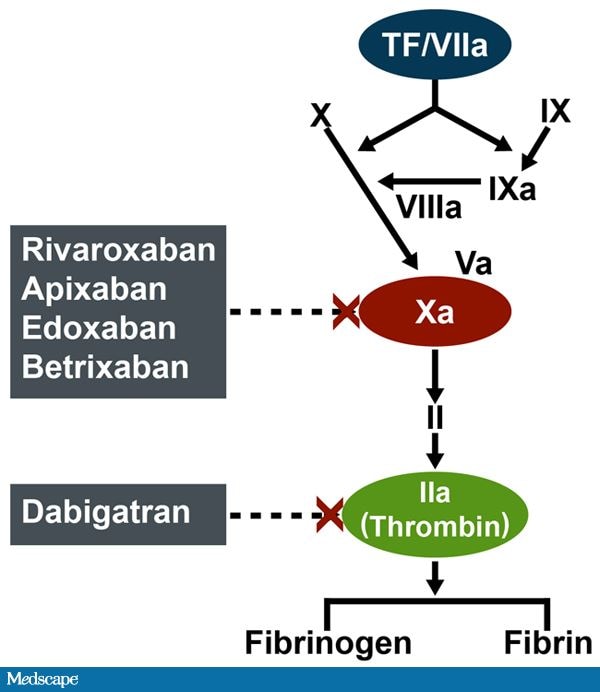 Figure 1. Overview of the coagulation cascade and the targets of action for different novel oral anticoagulant agents.[9]
Drug-Drug Interactions and their Effects on Pharmacokinetics
The pharmacokinetics of a drug can be modified considerably by concomitant medications. This can result in either inadequate or excessive drug concentrations. Transporter proteins, which are located on cell membranes throughout the body, are key to determining both the intracellular and systemic levels of the drug. P-glycoprotein (P-gp), also known as multidrug resistance-1 or ABCB1, is one such transporter that has been shown to affect the levels of many cardiovascular drugs. P-gp is found in many locations throughout the body but transporters in the enteric, renal, and hepatic systems are most relevant to the pharmacokinetics of the NOACs. P-gp in the gastrointestinal tract limits drug absorption by transporting drugs out of cells. P-gp transporters in the liver and renal tubules mediate the elimination of drugs. Therefore, in the renal or hepatic systems, inhibitors of P-gp (amiodarone, verapamil, quinidine, ketoconazole, and clarithromycin) can increase drug levels, while P-gp inducers (rifampin, St. John's Wort, and carbamazepine) can decrease the levels of the drug and their effectiveness (Table 1).
Table 1. Effect of Novel Oral Anticoagulants on Plasma Levels From Drug-Drug Interactions and Clinical Factors, and Dosing Recommendations
Via
Dabigatran
Apixaban
Edoxabana
Rivaroxaban
Atorvastatin
P-gp competition and CYP3A4 inhibition
+18%
No data yet§
No effect
No effect
Digoxin
P-gp competition
No effect
No data yet§
No effect
No effect
Verapamil
P-gp competition (and weak CYP3A4 inhibition)
+12%-180% (reduce dose and take simultaneously)†
No data yet§
+53% (SR) (reduce dose by 50%)a†
Minor effect (use with caution if CrCl 15-50 mL/min) §
Diltiazem
P-gp competition and weak CYP3A4 inhibition
No effect
+40%SmPC‡
No data yet§
Minor effect (use with caution if CrCl 15-50 mL/min) §
Quinidine
P-gp competition
+50%‡
No data yet§
+80% (reduce dose by 50%)b†
+50%‡
Amiodarone
P-gp competition
+12%-60%‡
No data yet§
No effect
Minor effect (use with caution if CrCl 15-50 mL/min) §
Dronedarone
P-gp and CYP3A4 inhibitor
+70%-100% (US: 2 x 75 mg)*
No data yet§
+85% (reduce dose by 50%)a†
No data yet§
Ketoconazole; itraconazole; voriconazole; posaconazole
P-gp and BCRP competition; CYP3A4 inhibition
+140%-150% (US: 2 x 75 mg)*
+100%SmPC*
No data yet
Up to +160%*
Fluconazole
Moderate CYP3A4 inhibition
No data yet§
No data yet§
No data yet§
+42% (if systemically administered) ‡
Cyclosporin; tacrolimus
P-gp competition
No data yet§
No data yet§
No data yet§
+50%‡
Clarithromycin; erythromycin
P-gp competition and CYP3A4 inhibition
+15%-20%‡
No data yet§
No data yet‡§
+30%-54%‡
HIV protease inhibitors (eg, ritonavir)
P-gp and BCRP competition or inducer; CYP3A4 inhibition
No data yet§
Strong increaseSmPC§
No data yet§
Up to +153%*
Rifampicin; St John's wort; carbamazepine; phenytoin; phenobarbital
P-gp/BCRP and CYP3A4/CYP2J2 inducers
-66%*
-54%SmPC*
-35%‡
up to -50%‡
Antacids (H2B; PPI; Al-Mg-hydroxide)
GI absorption
-12%-30%
No data yet§
No effect
No effect
Other factors
Age ≥ 80 years
Increased plasma level
†‡
‡
No data yet‡§
‡
Age ≥ 75 years
Increased plasma level
‡
‡
No data yet‡§
‡
Weight ≤ 60 kg
Increased plasma level
‡
‡
†‡
‡
Renal function
Increased plasma level
‡
‡
‡
‡
Other increased bleeding risk
Pharmacodynamic interactions (antiplatelet drugs; NSAIDs; systemic steroid therapy; other anticoagulants); history of or active GI bleeding; recent surgery on critical organ (brain; eye); thrombocytopenia (eg, chemotherapy); HAS-BLED ≥ 3‡
BCRP = breast cancer resistance protein; NSAIDs = non-steroidal anti-inflammatory drugs; H2B = H2-blockers; PPI = proton pump inhibitors; P-gp = P-glycoprotein; GI = gastrointestinal; SmPC = Summary of product characteristics.
*Contraindicated/not recommended.
†Reduce dose (from 150 mg twice daily to 110 mg twice daily for dabigatran; from 20 mg to 15 mg once daily for rivaroxaban; from 5 mg twice daily to 2.5 mg twice daily for apixaban).
‡Consider dose reduction if another similarly marked factor is present.
§No data available; recommendation based on pharmacokinetic considerations.
a. No EMA approval yet. Needs update after final approval (SmPC).
b. Prespecified dose reduction has been tested in phase 3 clinical trial (to be published).
From Heidbuchel H, et al. Europace. 2013;15:625-651.[10]
The hepatic system plays a major role in the activation and clearance of many medications. The metabolism of medications occurs through liver enzymes such as the cytochrome P450 system. This system contains a number of enzymes, known as cytochromes (CYPs), which metabolize a variety of different compounds. Drugs can affect CYPs by either inhibiting or inducing them. Inhibitors of CYP enzymes (eg, dronedarone, azole antifungal agents, rifampin) decrease the clearance of drugs metabolized in the liver. For anticoagulant therapies, decreased clearance would increase the degree of anticoagulation, leaving patients at risk for hemorrhagic complications. In contrast, medications that induce CYP enzymes can increase clearance of drugs metabolized in the liver, thereby decreasing the degree of anticoagulation and subjecting patients to an increased risk of thrombotic complications.