Curtailing Opioid Abuse & Healthcare Costs
Opioid abuse and extensive use may be curtailed by various means. The first and foremost is to close pill mills and promote responsible opioid prescribing by educating physicians and the public. It is essential to realize that psychotherapeutic drug abuse, including opioids, is superseding illicit drug use. Drug dealers are no longer the primary source of illicit drugs. It appears that the greatest problem now is diversion through family and friends; their source is more likely to be one physician, not doctor shopping. Further, consideration must be given to the highly interactive pattern of effect and impact that exists in the general area of substance abuse, mental health and overall healthcare.
Misuse, abuse and diversion should be addressed on four fronts: education, establishing medical necessity, supply and drugs.
Supply is dependant on physicians and patients, thus education of both is extremely important. The increased abuse of opioid analgesics likely reflects the misguided belief that, because these medications are prescribed by physicians, they are safer than illicit drugs. It is also likely that part of this increased abuse is due to much greater access to and availability of opioid analgesics.[86,102] This is likely to reflect more aggressive management of noncancer pain, facilitated, in part, by the regulatory mandate from Joint Commission on Accreditation of Healthcare Organizations, liberalization of medical board regulations, and by lingering concerns regarding the safety of non-opioid analgesics and their tolerability.[102]
Education and knowledge can be a double-edged sword. Physicians must recognize that some patients misrepresent genuine pain in order to obtain, misuse and divert these medications, resulting in serious or even lethal public health problems.[102] Thus, enhancing and updating clinical teaching and training for physicians, nurses, dentists and pharmacists in the areas of pain management, opioid pharmacology and abuse/addiction, perhaps through interactive web-based training, should be the first and foremost line of action.[102] It has been suggested that pain management education for health professionals has been and continues to be insufficient. Consequently, a more comprehensive and contemporary curriculum for prescribers seems warranted.[102] Appropriate guidance must be applied because, as the literature illustrates, guidelines do not sufficiently influence clinical practice of opioid prescribing in chronic pain management. The lack of appropriate guidelines and education leads to stringent regulations enacted by legislators that mainly focus on curtailing abuse, which may also reduce access to needed therapy. Education is of paramount importance to curtail and properly manage opioid use and abuse.
Education and understanding the physiology and pharmacology of chronic pain and the multiple modalities available for managing it, as well as comorbid factors, will assist physicians in establishing indications and medical necessity for chronic opioid therapy. Prior to initiating opioid therapy, it requires a comprehensive initial evaluation, including a screening process and special provisions for managing pain and those most at risk for abuse and dependence, a family history of substance abuse disorders and alcohol abuse, evaluation of the previous history through prescription monitoring program (PMP) results or results from physicians when the PMP is not available, baseline urine drug testing, and, finally, initiation of monitoring for adherence.
Medical necessity is a dynamic process. This includes assessing and establishing other treatment modalities such as physical and behavioral modalities, assessing the risk–benefit ratio of opioid therapy, establishing treatment goals, obtaining informed consent and agreements, titrating the initial dose, maintaining through stable phases and monitoring adherence. Further, outcomes must be assessed on a regular basis once medical necessity is established and opioid therapy may be discontinued either for nonadherence or failure to respond. Supply is closely tied to adherence monitoring. Adherence monitoring consists of continuous vigilance from the initial evaluation to discharge utilizing numerous means including screening tools, urine drug testing, PMPs and appropriate agreements or contracts.
PMPs collect state-wide data about prescription drugs and track their flow. To date, 48 states have approved PMPs, but there is a significant difference in the manner and frequency with which the data are collected. The National All Schedules Prescription Electronic Reporting was signed into law in 2005, created by the American Society of Interventional Pain Physicians and enacted by Congress.[223] This law requires states to collect prescription information for Schedule II, III and IV medications. It also requires states to have the capability to share this information with one another. This can decrease cross-border narcotic trafficking. Even though there is no definite evidence that PMPs reduce overuse and abuse, partly due to interstate commerce laws and a multitude of other issues, most appreciate the benefit of monitoring programs and the ability to make proper decisions with information in hand in conjunction with other regulations.[4–6,41,103–105]
Consequently, multiple screening tools to monitor opioid adherence have been developed for predicting and identifying aberrant drug-related behaviors.[4–8] The majority of the screening tools used to evaluate pain are based on psychopathology, but some also assess drug misuse and abuse. There is currently no ideal instrument that can screen for misuse and abuse of drugs while also being able to reliably predict the potential for substance abuse.
Urine drug testing is part of adherence monitoring to curtail the abuse of opioids as well as other controlled substances.[67–71] Urine drug testing provides relatively good specificity, sensitivity, ease of administration and cost; however, controversies exist regarding the clinical value of urine drug testing, partly because most current methods are designed for, or adapted from, forensic or occupational deterrent-based testing for illicit drug use and are not entirely optimal for application in chronic pain management settings. Furthermore, additional issues exist related to excessive use, misuse, abuse and financial incentives.[70] However, recent diagnostic accuracy reports of urine drug testing illustrated that immunoassay in an office setting is appropriate, convenient, and cost effective.[69] With appropriate monitoring tools, this can be performed cost effectively without laboratory confirmation in the majority of the patients unless the patient does not provide a proper history and the problem of abuse continues.
The fourth issue in curtailing opioid abuse is the development of abuse deterrent formulations (ADFs) of opioids. This can potentially curtail abuse but still have opioids readily available for pain management for those who need them. The potential for abuse depends on the formulation, route of administration and rapid rise of plasma concentration resulting in drug linking and reinforcement.[67] Various types of ADFs of opioids are being developed, but they will not necessarily decrease abuse in those who consume the drug intact. Some ADFs employ physical barriers that resist common methods of tampering, such as crushing the pill and subjecting the pill to various chemical manipulations to extract the active ingredients so that they can be chewed. A combination of opioid agonists and opioid antagonists have also been tried; however, these have not been very successful.
A GAO report extensively dealt with opioid abuse and recommended that the director of the ONDCP establish outcome metrics and implement a plan to evaluate proposed educational efforts and ensure that agencies share lessons learned among similar efforts. The ONDCP did not explicitly agree or disagree with the GAO's recommendations, but noted that it will continue to work for improved coordination of educational efforts and evaluation of outcomes.
Franklin et al. showed that this guidance is effective in bending prescription opioid dosing and reducing mortality.[106] This study, showed a substantial decline in both the morphine equivalent dose per day of long-acting schedule II opioids by 27% and the proportion of workers on doses equal to or greater than 120-mg per day of morphine equivalent dosage by 35%, compared prior to 2007.[106] Furthermore, there was also a 50% decrease from 2009 to 2010 in the number of deaths.
Guidelines provide different types of recommendations; however, none are based on evidence and most of them are based on consensus. Appropriate guidelines are an approach developed in each practice and must include the following: standardized screening procedures and special provisions for managing pain in those most at risk for abuse and dependence, including adolescents and young adults, individuals with a current or previous substance-use disorder, including nicotine and alcohol, and individuals with a family history of substance use disorders.[102] In addition, the guidelines should have indications for when and how long to prescribe non-opioid analgesics, or nonpharmacological methods or both for pain control versus when and for how long to prescribe opioid analgesics. Other indications should include when short- versus long-acting opioids should be prescribed and reasonable limits on the number of pills or amount of liquid prescribed, such that the prescribed amounts match the number of treatment days required.
Furthermore, an approach for continuing opioid pain management for chronic noncancer pain should include the following: when and how to use urine screening to manage the risk of diversion, abuse and addiction; when and how to use patient contracts to manage risk of diversion through a single-source prescriber and pharmacies; proper use of state prescription drug monitoring programs to reduce doctor shopping; criteria for deciding how long a patient should receive opioid analgesics and criteria for deciding whether and under what circumstances to refill or discontinue opioid prescriptions.[102]
Since the patient is a crucial part of the abuse, overuse or diversion, patients and the general public must also be educated and made more aware and responsible for the use, storage and disposal of opioid analgesics.[102] Furthermore, the media should evaluate the influence of news reporting on the popularity of and misconceptions about psychoactive substances, particularly prescription opioids;[102] the media can be influential in curtailing abuses.[4,5]
Figure 7.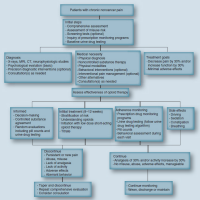 Enlarge
Figure 7 illustrates practical steps in managing chronic opioid therapy for noncancer pain in an algorithmic fashion. American Society of Interventional Pain Physicians guidelines and subsequent literature about the efforts of PMPs through National All Schedules Prescription Electronic Reporting and education are based on understanding various aspects of chronic pain and its management.
Following the appropriate recommendations with better education and appropriate prescription patterns should reduce misuse, abuse, overuse and diversion, while at the same time, promote proper pain management while maintaining access. Thus, it may be possible to not only curtail abuse, but also continue to provide appropriate avenues for proper pain management. This can be achieved with higher education standards for physicians, the public and legislators; cooperation from the pharmaceutical industry to curtail aggressive promotion; and clear and positive guidelines from regulators.