Impact on Healthcare Costs
Strassels described the economic burden of prescription opioid misuse and abuse in a comprehensive review.[14] He described that estimating the incidence of consequences of opioid misuse, abuse and diversion from biomedical literature is challenging. The author identified over 2300 titles, included 41 in the review and showed that the total cost of prescription opioid abuse in 2001 was estimated at US$8.6 billion, including workplace, healthcare and criminal justice expenditures.
The existing evidence indicates that persons who abuse or misuse prescription opioids incur higher costs and healthcare resource use. A study of commercially insured beneficiaries in the USA found that mean per capita annual direct healthcare costs from 1998 to 2000 were nearly US$16,000 for abusers of prescribed and nonprescribed opioids compared with approximately US$1800 for nonusers who had at least one prescription insurance claim.[76] The study's authors concluded that the economic burden of prescription opioid misuse and abuse is large. Furthermore, when examined by category, inpatient expenditures accounted for 46% of the total cost for abusers and 17% for nonabusers. In addition, opioid abusers were four-times as likely to visit the emergency department, had 12-times as many hospital stays and three-times as many outpatient visits than nonabusers. A study prepared for the Office of National Drug Control Policy (ONDCP) reported that the cost of drug abuse in the USA in 2002 was estimated to be US $180.8 billion.[76] This estimate included resources used to address health and crime consequences and loss of productivity resulting from disability, deaths and withdrawals from the workforce, but does not specify the contribution of illicit use of prescription opioid analgesics to the total economic burden.
Birnbaum et al., in an analysis of the costs of prescription opioid abuse, separately assessed healthcare, workplace and criminal justice expenditures.[77] In this study, the total economic burden was estimated at US$8.6 billion in 2001; healthcare costs accounted for 30% of the total burden. Birnbaum et al. also assessed the societal costs of prescription opioid abuse, dependence and misuse in the USA.[78] Once again, they identified costs by healthcare, workplace and criminal justice expenditures. They estimated the total US societal costs of prescription opioid abuse at US$55.7 billion in 2007; healthcare costs accounted for US$25 billion or 45% of total costs. These healthcare costs consisted primarily of excess medical and prescription costs, valued at US$23.7 billion. They concluded that the cost of prescription opioid abuse presents a substantial and growing economic burden for society.
Figure 5.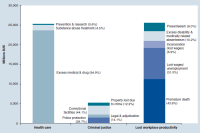 Enlarge
The 2007 Treatment Episodes Data Set reported that the number of patients admitted to substance abuse treatment facilities due to nonheroin/opioid abuse nearly quadrupled from 23,000 to more than 90,000 from 1999 to 2007.[218] Figure 5 shows the growing prevalence of prescription opioid abuse, dependence and misuse and shows the annual societal costs of opioid abuse, dependence and misuse in the USA in 2007.
Patients who abuse opioids accounted for over 92% of excess medical and drug costs with their caregivers accounting for the remainder. Medicaid patients and caregivers combined contributed approximately a third of total excess medical and drug costs, privately insured and uninsured patients and caregivers contributed slightly less than a third each and Medicare patients and caregivers accounted for only 4.6%.[78]
Similar to the above reports, in 2006, the estimated total cost in the USA of the nonmedical use of prescription opioids was US$53.4 billion. Five drugs, including OxyContin (an ER version of oxycodone), oxycodone, hydrocodone, propoxyphene and methadone accounted for two-thirds of the total economic burden.[79] The CDC in 2008 reported that the cost of pain killer abuse can exceed US$70 billion annually, not including the social problems they perpetuate or the lost or stalled potentials of those addicted to them. It has also been shown that opioid abusers generate, on average, annual direct healthcare costs 8.7 times higher than nonabusers.[219,220]
In addition to federal programs, Medicaid, workers' compensation and private insurers are also involved. The prevalence of opioid abuse is estimated to be over ten-times higher for Medicaid beneficiaries than private insurance populations.[80] A Washington state study of opioid deaths involving prescription drugs between 2004 and 2007 found that 1668 persons died from prescription opioid-related overdoses during the time period with 6.4 deaths per 100,000 population per year; 45.4% of deaths were among persons enrolled in Medicaid.[81] In another study, it was shown that escalating problems such as overdose, addiction and even death were reported in association with workers' compensation claims, with 55–85% of injured workers across the country receiving opioids for chronic pain relief.[82] The report found workers' compensation claims in the state of Michigan, USA, which included prescriptions for certain opioid medications were nearly four-times more likely to develop into catastrophic claims. The study also determined that opioid use was an independent predictor of whether a compensation claim would generate costs greater than US $100,000.
The cost of substance abuse in general in the USA was reported in 2005 with federal, state and local government spending as a result of substance abuse and addiction being at least US$467.7 billion.[221] Almost three-quarters (71.1%) of total federal and state spending on substance abuse was in two areas: healthcare and justice system costs. Reports published in the USA show an escalating problem of prescription drug use, abuse and diversion in the Medicare and Medicaid programs.[222]
Increasing healthcare costs and increasing misuse and related costs in Canada have been described. Canada is home to the overall second highest level of prescription opioid use globally. Total prescription opioids consumed in Canada increased from 8713 standardized, defined daily-doses in 2002 to 26,380 standardized, defined daily-doses in 2008–2010 – a 203% increase, which appears to be steeper than that observed in the USA.[206]
Roxburgh et al., whilst describing prescription opioid analgesics and related harms in Australia, were concerned with the growing use of opioids among medical professionals and the increase in opioid analgesic prescriptions, specifically morphine and oxycodone, over the past decade.[12] While North America ranks first, Australia's consumption of opioid analgesics is ranked 10th internationally; however, per capita consumption of oxycodone and morphine preparations in Australia is relatively high, ranked third and fifth respectively, internationally, compared with Canada, which ranks first for oxycodone and Australia, which ranks first for morphine.[201] This study showed prescriptions for morphine declined, while those for oxycodone increased markedly. Further, prescriptions for both were highest among older Australians. They reported 465 oxycodone-related deaths from 2001 through 2009. While treatment episodes for problematic morphine use remained relatively stable with 0.07 per 1000 population in 2007–2008, episodes for problematic oxycodone use doubled, from 0.01 per 1000 population in 2002–2003 to 0.02 per 1000 population in 2007–2008.[12]
Promoting pain treatment, including using opioids, is endorsed by the Institute of Medicine committee. Despite this, they recognize that there is a serious crisis with opioid abuse and diversion, as well as the fact that chronic opioid therapy has not been proven viable for treating chronic pain. The opioid crisis continues to accelerate, as does chronic pain's prevalence, healthcare costs and adverse consequences from opioids.[4–6] Even with such mounting evidence, there are still those who advocate increased opioid use based on a supposed undertreatment of pain. In fact, Stein et al. summarized the evidence succinctly, noting that 'many arguments in favor of opioids are solely based on traditions, expert opinion, practical experience, and uncontrolled anecdotal observations'.[50]
Figure 6.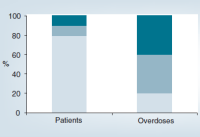 Enlarge
The CDC have reported the percentage of patients with prescription drug overdoses by risk-group in the USA.[41] This report showed that approximately 80% were prescribed low doses (<100-mg of morphine equivalent dose per day) by a single practitioner. These account for only an estimated 20% of all prescription overdoses (Figure 6). By contrast, among the remaining 20% of patients, the 10% prescribed high doses of opioids by single prescribers (>100-mg morphine equivalent dose per day),[83,84] account for an estimated 40% of prescription opioid overdoses[62,85] and the remaining 10% of patients seeing multiple doctors and typically involved in drug diversion, account for 40% of overdoses.[73] In fact, 76% of nonmedical users report obtaining drugs that had been prescribed to someone else while only 20% report that they acquired the drug from their own doctor.[41] Finally, among persons who died of opioid overdoses, a significant proportion did not have a prescription in their records for the opioid that killed them; in West Virginia, Utah and Ohio (USA), 25–66% of those who died of pharmaceutical overdose used opioids originally prescribed to someone else.[73,86,212]
Thus, in modern medicine, adverse consequences of appropriately prescribed and used opioids are underappreciated with all the blame diverted to abuses and overuses. This is, in addition to the lack of evidence regarding the long-term benefits, the alarming evidence that the increased prescribing of opioids is fueling an epidemic of addiction and overdose deaths, based on a lack of education and misinformation, leading essentially to overprescribing.[211] Due to multiple adverse consequences with opioids even when they are prescribed appropriately, a more cautious stance towards opioid prescribing for chronic noncancer pain has been advocated.[4–6,38,41,44–48,57,60,61,87,88,208,210,214] In fact, the majority of injuries and deaths may arise from people using opioids exactly as prescribed, not just those misusing or abusing them.[214] It is even more important that most studies indicate that patients on long-term opioid therapy are unlikely to stop them, even if analgesia and function are poor and safety issues arise.[6] On the other hand, patients also report excellent pain relief and improvement in function with other modalities or interventions.[88,89]
Taking higher doses and a combination of short-acting and long-acting opioids are likely to be abused and also cause serious dose-related adverse effects, including death. In addition, there is no evidence to support the previous teaching that long-acting opioids can provide better analgesia and less abuse risk than IR products.[6,33,44–49,214]
Multiple studies have reported an association between opioid prescribing and overall health status with increased disability, increased medical costs, subsequent surgery and continued or late opioid use.[4–6,34,77,88–100] Overall, it appears that epidemiologic studies are less positive regarding functional improvement and quality-of-life for chronic pain patients on opioids.[100] In Denmark, where opioids are freely prescribed for chronic pain, an epidemiological study conducted[88] showed that those receiving opioids for chronic pain, when compared with a matched cohort of chronic pain patients not receiving opioids, had higher pain levels, higher healthcare utilization and lower activity levels.[101]