Overuse of Therapeutic Opioids
The overall production and distribution of therapeutic opioids has increased extensively in the past 20 years. Global production of morphine worldwide has more than quadrupled from 168 tons in 1993 to a projected 788 tons in 2012.[25,206] The global production of oxycodone rose by over 4000%, from approximately 6 tons in 1993 to an estimated 261 tons in 2012.[25,206] However, the data on the prevalence of opioid use among people with chronic pain, specifically moderate-to-severe chronic noncancer pain and other moderate-to-severe pain, are limited in the USA and around the globe.
From 1999 to 2002, 4.2% of US adults reported using opioid analgesics for pain within the past month.[207] During the same time, opioid usage was described to be 22% of adults with pain in Canada[26] and 12% in Denmark.[27] A report evaluating opioid use in Utah in the USA in 2008 illustrated that 20.8% of adults in Utah had been prescribed an opioid in the last year and 29.1% of these prescriptions were for long-term pain.[28] In one of the earliest surveys, opioid use was shown to have doubled from 8% in 1980 to 16% in 2000.[29] In a study of commercial and Medicaid insurance plans from 2000 to 2005, the proportion of enrollees receiving a diagnosis of chronic noncancer pain increased 33% in the HealthCore population and 99% in the Medicaid population, with a 58% increase of opioid prescriptions for chronic pain in HealthCore and 29% in Medicaid.[30] Another study involving over 1% of the US population from 1997 to 2005 showed that among relevant long-term opioid users in 2005, 28.6–30.2% were also regular users of sedative hypnotics.[31] This study also showed that use of long-term opioid doubled in some healthcare plans. In a study of low back pain in the USA, overall opioid use among back pain patients increased from 11.6% in 1996 to 12.6% in 1999.[32] The prescriptions showed an increase in oxycodone and hydrocodone and a decrease in propoxyphene.[204] In 2008, a total of 36,450 deaths were attributed to drug poisoning, a rate of 11.9 per 100,000 population. By 2005, long-term opioid therapy was being prescribed to an estimated 10 million US adults.[6,33–35,208]
Elsewhere across the globe, in a study conducted in Ontario, Canada, it was illustrated that from January 1991 to May 2007, opioid analgesic prescriptions increased by 29%, from 458 to 591 prescriptions, per 1000 individuals annually.[36] The number of oxycodone prescriptions rose more than 850% during the same period, from 23 per 100,000 individuals in 1991, to 197 per 100,000 in 2007. The addition of long-acting oxycodone to the drug formulary was associated with a fivefold increase in oxycodone-related mortality and a 41% increase in overall opioid-related mortality. Multiple authorities have looked at the relationship between increasing controlled substance use, specifically opioid use and related fatalities.
In pain management settings, it has been reported that as many as 90% of patients receive opioids for chronic pain management.[4–6,37] In addition, it also has been illustrated that the majority of these patients were on opioids prior to presenting to an interventional pain management setting.[37] Furthermore, Deyo et al. illustrated that approximately 20% of patients in primary care settings were long-time opioid users with 61% receiving a course of opioids.[38] Multiple studies also have described that many of the patients in primary care settings also abuse illicit drugs.[38]
Figure 1.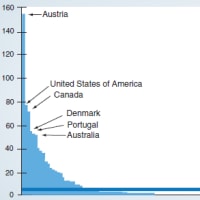 Enlarge
The quadrupled sales of opioid analgesics between 1999 and 2010 are a perfect example of the therapeutic opioid explosion. According to the United Nations Office on Drugs and Crime, in 2009, a handful of countries – the USA, Australia, New Zealand, Canada and several European countries – used 90% of the morphine, fentanyl and oxycodone used around the globe.[39] This finding was echoed by the WHO; using 2003 figures from the INCB, they reported 79% of worldwide morphine use was accounted for by just six developed countries; the numbers were reversed when developing countries, comprising 80% of the world's population, were shown to only use 6%.[39] As shown in Figure 1, there were similar findings in 2007 when six developed countries had the highest morphine consumption while 132 out of 160 countries were below the worldwide mean consumption for morphine.
These findings expose the disparity in pain relief that patients receive between developed and developing countries. Moderate-to-severe pain patients by the millions are undertreated in developing countries, while in developed countries, these same patients are overtreated with opioids, especially in the USA, which consumes an incredible 99% of all hydrocodone and 83% of all oxycodone.[38] On a per-gram basis, those in the USA use more narcotics than any other country. The INCB estimates global pharmaceutical companies produce more than 75-times a year of oxycodone, compared with 11.5-times in 1999, of which more than 80% is consumed in the USA.[202,203] In addition, the US demand for hydrocodone – the most commonly prescribed opioid – dwarfs what is consumed by the rest of the world: 27.4 million grams each year for the USA alone versus 3237 g for Great Britain, Germany, Italy and France combined.[4–6,202,203]
Opioid sales in the USA increased sevenfold from 1997 to 2010 from morphine equivalents of 96 mg per person to 710 mg per person.[38] Put another way, enough opioids are sold so that 15 mg of hydrocodone can be administered every day to every American adult for 47 consecutive days. In the 10-year period from 1997 to 2007, hydrocodone sales jumped 280%, methadone jumped 1293% and oxycodone jumped 866% in the USA ( Table 1 ).
Both immediate-release (IR) and extended-release (ER) opioid prescriptions have increased in the USA. A staggering 256 million opioid prescriptions were filled out in 2009, of which 234 million were IR (compared with only 223.9 million 2 years earlier) and 22.9 million were ER (compared with 21.3 million 2 years earlier).[209]
These data also illustrate an eightfold increase in stimulant prescriptions from 1991 to 2009.[209] A recent publication showed that 94% of patients presenting to an interventional pain management program were on long-term opioids in the USA.[37] Illicit drug use was also common, in patients presenting to an interventional pain management program although, it has declined significantly from a previous publication. While a large proportion of individuals (45.7%) have used illicit drugs at some point, current illicit drug use was present in only 7.9% of patients; both past and current use was similar to that of the general population. More importantly, a significant proportion of patients (48.8%) have been on opioids (high doses of more than 40 mg equivalents of morphine) on a long-term basis, initiated and maintained by primary care physicians; 35% were on benzodiazepines and 9.2% on carisoprodol prior to presenting to interventional pain management.