Posted: 08/8/2011
Recent provisions in Medicare and insurance oversight aim to improve the quality of healthcare, lower the cost of care, provide access to affordable care, and protect consumers.
This advisory highlights several current provisions of the Affordable Care Act (ACA) and outlines what clinicians should know to help patients benefit now. Although many provisions are expected to roll out over the next several years, a number of important ones are already in effect.
Improving Quality of Care While Lowering Costs
The ACA provides assistance for patients with Medicare who have reached the coverage gap (ie, "donut hole") in medication coverage (Medicare Part D). Patients paying for drugs in this gap will get a 50% discount on covered brand-name drugs and a 7% discount on generic drug purchases; additional savings are expected as this gap is closed over the ensuing years.[1] Despite these discounts, the entire drug cost counts toward the amount required to qualify for catastrophic coverage.
Patients with Medicare can now take advantage of a variety of preventive services without the need for copayments/coinsurance or deductibles. For more information on Medicare preventive services see this Medscape Healthcare Advisory.[2]
Patients enrolled in job-related health plans or in individual health insurance policies created after March 23, 2010 also may avoid copayments/coinsurance or deductibles when receiving recommended preventive health screenings, vaccinations, and counseling.[3] Additional details on this provision can be found at HealthCare.gov.[3]
Improving Access to Affordable Care
If a parent's or guardian's health insurance policy covers children, they can now add or keep their children on the policy until they turn 26 years old.[4] (Before the ACA, health plans could remove enrolled children usually at age 19 or sometimes older for full-time students.)[4] Additional information on this provision can be found at HealthCare.gov.[4]
The Pre-existing Condition Insurance Plan (PCIP) provides access to insurance for people with pre-existing conditions who have been denied coverage and meet other eligibility criteria (Figure); more information on this plan can be found on the PCIP Website.[5] Recent updates to this benefit have reduced premiums by as much as 40% and eased eligibility standards.[6]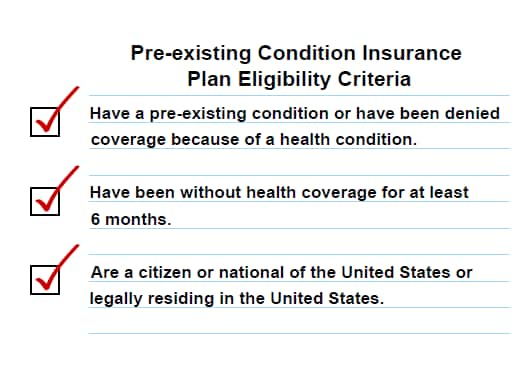 Figure.
Pre-existing Condition Insurance Plan eligibility criteria. From HealthCare.gov. Available
here
. Accessed June 19, 2011.
[5]
Providing Consumer Protections
The ACA has a number of provisions in place to protect consumers. Health plans that began on or after September 23, 2010 can no longer retroactively cancel insurance coverage solely because the patient or employer made an honest mistake on their insurance application.[7]
All job-related health plans that cover children and individual health insurance policies issued after March 23, 2010 cannot limit or deny benefits or deny coverage for a child younger than age 19 simply because the child has a "pre-existing condition."[8]
Lifetime limits on most benefits are prohibited in any health plan or policy issued or renewed on or after September 23, 2010, and the ACA also restricts and phases out the annual dollar limits many health plans can place on most covered benefits.[9]
As patients look to healthcare providers for guidance on how the ACA will benefit them, it is important for clinicians to have a clear understanding of the new law and its provisions.
For more information on these and other provisions of the ACA, visit HealthCare.gov.