Editor's Note:
This text has been excerpted and adapted from: Emanuel LL, Ferris FD, von Gunten CF, Von Roenn J, editors. EPEC™-O: Education in Palliative and End-of-life Care for Oncology (Module 8: Clarifying Diagnosis and Prognosis. Copyright The EPEC™ Project, Chicago, Ill, 2005). The EPEC™-O curriculum was produced by The EPEC™ Project, with major funding provided by the National Cancer Institute, and with supplemental funding provided by the Lance Armstrong Foundation.
Accurate prediction and disclosure of diagnosis and prognosis are essential for both treatment and personal decision-making for patients with cancer. Research has shown that physicians are systematically overly optimistic in formulating survival estimates and even more optimistic when they disclose prognostic information to patients and/or their families. This article reviews physician prognostication skills, sources of prognostic information, and the role and limitations of integrated prognostic models. A 6-step protocol to guide the communication and clarification of diagnosis and prognosis follows. Approaches for handling unrealistic expectations and denial are also discussed.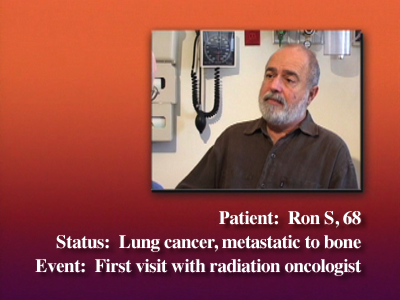 Case Study: RS, a 68-Year-Old Farmer
RS, a 68-year-old corn farmer, was referred by a surgeon to radiation oncology for treatment of hemoptysis secondary to stage IIIB non-small cell lung cancer. The patient reported a 6-month history of cough with occasional hemoptysis that did not seem to him to be much different from his smoker's cough.
At his wife's insistence, RS saw a physician. A chest radiograph showed "maybe a pneumonia" in the left lung and antibiotics were prescribed. Nothing changed. A repeat chest radiograph showed that "it wasn't better." A CT scan showed a mass and increased size of some of the lymph nodes. A bone scan was negative. RS underwent mediastinoscopy, which gave the diagnosis of stage IIIB non-small cell lung cancer. He has continued to work and has had his usual level of energy. His social history is remarkable for starting smoking when he was 14. He was married at 18 and kept smoking until about 5 years ago when his 6 kids and his wife finally convinced him to quit. He works on the family farm, although 3 of his sons help out a lot.
How Long Do I Have Left to Live?
Most Americans want to know if they have a life-threatening illness and how long they have left to live.[1,2] Studies in other cultures yield surprisingly similar data.[3,4] Although legitimate cultural variations are important, communicating diagnosis and prognosis in a direct and compassionate manner is likely to improve the patient's and family's ability to plan and cope; encourage realistic goals and autonomy; support the patient emotionally; strengthen the clinician-patient relationship; foster collaboration among the patient, family, physicians, and other professionals; and be reassuring that the healthcare team will be honest, even when the news is not good.
Some patients ask about their prognosis. Most expect the physician or other member of the healthcare team to introduce the subject. Most patients want to have a sense of the future so they can plan their lives. Some are terrified and hope that the healthcare team will reassure them that things are not so serious.
A cancer diagnosis and prognosis can be confusing to patients and families and challenging to physicians and other healthcare providers. Patients and families do not always translate metastatic disease to mean incurable disease, which is usually, but not always, the actual meaning of the situation. Furthermore, the word respond (as in "a certain percentage of cancer patients will respond to treatment") is often misinterpreted by patients and families as cured ("a certain percentage will be cured").
Some family members do not want the healthcare provider to inform the patient of his or her prognosis. Some fear that the news will be so distressing that it will affect the patient adversely or even cause his or her death.
It can also be difficult for physicians and members of the healthcare team, who want to be on the "hope team," to share information that they don't want to believe either. To make this process easier, it can be helpful to reflect that carefully shared information is a gift to the patient and family who want the information, and minimizes the risk that patients will distrust the healthcare team.[2]
Developing prognostication and communication skills can make difficult discussions with patients and families easier and at the same time provide patients and families with information they will need to make informed decisions about their care and treatment.[5]