Introduction: National Estimates on Diabetes and Obesity
Diabetes is a progressive, long-term, complex metabolic disorder that has a growing prevalence and economic burden. In 2010, it was estimated that there were 25.8 million people with either diagnosed or undiagnosed diabetes in the United States.[1] Notably, more than one fourth of cases of diabetes (7.0 million) are undiagnosed.[1] Diabetes is associated with an estimated $174 billion in direct and indirect costs, with approximately two thirds of that amount ($116 billion) due to direct medical expenditures.[1]
Diabetes has become a national epidemic. Figure 1 illustrates the trend in diagnosed diabetes in the United States from 1958 through 2008 with the prevalence increasing from 0.93% in 1958 to 6.29% in 2008.[2]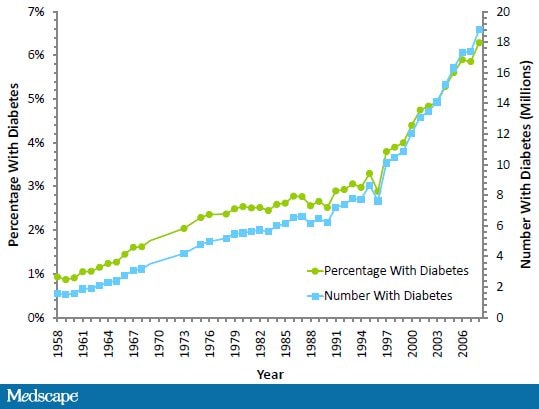 Figure 1. Trends in the prevalence of diagnosed diabetes in the United States. Data from the Centers for Disease Control and Prevention.[2]
The increased prevalence of diabetes mirrors the increased prevalence of overweight and obese individuals in the United States and underscores the important role of weight in the development of diabetes. Obesity, particularly visceral obesity, in conjunction with hypertension, is an important component of metabolic syndrome, a group of interrelated factors that increase the risk for cardiovascular disease.[3,4] In 2005-2006, the rates of overweight (body mass index [BMI] = 25-30 kg/m2), obesity (BMI ≥ 30 kg/m2), and extreme obesity (BMI ≥ 40 kg/m2) were 32.7%, 34.3%, and 5.9%, respectively.[5] Diabetes is also associated with a number of complications including the development of cardiovascular disease, kidney disease, and retinopathy.[1] Therefore, all healthcare professionals have an opportunity to educate patients regarding the appropriate management of diabetes.