Ureteral Trauma
Trauma to the ureter is rare, accounting for only 1% of all urinary tract traumas. Ureteral injuries are most likely to occur iatrogenically: in a review of 452 ureteral injuries, 75% were iatrogenic, whereas blunt and penetrating trauma accounted for 18% and 7% of injuries, respectively. Gynecological procedures accounted for 73% of the iatrogenic injuries, followed by general surgical (14%) and urological (14%) procedures. The lower third of the ureter was much more commonly injured (74%) compared to the upper and middle thirds (13% each).[48]
Diagnosis
As there are no classic symptoms and signs associated with ureteral trauma, the diagnosis is usually based on clinical suspicion.[49] Hematuria is a poor indicator of ureteral injury, being present in only half of all cases.[50] Physicians should suspect ureteral injury in patients with upper urinary tract obstruction, urinary fistula formation, or sepsis after surgery or traumatic injury.[51] During surgery, direct observation of the injury, one-shot intraoperative IVP or extravasation of intravenous dye (such as methylene blue or indigo carmine) may identify the site of injury.
CT is the most frequently used diagnostic modality in this setting, owing to its prevalent general use in trauma patients. Extravasation of radiological contrast medium or unilateral nonvisualization of the ureter confirms the diagnosis.[49,52] If CT is nondiagnostic and the suspicion is high for ureteral injury, a kidneys, ureters and bladder (KUB) radiograph taken 30 min after contrast injection can reveal extravasation. If still inconclusive, retrograde pyelography can definitively diagnose or rule out ureteral injury (Figure 4).
Figure 4.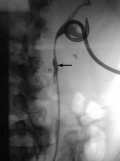 Enlarge
Management
Ureteral injuries are classified based on their severity. Grade I-II injuries can be managed with placement of ureteral stents or nephrostomy tubes. Stenting allows secure drainage of the kidney and provides canalization and stabilization of the injury, and is also believed to reduce the risk of subsequent stricture, although data supporting this are currently lacking.
Grade III-IV injuries should be repaired directly, using the following principles: judicious debridement of ureteral ends to healthy tissue; spatulation of ureteral ends; placement of internal stent; watertight ureteral closure with absorbable interrupted suture; placement of external drain; and isolation of injury with peritoneum or omentum. The type of repair performed depends on the location of injury ( Table 1 ).
Postoperative care typically includes removing the bladder catheter after 2 days and the wound drain 2 days later if drainage is low. The stent can be removed after 6 weeks, with follow-up IVP or renography performed after 3 months to assess the patency of the repair. Stricture formation should be recognized and treated with endourological or open surgical techniques.