The following test-and-teach case is an educational activity modeled on the interactive grand rounds approach. The questions within the activity are designed to test your current knowledge. After each question, you will be able to see whether you answered correctly and will then read evidence-based information that supports the most appropriate answer choice. Please note that these questions are designed to challenge you; you will not be penalized for answering the questions incorrectly. At the end of the case, there will be a short post-test assessment based on material covered in the activity.
Patient History
Stella is a 68-year-old, overweight woman with a body mass index of 29.0 kg/m2. She has type 2 diabetes mellitus, hypertension, and hypercholesterolemia. She has a 10-year history of degenerative joint disease of the right hip. After discussion with her primary care physician and an orthopaedic surgeon, she decided to undergo total replacement of her right hip.
A metallic prosthesis fixed with cement was implanted; the surgical procedure was uneventful. After discharge from the hospital, she began physical therapy to regain physical function. Although her mobility gradually improved, 3 weeks after surgery she began to have discomfort and redness at the surgical incision site. At about the same time, she began to experience fatigue and mild sweats, but she did not have a fever. Thinking that she had overexerted herself, she decreased her physical activity, hoping that the discomfort would improve. However, the redness increased and the discomfort persisted. In addition, she noticed that her clothing overlying the incision was damp.
Stella was seen by her primary care physician, who noted that she was afebrile with normal vital signs. On examination, the surgical site was mildly tender to touch, warm, erythematous, and nonfluctuant. There was a small area of dehiscence (Figure 1) from which a small amount of yellow-green discharge was manually expressed.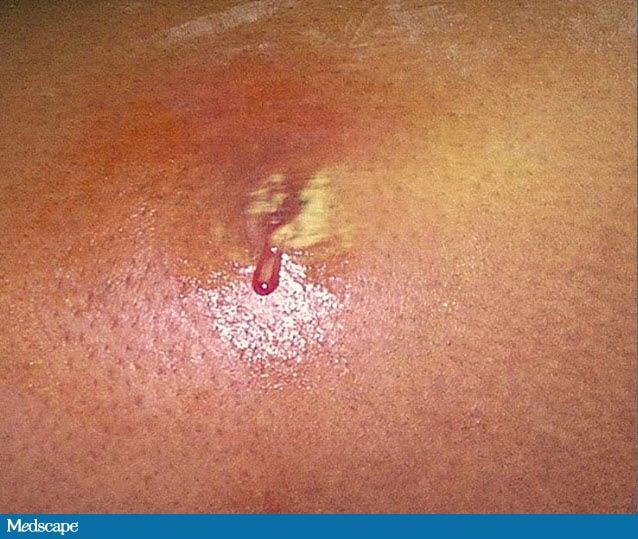 Figure 1.
Suppurative skin lesion showing surrounding erythema and dehiscence.