Introduction
Molecular markers offer great promise in the care of patients who have cancer. They can establish more accurate and definitive diagnoses, and identify patients most likely to respond to therapy, those most likely to experience disease recurrence, or those most likely to suffer toxicity. "Predictive markers" are associated with response, or lack thereof, to a particular treatment, while "prognostic markers" are baseline measurements that project a disease trajectory. Molecular markers can be static measurements, such as those used to diagnose cancer and identify toxicity(ies) to certain chemotherapeutic agents, whereas others can be dynamic measurements that correlate with tumor growth or regression over time. No longer limited to measurement of serum-based proteins, the types of molecular markers now available in oncology practice are exceedingly diverse, ranging from assays of circulating factors in the peripheral blood of patients who have cancer to specialized molecular or genetic analyses of the tumor tissue itself.
The National Comprehensive Cancer Network (NCCN) Clinical Practice Guidelines in Oncology™ (NCCN Guidelines™) include molecular markers, which, for the purposes of this review, will be defined as a molecularly based measurement from the peripheral blood or from tumor tissue that is used for the purpose of diagnosis, prognostication, and/or prediction of response to treatment. Standard blood chemistry tests and conventional pathology practices such as hematoxylin-and-eosin staining and tissue immunohistochemistry are excluded, even though they are also molecular tests.
Molecular Markers in the NCCN Guidelines™ by Cancer Type
The following section provides a general overview of the molecular markers recommended in the NCCN Guidelines™ for the treatment of patients with common types of malignant solid tumors. It is important to note that there is often variability in the level of clinical evidence supporting these tests. The threshold for marker inclusion in these guidelines may differ according to type of malignancy due to factors such as the efficacy of available treatments, the risk of the disease state itself, and the existing tools for risk stratification. In some cases, additional markers not included in the NCCN Guidelines™ also are mentioned if representative of an emerging technology or supported by strong evidence.
Breast Cancer
In breast cancer, hormone receptor testing for the estrogen receptor (ER) and progesterone receptor (PR) by immunohistochemistry is an established standard of care, with 70%-80% of breast cancer tumors being ER and/or PR positive.[1] These biomarkers are weakly prognostic of more indolent tumors and strongly predictive of benefit from endocrine therapy.[1-3] Assays to identify amplification of the human epidermal growth factor receptor-2 (HER2) gene or elevated levels of this protein in breast cancer tissue are other commonly heralded examples of a molecular marker test with both prognostic and predictive value. Using fluorescent in situ hybridization (FISH) or immunohistochemistry, HER2 testing is recommended in all new cases of invasive breast cancer.[4,5]HER2 positivity, present in about 15%-20% of breast cancers, is generally associated with higher grade tumors that are more likely to metastasize, thereby portending a worse prognosis in the absence of therapy.[6,7]HER2 is also a predictive marker for benefit from HER2-targeted treatments including trastuzumab and lapatinib.[8-12] Guidelines for measurement of levels of ER/PR and HER2 in breast cancer tissue from the NCCN and the American Society of Clinical Oncology (ASCO) in collaboration with the College of American Pathologists (CAP) recommend that testing be performed using a validated testing method in a CAP-accredited laboratory or a laboratory meeting the accreditation standards outlined in these guidelines.[1,4, 5,13]
Representing one of the first gene expression profile tests to demonstrate clinical utility in oncology, a reverse-transcriptase-polymerase-chain-reaction (RT-PCR) assay is commercially available (Oncotype DX®; Genomic Health Inc., Redwood City, California) to refine assessment of recurrence risk in patients who have lymph node-negative, ER-positive invasive breast cancer.[14-16] The Oncotype DX® assay generates a 21-gene signature, the "recurrence score," from paraffin-embedded tumor specimens. In a validation study using tumor tissue samples from patients with node-negative, ER-positive breast cancer treated with tamoxifen from the National Surgical Adjuvant Breast and Bowel Project (NSABP) trial B-14, a low recurrence score was associated with a disease recurrence rate of 6.8% at 10 years, vs 14.3% and 30.5% in the intermediate- and high-recurrence score groups, respectively.[14] In a retrospective case-control study of 4964 Kaiser Permanente patients with ER-positive, lymph node-negative breast cancer who did not undergo chemotherapy, a significant association between the 21-gene recurrence score and breast cancer-associated death was demonstrated.[17] The 21-gene signature also was predictive of the extent of chemotherapy benefit when retrospectively applied to 651 patients with lymph node-negative, ER-positive breast cancer randomly assigned to tamoxifen versus tamoxifen plus adjuvant chemotherapy in the NSABP B-20 trial.[18] In this study, use of chemotherapy in those with a high recurrence score was associated with a mean absolute decrease in 10-year distant recurrence rate of 27.6% (relative risk 0.26; 95% confidence interval (CI), 0.13-0.53). Patients with a low recurrence score did not appear to derive any reduction in recurrence risk from chemotherapy. A recent publication[19] suggests that the recurrence score may be prognostic as well as predictive of benefit from anthracycline-based therapy in patients with lymph node-positive, ER-positive tumors. To date, however, the NCCN Guidelines™ do not recommend the use of the Oncotype DX® assay in patients with node-positive disease.
Another commercially available assay (MammaPrint®; Agendia BV, Amsterdam, The Netherlands) uses DNA microarray analysis of frozen tissue specimens to identify a 70-gene signature for risk stratification in lymph node-negative breast cancer.[15,20-22] This 70-gene signature, not currently included in the NCCN Guidelines™, has demonstrated prognostic value independent of conventional clinicopathologic features but has not yet been validated as a predictive marker of chemotherapy benefit. The 21-gene signature, the 70-gene signature, and several other gene expression tests have shown concordance in the prognostication of breast cancer outcomes, strengthening the validity of gene expression profiling as a molecular tool in breast cancer risk assessment.[23] Two large, ongoing randomized trials, TAILORx and MINDACT, will prospectively evaluate the prognostic and predictive value of the 21-gene signature and the 70-gene signature, respectively, in patients with operable breast cancer.
Many other molecular marker tests have been evaluated for clinical use in breast cancer but have not yet been included in the NCCN Guidelines™. Controversial among these is testing patients treated with tamoxifen for particular genotypes of the cytochrome P450 enzyme, CYP 2D6, associated with impaired ability to convert tamoxifen to its active metabolite, endoxifen.[16,24-30] Tamoxifen metabolism may additionally be altered by concomitant use of other drugs that inhibit CYP 2D6, including certain selective serotonin reuptake inhibitors. Due to limited data and uncertain clinical impact, the NCCN Guidelines™ currently discourage CYP 2D6 genotyping in patients with breast cancer treated with tamoxifen. Likewise, circulating tumor cell (CTC) level represents another potential prognostic marker in breast cancer that has not been included in the current guidelines for routine testing.[26,27] Finally, despite use by some community practitioners, the NCCN Guidelines™ do not recommend the routine use of any serum tumor markers (such as carbohydrate antigens CA 15-3 or CA 27.29) for diagnosis, monitoring of response, or surveillance in breast cancer patients, in accordance with the latest ASCO guidelines.[28]
Gastrointestinal Malignancies
As in breast cancer, numerous markers have been studied for prognostic and predictive value in colorectal cancer.[29,31] Among these, carcinoembryonic antigen (CEA) is a longstanding marker of prognosis and recurrence.[32] This serum glycoprotein marker is nonspecific and can be elevated in numerous benign or malignant conditions. Thus, an elevation in CEA is not diagnostic. Nevertheless, approximately 80% of patients with metastatic disease demonstrate CEA elevation.[33] In the NCCN Guidelines™, measurement of CEA is recommended at baseline in all patients with a diagnosis of colorectal cancer and after completion of adjuvant therapy as surveillance for recurrence.[34]
Recently, mutations in codons 12 and 13 of the KRAS gene in colorectal tumors were identified as predictive of nonresponse to the monoclonal antibodies cetuximab and panitumumab, targeting the epidermal growth factor receptor (EGFR).[35-38] In the NCCN Guidelines™ for colon and rectal cancers, KRAS mutation analysis is now recommended in all patients with metastatic colorectal cancer upon diagnosis of stage IV disease and before treatment with cetuximab or panitumumab is considered. Patients with tumors harboring a KRAS mutation should not be treated with either of these agents.
The NCCN Guidelines™ recently incorporated tumor BRAF V600E mutation analysis as an optional test for patients with newly diagnosed KRAS-nonmutated metastatic colorectal cancer to facilitate prediction of responsiveness to EGFR targeted therapies based on early data from several retrospective, single-arm studies.[39-41] More recent retrospective analyses of maturing data from randomized studies suggest that a BRAF V600E mutation may be associated with poor prognosis, which may confound understanding about its value in predicting responsiveness to EGFR inhibitors.[42,43] The current NCCN Guidelines™ acknowledge the inconsistencies in the current data surrounding BRAF V600E mutation as a predictive marker.
Microsatellite instability (MSI) reflects a deficiency in a mismatch repair protein (MMR) function, most commonly MLH1, MSH2, MSH6, and PMS2.[44,45] MSI and MMR testing are both accepted for the diagnosis of Lynch syndrome (hereditary nonpolyposis colorectal cancer) in patients and families. The NCCN Guidelines™, therefore, include a statement noting that such testing should be considered in all patients diagnosed with colorectal cancer before the age of 50 years. In addition, there is evidence that colorectal cancer patients with stage II disease characterized by tumors with high levels of MSI ( which is indicative of MMR deficiency), whether inherited or sporadic, may have a significantly better overall survival than those with microsatellite-stable tumors.[29,31,45-57] Retrospective analyses also suggest that MMR protein deficiency and resulting MSI-high status may be a predictive marker for lower response rates to 5-fluorouracil chemotherapy in patients with stage II colon cancer.[52,53] Data from several other studies do not support this conclusion, although their interpretation may be confounded by inclusion of patients with stage III as well as stage II disease. [57-59] Based on these analyses, the NCCN Guidelines™ now also recommend testing patients with average-risk stage II colon cancer for MMR/MSI tumor status to refine prognosis and facilitate prediction of likelihood of benefit from adjuvant 5-fluorouracil.
HER2 overexpression, by immunohistochemistry or FISH, is detected in approximately 10%-20% of patients who have gastroesophageal cancers.[60-62] Results from the phase 3 ToGA trial presented at the ASCO Annual Meeting in 2009 established HER2 as a potentially relevant molecular marker in patients with advanced gastric and gastroesophageal adenocarcinomas.[63] In the ToGA trial, patients with HER2-amplified advanced gastric or gastroesophageal junction adenocarcinomas were randomly assigned to first-line treatment with cisplatin plus a fluoropyrimidine (5-fluorouracil or capecitabine) with or without trastuzumab. Median overall survival and overall response rates were significantly improved in the trastuzumab-containing arm vs chemotherapy alone (13.5 vs 11.1 months, P = .0048, and 47.3% vs 34.5%, P = .0017).[63] On the basis of the ToGA trial, the NCCN Guidelines™ now include trastuzumab in combination with chemotherapy as an option for patients with advanced gastric cancer or gastroesophageal junction adenocarcinoma that is HER2-positive as determined by a standardized assessment method. HER2 testing may identify a subset of patients with gastric and gastroesophageal junction adenocarcinomas who could benefit from the addition of trastuzumab to standard chemotherapy. Recently, a study that evaluated HER2 expression in a large cohort of patients with gastric cancer demonstrated that only a very small subgroup of patients with intestinal type gastric cancer may potentially respond to anti-HER2 therapy.[60] Further studies are needed to better characterize the significance of HER2 amplification in gastroesophageal cancers.
In hepatocellular carcinoma (HCC), the glycoprotein alpha-fetoprotein (AFP) is measurable from serum in approximately 70% of cases, although it is neither a sensitive nor a specific diagnostic test for HCC.[64-67] Nevertheless, results of AFP testing can be useful in conjunction with other test results to guide management of patients for whom a diagnosis of HCC is suspected. Serum AFP measurement is recommended in the NCCN Guidelines™ as a screening tool for patients at risk for HCC, to aid in diagnosis in patients with a suspicious liver lesion, and for surveillance after surgery, locally ablative treatments, or transplant in patients with confirmed HCC. Elevated baseline AFP levels have been shown to correlate with worse prognosis after hepatic resection as well as after local therapies such as chemoembolization.[67,68] Although not incorporated into the NCCN Guidelines™ in this context, a change in AFP levels may serve as an early marker of response to therapy. Results from a recent phase 3 randomized trial comparing 2 palliative cytotoxic chemotherapy regimens showed that HCC patients with AFP declines of at least 20% demonstrated markedly improved survival compared with AFP non-responders. Overall survival was 13.5 vs 5.6 months, respectively (P < .0001).[69] Des-gamma-carboxyprothrombin (DCP) and Lens culinaris agglutinin-reactive AFP (AFP-L3) are 2 additional serum tumor markers being investigated for their utility in HCC, although they are not currently included in the NCCN Guidelines™ for diagnosis or management of liver cancer nor widely used.[66,70-72]
In the majority of pancreatic and biliary tract cancers, CA 19-9, the sialylated Lewis (a) antigen (a serum glycoprotein), is elevated. (This glycoprotein is not produced in approximately 5% of the population; hence, these individuals are negative for Lewis antigen.[34] However, biliary obstruction, independent of tumor presence, as well as many other types of malignancies can increase CA 19-9 level; therefore, an elevation in CA 19-9 by itself is not diagnostic of malignancy nor of pancreaticobiliary cancer in particular.[34,73] Multiple studies in pancreatic and biliary tract cancers suggest that postoperative CA 19-9 levels may be prognostic for survival outcomes. A low postoperative serum CA 19-9 level, and a decrease in serial CA 19-9 levels following surgery, have been found to correlate with survival for patients undergoing resection for pancreatic cancer.[74,75] In the NCCN Guidelines™, measurement of CA 19-9 at baseline (or consideration of such testing) is recommended in pancreatic and advanced biliary tract cancers. It is also recommended postoperatively as part of surveillance for patients with resected pancreatic cancer. In patients with advanced pancreatic cancer, there may be a role for periodic monitoring of CA 19-9 as a marker for response or progression on chemotherapy.[34, 76-81] However, the NCCN Guidelines™ do not include a recommendation for use of CA 19-9 as a marker of response to chemotherapy since data are conflicting regarding the predictive significance of CA 19-9 in this setting.[79,82]
Genitourinary Malignancies
Testicular cancer is a malignancy in which the serum molecular markers lactate dehydrogenase (LDH), human chorionic gonadotropin (HCG), and AFP play an integral role in the diagnosis, tumor staging, and monitoring of response to therapy, as well as in monitoring for disease recurrence.[83] With rare exceptions, elevated AFP levels are pathognomonic of nonseminomas, while elevation in HCG can be seen in both seminomas and nonseminomas. LDH levels are used for staging and risk assessment in both tumor types. Testicular cancer is the only cancer for which serum tumor marker levels are used to determine stage (Figure 1).[84] An isochromosome of the short arm of chromosome 12 (i12p) is a genetic marker present in about 80% of germ cell tumors but is not recommended for routine diagnosis or prognostication.[85]
Figure 1.
Enlarge
In prostate cancer, the prostate-specific antigen (PSA) level is an example of a molecular marker that can be diagnostic, prognostic, and predictive of response to therapy.[86-89] The PSA doubling time is a dynamic measure that can be used to assess risk as well as guide treatment decisions.[90-92] A variety of genetic alterations, polymorphisms, and other molecular markers in prostate tumors are under study as potential therapeutic targets and prognostic factors. These molecular markers, such as HER2 amplification, expression of the proto-oncogene BCL-2, and the TMPRSS2-ERG fusion gene, remain to be validated and are not currently recommended for routine testing in the NCCN Guidelines™.[93-95]
Several unique types of molecular markers have been included in the NCCN Guidelines™ for gynecologic malignancies. To screen for cervical cancer risk, high-risk subtype testing for the human papillomavirus (HPV) in combination with cervical cytology is now recommended for women 30 years and older.[96-99] The US Food and Drug Administration (FDA) has approved 3 tests for high-risk HPV screening: Hybrid Capture 2 HPV DNA Assay, Cervista® HPV HR, and Cervista® HPV 16/18 assay (the latter is not used alone). Additional information on HPV screening is available from the American Society for Colposcopy and Cervical Pathology (http://www.asccp.org). For ovarian cancer, in vitro chemotherapy sensitivity and resistance assays are cited as Category 3 recommendations (reflecting major disagreement among NCCN panel members) for the selection of chemotherapy when multiple appropriate chemotherapy choices exist. Such assays are used in a few NCCN Member Institutions but should not supplant standard of care chemotherapy choice due to the lack of evidence for clinical benefit.[100,101] The NCCN Guidelines™ also recommend that patients with ovarian cancer undergo measurement of serum carbohydrate antigen (CA)-125 levels and "other tumor markers as clinically indicated" at diagnosis, during treatment as markers of response, and as surveillance for disease recurrence.[102,103] Of note, the European Organization for Research and Treatment of Cancer (EORTC) 55955 trial showed no survival benefit when an elevation in CA-125 levels alone was used to prompt initiation of second-line treatment in 1442 patients with ovarian cancer in remission after first-line platinum-based chemotherapy, suggesting against a role for this marker in surveillance for recurrence.[104] Other serum markers may include inhibin for sex cord-stromal tumors and HCG, AFP, and LDH for germ cell tumors of the ovary.[103,105]
Lung Cancers
Several molecular diagnostic markers in tumor tissue demonstrate prognostic and, in some cases, predictive value in patients with non-small cell lung cancer (NSCLC). Among these, EGFR overexpression (which is associated with exon 19 deletion, exon 21 L858R mutation, and several other mutations) has been shown to positively predict response to erlotinib or gefitinib, which are EGFR-targeted tyrosine kinase inhibitors (Figure 2).[106-110] The incidence of mutation or overexpression is influenced by ethnicity, and appears to be present in 30%-40% of Asian patients vs 10%-15% of North American patients.[111] A subset analysis of the randomized, phase 3 TRIBUTE trial, which randomly assigned patients to carboplatin and paclitaxel alone or in combination with erlotinib, showed that patients harboring a mutation in EGFR (13% of patients) had a significantly improved response rate compared with patients without EGFR mutation, with objective response rates of 53% and 18%, respectively.[110,112] Another recent, randomized, phase 3 study showed improved progression-free survival with single-agent gefitinib in patients with advanced NSCLC whose tumors harbored an EGFR mutation when compared with carboplatin plus paclitaxel as first-line treatment.[111] A recent study assessed 223 patients with advanced NSCLC and known EGFR mutation status who received gefitinib or erlotinib as first-line therapy. A survival benefit was reported in those who responded to erlotinib, especially in those with exon 19 deletions. The study concluded that patients should receive first-line erlotinib (or gefitinib when appropriate) if they are known to have sensitive EGFR mutations.[113] On the basis of these data, the NCCN Guidelines™ (Figure 3) now recommend that EGFR mutation status be considered (by direct sequencing for mutation, gene copy number testing by FISH, or immunohistochemistry for protein overexpression) when selecting first-line therapy for patients with metastatic or recurrent NSCLC, including patients with poor performance status.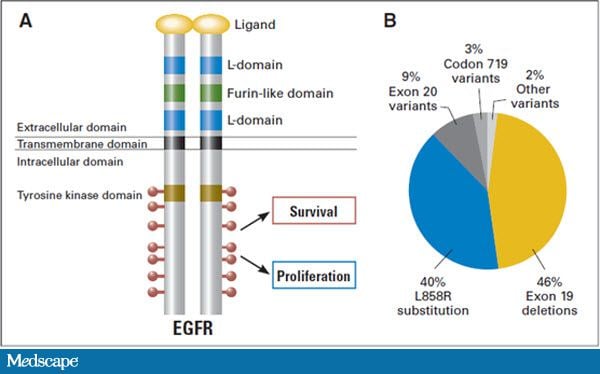 Figure 3.

Enlarge
KRAS and EGFR mutations rarely coexist. KRAS mutation, present in about 25% of patients with NSCLC in the United States, is another potential predictive factor for a lack of benefit from EGFR-targeted tyrosine kinase small molecule inhibitors.[114-116] In patients with KRAS mutations, therefore, treatment with EGFR-targeted tyrosine kinase small molecule inhibitors (eg, erlotinib) is not recommended. This effect does not appear to extend, however, to monoclonal antibody inhibition of EGFR. In a subset analysis of the phase 3 First-Line Erbitux in Lung Cancer (FLEX) trial,[117,118] there was no difference in response or survival outcomes with the addition of cetuximab to cisplatin plus vinorelbine in patients with KRAS mutant tumors as compared with patients with non-mutated tumors; similar results were reported for cetuximab in the BMS099 study. Mutations in KRAS may be associated with poor prognosis independent of therapy, although the data are inconsistent across studies.[109,110,113,114,116,119]
Although no formal NCCN recommendations exist for its application, the 5' endonuclease of the nucleotide excision repair complex, ERCC1, is a potential predictive and prognostic marker in NSCLC.[120,121] Its prognostic value is suggested by studies in patients with completely resected NSCLC who did not receive chemotherapy and radiation, and in whom high ERCC1 mRNA levels correlated with improved survival.[120] In the International Adjuvant Lung Trial (IALT), low ERCC1 levels by immunohistochemistry were associated with benefit from platinum-based adjuvant chemotherapy.[121] In a randomized, phase 3 study comparing gemcitabine vs gemcitabine plus carboplatin in metastatic disease, low ERCC1 levels, as well as low ribonucleotide reductase regulatory subunit (RRM1) levels (which may predict responsiveness specifically to gemcitabine), were associated with higher rates of response to chemotherapy.[122] As with ERCC1, however, high levels of RRM1 at baseline appear to be a positive prognostic finding associated with improved survival outcomes, independent of therapy.[123,124] Combined testing for EGFR mutation, KRAS mutation, ERCC1 level, and RRM1 level can be performed from formalin-fixed, paraffin-embedded tissue (FFPE) in laboratories approved by Clinical Laboratory Improvement Amendments (CLIA).
In small cell lung cancer, elevation in serum LDH level is prognostic of shorter survival.[125] LDH testing is recommended at the time of tumor staging.
Head and Neck Cancers
As with cervical cancer screening, the NCCN Guidelines™ now recommend testing for HPV in patients with oropharyngeal cancers. The high-risk oncogenic HPV subtype HPV-16 is strongly associated with the development of oropharyngeal and tonsillar squamous cell carcinomas, independent of smoking and alcohol exposure; HPV-16 is associated with most head and neck tumors[126-129]; other oncogenic HPV subtypes may also cause head and neck cancer (eg, HPV-18, -31, -33, -35).[129] Patients with HPV-related tumors appear to have significantly improved response rates and overall prognosis.[128-130] Based on these data, HPV testing for the high-risk oncogenic subtypes using PCR or in situ hybridization is recommended for prognostication, although the results should not change management decisions outside of a clinical trial. For patients with a poorly differentiated or squamous cell neck mass of occult primary, the guidelines also recommend high-risk oncogenic testing for HPV subtypes and Epstein Barr virus to assist in diagnosing tumors of head and neck origin.[131-133]
In patients with sporadic medullary thyroid carcinoma, as well as in those suspected to have a familial syndrome (such as multiple endocrine neoplasia type 2A), testing for RET proto-oncogene mutations is recommended to identify new kin at risk, and to determine the likelihood of other conditions (such as pheochromocytoma and parathyroid disease).[134,135] Indices of prognosis, serum calcitonin and CEA levels, should be checked both at baseline and after surgery as surveillance for patients with medullary thyroid carcinoma.[136,137] Postoperative calcitonin levels correlate with recurrence risk and survival.[138]
Serum thyroglobulin level is a tumor marker for papillary, follicular, and Hürthle cell thyroid cancers.[139-141] Thyroid-stimulating hormone, thyroglobulin, and anti-thyroglobulin antibody levels are measured postoperatively to guide decision-making regarding the use of radio-iodine, to adjust dosage of levothyroxine, and to monitor for recurrence.[139,140,142,143]
Future Directions for Molecular Marker Testing in Cancer
The tests recommended in NCCN Guidelines™ have reached the proverbial bedside in clinical practice, but many new molecular markers are currently being explored. Emerging molecular testing technologies offer the promise of further "personalizing" cancer care. In addition to new applications for existing markers, novel molecular markers may emerge from research of protein structure and function (proteomics), epigenetic modifications such as gene methylation or acetylation, single nucleotide polymorphisms, gene expression profiling, or pharmacogenomics.
A great challenge to the adoption of new molecular markers in oncology, however, is the lack of a standardized validation process due to the heterogeneity of tumor types, treatments, and the tests themselves.[144-148] Randomized, controlled data are required to clearly define markers that are predictive, markers that are prognostic, and those that are both. Single-arm studies can be misleading.[147,149-151] It is also important to note that a molecular marker validated as prognostic or predictive of response to a specific drug in one malignancy may not be similarly prognostic in other types of tumors or predictive with related drug classes. For example, EGFR mutation analysis or testing for amplification is recommended as a predictive marker for response to EGFR-targeted tyrosine kinase small molecule inhibition in lung cancer; however, such testing cannot reliably predict response to EGFR-targeted monoclonal antibodies in colorectal cancers.[106,107,109-112,150-152] Furthermore, there may be complex interactions between markers with an unknown hierarchy of effect and unidentified modifying factors. An example of such an interaction arises in the study of microsatellite instability and the BRAF V600E mutation in colorectal cancer, findings that often coexist but which, when taken individually, appear to be discordantly prognostic.[153] The clinical utility of predictive markers also depends on the efficacy of available therapeutic agents. Thus, a marker is only as good as the treatment whose benefit it predicts. New drug development may be accelerated and facilitated by parallel study of molecular markers, of tumor biology, or the host pharmacologic response.[154] Ultimately, the evolution of molecular markers in concert with therapeutic options in oncology offers the promise of individualized treatment for patients with cancer, and requires clinicians to remain abreast of this rapidly evolving field.
Supported by an independent educational grant from Pfizer Inc.; Merck& Co., Inc.; GlaxoSmithKline; Purdue Pharma L.P.; and King Pharmaceuticals Inc.