This CME activity is based on a combination of the slides and lectures presented by the faculty at the satellite symposium Resistance Wars IV. In the Trenches: Case Studies in the War on Resistance, which took place on both September 13, 2009, at the Moscone Center in San Francisco, California, during the 49th Interscience Conference on Antimicrobial Agents and Chemotherapy (ICAAC) and on October 29, 2009, at the Pennsylvania Convention Center, in Philadelphia, Pennsylvania, during the 47th Annual Meeting of the Infectious Diseases Society of America (IDSA).
Introduction
The prevalence of antimicrobial resistance is on the increase. The first organism to demonstrate resistance was Staphylococcus aureus, first to penicillin in the 1940s, followed by methicillin resistance in the 1960s, and vancomycin resistance in the mid-1990s.[1] The increase in antimicrobial resistance rates and the steady decline in the development of antimicrobial agents (from 16 between 1983 and 1987 to 4 from 2003 to 2007) clearly demonstrate the need for clinical strategies to combat widespread resistance.[2]
The development of antimicrobial resistance by S aureus illustrates the importance of resistance: once a resistance mechanism develops, it spreads and evolves over time. More than 90% of strains of S aureus are now resistant to penicillin[3,4]; methicillin-resistant S aureus (MRSA) strains have become endemic in hospitals worldwide since the 1980s,[3,5] and vancomycin-intermediate S aureus (VISA) and heteroresistant VISA (hVISA) are now associated with treatment failures.[6] Because surveillance of hVISA is neither routine nor standardized, it is likely underreported and likely determined by reduced clinical efficacy to vancomycin.[6,7] One study that used the Macro Etest found that the incidence of hVISA rose from 2.2% of all MRSA isolates collected from 1986 to 1993 to 8.3% of isolates collected from 2003 to 2007 and that hVISA increased with increasing vancomycin minimum inhibitory concentration (MIC).[6] Recently, vancomycin-resistant S aureus strains (VRSA) with the vanA gene were reported (Detroit, Michigan; Hershey, Pennsylvania; New York, New York).[3,8] VanA-acquired variants have the facility to transform unstable, low-level vancomycin resistance into endemic antimicrobial resistance with overuse of vancomycin.[3] The MIC susceptibility breakpoint for hVISA strains may be lower than that currently accepted for vancomycin.
Surveillance is necessary to monitor trends in resistance at various levels (hospital, regional, state, national) and to provide susceptibility patterns to guide treatment decisions.[9] Inappropriate/inadequate antimicrobial treatment due to resistance increases costs and mortality.[9] In a study of 6056 patients, the odds ratio of dying while hospitalized was 3.58 (95% confidence interval, 2.53-5.06) in patients whose initial antimicrobial therapy was inappropriate compared with those who had successful therapy (Table 1).[10] Selection of adequate antimicrobial treatment for VISA is complicated by limitations of available agents, such as toxicity (eg, quinupristin/dalfopristin, linezolid), higher MIC for many VISA strains (eg, daptomycin), and lack of clinical experience (eg, telavancin).[7]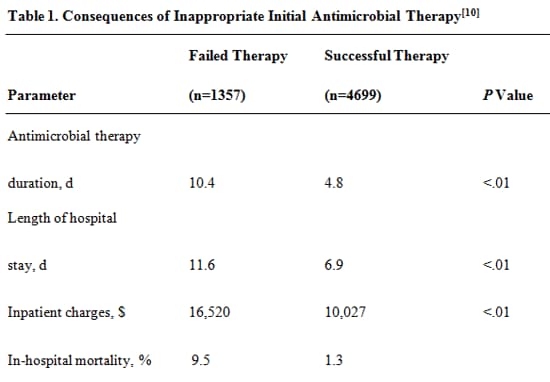 The case studies that follow highlight treatment challenges and apply the principles for selecting appropriate empiric therapy and antimicrobial stewardship in an era of resistance.
Ventilator-Associated Pneumonia
Data from 2002 estimated that pneumonia accounts for approximately 25% of hospital-acquired infections in intensive care unit (ICU) patients (100,689 of 394,288 infections) and approximately 36% of deaths from hospital-acquired infections (35,967 of 98,987 deaths).[11] Hospital-acquired pneumonia (HAP) and ventilator-associated pneumonia (VAP), in particular, are becoming increasingly more difficult to treat as there are no new agents in development for the causative gram-negative pathogens.
Case Presentation
A.P. is a 52-year-old male ICU patient who develops fever and pulmonary infiltrates while on a ventilator 5 days postsurgery for a ruptured diverticular abscess. Findings from the medical examination show the following: temperature, 38.5°C; blood pressure (BP), 130/90 mm Hg; pulse, 110 beats/min; respirations, 22 breaths/min; and bilateral rales and rhonchi in the lungs. Laboratory findings include the following: white blood cell count is 18,000 cells/mm3, chest x-ray shows new infiltrates, endotracheal aspirate shows moderately purulent secretions.