The following test-and-teach case is an educational activity modeled on the interactive grand rounds approach. The questions within the activity are designed to test your current knowledge. After each question, you will be able to see whether you answered correctly and will then read evidence-based information that supports the most appropriate answer choice. Please note that these questions are designed to challenge you; you will not be penalized for answering the questions incorrectly. At the end of the case, there will be a short post-test assessment based on material covered in the activity.
Introduction
In the United States, approximately 37% of men over the age of 57 years experience erectile dysfunction (ED), and about 28% experience decreased sexual interest (libido).[1] ED and decreased libido have been linked to reductions in testosterone levels.[2] Testosterone levels, bioavailable testosterone, and free testosterone decrease with increasing age,[2,3] and the percentage of men with total testosterone levels in the hypogonadal range increases progressively with increasing age (Figure 1).[4] There are no racial differences in testosterone levels among white, black, and Hispanic men.[5]
The Endocrine Society defined hypogonadism in men as "a clinical syndrome resulting from failure of the testis to produce physiological levels of testosterone (androgen deficiency) and normal numbers of spermatozoa due to disruption of one or more levels of the hypothalamic-pituitary-gonadal (HPG) axis."[6] The presence of a clinical picture of testosterone deficiency and borderline serum testosterone levels may warrant a short trial of testosterone replacement therapy (TRT).[7] For brevity's sake, we will be limiting the discussion to testosterone deficiency only. Over 39% of men older than age 45 years who are seen for primary care medical appointments experience hypogonadism,[4] and it is estimated that by 2025, 6.5 million American men age 30-79 will experience symptomatic androgen deficiency.[2] Thus, accurate assessment, diagnosis, and treatment are growing healthcare needs.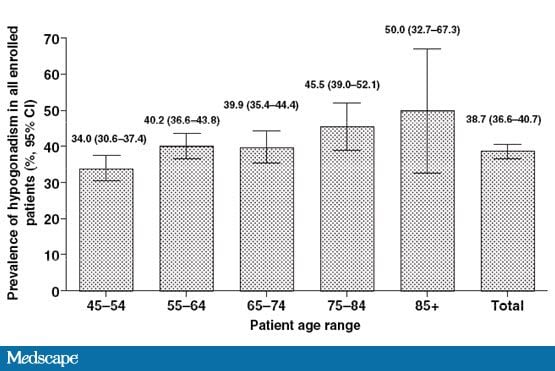 Signs and Symptoms of Male Hypogonadism