Question
What is ethnic rhinoplasty?
Babak Azizzadeh, MD
Assistant Clinical Professor, Division of Facial Plastic & Reconstructive Surgery, David Geffen School of Medicine, UCLA, Los Angeles, California; Director, The Center for Facial & Nasal Plastic Surgery, Los Angeles, California
The Changing Ideal
"Ethnic rhinoplasty" is a term used to describe rhinoplasty procedures performed on non-Caucasians. Among rhinoplasty surgeons, ideal nasal proportions have historically been based on Caucasian white females, and because of significant media biases, most non-Caucasian individuals have adopted Westernized standards when considering rhinoplasty. However, the standards of beauty have been gradually changing, and they are increasingly being defined by more multicultural standards. The current trend is to improve features while maintaining an ethnic look. As a result, 2 aesthetic standards of beauty -- "ethnic" vs "Caucasian" -- are inadequate. "Ethnic rhinoplasty," in my point of view, is an outdated term.
There are tremendous differences among different ethnic groups, and there are significant variations within the same ethnic group of patients. Here is what I believe to be a good "non-Caucasian rhinoplasty" classification to consider for surgeons and patients. This is obviously not an all-inclusive list.
Caucasian: Anglo Saxon, Germanic, Latin (Greek, Roman, French), Slavic, Mediterranean
African American
Asian: North American, Korean, Chinese, Japanese, Filipino
Middle Eastern: Persian/Iranian, Arab, Indian, Pakistani
Hispanic: Castilian, Mexican American, Mestizo
How Do We Preserve Ethnic Identity?
As a rhinoplasty surgeon, I encourage my facial plastic surgery residents to create a balanced aesthetic outcome that preserves the patient's ethnic identity. The surgeon must be familiar with variations in facial and nasal anatomy and listen to the patient's needs. Other important factors include the length of time that a person has lived in the United States and the level of assimilation. Within certain cultures, desired patient aesthetics are different depending on what country the patient has immigrated from. We do not want to box the patient into a generic ethnic rhinoplasty category. The aesthetic appearance of the nose must be in tune with the patient's original racial features to achieve harmony.
In my practice, I have noted several trends that have affected non-Caucasians who seek nasal reshaping. These include:
Ashley Simpson: The transformation of Ashley Simpson after her rhinoplasty has increased the desire to avoid creating a ski-slope nose in Middle Eastern and Hispanic patients.
Michael Jackson: Michael Jackson's appearance had a significant effect on African American patients, who now want to avoid an overly aggressive Westernized nasal appearance. Most patients desire subtle changes to preserve a natural ethnic appearance.
The Asian population generally desires a more Westernized nose.
The Middle Eastern patient population no longer minds strong nasal profiles.
The Hispanic patient population generally wants noses that look finer and thinner but not necessarily bigger.
Non-Caucasians who present for revision rhinoplasty generally feel that they have lost their ethnic identity after primary rhinoplasty because of an overly resected profile (ski-slope appearance known as saddle nose deformity) and overly narrowed tip cartilages (pinched tip).
In conclusion, creating an ethnically appropriate nose is a paramount consideration when performing rhinoplasty in non-Caucasian patients (Figure). Special care must be taken to discuss these issues at length during the consultation process.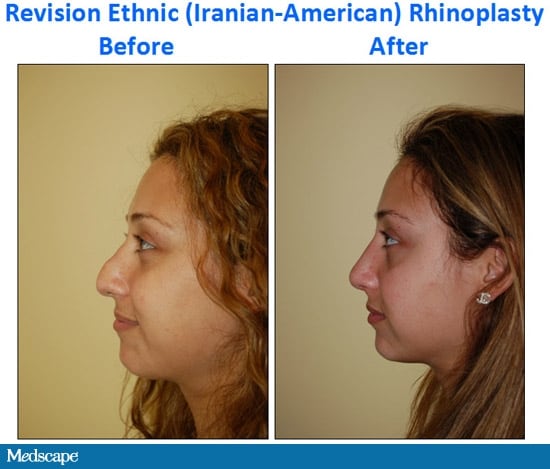 Figure. Ethnic rhinoplasty.
This activity is supported by an independent educational grant from Dermik Laboratories.