The following test-and-teach case is an educational activity modeled on the interactive grand rounds approach. The questions within the activity are designed to test your current knowledge. After each question, you will be able to see whether you answered correctly and will then read evidence-based information that supports the most appropriate answer choice. Please note that these questions are designed to challenge you; you will not be penalized for answering the questions incorrectly. At the end of the case, there will be a short post-test assessment based on material covered in the activity.
Patient History
TC, a 43-year-old man, presents to his physician's office with the chief complaint of a "bug bite" on his left leg that is mildly painful. He denies trauma to the affected area and notes that he did not actually see a bug bite him. He denies recent fever, chills, or sweats. His review of systems is otherwise unremarkable.
Social History
TC is married, smokes about half a pack of cigarettes daily, and drinks 2-3 beers on weekends, but otherwise does not consume alcohol. He denies any history of illicit or injection drug use. He is a construction worker living in Southern California with a history of intermittent lower back pain, but he is otherwise healthy. He notes that due to the nature of his work, he often suffers from skin abrasions and cuts.
Physical Examination
TC appears healthy. He is in minimal distress from pain, which he describes as 2 on a scale of 1 to 10. His vital signs are temperature, 99.2°F (37.3°C); blood pressure 136/72 mm Hg, and pulse 90 beats/minute. His examination is notable for a raised skin lesion (approximately 4 x 4 cm) on his left lower posterior leg (Figure 1). The lesion is fluctuant, warmth, tender, and erythematous. The remainder of his skin examination is unremarkable. Examination of the lungs, heart, and abdomen is normal.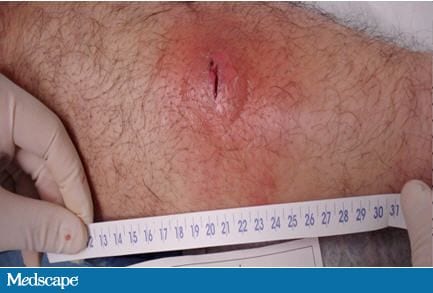 Differential Diagnosis