Overview of Parkinson's Disease
Introduction
Parkinson's disease (PD) is the second-most common neurodegenerative disorder, after Alzheimer's disease. While classically considered a movement disorder, there is a growing recognition that PD produces a wide variety of nonmotor symptoms as well. Early diagnosis of PD is important for treatment planning and maintaining the highest quality of life for the longest period of time, yet at its earliest stages, PD may often be difficult to distinguish from other causes of parkinsonism. No definitive neuroprotective treatment is yet available, but symptomatic treatments may provide significant benefit for many years for the patient with PD. The wide range of treatment options and strategies, combined with the differing needs and comorbidities of different patients, means the physician must have detailed knowledge of multiple drugs from different classes, and how each is likely to impact the individual PD patient. In addition, nonpharmacologic treatments, from physical and recreational therapy to surgery to attention to the caregiver, are also central to the optimal management of PD. The goal of this PD activity is to provide an introduction to PD and its management that addresses each of these important issues.
Epidemiology
PD affects approximately 850,000 Americans, with 30,000 new diagnoses each year. This figure will rise as the baby boomer population ages. The annual financial burden of PD is estimated to be in excess of $5 billion.
The greatest single risk factor for PD is advancing age. The incidence rate grows from 11 per 100,000 in the general population to 50 per 100,000 in those over 50. The median age of onset is 62 years. PD is rare below age 30, but 4%-10% of cases occur before age 40. PD is slightly more common in men than women.
Rare below age 30
4% to 10% of cases by age 40
Median onset age 62
Increased prevalence with age
Risk Factors and Protective Factors
Most cases of PD are believed to be due to a combination of (largely unidentified) genetic risk factors and (largely unidentified) environmental exposures.
Family history may be a risk factor for PD. People with first-degree relatives with PD have a 3-fold increased risk vs those without. The genetic risk is strongest in families with a history of early-onset PD. Environmental factors are thought to play a role in pathogenesis, with pesticide exposure, rural living, and well water the most common factors across multiple studies. Nonetheless, these factors appear to contribute negligibly in most cases.
A history of cigarette smoking prior to diagnosis has consistently been associated with reduced risk of developing PD. Increased caffeine intake prior to diagnosis may also be associated with reduced risk. In men, the effects of caffeine appear to be dose-dependent, while in women there is an additional interaction with hormone replacement therapy (HRT), such that HRT plus low caffeine reduces associated risk, while HRT plus high caffeine raises it.
Risk factors: increasing age, family history, environmental toxin exposure, constipation, REM sleep behavior disorder, loss of smell
Protective factors: smoking, caffeine, HRT (interaction with low caffeine use)
Genes
Several genes contribute to the development of PD in certain populations. To date, 13 genes have been identified in familial PD, most of which affect only a few identified families. The most common genes are:
LRRK2, encoding a protein of unknown function, is inherited as an autosomal dominant with age-dependent penetrance. LRRK2 mutations account for 2%-6% of all PD cases, and a much higher fraction in certain populations, due to a founder effect (ie, a population derived from a small number of ancestors with a high proportion of the mutation). Up to a third or more of PD cases in Ashkenazi Jews and North African Arabs are due to this gene.
Glucocerebrosidase, the gene responsible for Gaucher disease, is also a risk factor for PD. Mutations in the gene account for about 3% of cases, and like LRRK2, a larger fraction in some populations. Unlike Gaucher disease, which is inherited as an autosomal recessive, the gene appears to act in PD as an autosomal dominant with reduced penetrance.
Parkin is an autosomal recessive gene implicated in people with early-onset PD, ie, before the age of 40 years. The gene mutation is found in all populations. It is found in up to half of patients with early onset PD who have a family history of PD, and approximately 15% of people with early onset PD who do not have a family history.
Genetic tests for these genes are available commercially. No guidelines have been formulated by professional organizations, such as the Movement Disorders Society or the American Academy of Neurology, for patient selection and genetic counseling for these tests.
Genes: LRRK2, glucocerebrosidase, parkin (early onset)
Pathology
Neurodegeneration in PD is scattered in a multifocal distribution throughout the brain. This is a progressive process, presumably starting years or even decades before symptoms emerge and continuing over many years throughout the course of the disease. The motor features of the disease primarily result from loss of dopaminergic neurons of the substantia nigra that project to the caudate nucleus and putamen. Some motor and other nonmotor features of the disease are likely due to loss of dopaminergic and nondopaminergic innervation in other brain regions.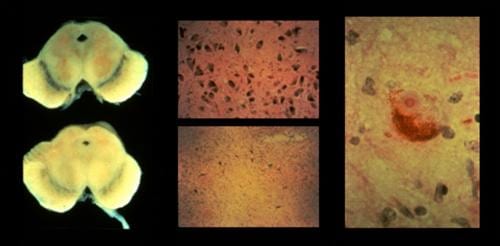 Substantia Nigra.
Left: Substantia nigra from a normal (top) and PD brain (bottom), showing severe depigmentation due to loss of nigral neurons in PD.
Center: Cross-section of substantia nigra, revealing the loss of pigmented neurons in the PD brain (bottom) compared to normal (top).
Right: A Lewy body. These proteinaceous inclusions are the pathologic hallmark of PD. Their role in pathogenesis, if any, is unknown.
Diagnosis
PD may be a challenging diagnosis to make in its early stages. It is a diagnosis based on clinical observation and exclusion of other conditions, but there is no lab test to confirm it. Patients may mention PD symptoms as primary complaints during office visits, attributing them to "old age." This tendency is reinforced by their slow development over time. Although PD is a movement disorder, nonmotor symptoms are also significant, and may have a greater impact on quality of life than motor symptoms. When these are prominent early in the disease, neither patient nor physician may associate them with onset of PD. These include nonspecific symptoms of depression, anxiety, shoulder bursitis, and muscle aches.
Physicians who do not see a lot of PD patients may miss some subtle signs of early disease in their elderly patients, especially if those patients are in the office for another complaint. If a patient appears to "fit the profile" for PD, further investigation is warranted.
Some Initial Clinical Observations Suggestive of PD
In the clinic, you may notice:
Lack of vitality in facial expression, not matched to the brightness of the eyes or the content of speech
Drooling or food stains on the shirt
Inordinate lengthy pauses before initiation of speech
Missed spots when shaving under the chin (stooped posture hides them)
Seborrhea over the eyebrows or in the nasolabial folds
Slight twitch (incipient tremor) exacerbated by emotionally charged conversations
Decreased blink rate. An easy way to measure this is for physicians to time their own blinks to the patients' and then note the prolonged interval between blinks
Cardinal Motor Features
The cardinal motor features of PD are rest tremor, bradykinesia, rigidity, and postural instability. Onset is usually unilateral. Two of the first 3 features are required for diagnosis. Postural instability -- characterized by shuffling, freezing, impaired balance, and falling -- usually occurs later in the disease course.
Early Cardinal Motor Signs*
Rest tremor
Bradykinesia
Rigidity
*2 of 3 required for diagnosis
Tremor: Occurs with hands at rest, and is often described as "pill rolling." Leg tremor is also common; tremor may also affect lips, neck, tongue, or face, though these often occur later in PD. Tremor classically abates with action but some patients also display a significant postural or action tremor, which may be more intrusive in activities of daily living. In 75% of patients, unilateral rest tremor is the first visible motor sign of PD.

Bradykinesia: Slowness of movement is insidious and may be initially mistaken for normal aging, the effects of arthritis, or even depression. Bradykinesia is often the most disabling motor feature of the disease, slowing mobility and impairing activities of daily living.

Rigidity: Cogwheel rigidity may be assessed during passive motion of the limbs or neck, and may be worsened with activity of the contralateral limb. Increased resistance is felt throughout the range of motion independent of speed, unlike the velocity dependence and catch-and-give quality of resistance of spasticity. Stiffness is not always reported by the patient, although they may complain of common joint-related pain syndromes such as tennis elbow or low back pain.
Other Features
Other early signs and symptoms that may help confirm the diagnosis include:
Loss of sense of smell (usually manifesting as loss of taste)
Smaller handwriting
Loss of facial expression
Excessive salivation (ie, overnight on pillow)
Constipation
Stooped posture
Slower gait
Difficulty rising from a chair or getting in or out of an automobile
Dystonic cramping of foot or toes curling at night
Family report of lower voice volume
Balance disorder is generally not an early sign. Falls with prominent early imbalance is a "red flag" to suggest another diagnosis.
Clues From the History
The full range of symptoms in PD encompasses motor, sensory, cognitive, and autonomic systems (Table 1).
Table 1. Signs and Symptoms of Parkinson's Disease
| | | | |
| --- | --- | --- | --- |
| Motor | Sensory | Cognitive | Autonomic |
| Slowness | Pain | Mood changes | Hot/cold sensation |
| Tremor | Aching | Depression | Bladder problems |
| Stiffness | Restlessness | Anxiety | Sweating |
| Postural instability | Paresthesia | Panic attacks | Abdominal discomfort |
| Stooped, shuffling gait | Chest discomfort | Tiredness | Constipation |
| Decreased arm swing when walking | Anosmia | Confusion | Sialorrhea |
| Lower extremity cramps | | Slowed thinking | Urinary frequency/urgency |
| Weakness | | | Erectile dysfunction |
| Hypophonia | | | |
| Swallowing difficulty | | | |
| Reduced dexterity | | | |
| Freezing | | | |
| Masked facies | | | |
| Micrographia | | | |
Secondary Causes of Parkinsonism
Secondary causes of parkinsonism should be sought, especially:
Exposure to dopamine-blocking or dopamine-depleting drugs. Common offending agents (Table 2) include antipsychotics, antidepressants, antiemetics (metoclopramide), and reserpine.
Hypothyroidism may be excluded with blood testing.
Vascular or structural lesions of the basal ganglia can be identified with neuroimaging, as can normal-pressure hydrocephalus.
Cervical stenosis with myelopathy producing urinary frequency, peripheral hyperreflexia with a normal jaw jerk, and slowed motor function may occasionally be mistaken for PD.
Rarely, manganese and carbon monoxide exposure may cause parkinsonian symptoms. A careful history will often provide clues to the presence of these factors.
During differential, rule out:
Drug exposure
Toxins
Thyroid disorder
Vascular or structural lesions/hydrocephalus
Table 2: Drugs That May Cause Secondary Parkinsonism
Generic (Trade Name)

Antipsychotics and tranquilizers

Acetophenazine (Tindal)

Chlorpromazine (Thorazine)

Fluphenazine (Permitil, Prolixin)

Haloperidol (Haldol)

Loxapine (Loxitane, Daxolin)

Mesoridazine (Serentil)

Molindone (Lindone, Moban)

Olanzapine (Zyprexa)

Perphenazine (Trilafon or Triavil)

Piperacetazine (Quide)

Prochlorperazine (Compazine, Combid)

Promazine (Sparine)

Risperidone (Risperdal)

Thioridazine (Mellaril)

Thiothixene (Navane)

Trifluoperazine (Stelazine)

Triflupromazine (Vesprin)

Antiemetics

Metoclopramide (Reglan)

Thiethylperazine (Torecan)

Antidepressants/bipolar treatments

Amoxapine (Asendin)

Olanzapine plus fluoxetine (Symbyax)

Perphenazine plus amitriptyline (Etrafon, Triavil)

Antihistamines

Trimeprazine (Temaril)
Other Disorders
In its earliest stages, tremor-predominant PD may be mistaken for essential tremor (ET), which is far more common than PD (Table 3). Both PD and ET can have kinetic and rest components of tremor, but ET is consistently postural and kinetic, usually lessening at rest. The rest tremor of PD typically diminishes with movement. The ET patient has no other signs of parkinsonism and is likely to report a long history of slow progression. A positive family history of tremor, suppression of the tremor with a small amount of alcohol, and a lack of response to levodopa or other PD drugs also support the diagnosis of ET.
Table 3. PD vs ET
| | |
| --- | --- |
| PD | ET |
| Tremor plus other signs | Tremor only |
| Rest tremor predominates | Postural and action tremor predominates |
| Response to levodopa | Response to alcohol |

Atypical parkinsonian syndromes include:
Multiple system atrophy (MSA)
Progressive supranuclear palsy (PSP)
Corticobasal degeneration
Diffuse Lewy body disease
Rapid progression
Early onset of dementia or hallucinations
Early onset of loss of balance with falls
Early and prominent autonomic signs

Urinary incontinence
Orthostatic hypotension

Upper motor neuron signs
Ataxia, dysmetria, or other cerebellar signs
Diplopia, any abnormal eye movements
Lack of response to levodopa
Patients suspected of having an atypical parkinsonian syndrome should be referred for diagnosis to a neurologist with experience in movement disorders.
Putative Neuroprotection
An unmet need in PD therapy is a neuroprotective treatment, one that could slow or halt the progression of the disease. Such a treatment would be started on diagnosis. Unfortunately, although several candidates have shown possible small indications of efficacy in clinical trials, no agent is yet accepted as definitively providing neuroprotection.
Coenzyme Q10 at 1200 mg/day (but not 300 or 600 mg/day) was superior to placebo at slowing the increase in disability in motor function and activities of daily living over 16 months.[1] Because coenzyme Q10 is not believed to provide any symptomatic effect, a possible interpretation of these results is an effect on disease progression. However, no neuroimaging was done on patients before and after treatment, and so no conclusion could be made about whether treatment with coenzyme Q10 actually had an effect on survival of nigral neurons. As of early 2009, other trials are in progress or have been completed, but results have not been published. Coenzyme Q10 is available as a nutritional supplement. The relative bioavailability differs by brand.
Rasagiline (Azilect) is an irreversible monoamine oxidase (MAO)-B inhibitor. Rasagiline was no better than placebo at preventing motor function decline but was slightly but significantly superior to placebo in delaying decline in activities of daily living over 6 months.[2]
Selegiline (Eldepryl, Zelapar, generics) is also an irreversible MAO-B inhibitor. Results from an early trial suggested it may slow disease progression, but the study design did not allow the researchers to rule out symptomatic improvement as the reason for better motor scores in patients receiving selegiline vs those receiving placebo.[3]
Selegiline
DOSING 5 mg 1×/day, up to 5 mg 2×/day
AE: insomnia, hallucinations

Rasagiline
DOSING 0.5 mg 1×/day, up to 1 mg 1×/day
AE: uncommon with monotherapy
Safety Alert
Nonselective MAO inhibitors may interact with certain foods or medications to cause a potentially life-threatening serotonin syndrome. It is thought that the selective MAO-B inhibitors have lesser risk.
After receiving a diagnosis, many patients ask about drugs that may be neuroprotective. They may have heard about this through Internet research or support groups. Individual physicians differ on the recommendations they give in response to these queries. The editors of this activity counsel that, as of early 2009, there are no proven disease-modifying or neuroprotective agents available for treating PD. Patients interested in participating in clinical trials in an investigational setting are encouraged to contact WE MOVE or PD patient groups for the locations of these clinical centers. Enrolling in a clinical trial is often valuable for the patient, as well as for medicine as a whole. Studies show that patients often depend on physicians to discuss the idea of enrolling in trials before they become involved. Find PD clinical trials at http://www.pdtrials.org.
Symptomatic Treatment
All patients should be counseled about the importance of regular aerobic exercise for maintaining general health, range of motion, strength, balance, and fitness. Walking, gardening, swimming, and other low-impact activities remain important parts of treatment throughout the early stages of disease and even later. The appropriateness of activities requiring more agility and balance should be evaluated individually and reconsidered as the disease progresses.
The patient with early PD does not necessarily need symptomatic therapy, although early treatment is common, and studies have shown that early treatment does a better job of maintaining quality of life than delayed treatment. The decision about when to begin treatment is an individualized one, taking into consideration the need and ability to continue working; effect of symptoms on activities of daily living and exercise; role of the patient as caregiver to a family member; and attitudes toward medication. Patient education and open discussion between physician and patient produce the best decision and course of action for each particular patient.
Reasons to Begin Symptomatic Treatment
Improve quality of life
Maintain ability to work
Reduce disability

Once the decision to treat has been made, the next question is what agent to begin with. As can be seen in the Table 4, there are a large number of options. The most important factors affecting the decision are:
The age and overall health of the patient
Concern for development of motor complications (see below)
Comorbidities, especially dementia, orthostatic hypotension, sleep disorders, polypharmacy
Cost of medications
Many of these factors overlap and interact to affect the choice of the appropriate drug for a particular patient at a particular time. In general, since younger patients have a longer treatment horizon than older patients, minimizing long-term adverse effects of treatment becomes a more critical concern. Older patients are more likely to be susceptible to drug adverse effects, especially their effects on cognition and somnolence. Maintenance of a motor diary can assist a physician to understand the pattern(s) of motor symptoms that are unique to that patient.
Click here to view Motor Diary
Levodopa is the most effective symptomatic therapy, but long-term use increases the risk for motor complications, including dyskinesias. There is evidence that younger patients with PD (under age 50) may be more susceptible to motor complications than older patients. Dopamine agonists (DAs) provide good symptom control, approaching, but not equaling that of levodopa, while delaying the onset of motor complications (wearing off and dyskinesias). However, DAs are more likely than levodopa to cause intolerable side effects, especially in elderly patients or those with orthostatic hypotension or cognitive impairment. Currently, many PD experts support treating younger patients initially with a DA, while older patients are more often treated with levodopa from the start. Another option for less affected patients is to begin with a nondopaminergic medication, such as amantadine or an MAO-B inhibitor.
Initial Treatment Considerations
No definitive neuroprotective therapy
Younger patients: minimize long-term dyskinesia risk => DA
Older patients: minimize cognitive effects => levodopa
Mild symptoms => nondopaminergic medication
Safety Alert
Dopaminergic drugs, especially DAs but also levodopa, have the potential to induce sudden and irresistible drowsiness leading to sudden onset of sleep. Although most patients will perceive warning signs of drowsiness before falling asleep, some may not. Such "sleep attacks" are rare but have the potential to cause serious accidents, including motor vehicle accidents. Patients beginning levodopa or a DA must be warned of the possibility of this serious side effect and counseled regarding whether to continue driving or operating dangerous machinery.
Other side effects of dopaminergic drugs include compulsive behaviors, pedal edema, nausea, and postural hypotension (see below).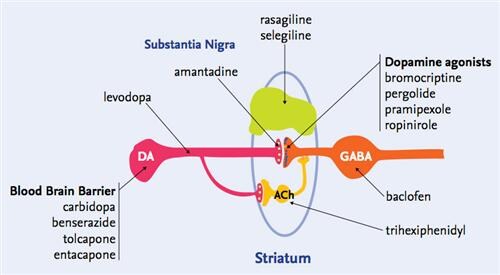 Substantia Nigra Diagram.
Inhibitors of catechol O-methyl transferase (COMT) and dopa decarboxylase act in the periphery to maximize delivery of levodopa across the blood-brain barrier. Levodopa is taken up presynaptically and converted to dopamine before release. Amantadine's site of action is also on the presynaptic dopaminergic neuron, while DAs (and baclofen) work postsynaptically. Anticholinergics such as trihexyphenidyl act within cholinergic neurons. Selegiline and rasagiline slow dopamine catabolism extracellularly.
Warn patients about sudden onset of sleep on a DA or levodopa

Table 4. Medications Available for the Treatment of Parkinson's Disease
| | | | |
| --- | --- | --- | --- |
| Class | Drug | Trade Names (generics may also be available) *indicates non-US name | Non-oral Pill Formulations |
| Anticholinergic | trihexyphenidyl | Artane | |
| | | *Broflex | |
| | | *Agitane | |
| | | | |
| | orphenadrine | Norflex | |
| | | *Disipal | |
| | | | |
| | benztopine | Cogentin | |
| | | | |
| | procyclidine | *Kemadrin | |
| | | | |
| COMT inhibitor | entacapone | Comtan | |
| | | *Comtess | |
| | | Stalevo (with levodopa) | |
| | | | |
| | tolcapone | Tasmar | |
| | | | |
| Dopamine agonist | pramipexole | Mirapex | |
| | | *Mirapexin | |
| | | *Sifran | |
| | | | |
| | ropinirole | Requip | |
| | | | |
| | bromocriptine | Parlodel | |
| | | | |
| | cabergoline | Dostinex | |
| | | *Cabaser | |
| | | | |
| | lisuride | *Revanil | |
| | | | |
| | rotigotine | Neupro | transdermal patch |
| | | | |
| | apomorphine | Apokyn | subcutaneous injectable solution |
| | | *APO-go | |
| | | | |
| | pergolide | *Celance | |
| | | | |
| Dopamine precursor | levodopa (with carbidopa) | Sinemet | |
| | | *Madopar | |
| | | *Duodopa | gel via GI tube |
| | | Stalevo (with entacapone) | |
| | | Parcopa | orally disintegrating tablet |
| | | | |
| MAO-B inhibitor | rasagiline | Azilect | |
| | | | |
| | selegiline | Eldepryl | |
| | | Zelepar | orally disintegrating tablet |
| | | | |
| Other | amantadine | Symmetrel | |

Amantadine
Amantadine is an antiviral with mild antiparkinson action. In early PD patients, it may be useful as an initial or adjunct medication. In later PD, it may reduce dyskinesias. Potential adverse effects include dry mouth, confusion, constipation, insomnia, agitation, hallucinations, ankle swelling, and livedo reticularis. Despite the variety of potential adverse effects, amantadine is usually well tolerated by most PD patients. Dose must be reduced significantly in patients with renal insufficiency or who are elderly.
Amantadine 100 mg 1-2 × daily; AE: confusion, dry mouth, hallucinations, livedo reticularis

Anticholinergics
Anticholinergics are mildly effective for tremor. Their antimuscarinic adverse effects -- confusion, dry mouth, urinary retention, blurred vision, and constipation -- are significant in the elderly. As a result, this class of agents is rarely used in older PD patients and has limited utility in younger patients. Dosing for trihexyphenidyl is 2-6 mg/day, and for benztropine is 1-4 mg/day.
Anticholinergics
Limited benefit
Significant adverse effects
COMT Inhibitors
COMT inhibitors work peripherally to slow levodopa breakdown, thereby increasing the duration of effect of a single levodopa dose. The peak effect is also increased. COMT inhibitors increase "on" time by 1-2 hours per day in patients taking levodopa. There is no indication for a COMT inhibitor in a patient not on levodopa. Two agents are available: entacapone (Comtan) and tolcapone (Tasmar). Entacapone is also available as Stalevo, in which it is combined with levodopa/carbidopa in a single tablet.
Entacapone
200 mg with each levodopa dose
AE: diarrhea, dopaminergic effects


---
Tolcapone
100 mg 3× daily; can raise to 200 mg 3× daily
AE: diarrhea, dopaminergic effects
Liver monitoring
Dopamine Agonists
Three DAs are available in tablet form in the United States: bromocriptine (Parlodel), pramipexole (Mirapex), and ropinirole (Requip). Two other DAs -- rotigotine and apomorphine -- are delivered parenterally. Rotigotine is delivered transdermally via a patch that is replaced once per day. Rotigotine has been withdrawn from the market as of early 2009 due to technical problems with the patch but is expected to become available again in the future. Apomorphine injectable, used only as a rescue therapy, is discussed below. Unlike the other available agonists, bromocriptine is an ergot derivative, with the potential to cause fibrotic complications including pleuropulmonary fibrosis, and most PD specialists choose to prescribe a nonergot agonist instead. Nonetheless, these adverse events are rare and individual patients may tolerate or respond better to 1 DA over another. Therefore, blanket recommendations or restrictions cannot be made for all patients in all situations. Patients receiving bromocriptine should receive regular cardiac imaging to monitor for development of fibrosis.
Dopamine agonists have several advantages over levodopa. Their duration of action is longer. When used as early monotherapy, they delay the onset of motor complications compared with levodopa. There is no competition with dietary amino acids as there is with levodopa. On the other hand, DAs require more prolonged drug titration, and their dopaminergic adverse effects, such as nausea, postural hypotension, somnolence, and psychosis, are more frequent and severe. Ankle edema is also a common adverse effect of DAs. Slow titration to efficacy may limit these effects, which often occur with dose escalation.
Dopamine agonists may cause an impulse control disorder in 10% or more of patients, manifesting as various types of compulsive behaviors, including pathologic gambling, binge eating, compulsive shopping, and hypersexuality. Risk factors include male gender, younger age, high novelty-seeking before treatment, family history of alcoholism, and longer duration of treatment with a DA. Treatment includes lowering the dose, replacing the agonist with levodopa, and psychosocial counseling. Patients should be informed about the possibility of this syndrome before commencing treatment.
Safety Alert
Dopamine agonists may cause pathologic gambling, binge eating, compulsive shopping, and hypersexuality.
Pramipexole is available in tablets of 0.125, 0.25, 0.5 , 1.0, and 1.5 mg. It is typically started at 0.125 mg 3× daily, and escalated to 3.0 mg/day over 4-6 weeks. This agent may be increased to dosages of 4.5-6.0 mg/day, but benefit beyond 1.5 mg/day is not linear.
Pramipexole
Start at 0.125 mg 3× daily
Titrate over 6 weeks to 3.0 mg/day
AE: nausea, postural hypotension, psychosis, ankle edema, drowsiness
Ropinirole is available in tablets of 0.25, 0.5, 1.0, 2.0, 3.0, 4.0, and 5.0 mg. It is typically started at 0.25 mg 3× daily, and escalated to 8 mg/day over 6-8 weeks. Although the maximum recommended dosage is 24 mg/day, many patients benefit at doses of 16 mg/day. Ropinirole is also available as a once-a-day formulation (Requip XL) in pills containing between 2 and 12 mg.
Ropinirole
Start at 0.25 mg 3× daily
Titrate over 6-8 weeks to 8 mg/day
AE: nausea, postural hypotension, psychosis, ankle edema, drowsiness
Levodopa
Levodopa (Sinemet) is the single most effective symptomatic therapy for PD. In the brain, it is converted directly to dopamine. Levodopa improves all the motor symptoms and many of the nonmotor symptoms of the disease. It is dosed with carbidopa to prevent peripheral decarboxylation and consequent orthostatic hypotension and nausea. Carbidopa does not cross the blood-brain barrier.
Levodopa crosses the gut and the blood-brain barrier utilizing the large neutral amino acid carrier. Therefore, in patients with advanced disease, it may be necessary to reduce dietary protein or adjust meal times to prevent competition for transport. Slowing of gut peristalsis in advanced patients exacerbates this problem. Even in patients with early disease, taking levodopa an hour before or after a meal may be recommended. The time to onset of action is 20-40 minutes, and duration of therapeutic benefit about 4 hours. In early patients, the benefit is usually even longer, while in later patients, the onset is less predictable and duration of benefit may be considerably shorter.
Dosing levodopa near a protein meal may significantly reduce uptake from the GI tract in some patients
Carbidopa /levodopa tablets (Sinemet, generics) are available in 10/100-, 25/100-, and 25/250-mg tablets. Supplementary carbidopa (Lodosyn) is occasionally needed to control nausea during therapy initiation. Patients are typically started on a half 25/100 tablet 3× daily, increased to 1 tablet 3× daily after 2-7 days. After 1 month, the response should be evaluated and adjusted upward if necessary. A typical maintenance dose in early patients is levodopa 200-400 mg/day. Carbidopa/levodopa is also available in an orally disintegrating tablet (Parcopa), which may provoke less nausea in sensitive patients.
Levodopa/carbidopa
Start at ½ tablet 3× daily, then raise to 1 tablet, 3× daily
Evaluate at 1 month, adjust upward if necessary
Take 1 hour before meals
AE: nausea, postural hypotension, drowsiness
MAO-B Inhibitors
Selegiline and rasagiline, discussed above, are irreversible MAO-B inhibitors that delay the metabolism of levodopa and therefore increase the duration of response. Like the COMT inhibitors, they are used as an adjunct to levodopa in patients who have developed "wearing off." Unlike the COMT inhibitors, the MAO-B inhibitors may provide mild symptomatic relief when used in monotherapy and may be appropriate in some patients very early in the disease. Rasagiline is FDA approved for early monotherapy, while selegiline is not.
Patients with early PD typically have 3-7 years during which treatment is highly satisfactory. The response to levodopa or a DA is smooth, and motor complications do not occur. By 7-10 years, but sometimes earlier, patients usually develop complications, both motor and nonmotor. Each requires skilled intervention to minimize disability. In addition, most patients have a variety of comorbid conditions, whose treatment may have an impact on, and be impacted by, the treatment of PD. Treating patients with advanced disease is often a series of compromises among the desires to maximize function, minimize adverse treatment effects, and avoid worsening other conditions. This balancing act is difficult and often suboptimal. A patient with advanced PD is often best managed by a neurologist with extensive experience with this patient population. Many general neurologists and movement disorder specialists utilize the Unified Parkinson's Disease Rating Scale to track patient status over time and in multiple domains.
Click here to view Unified Parkinson's Disease Rating Scale
It is important to emphasize that the goal in PD treatment continues to be minimization of symptoms to improve function and quality of life, and that in the large majority of patients this goal is achievable with careful adjustment of medications. We present here a short overview of the challenges faced in the management of a patient with advanced PD.
Motor Complications
Motor complications include "wearing off," "on-off," dyskinesias, dystonia, freezing, and falling.
"Wearing off" is the early return of symptoms toward the end of the dosing period, before the next dose of drug begins to take effect. Most patients develop some degree of wearing off within 5 years of treatment onset. A wearing-off questionnaire, completed by the patient, can assist the physician in understanding the patient's pattern of motor complications.
Click here to view Wearing-off Questionnaire


Typical Day.
"Delay to turning on" is a period of 30-45 minutes until a dose of levodopa begins to be effective.
"On-off" is a rapid and unpredictable switch from symptomatic benefit to absence of benefit.

Dyskinesias are unwanted movements, often writhing or choreiform in nature, that typically occur during the peak effect of a dose of levodopa.
Dystonia is a sustained and often painful muscle contraction, often in the foot or leg, and is usually worse in the morning before the initial dose of levodopa.
Freezing of gait is the sudden inability to walk. It may manifest as start hesitation or stopping, often when turning a corner, passing through a doorway, or crossing the street. Freezing usually occurs late in the disease, and treatment is difficult and rarely completely satisfactory in most cases.
Falling is a problem for many people with PD, and arises as postural instability and gait difficulties worsen.

Motor Complications
Wearing off
Delay to turning on
On-off periods
Dyskinesias
Dystonia
Freezing
Falling

Adjusting medication types, dosing, and timing can usually control motor complications early on. As the disease progresses and the complications worsen, their management can be a very challenging aspect of treatment. These conditions are cause for referral to a neurologic specialist team with expertise in PD.
Symptom diaries that are filled out by the patient or caregiver may provide a way to track off periods and develop strategies for their treatment. In the diary, the patient or caregiver fills in medications, doses, and times of administration, and keeps a 24-hour record of motor fluctuations, every hour or half hour, if possible. Several days' worth of records are then brought to the next clinic visit and used by the neurologist or neuronurse to detect patterns that may be addressed with medication changes, behavioral changes, or both. Changes might include better dose changes, better compliance, or rearranging scheduled activities, for instance.
Treatment of Wearing Off
When symptoms re-emerge at the end of a dosing interval, several options will likely be successful. For example, the dosing intervals can be shortened to 2.5-3.5 hours. For a patient on DA monotherapy, the addition of levodopa with or without a COMT inhibitor may be effective. For a patient on levodopa monotherapy, adding a COMT inhibitor or a DA will likely be effective. Controlled-release levodopa (Sinemet CR) may also be effective. Patients without on-time or suboptimal on-time should be advised to avoid high-protein meals and to take levodopa on an empty stomach. Poor gastric motility is a common finding in PD, and treating it may improve levodopa uptake.
Management of "delay to turning on" requires avoidance of prolonged off periods by reducing dose intervals. If this is unhelpful, slow GI transit time may be responsible and should be investigated.
Treatment for Wearing Off
Add a DA
Add a COMT inhibitor
Increase dose of dopaminergic therapy
Substitute sustained-release levodopa
Adjust diet
Adjust timing of drug
Increase gastric motility
Apomorphine rescue therapy
Injectable apomorphine (Apokyn) is an injectable DA with very rapid onset (10-15 minutes) and is an appropriate "rescue" medication for patients with frequent or unpredictable wearing off that does not respond to medication adjustments. It is also useful for those with early-morning akinesia or dystonia -- a dose can be taken on awakening and before the first dose of levodopa takes effect. Initiation of apomorphine treatment requires 2-3 days of pretreatment with the antiemetic trimethobenzamide, and the first injection of apomorphine should occur in the physician's office to determine the efficacious dose and monitor for hypotension. Patients usually require 4-6 mg per injection for relief of symptoms. It may be advisable to schedule the initial office injection early in the week, so that any problems with nausea in the following days don't require a weekend emergency consultation.
Apomorphine
Rapid onset, rescue therapy
Pretreatment with antiemetic
Trimethobenzamide
300 mg 3×/day
1-2 days of pretreatment
In-office titration
In-office self-injection training
Treatment of Dyskinesias
Mild dyskinesias are rarely troubling to patients, who usually find bradykinesia and rigidity more disabling. Strategies for reducing dyskinesias include reducing the dose and increasing the frequency of levodopa, adding a DA or COMT inhibitor to reduce levodopa, and/or using controlled-release levodopa. When medications cannot be lowered, amantadine may be useful.
Dyskinesia Treatment
Reduce levodopa dose
Increase frequency of levodopa dosing
Add adjunct medications
DA
COMT Inhibitor
Switch to controlled-released levodopa
Add amantadine
Treatment of Freezing and Falls
Freezing most often occurs during some change in the sensory aspects of movement: gait initiation, passing through a doorway, making a turn. It may occur most often during "off" periods, but also during times of adequate levodopa serum levels. Freezing may manifest only as a brief start hesitancy or may stop a patient in his tracks and last a minute or more.
Treatment of freezing requires referral to a neurologic team with expertise in advanced PD. Treatment entails empirically determining the situations in which the patient is likely to freeze and identifying sensory cues that overcome the block. Environmental modification -- lines on the floor, rearranging furniture -- may help. Patients may also be instructed to visualize walking, count a walking cadence out loud (for example, "Step-2-3-4!"), or begin by stepping over a real or imaginary object. A modified cane with an 8- to 10-inch "wing" projecting at a right angle from its bottom can be used as well, to provide the patient with a visual "step" to step over. Alternatively, a cane with an L handle can be inverted. A laser cane may also be useful by shining a light beam in front of the patient as a target to step over. The caregiver may also try gently rocking the patient from side to side. Conscious relaxation during freezing may also help.
Falls are a significant risk factor for nursing home placement. Falls occur not only in the context of freezing, but also from orthostatic hypotension, gait abnormalities, and postural instability. After a thorough evaluation, a physical therapist with experience in PD management may recommend mobility aids such as a cane, walker, or motorized scooter. Balance training exercises from the earliest stages of the disease may be helpful. The greatest risk of falling may be from stooping to pick up an object. Walking while carrying bundles in both hands may also increase fall risk. Balance training for this particular task may be useful to reduce the incidence of falls.
Nonmotor Symptoms and Complications
Nonmotor symptoms of PD may be even more debilitating than motor symptoms to some patients with PD (Table). Many patients will not connect nonmotor symptoms to their disease, and the physician must often specifically ask about such symptoms to determine their presence. An alternative is to have the patient fill out a questionnaire regarding their motor and nonmotor symptoms.
Mild to moderate depression affects up to half of all people with PD. Psychosocial counseling and standard antidepressant medications may be useful. Anxiety and restlessness are even more common. When associated with off periods, dose adjustment may help. A primary anxiety disorder may be amenable to benzodiazepines. In many cases, the PD patient may also experience restless legs syndrome (RLS).
Nonmotor Symptoms
Ask patients about individual symptoms
Most are treatable
Depression is common, debilitating, and treatable

Visual hallucinations are a common side effect from anti-PD medications. In the early stages, patients retain insight that the hallucinations are not real. However, they can progress to frightening dreams or night terrors and can lead to acting or lashing out during their dream state. This type of psychosis or delirium is best managed by either reducing the evening dose or total dose of levodopa and/or adding quetiapine or clozapine at bedtime. Other useful medications to manage these hallucinations are olanzapine or risperidone; however, these drugs have been associated with worsening of PD symptoms.
Patients and their spouses, partners, or caregivers should be warned about the risk of injury during these frightening episodes.
Psychosis is a common dose-dependent adverse effect of the anti-PD medications. Risk factors for the development of psychosis include advancing age, presence of dementia, and polypharmacy. Treatment strategies include removing adjunct agents such as anticholinergics, selegiline and amantadine, and use of atypical antipsychotic drugs such as quetiapine or clozapine. Traditional antipsychotics are relatively contraindicated, because of the high potential to worsen Parkinson-related symptoms.
Sexual dysfunction, such as erectile dysfunction, loss of libido, and anorgasmia, are common nonmotor features of PD but are very rarely secondary to anti-PD medications. Patients rarely offer information about sexual dysfunction, despite its significance for quality of life. Men with PD may have erectile dysfunction, and sildenafil has been reported to be effective in some cases. Men may also have low testosterone.
Urinary dysfunction in PD is usually related to a spastic bladder that usually responds to treatment with oyxbutinin. Seborrheic dermatitis can be treated with coal tar shampoo and ketoconazole cream.
Pain syndromes should be carefully assessed and patients advised to avoid unnecessary orthopedic procedures. Often patients can graph their pain cycle to assess if the pain worsens as levodopa effects wear off and responds to levodopa. Often the pain is not orthopedic in nature, but more commonly is a focal dystonia or rigidity that responds to increase in levodopa medication.
Surgical Options
Most patients continue to be managed satisfactorily on dopaminergic replacement therapy for many years, with adjunctive therapies and drug adjustments required more frequently. As the disease progresses, more significant motor complications occur. For cognitively intact patients who continue to respond to levodopa, but with short-duration responses and intrusive, treatment-resistant dyskinesias, surgery can allow levodopa dose reduction, thus improving dyskinesias. Deep brain stimulation (DBS) of the globus pallidus or of the subthalamic nucleus (STN) is recognized to be potentially beneficial. The best candidates for surgery are patients who have little or no cognitive impairment, who have no significant medical problems, and who remain responsive to levodopa.
Surgical Options
Most patients continue to be managed satisfactorily on dopaminergic replacement therapy for many years, with adjunctive therapies and drug adjustments required more frequently. As the disease progresses, more significant motor complications occur. For cognitively intact patients who continue to respond to levodopa, but with short-duration responses and intrusive, treatment-resistant dyskinesias, surgery can allow levodopa dose reduction, thus improving dyskinesias. Deep brain stimulation (DBS) of the globus pallidus or of the subthalamic nucleus (STN) is recognized to be potentially beneficial. The best candidates for surgery are patients who have little or no cognitive impairment, who have no significant medical problems, and who remain responsive to levodopa.
Caregiver and End-of-Life Issues
Spouses are most often the primary caregiver for the person with PD. Caregiving in the later stages of the disease can present significant challenges and create substantial stress, for caregivers.
Multiple factors contribute to the stress of caregiving in PD. These include:
Physical challenges

Transfers
Toileting
Bathing
Transportation

Emotional challenges

Change in marriage roles
Increased emotional needs of the caregiver, unmet by patient
Uncertainty about the future

Financial challenges

Unreimbursed medical costs
Loss of income from primary earner
Because of the long duration of advanced PD, stress on the caregiver may be prolonged, and feelings of helplessness may increase. The risk of depression in this situation is significant. Cognitive changes and hallucinations increase the strain on caregivers and are a major risk factor for nursing home placement for the patient.
Many caregivers feel they don't have enough information about PD and state that having more information would reduce their feelings of uncertainty. Taking the extra time with caregivers to provide information, resources, and referrals to support groups and suggested reading materials can go a long way toward making their burden more manageable. Communication from the treatment team is especially important when the patient becomes cognitively impaired and cannot communicate his or her own needs effectively. Caregiver and patient communication with the treatment can be enhanced by use of certain screening such as the PD screening questionnaire.
Click here to view PD Screening Questionnaire
While cared for at home through much of their illness, a majority of PD patients spend their final months in a health care institution. The trigger for transfer to an institution is often an increase in frequency of aspiration and development of pneumonia, or frequent urinary infection. Nursing home placement is common. Hospice care is often considered by caregivers to be the best placement at the end of life when the caregiver's need for grieving is greatest.
The physician's role continues to be to provide the best symptomatic therapy for the patient, but the definition of "best" may change at this stage. Important considerations at the end of life include relief of pain and anxiety and increasing comfort. Counseling with the family is crucial for all family members to be at peace with the death of their loved one.
Caregivers benefit from:
More information
Additional resources
Support groups
Patients' Frequently Asked Questions
Should I quit my job?
The answer depends on how much motor function your job requires, how impaired you are, and how important the job is to you. There is no need to quit right now if you want to keep working, as long as you can continue to safely perform your job. Medications are likely to help you remain working for at least a couple of years. If you do leave your job, you are likely to qualify for disability, though the application process can be difficult.
Should I exercise?
YES. Low-impact aerobic exercise is excellent for your health, and is not prevented by your disease. Walking, swimming, yoga, gardening, tai chi for balance, stationary bicycling, and light weight-lifting are all good choices. If you want to participate in running, biking, or other activities that require good balance, we should assess your condition regularly.
What kind of diet should I eat?
A healthy diet with a lot of fiber is the best choice. Your gut movements may slow down with PD, and fiber can help keep it moving. Some patients with motor fluctuations find that high-protein meals interfere with the effectiveness of their levodopa. If that happens, we can talk about strategies to reduce the problem.
Can I keep smoking? Drinking coffee? Drinking alcohol?
You should stop smoking -- of course! Caffeine may worsen your tremor, and may prevent you from getting a good night's sleep, making you drowsier during the day. If these are problems, cut back on caffeine. Alcohol can cause confusion, low blood pressure, and imbalance. These may be a problem for you, and if so, cut back on alcohol.
Are there drugs that can slow the disease?
There are not yet any drugs that are proven to slow the disease, although several clinical trials of potentially disease-modifying drugs are ongoing. Some patients take very high doses of the dietary supplement coenzyme Q10, based on a single study which suggested it may have a very modest effect on the disease. Unfortunately, the cost of the supplement at the doses used (1200 mg/day) is high, and long-term safety is unknown.
Can I travel?
You can certainly keep traveling as long as you remain mobile. You may want to arrange for a wheelchair to avoid long walks in airports, museums, or other destinations. Make sure you bring your prescriptions with you, in case you need to refill them on the road. In cases where significant time changes occur, adjustments in your medication dose schedule may be necessary.
Can I drive?
Maybe. Most people with PD are able to continue driving safely. However, PD slows reaction times and can make multi-tasking harder. A driving evaluation may be a good idea. Dopamine agonists or levodopa may make you drowsy. Although it is rare, a few people taking these drugs have fallen asleep at the wheel. If you ever feel even the slightest bit of sleepiness while behind the wheel, pull over immediately.
Should I have surgery for my PD?
Surgery for PD is an option if medications don't provide optimal benefit or cause intolerable adverse effects. We'll have a lot of time to review your options, and I will send you to see a specialist for an evaluation before then. Surgery can improve your symptoms as well as levodopa can but more consistently with fewer off periods. Surgery can also allow us to reduce your medications, and that can reduce your side effects.
Can I undergo surgery for other conditions?
You can still have surgery for other necessary conditions. Before you do, you need to give the anesthesiologist a complete list of all your medications. You need to avoid medications that may worsen your PD symptoms (these are typically antinausea drugs). You may be more susceptible to becoming confused due to the hospital setting, pain medications, and/or sedatives. Your recuperation after surgery may also take longer.