Introduction
Psoriasis is a chronic, multisystem, immune-mediated disease with predominately skin and joint manifestations. It affects approximately 2% of the population.[1] Its major clinical manifestation is chronic skin inflammation due to excessive proliferation of skin cells, yielding disfiguring, scaling, erythematous plaques. Psoriasis is classified on the basis of morphology of the skin lesions[2]: plaque, guttate, inverse, pustular, and erythrodermic. Plaque psoriasis is the most common form, affecting approximately 80% to 90% of patients (Figure). Among patients with plaque psoriasis, the majority (80%) have mild-to-moderate disease.[3]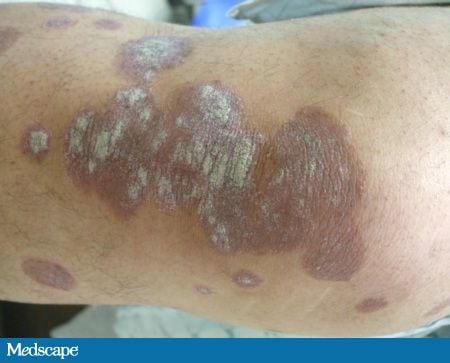 Figure 1. Plaque psoriasis. Figure courtesy of Dr. Becker.
Psoriasis severity is based primarily on the degree or extent of skin involvement, which is determined by clinician calculation of the patient's affected body surface area (BSA)[4]: mild = BSA < 3%; moderate = BSA 3%-10%; and severe = BSA > 10%.
The classification of psoriasis severity as based on the extent of lesional involvement conveys the physical aspects of the disease but fails to describe its social and emotional ramifications. Psoriasis causes psychosocial morbidity; moreover, the quality-of-life impact can be great even in patients with few areas of disease involvement.[5] Those suffering from psoriasis are known to have higher rates of poor self-esteem, sexual dysfunction, anxiety, depression, and suicidal ideation.[6-9] Psoriasis also causes a decrease in function in the workplace, termed occupational functionality.[10,11] Rapp and colleagues[12] determined that the physical and mental disability experienced by psoriasis patients equals that of patients with other chronic diseases, such as cancer, arthritis, hypertension, heart disease, diabetes, and depression. Thus, quality-of-life measurements are an important adjunct to psoriatic lesion assessment in determining the full effects of the disease. A variety of quality-of-life instruments exist (Table 1).[13-19] Treatments that improve psoriasis, whether topical or systemic, also have been shown to improve quality of life.[20-22]
Table 1. Quality-of-Life Instruments in the Treatment of Psoriasis
Type of Instrument
Instrument
Non-psoriasis-specific
Dermatology Life Quality Index (DLQI)[14]
Health-Related Quality of Life Index (HRQOL)[13]
SKINDEX[14]
Psoriasis-specific
Psoriasis Quality of Life 12-item (PQOL-12)[15-17]
Koo-Menter Psoriasis Instrument (KMPI)[16,18]
Salford Index[19]
Psoriasis has long been thought of as a disease of the skin and joints only. However, the condition has recently been shown to be associated with severe comorbidities, such as inflammatory bowel disease,[23] multiple sclerosis,[24] cardiovascular disease,[25-28] metabolic syndrome (defined as the combination of obesity, dyslipidemia, insulin resistance, hypertension, hypertriglyceridemia, and reduced high-density lipoprotein),[29] and lymphoma.[30,31] Furthermore, in patients with severe disease, psoriasis has been shown to lead to an increased risk for mortality overall.[32]
Treatment Strategy
The overall treatment strategy for psoriasis should address the primary skin condition, because in doing so comorbidities may improve as well. There are many options for the topical treatment of psoriasis. When choosing a treatment strategy, the clinician should first be aware of the ultimate goals of therapy[13]:
Gain rapid control of the disease;
Decrease the extent of disease involvement (BSA);
Decrease erythema, scaling, and induration of individual plaques;
Maintain long-term remission and avoid relapse;
Avoid adverse effects; and
Improve the patient's quality of life.
A starting point for determining the treatment regimen is the patient's BSA. A patient with a BSA 10% (mild-to-moderate disease severity) is a candidate for topical therapy alone. However, in clinical practice, this is less straightforward. Topical treatment alone may not always be effective for mild-to-moderate psoriasis. For example, systemic agents should be considered in cases of mild-to-moderate psoriasis (BSA 10%) that are judged to be more severe due to the location of lesions on more sensitive areas (face, hands, scalp, genitalia). However, a BSA > 10% (moderate-to-severe disease severity) does not exclude the use of topical treatment. In these cases, topical agents should be an adjunct to more aggressive systemic treatment options, including phototherapy, cyclosporine, methotrexate, oral retinoids, and the newer biologic agents.[4] Complicating things further, there are currently no validated scores with cut-off values to define which patients are eligible for topical vs systemic therapy; instead, a combination of the physical/emotional impact of the disease, risk/benefit of treatment options, and patient education/preference should be used to determine medication selection.[33]
Topical Agents
Many topical agents are available for the treatment of psoriasis (Table 2). When choosing a topical agent, it is important to understand the agent's side-effect profile, efficacy, and expected result, while at the same time creating a treatment regimen that is individualized to each patient's needs. A discussion of the treatment of moderate-to-severe psoriasis with systemic therapy, including biologic agents, is not included in this review.
Topical Corticosteroids
Topical corticosteroids are the first-line agents in the treatment of mild-to-moderate psoriasis as well as a number of other inflammatory skin conditions. They work by modulating the intracellular signaling of the immune system and by limiting the vascular permeability that allows for propagation of the immune- mediated inflammatory response. More specifically, topical corticosteroids cause a decrease in both the local production of cytokines and the presence of vasodilatory substances in skin affected by psoriasis. Corticosteroids are thus effective in the treatment of localized psoriasis because of their ability to suppress the local immune response, reduce local areas of skin inflammation, and impede skin cell hyperproliferation.[42]
A wide variety of topical corticosteroid options are available, which at times can be daunting. The potency of these agents varies from weak (Class VII) to ultrapotent (Class I), and within each class there can be as many as 5-10 different agents. Thus, it is recommended that the clinician first become familiar with 1 steroid from each class in order to become better versed in the more subtle nuances of topical corticosteroid use, such as packaging size (eg, 30 g, 60 g, 120 g), generic vs trade names, and formulation (eg, ointment, cream, gel, lotion, foam, spray, shampoo).[43]
Early clinical trials demonstrated the efficacy of potent/ultrapotent topical corticosteroids in the treatment of psoriasis by demonstrating improvement in approximately 80% of patients over a period of approximately 1 month.[44-46] More recently, "less messy" and more "cosmetically appealing" formulations have proven as effective as their predecessors.[47] However, there are 2 concerns: First, topical corticosteroids are often used for longer periods of time than the treatment periods in the original clinical trials, which has led to the recognition of a phenomenon coined tachyphylaxis -- the loss of effectiveness or the development of resistance to topical corticosteroids over approximately 2-4 months.[44,48] Many psoriasis specialists have challenged this phenomenon and claim that tachyphylaxis merely represents a decline in patient adherence to therapy and not a decline in efficacy.[48-50] The second concern is steroid side effects (Table 3), especially skin atrophy and the fear of systemic absorption with resulting metabolic disturbances.[51] The perceived and actual possibility of adverse effects associated with the long-term use of ultrapotent topical corticosteroids has fueled the search for equally efficacious and less (potentially) harmful topical agents.
Table 3. Possible Side Effects of Topical Corticosteroids
Cutaneous effects
Skin atrophy
Striae
Pigmentary changes
Hypertrichosis
Telangiectasias
Allergic contact dermatitis
Skin irritation
Easy bruising, purpura
Increased susceptibility to infection
Rebound (worsening of skin condition)
Perioral dermatitis
Systemic effects
Hypothalamic-pituitary axis suppression
Adrenal suppression
Cushing syndrome
Hyperglycemia
Avascular necrosis of the femoral head
Adapted from: Givan J, et al.[43] and Goldstein BG, Goldstein AO. General principles of dermatologic therapy and topical glucocorticoid use. In: Dellavalle RP, Levy ML, eds. Uptodate.com. Accessed January 2009.
Topical Calcineurin Inhibitors
Topical calcineurin inhibitors such as tacrolimus and pimecrolimus are an acceptable alternative to corticosteroids in the treatment of recalcitrant plaques affecting the face, genitals, and intertriginous areas, with approximately 80% of patients demonstrating complete clearing.[37,52-54] [It should be noted that the topical calcineurin inhibitors are approved for the treatment of atopic dermatitis; use in psoriasis is off-label.] However, these agents are generally not effective for psoriasis affecting nonsensitive areas such as the elbows, knees, and trunk. These agents work by inhibiting T-cell activation and the associated inflammatory cascade. Specifically, these topical medications are effective in the treatment of inflammatory skin conditions due to their ability to suppress interkeukin-2 production and interleukin-2 receptor expression.[55]
Although topical calcineurin inhibitors are effective in the treatment of the thinner skin of the face and intertriginous areas, the thicker, more hyperkeratotic lesions seen more often in patients with plaque psoriasis are less responsive to these agents.[56] This limited efficacy in plaque psoriasis is most likely due to the decreased skin penetration of the topical calcineurin inhibitors in these thicker regions of the skin (back, trunk, and upper/lower extremities). Potential options for the use of these agents in plaque psoriasis are in regimens that lead to increased penetration of the medication, such as in combination with salicylic acid,[57] corticosteroids, or occlusive devices,[58] or with the development of newer, stronger formulations.
The most common adverse events reported with use of tacrolimus and pimecrolimus are a burning sensation and/or pruritus, seen within the first days of treatment and thought to be secondary to the agents' release of neuropeptides involved in pain perception, such as substance P.[59] A more concerning situation is the "black-box" warning issued by the US Food and Drug Administration (FDA) in 2005 regarding the risk for lymphoma and skin cancer. Reportedly, this decision was made due to the lack of long-term safety data; however, the safety of these agents has been reviewed in large cohorts of patients for up to 4 years[60,61] with no increased frequency of malignancy reported. As of the writing of this manuscript, there are no convincing data to support the risk for malignancy (either skin or internal neoplasms) in humans with topical use.
Topical Retinoids
Tazarotene is the only topical vitamin A derivative that has been approved for the treatment of plaque psoriasis. It is indicated for once-daily use and is available as a gel and cream in various strengths (0.05% and 0.1%).[62] This agent works via the function of its active metabolite, tazarotenic acid; however, the exact mechanism of action is unknown. Tazarotene is thought to inhibit keratinocyte proliferation, normalize abnormal keratinocyte differentiation, and decrease the expression of inflammatory markers on the surface of these cells.[63]
Multiple clinical trials have demonstrated the safety and efficacy of tazarotene in the treatment of psoriasis.[38,64,65] Rather than considering this agent as monotherapy, its most beneficial effects can be seen when it is included as part of maintenance therapy in combination with corticosteroids,[66-68] calcipotriene,[69] and/or phototherapy.[70-72] The most common side effect of tazarotene is skin irritation (including itching, burning, and erythema) within the first week of use, especially when excessive amounts are applied.[62,73] Reduction of irritation may be achieved by every-other-day dosing or a decrease in strength.[74] The FDA has issued a caution regarding the use of tazarotene and exposure to sunlight, and patients are advised to use sunscreens and protective clothing when using tazarotene. In cases when this agent will be used in combination with phototherapy, the dosimetry might need to be lowered to prevent skin burning. Finally, this medication is designated pregnancy category X and should not be used during pregnancy or in women of childbearing potential who are not using adequate contraception.[62]
Topical Vitamin D3 Analogs
Topical vitamin D agents have been used for the treatment of psoriasis for some time, and they have been shown to be safe and effective as both monotherapy and in combination therapy. Calcipotriene (also known as calcipotriol), the most widely used vitamin D3 analog worldwide, is indicated for the twice-daily topical treatment of mild-to-moderate psoriasis (maximum of 100 g/week). Because calcipotriene has been available in the United States since 1994, it is the most extensively studied agent in this class of medications. However, a second vitamin D agent, calcitriol, has recently been approved in the United States for the treatment of plaque psoriasis. Other topical vitamin D3 analogs available outside the United States are tacalcitol and maxacalcitol. Topical vitamin D agents work by binding to the vitamin D receptor and regulating gene transcription, which inhibits the proliferation of keratinocytes and increased terminal differentiation.[75-77] The remainder of this section will focus on calcipotriene and calcitriol because they are the current FDA-approved vitamin D treatment options.
The safety and efficacy of all formulations (ointment, cream, solution) of calcipotriene have been proven in multiple clinical trials,[76-78] and long-term studies have demonstrated that the benefits of therapy were maintained for up to 1 year.[79-83] Calcipotriene is indicated for twice-daily topical use with a maximum dose of < 100 g/week. Unfortunately, calcipotriene cream and solution are the only formulations still available in the United States at the time of this publication, because the ointment was discontinued by its US manufacturer. Calcipotriene has proven particularly advantageous in its ability to maintain effectiveness without the concern for tachyphylaxis or skin atrophy seen with topical corticosteroids. One disadvantage of this agent is that maximal treatment response is usually not obtained until after approximately 2 months of therapy. Most dermatologists use this agent not as monotherapy but rather in combination with superpotent topical corticosteroids in a sequential therapy mode.[84]
Despite the minimal side-effect profile in comparison with topical corticosteroids, calcipotriene is known to cause intralesional/perilesional irritation in approximately 12% to 20% of patients.[85-89] This irritation usually presents as a transient erythematous ring surrounding the treated lesion, and it is associated with stinging, itching, and/or burning that occasionally results in patient discontinuation of the agent.[90] The risk for irritation is reduced greatly when calcipotriene is used in combination with topical steroids, which also leads to a synergistic therapeutic response.[91] Hypercalcemia and hypercalciuria are also potential side effects.[92-97] Therefore, calcipotriene is contraindicated in patients with pre-existing calcium disorders. The majority of cases of elevated calcium levels have occurred in patients using > 100 g/week[78]; thus, routine monitoring of calcium levels is not necessary because hypercalcemia is an extremely rare occurrence when the drug is used according to FDA recommendations in product labeling.
Calcitriol is the only agent in this class that is not considered a "true" vitamin D3 analog; rather it is the naturally occurring, hormonally active metabolite of vitamin D3.[98] It has recently been approved in an ointment formulation for the twice-daily treatment of mild-to-moderate plaque psoriasis at a maximum dose of 200 g/week. Its approval was based on safety and efficacy data from 2 randomized double-blind clinical trials with a total of 839 patients.[98] These 8-week studies compared the twice-daily application of calcitriol ointment vs vehicle ointment alone. The results demonstrated: (1) improvement apparent after 2 weeks of treatment; (2) sustained treatment response over the 8-week course; and (3) a treatment success rate (defined as a global severity score of clear/minimal) of 34% of patients in the calcitriol group vs 22% of patients in the vehicle-treated group (with similar efficacy rates in the second study).[98]
Treatment-related adverse events were generally similar in both the calcitriol and vehicle groups. Common side effects included pruritus (3%), skin discomfort (1%), lab test abnormality (8%), urine abnormality (4%), psoriasis (4%), and hypercalciuria (3%). There were some transient increases in plasma calcium levels; however, unlike the concern for effects on calcium metabolism that are seen with calcipotriene, calcitriol demonstrated no significant clinical effects on calcium homeostasis when used continuously over a 52-week time period.[98] Thus, calcitriol is an important new topical option for the treatment of plaque psoriasis.
Fixed-dose Corticosteroid-Calcipotriene Combination Therapy
Ointment[99,100] and scalp[101-105] formulations of a combination of calcipotriene and betamethasone dipropionate (a class II topical steroid) have proved safe and efficacious in the treatment of psoriasis. Calcipotriene-betamethasone ointment is indicated for the once-daily treatment of plaque psoriasis for up to 4 weeks; calcipotriene-betamethasone scalp suspension is indicated for once-daily use in the treatment of scalp psoriasis. Both formulations of this combination therapy have also proven to be more effective[101,103-106] and with fewer side effects[105] than either of the individual agents alone (calcipotriene or betamethasone). In general, combination therapy is beneficial due to the additive effect of the differing mechanisms of action. This method of treatment results in less overall exposure to the individual agents, equating to less potential for adverse events. For example, in the combination calcipotriene-betamethasone ointment, the corticosteroid acts to decrease the risk for skin irritation by preventing inflammation, while the calcipotriene prevents the skin atrophy associated with the topical steroid.
The safety of long-term calcipotriene-betamethasone ointment and scalp formulations have been assessed, revealing that (1) efficacy can be maintained for as long as 1 year and (2) cutaneous adverse events are similar compared with betamethasone and approximately 50% less compared with calcipotriene.[104,107,108] In summary, this agent has a role in the treatment of psoriasis both as monotherapy for mild-to-moderate disease and in combination with other interventions (phototherapy, systemic agents, biologics) in moderate-to-severe disease.[109]
Occlusive Devices
Occlusive devices have long been used in dermatology to treat inflammatory skin conditions. The successful treatment of psoriasis by occlusion of topical medications has been described in the literature.[110,111] The first case involved the clearance of a psoriasis lesion after 3 weeks of occlusion with a Band-Aid®.[111] A tape infused with topical corticosteroid has also been used for the treatment of psoriasis lesions, especially in regions such as the hands and feet.
Newer versions of occlusive devices have been described in the recent literature. The hydrocolloid dressing is one such device; it is composed of a hydrocolloid layer on a flexible gas- and water-impermeable backing that adheres to the skin. The hydrocolloid layer consists of a water-soluble polymer, water, a water-retaining agent, and adhesive. Many published studies have discussed the treatment of psoriasis with topical steroids under occlusive hydrocolloid dressings; furthermore, these studies have confirmed the efficacy of this treatment regimen.[112-115] The side-effect profile of the hydrocolloid dressing includes skin irritation, folliculitis, excessive sweating, and koebnerization. However, despite the proven safety and efficacy of hydrocolloid dressings, they are not used routinely in clinical practice due to lack of cosmetic appeal and higher cost compared with other treatment options. In some cases, patients choose a plastic wrap such as Saran™ wrap as an occlusive device.
A newer agent, a hydrogel patch, has recently been approved by the FDA as a device for the treatment of psoriasis, but the product is not expected to be marketed until 2010 at the earliest. This device is composed of a hydrogel layer on a thin, skin-colored, flexible, impermeable urethane backing. The hydrogel layer contains more water than the previously mentioned hydrocolloid layer, which allows for greater skin hydration. The use of the hydrogel patch for enhancement of topical agents is currently off-label, but efficacy has been demonstrated in an open-label, bilaterally controlled study by Colaco and colleagues.[116] This study demonstrated that occlusion with a hydrogel patch for 8 weeks is safe and efficacious with a wide range of topical medications: corticosteroids, tacrolimus, and combination corticosteroid/calcipotriene. The self-adhesive hydrogel patch with impermeable backing has the potential to become the first affordable and cosmetically appealing device to make the occlusive strategy for topical therapy a reality. Ultimately, in all occlusive treatment regimens of any type, the clinician should be aware of the possibility that some topical agents, such as calcipotriene, may become more irritating under occlusion and of the potential for enhancement of bacterial growth.
Coal Tar and Anthralin
Among the traditional topical treatment options for psoriasis are coal tar and anthralin, which have been used for many years with proven efficacy and limited side effects. Coal tar is the liquid byproduct of the distillation of bituminous coal and still has an unknown mechanism of action secondary to the more than 10,000 ingredients present.[117] Coal tar is mainly used in Goeckerman therapy, which is a day-treatment program regimen involving full-body application of coal tar followed by ultraviolet light therapy. The use of coal tar in combination with phototherapy has been investigated in several clinical trials, and superior efficacy with minimal safety concerns were demonstrated.[118-120]
Coal tar has obvious disadvantages, including staining of clothing and furniture, unpleasant odor, messy application, contact sensitivity, photosensitivity, and tar folliculitis.[117] A 25-year follow-up study of the safety of coal tar found no systemic side effects and no difference in cancer risk in patients treated with topical coal tar compared with the general population.[121] Coal tar's low cost, demonstrated efficacy, relatively safe side-effect profile compared with other topicals, and the range of available strengths (2%, 5%, 10%) and formulations (cream, ointment, gel, soap, solution, lotion) make it a reasonable treatment option for the long-term maintenance therapy of psoriasis, especially in patients who have multiple concomitant medical conditions that preclude other treatment options.
Anthralin, also known as dithranol, is a topical antipsoriatic medication derived from Goa powder, a tree extract. This agent is available in the United States under various brand names in cream, ointment, and paste formulations with multiple concentrations (0.05%-1%). All aspects of the mechanism of action of this agent are unknown; however, anthralin has been thought to promote keratinocyte apoptosis, decrease cell respiration, and inhibit inflammation.[122] Depending on psoriasis severity, anthralin can be used in the day-treatment setting or in a more convenient outpatient setting.[123] Conventional therapy involves overnight application of anthralin to involved areas, while short-contact anthralin therapy involves the application of lower-strength anthralin for the more limited time of approximately 10-30 minutes prior to removal. The efficacy of anthralin has been investigated in multiple clinical trials.[124-127] The disadvantages of anthralin include discoloration of skin, clothing, and furniture, skin irritation, a burning sensation, and skin dryness. These disadvantages have led to decreased use of the agent in clinical practice.[122,128] Newer formulations have attempted to address these "cosmetic" issues.
Salicylic Acid/Lactic Acid
Salicylic acid is a keratolytic agent that is useful in the treatment of psoriasis as an adjunct to other topical agents in combination therapy. The treatment regimen of a more traditional agent, such as salicylic acid plus topical corticosteroids, should be considered as a safe and effective treatment option when other modalities are too toxic or not possible due to multiple medical concerns. This agent is available as a gel, cream, and shampoo in multiple concentrations from 2% to 10%, with 6% being the most readily available.[129,130] Salicylic acid should not be used in combination with calcipotriene because it deactivates this topical medication; nor should salicylic be used in combination with ultraviolet B (UVB) because it blocks UVB. The major safety concern with salicylic acid is the potential for salicylate toxicity (salicylism), which is more commonly seen when the agent is applied to a large BSA (greater than 20%).[130] Salicylism is characterized by tinnitus, fatigue, nausea, vomiting, epigastric pain, blurred vision, diaphoresis, and/or hyperventilation. Symptoms are reversible with discontinuation of the agent. Patients with diabetes should not use salicylic acid because of rare case reports of salicylate-induced hypoglycemia.[131]
Lactic acid, an alpha-hydroxy acid, is another keratolytic agent less commonly used in the treatment of psoriasis. It is mainly reserved as a second-line agent for recalcitrant scaling in patients for whom salicylic acid is not an option secondary to concern for salicylism (salicylate toxicity).[132]
Conclusion
The goal of treatment for psoriasis -- whether mild, moderate, or severe -- is to maximize efficacy while minimizing adverse effects. Achieving this goal means that the clinician should be knowledgeable about all agents available so that the patient's psoriasis treatment regimen can be individualized to his or her unique medical condition.
This activity is supported by an independent educational grant from Galderma.