Introduction to EGFR Inhibitors
Patients undergoing cancer treatments must often contend with the potentially life-threatening consequences of cytotoxic chemotherapy. Newer cancer treatments increasingly involve the use of targeted agents that inhibit epidermal growth factor receptor (EGFR). Although targeted agents are not associated with the toxicities typical of traditional antineoplastic agents, a wide range of cutaneous reactions and other bothersome adverse effects are seen in a majority of patients.
Many EGFR inhibitors are given orally and present new challenges for oncology nurses, pharmacists, and physicians. Evidence-based practice for the unique side effects associated with EGFR inhibitors is still evolving. This review will enable clinicians to understand the mechanisms underlying EGFR inhibition, identify currently approved EGFR inhibitors, and recognize potential adverse effects. The current best evidence and consensus of expert opinion on the management of these toxicities will be reviewed.
EGFR Inhibitors as Cancer Therapy
EGFR is a membrane-bound protein that is involved in signal transduction pathways; it is critical in the regulation of cellular proliferation and survival. In normal tissue, EFFR is expressed in many different cell types, including epithelial cells. In neoplasms, overexpression and dysregulation of EGFR can occur.[1] Activation of tumor cell EGFR through autophosphorylation can trigger a series of intracellular events including cell proliferation, blocked apoptosis, invasion and metastasis, and tumor-induced neovascularization -- the hallmarks of carcinogenesis (Figure 1).[2]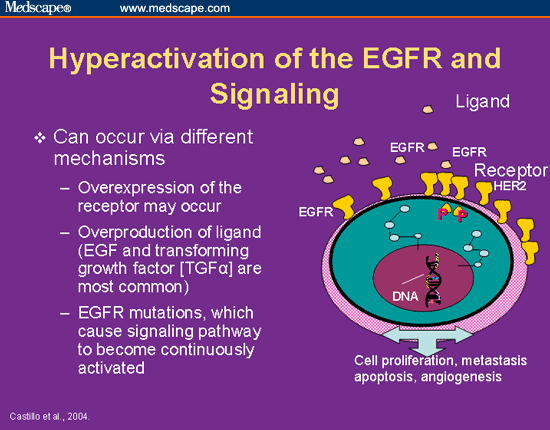 Figure 1. Mechanisms of hyperactivity of EGFR and signaling in cancer cells. From: Castillo L, Etienne-Grimaldi MC, Fischel JL, et al. Pharmacological background of EGFR targeting. Ann Oncol. 2004;15:1007-1012.
Approved EGFR Inhibiting Agents
Two categories of drugs affect EGFR. Table 1 highlights the EGFR inhibitors that are currently approved by the US Food and Drug Administration. Monoclonal antibodies such as panitumumab and cetuximab are given intravenously, and their method of action is through extracellular binding with subsequent inhibition of EGFR signaling pathways. Tyrosine kinase inhibitors (TKIs) such as erlotinib, gefitinib, and lapatinib are administered orally. Their method of action is through intracellular binding and subsequent inhibition of EGFR signaling pathways.[1]
Table 1. Current FDA-Approved EGFR Inhibitors
Drug
(Trade name)
Class
Target
Initial Approval Date
Indication
Dose
Cetuximab
(Erbitux)
ImClone, Bristol-Myers Squibb
mAb
EGFR
02/2004
In combination with radiation therapy for locally or regionally advanced HNSCC

Recurrent or metastatic HNSCC progressing after platinum-based therapy

Single agent in metastatic CRC (EGFR-expressing) after failure of irinotecan- and oxaliplatin-based regimens

Metastatic CRC (EGFR-expressing) in combination with irinotecan for irinotecan-refractory patients
Intravenous
400 mg/m2 initial dose then 250 mg/m2 weekly
Erlotinib
(Tarceva)
OSI Pharmaceuticals
TKI
EGFR
11/2004
Second-line therapy in locally advanced or metastatic NSCLC

First line, in combination with gemcitabine in locally advanced or metastatic pancreatic cancer
Oral
150 mg daily
Gefitinib
(Iressa)
AstraZeneca
TKI
EGFR
05/2003
Monotherapy for the treatment of patients with advanced or metastatic NSCLC who are benefiting or have benefited from gefitinib
Oral
250 mg daily
Lapatinib
(Tykerb)
SmithKline Beecham
TKI
EGFR/HER2
03/2007
In combination with capecitabine for the treatment of patients with advanced or metastatic HER2-overexpressing breast cancer who have received prior treatment with an anthracycline, a taxane, and trastuzumab
Oral
1250 mg daily for 21 days then 1 week off
Panitumumab
(Vectibix)
Amgen
mAb
EGFR
09/2006
Metastatic colorectal carcinoma (EGFR-expressing) after treatment with fluoropyrimidine-, oxaliplatin-, and irinotecan-containing chemotherapy regimens
Intravenous
6 mg/kg every 14 days
TKI = tyrosine kinase inhibitor; mAb = monoclonal antibody; NSCLC= non-small-cell lung cancer; HNSCC = squamous cell carcinoma of the head and neck
Original information compiled from http://www.accessdata.fda.gov/Scripts/cder/DrugsatFDA/.