Introduction
Circadian (Latin for "around a day") rhythms are regular oscillations in physical and mental states that occur during the course of a day with an approximate 24-hour periodicity in the absence of external timing cues. Circadian rhythms are generated by a circadian pacemaker located in the suprachiasmatic nuclei (SCN), a collection of about 20,000 neurons, located in the anterior hypothalamus. [1-5] Light reaches photoreceptors in the retina, creating signals that travel along the optic nerve to the SCN and subsequently to the pineal gland , which responds to the light-induced signals by switching off melatonin production.
Circadian Rhythm Abnormalities
Circadian rhythm sleep disorders are a distinct class of sleep disorders. They may be caused by an alteration in the functioning of the circadian timing system or may be related to changes in the external environment. Physiologic, behavioral, and environmental factors all affect the severity of these disorders, which may present as complaints of insomnia and hypersomnia.
Nearly all biobehavioral functions in humans occur on a rhythmic basis, which leads to dramatic diurnal fluctuations in human performance capabilities. Disruptions in human rhythmicity have been associated with a variety of mental and physical disorders and may interfere with safety, performance, and productivity, regardless of whether they result from voluntary (ie, rapid travel across time zones, or shift work) or involuntary (ie, illness or advanced age) factors.
Regulation of Sleep/Wake Cycle
Regulation of the human sleep/wake cycle is generated by a complex interaction of endogenous circadian and homeostatic processes as well as environmental factors (Figure 1). A primary role of the circadian clock is to promote wakefulness during the day and facilitate the consolidation of sleep during the night. [5-10]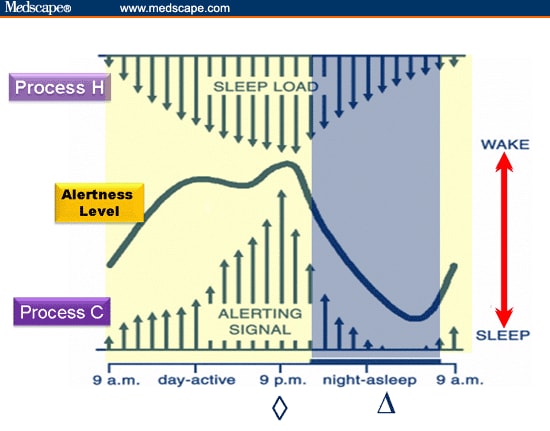 Figure 1. A schematic representation of the "opponent process" model. The model consists of the alternation of wakefulness and sleep which results from the interaction of 2 processes, homeostatic (H) and circadian (C). Process H represents sleep load and is determined by the temporal sequence of behavioral states. Process H increases during waking and declines as sleep ensues. By contrast, Process C is controlled entirely by the suprachiasmatic nucleus (SCN), the circadian pacemaker, without regard to behavioral state. The solid line represents the resulting course of sleepiness as a function of time during the day.
Adapted from Dijk et al. [51]
Sleep homeostatic drive (sleep load, process H) builds up during wakefulness, reaching a maximum in the late evening (near usual sleep time). Sleep propensity oscillates with the circadian process C, which facilitates awakening throughout the day and acts as a counterbalance to the progressive accumulation of sleep load. This model explains the ability to maintain wakefulness during the day and sleep during the night.
In humans, temporal variations in physiologic sleep tendency, assessed by means of a Multiple Sleep Latency Test (MSLT), reveal a biphasic circadian rhythm of alertness. [11] As illustrated in Figure 1, individuals experience a midday dip in alertness at roughly 2:00 to 4:00 PM, followed by a robust increase in alertness that lasts through the early to midevening hours (see ◊), which then declines to its lowest levels between 4:00 and 6:00 AM (∆). Of note, maximum alertness occurs in the early to midevening hours when the drive for sleep is also highest. [5,12-16] In addition to process C, the amount and depth of sleep is determined by the sleep homeostatic process H. The homeostatic process of sleep accumulates as a function of prior wakefulness; currently sleep is the only known way to reduce this homeostatic drive after extended wakefulness. [17-19] Thus, proper alignment between circadian timing and sleep and wake behaviors is essential for optimal sleep and function. [5]
The Circadian Rhythm Model
The circadian rhythm model comprises 3 components (Figure 2): The first is an "input pathway" that links the internal cycle to external light-dark cycles through photic (light) or nonphotic signal transduction pathways; this input pathway is largely unknown, but it is believed to be the conduit through which the clock can be synchronized. The second component is an autonomous, self-sustained, endogenous pacemaker or oscillator, which generates the circadian oscillations. The third component is an output pathway, which relays the circadian rhythmicity to overt physiologic and behavioral rhythms. It is entrained or synchronized to the 24-hour day by light information that is conveyed from the retina in the eye to the SCN in the hypothalamus. [5]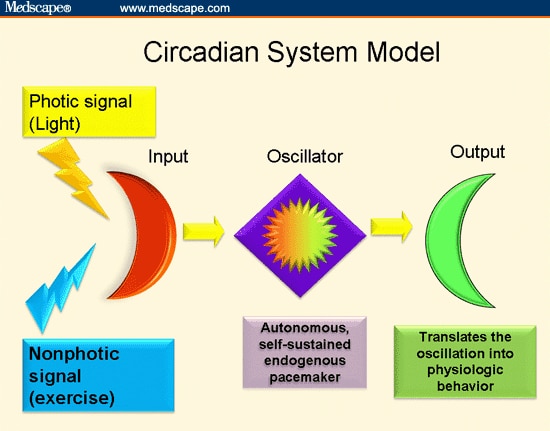 Figure 2. Circadian rhythm model.
Circadian Rhythm Sleep Disorders
Circadian rhythm disturbances are a consequence of a mismatching between the sleep/wake schedule required by the individual's environment and his or her circadian sleep/wake pattern resulting in hypersomnia or insomnia. Patients with circadian rhythm disturbances may also experience clinically significant distress, and impairments in social, occupational, or other important areas of functioning. [5,20] The most common primary circadian rhythm disorders are the circadian sleep phase disorders.
The 2 primary factors that cause circadian-based sleep disorders are [5]:
Alterations to the external environment relative to the internal circadian timing system;



Circadian Rhythm Sleep Disorder, Shift Work Type;


Circadian Rhythm Sleep Disorder, Jet Lag Type;



Circadian sleep phase disorders related to alterations of the endogenous circadian system itself (these conditions are characterized by a shift in the timing of the major consolidated sleep period, with sleep being either delayed or advanced in relation to conventional sleep and wake times);



Circadian Rhythm Sleep Disorder, Delayed Sleep Phase Type; and


Circadian Rhythm Sleep Disorder, Advanced Sleep Phase Type.
The clinical presentation of most of the circadian rhythm sleep disorders is influenced by a combination of physiologic, behavioral, and environmental factors.
Circadian Rhythm Sleep Disorder, Shift Work Type
Shift work disrupts the sleep/wake cycle by moving the opportunity for sleep to a time when the internal clock and societal cues are out of phase. About one quarter of individuals scheduled to work at night present with Circadian Rhythm Sleep Disorder, Shift Work Type. Night-shift workers in the transportation industry are one of the groups most vulnerable to the consequences of the adverse effects of shift work. The degree that shift work impairs sleep and daily functioning varies, and not all shift workers have difficulty. [5,21]
Several factors, both internal and external, can influence the individual's ability to cope with shift work, including: age, domestic responsibilities, commute times, diurnal preference, type of work schedule, and the presence of another underlying sleep disorder (such as obstructive sleep apnea or narcolepsy). [22-24]
Circadian Rhythm Sleep Disorder, Shift Work Type typically presents as transient insomnia or hypersomnia that is linked to the work schedule. Clinically, the hypersomnia should be differentiated from that induced by other primary sleep disorders such as narcolepsy or obstructive sleep apnea. The relationship between the sleep disturbance and the shift work schedule should be evident from the patient's history. A 2- to 4-week sleep diary, actigraphy (which involves wearing a device on the wrist that records movement), when appropriate, and work history may help to determine the degree of circadian disruption and sleep curtailment. A work diary may be particularly useful for individuals who work irregular schedules, will help determine the relationship between work and sleep, and may aid in developing a treatment plan for the patient. [5]
Patients with Circadian Rhythm Sleep Disorder, Shift Work Type also report feeling unrefreshed upon awakening. This feeling can persist despite good sleep hygiene and optimizing the sleep environment. In addition, they often report feeling sleepy because they are awake when the circadian propensity for sleep is high.
Circadian Rhythm Sleep Disorder, Jet Lag Type
Circadian Rhythm Sleep Disorder, Jet Lag Type is the result of the external environment being temporarily altered in relation to the internal clock by traveling across several time zones. Although symptoms are generally temporary, they can be disruptive and may include difficulty sleeping, excessive daytime sleepiness, general malaise, impaired performance, and gastrointestinal upset. [5,25] The severity of jet lag symptoms and the ability to adapt to the new time zone are typically influenced by the direction of travel (slower adaptation when traveling east) and the number of time zones crossed. Eastward travel generally results in difficulty falling asleep and westward travel in difficulties maintaining sleep. [25] Not all travelers crossing time zones suffer from jet lag to the same degree. These differences probably result from individual variations, similar to those reported for adaptations to shift work. [5]
Circadian Rhythm Sleep Disorder, Delayed Sleep Phase Type
Circadian Rhythm Sleep Disorder, Delayed Sleep Phase Syndrome (DSPS) is characterized by bedtimes and wake times that occur 3 to 6 hours later than the desired or conventional sleep/wake times. Patients typically report experiencing insomnia between 2:00 and 6:00 AM and waking up earlier than 10:00 AM to 1:00 PM. [26,27] Patients complain of difficulty falling asleep at the desired time but, once initiated, sleep is normal. [5]
Patients with DSPS will often report feeling tired in the morning but alert and active in the late evening. As a result of this evening alertness, attempts to fall asleep earlier are usually unsuccessful. If the individual has no obligations requiring an early wake time, such as on weekends and during vacations, sleep is often extended into the late morning because of the later bedtimes. [5] In order to demonstrate the delayed sleep phase, patients should record a sleep diary for at least 2 weeks.
DSPS is the most commonly reported primary circadian rhythm sleep disorder. [28] In sleep clinics, DSPS accounts for roughly 5%-10% of the patients with chronic insomnia. [27] The prevalence reaches 7% to 16% in adolescents and young adults. [26,29] A positive family history may be present in approximately 40% of individuals with DSPS. [5]
Patients with DSPS typically seek treatment because attempts to adhere to conventional bedtimes and wake times result in insomnia, excessive sleepiness, and functional impairments, particularly during the morning hours. [26]
Circadian Rhythm Sleep Disorder, Advanced Sleep Phase Type
Circadian Rhythm Sleep Disorder, Advanced Sleep Phase Type (ASPS) is defined by an abnormal advancement of the major sleep period, characterized by sleep and wake-up times that are several hours earlier relative to conventional and desired times. [5,20] Patients with ASPS often complain of early-morning awakenings, and insomnia and hypersomnia in the late afternoon or early evening; they usually report sleep onset of 6:00 to 9:00 PM and wake time of 2:00 to 5:00 AM. [30,31] Advances in the phase of sleep and wake patterns is often associated with aging, [30,32,33] and the prevalence of non-age-related ASPS is believed to be rare. [34-37] Roughly 1% of middle-aged adults experience this disorder. [35] Although the prevalence of advanced sleep and wake times may increase with age, it is not clear whether this is the same entity as ASPS in younger individuals. [5]
Circadian Rhythm Sleep Disorder, Free Running Type
The Circadian Rhythm Sleep Disorder, Free Running Type is a very rare condition, characterized by a steady drift of the major sleep period by 1-2 hours each day. When patients try to maintain conventional sleep and wake times, they often report symptoms of insomnia, early morning awakening, and hypersomnia. [38] These symptoms usually occur when the nonentrained circadian pacemaker is out of phase with conventional sleep and wake times and are associated with impairment of social, occupational, or other areas of functioning. [5] At times when the endogenous circadian rhythm of sleepiness is in phase with conventional sleep times, sleep is usually normal. For diagnosis, the pattern should be present for at least 2 months; no other medical, mental, or sleep disorder can be identified that better explains the altered sleep pattern. [38] Some individuals will alter their sleep pattern so that their sleep times are delayed by 1 to 2 hours each day in order to avoid the mismatch between the endogenous circadian pacemaker and conventional sleep time. [5]
The Circadian Rhythm Sleep Disorder, Free Running Type is most commonly reported in blind people who lack photic entrainment. [39] Approximately 50% of totally blind individuals have free-running circadian rhythms [40] and roughly 70% have complaints of chronic sleep disturbances. [41,42] This disorder has rarely been reported in sighted individuals. [5,43-45] A lack of photic entrainment of the circadian pacemaker is the most likely cause of the free-running circadian rhythm of sleep and wake times in blind people. However, not all blind people have free-running circadian rhythms. In these individuals, entrainment is likely achieved by nonphotic inputs such as social and work schedules. In addition, there are some blind individuals whose circadian pacemaker responds to bright light despite a lack of visual light perception. [5,46] In sighted individuals, the cause of Circadian Rhythm Sleep Disorder, Free Running Type is unclear.
A 2- to 4-week sleep diary helps to characterize the sleep/wake pattern in this disorder and will demonstrate the progressive drift in the timing of sleep and wake times, indicating the lack of stable entrainment of the sleep/wake cycle to the 24-hour physical environment.
Circadian Rhythm Sleep Disorder, Irregular Sleep-Wake Type
The Circadian Rhythm Sleep Disorder, Irregular Sleep-Wake Type is characterized by the absence of a clear circadian rhythm of sleep/wake. Patients may present with a complaint of insomnia and hypersomnia, depending on the timing of the sleep/wake episode. Although the total amount of sleep per day may be normal, the patient typically experiences 3 or more sleep episodes at night. These sleep episodes vary in length and duration and napping may be prevalent. In these patients, poor sleep hygiene and a voluntary irregular sleep schedule should be ruled out. [38] While the prevalence of this disorder is unknown, it is believed to be rare. [28] The lack of a clear circadian rhythm in sleep/wake is probably caused by a disturbance of the circadian timing system and a reduced exposure to external zeitgebers such a light and activity, which is often seen in institutionalized care. [5,47,48] This disorder has also been associated with dementia, mental retardation in children, and brain injury. [49,50]
Improving Sleep and Wakefulness
A detailed treatment plan for these sleep/wake disorders is beyond the scope of this article. Many sleep problems can be treated by simple sleep hygiene modifications that can be implemented easily. Exposure to bright light and daylight during wake times can help reset the circadian clock and improve sleep quality and duration. Strictly maintaining a regular bedtime and wake time can be useful for DSPS. Other conservative measures include using the bedroom only for sleep and intimacy, and creating an environment that is conducive to sleep (dark, quiet, comfortable); exercising regularly, but not within several hours of bedtime; engaging in relaxing activities during the hours before bedtime; avoiding alcohol, caffeine, and nicotine, especially during the hours before bedtime; and avoiding naps in the hours before bedtime. In some cases, pharmacologic management may be necessary and desirable. Sleep medications should be prescribed at the lowest effective dose.
Traditional stimulants, such as methylphenidate, and the nonamphetamine stimulant modafinil, have been used to improve alertness in shift-work patients who experience severe inappropriate sleepiness that interferes with job functioning, particularly those for whom sleepiness poses a danger for themselves or others (eg, transportation workers, police officers, nurses); modafinil is the only agent with US Food and Drug Administration approval for this indication.
Conclusions
Individuals with circadian rhythm sleep disorders present with symptoms of insomnia or hypersomnia and complain of an inability to sleep at the desired time. While the primary etiology of these disorders is a misalignment between the endogenous circadian rhythm system and the external environment, social and behavioral factors can also play an important role in perpetuating or exacerbating these disorders, and these factors must be addressed, along with providing other strategies for improving sleep and wakefulness.
Supported by an independent educational grant from Cephalon
---