Maculopapular Exanthem
Case History
A 7-year-old girl was seen by her pediatrician for evaluation and treatment of burning during urination, which had developed during the previous 7 days. She was otherwise previously healthy, with no significant medical history; family history was also unremarkable.
The patient denied having fever, chills, nausea, and gross blood in the urine and had not previously experienced any episodes of similar symptoms. She was not receiving any medications and denied having a history of drug allergies. Her vital signs were normal, she was afebrile, and physical examination findings were unremarkable. Urinalysis revealed white blood cells and microscopic hematuria. A urine culture and sensitivity analyses were commissioned, with a presumptive diagnosis of a urinary tract infection, for which she was prescribed amoxicillin.
Eight days after starting amoxicillin treatment an itchy rash developed, which seemed to progress during the next 24 hours. She returned to the pediatrician with a symmetrical erythematous eruption of fine pink-red lesions on her trunk and extremities (Figure 1). She was afebrile and had no blisters, purpura, or pustules; there was also no involvement of the mucous membranes.
The diagnosis is a drug-induced maculopapular exanthem. Amoxicillin therapy was discontinued, and topical corticosteroid therapy was started. The rash gradually resolved during the next 10 days.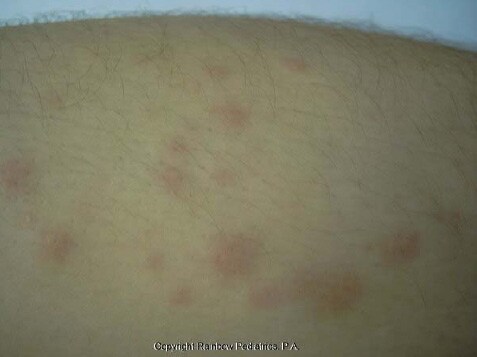 Figure 1. Symmetrical erythematous exanthem of fine pink/red lesions on trunk and extremities. Patient had been receiving amoxicillin for a presumptive urinary tract infection for 8 days. Reprinted with permission from Rainbow Pediatrics.
Case Discussion
Maculopapular exanthem is the most common type of drug-induced cutaneous reaction. The term describes a usually faint and mild cutaneous eruption that exhibits the combined characteristics of macules (discolored areas of skin that are not elevated above the surface) and papules (small, solid, usually inflammatory elevations of the skin that do not contain pus), and the rash is often referred to as morbilliform (in resembling the dusky red eruption of measles). These cutaneous reactions often begin on the trunk and pressure-bearing areas and then progress, becoming confluent and covering large areas of the body.[1] Maculopapular eruptions often have a characteristic structure, with widespread lesions on the upper torso or head and neck. They often have a symmetrical pattern of pinpoint pink to red papules that can coalesce, yielding a rough or coarse texture. Patients may also experience moderate to severe pruritus and fever.[2] Most drug-induced maculopapular exanthems usually appear 8-10 days after drug therapy initiation (but can be earlier or later) and fade within a similar period after medication withdrawal.
A maculopapular exanthem caused by amoxicillin is one of the most common cutaneous adverse drug reactions in children.[1] An immunoglobulin (Ig)-based mechanism is probably not involved, and in children with an amoxicillin-induced exanthem, it is highly unlikely that a future immediate or accelerated reaction will develop after penicillin or ampicillin therapy. Therefore, skin testing in these patients is not warranted. Conversely, urticarial eruptions because of amoxicillin or ampicillin are more likely to have an allergic basis, and skin testing may be valuable. Subsequent administration of penicillin or ampicillin in patients with eruptions due to of amoxicillin or ampicillin may induce a severe allergic reaction.
Firmly establishing a causal relation between the suspected offending agent and resultant cutaneous reaction is crucial. Excluding other causes of cutaneous reactions, such as nonactive components of medications and underlying infections, is important; the differential diagnosis of drug-induced allergic reactions should exclude acute infections, collagen vascular disease, serum sickness–like reactions, and lymphoma and pseudolymphoma.[3] Other important factors that can aid in the accurate diagnosis of drug-induced cutaneous reactions are establishing a temporal relation between an offending drug and the reaction, noting improvement after cessation of the suspected agent, and involving a drug known to precipitate allergic reactions.[1,4] Reactivation of the rash during rechallenge with the offending agent is also indicative of a direct relation between drug and reaction; however, this should only be considered with clinical monitoring and in circumstances in which use of the drug outweighs the risk of redeveloping the exanthem.[3]
Treatment of maculopapular exanthem focuses on discontinuation of use of the offending agent, which in many cases will prove sufficient, with the rash fading over several days.[5] For more serious reactions, topical corticosteroid therapy may be added.
As already noted, most drug-induced maculopapular exanthems are mild and will recede with withdrawal of the offending agent. However, these mild cutaneous reactions also represent the early manifestation of rare, severe drug-induced cutaneous reactions, such as Stevens-Johnson syndrome (SJS) and toxic epidermal necrolysis (TEN), which result in epidermal detachment and have high rates of morbidity and mortality.[6] Therefore, withdrawal of the offending treatment is imperative in patients with maculopapular exanthem where drug involvement is suspected, particularly when fever or influenzalike symptoms are also present or where there is mucosal involvement.[6] A maculopapular exanthem may also represent the early manifestation of anticonvulsant hypersensitivity syndrome, an allergic drug reaction that occurs in up to 0.04% of individuals receiving aromatic anticonvulsants, such as carbamazepine, phenytoin, or phenobarbital.[7] Patients initially have fever and malaise (which can be accompanied by pharyngitis and cervical lymphadenopathy), and the exanthem usually follows later. When the condition is fully developed, patients display a triad of fever, skin eruption, and internal organ involvement.[7]
Many drugs are commonly associated with maculopapular drug exanthems. Approximately 1.5% to 3.0% of individuals receiving sulfonamide drugs experience skin eruptions, most of which are maculopapular or urticarial.[8] Between 3% and 20% of patients receiving anticonvulsant medication may experience an isolated rash.[1] Some commonly used over-the-counter medications, such as nonsteroidal anti-inflammatory drugs, can evoke a cutaneous reaction, but isolating them as the offending agent can present a challenge because of their prevalent use.[1]
In the corresponding case study, amoxicillin (Amoxil, GlaxoSmithKline, 2004[9]) was prescribed to a young girl for the treatment of an uncomplicated urinary tract infection. A maculopapular exanthem developed after 5 days and was managed through cessation of amoxicillin therapy and initiation of topical corticosteroid therapy. Amoxicillin is a penicillin derivative and one of the most common causes of drug-induced allergic reactions.[1] Patients with a history of reaction to penicillin have an increased risk of 4-6 times for a reaction. The high cutaneous reaction rate with amoxicillin is attributed to the diacyl side chain that results in the formation of linear polymers.[1] Amoxicillin-induced cutaneous reactions have a particularly high incidence in patients with infectious mononucleosis, cytomegalovirus, or acute lymphocytic leukemia.[1] The labeling information for amoxicillin states that hypersensitivity reactions, such as erythematous maculopapular rash, have been reported with this agent and that such reactions should be controlled with use of antihistamines and, if necessary, systemic corticosteroids.[9] However, these recommendations generally refer to cutaneous eruptions that have an underlying IgE basis and, in most instances, withdrawal of the offending drug will suffice in the management of non-IgE maculopapular exanthems. Amoxicillin administration should be discontinued, unless the primary infection is life threatening and amenable only to amoxicillin treatment.[9] Furthermore, developing awareness of the nature of the condition and the importance of relaying this information to healthcare providers will help to avoid future drug-induced cutaneous reactions. The parent and caregivers of infants and young children should be provided with information regarding the signs and symptoms of drug-induced allergies and the importance of immediate cessation of treatment and of seeking healthcare when these signs occur.