Introduction
The patient is a 35-year-old woman who works as a corporate attorney. She doesn't smoke, has about 2 or 3 drinks a week, and is recently engaged to be married. She reports difficulty in concentrating and daytime fatigue. These symptoms are worse during times of stress, such as when she is faced with deadlines. She goes to bed at about 11 pm but reports that she lies awake for hours staring at her alarm clock. She finally falls asleep at about 2 am.
The second patient is a 45-year-old man who works as an emergency department nurse. He works 12-hour shifts -- 8 to 8, rotating from night to day on a 3-week schedule. He has osteoarthritis in his right shoulder from an old sports injury. He says he treats the shoulder pain with over-the-counter nonsteroidal anti-inflammatory drugs (NSAIDs) as needed. He also says he uses antacid medication for frequent heartburn. He reports having difficulty falling asleep when he is working the night shift and notes that his reflux also worsens when he works nights. Generally, he reports good sleep quality when working the day shift, except when his shoulder pain worsens.
Both patients have a condition that is frequently seen, and even more frequently undiagnosed, in primary care practices: insomnia.
In this review we discuss sleep disorders typically seen in the primary care setting and concentrate on the diagnosis and management of insomnia (see Table 1 for major categories of sleep disorders).
Table 1. Major Categories of Sleep Disorders
| | |
| --- | --- |
| Insomnias | Disorders associated with complaints of insufficient, disturbed, or nonrestorative sleep |
| Hypersomnias | Disorders associated with excessive sleepiness |
| Parasomnias | Disorders associated with abnormal behaviors or abnormal physiologic events during sleep |
| Circadian disturbances | Alterations of the sleep-wake cycle |
Modified from Gillin JC, et al.[9]
Sleep disorders are a common complaint among primary care patients. According to the Institute of Medicine, about one third of adults in the United States report some sleep disorder annually.[1] A later study reported that 35% of adults aged 18-79 experienced difficulty falling asleep or staying asleep.[2] Elderly patients may be especially vulnerable with some studies estimating that 50% of community-dwelling and two thirds of institutionalized elderly are affected.[3]
Insomnia -- The Most Common Sleep Disorder
Insomnia is the most common sleep complaint seen in primary care, but most patients present with other medical complaints rather than a complaint of insomnia. Consider the 2 patients mentioned above: The 35-year-old lawyer presents with daytime fatigue and difficulty in concentrating; the 45-year-old nurse reports reflux exacerbations when working the night shift and persistent pain from a shoulder injury. In Primary Care Medicine: Office Evaluation and Management of the Adult Patient, Weilburg[4] writes that half of the insomnia complaints seen in primary care are related to psychologic or psychiatric disorders, 10% to medical and neurologic entities, 10% to substance abuse, 10% to primary sleep disorders (such as sleep apnea), and 10% to other causes.
Generally, patients with sleep disorders are not "happy" individuals. In a national Gallup Poll for the National Sleep Foundation,[5,6] chronic insomniacs reported greater difficulty enjoying family and social relationships, greater difficulty in concentrating, more problems with memory, greater frequency of falling asleep while visiting friends, and more automobile accidents because of sleepiness than did transient insomniacs or controls.
Annually, about 1 of 3 Americans reports episodes of insomnia; about 1 of 6 describe their insomnia as "serious"; and about 1 of 12 characterize it as "chronic.[5]" Although common, sleep disorders typically vary with age, sex, and socioeconomic class, and can be influenced by stress and/or substance abuse.[7]
Yet, only about 5% of patients with chronic insomnia ever seek medical attention specifically for insomnia.
Clearly, primary care physicians can step into this treatment gap by developing a structured and thorough approach to evaluate sleep in patients, especially in elderly patients who are known to be at risk.
Disorders lasting a month or more are defined in the Diagnostic and Statistical Manual of Mental Disorders, Fourth Edition (DSM-IV), whereas disorders of shorter duration, which are the most common complaints, are described in the International Classification of Sleep Disorders.[8]
According to the DSM-IV criteria, primary insomnia is a subjective complaint of poor, insufficient, or nonrestorative sleep lasting more than a month; is associated with significant distress or impairment; and is without obvious relationships to another sleep, medical, or psychiatric disorder or physiologic effects of a substance. The International Classification of Sleep Disorders lists several insomnia diagnoses, including insomnia caused by conditioned arousal factors (psychophysiologic insomnia), a perceptual insomnia in which the subjective description of sleeplessness does not match observed sleeplessness, and idiopathic insomnia, which is characterized by chronicity with onset in childhood.[9]
The Biology of Sleep
Before beginning a discussion of diagnosis and management of insomnias, a brief discussion of the physiologic regulation of sleep is useful.
Sleep consists of 2 major phases: rapid eye movement (REM) sleep and non-REM sleep, which alternate throughout the sleep period.[10]
Adult Sleep Cycle. In adults sleep usually begins with about 70-90 minutes of non-REM sleep, followed by an initial REM period. Thereafter, non-REM sleep and REM sleep oscillate with a cycle length, ie, the interval between onset of each non-REM or REM period, of about 80-110 minutes. This cycle of REM and non-REM sleep is an example of an ultradian rhythm, a biological rhythm with a cycle length considerably less than 24 hours.
By contrast, the human rest-activity or sleep-wake cycle is an example of a circadian rhythm. The propensity for sleep and wakefulness varies in a circadian fashion, at least after infancy, and is modulated in part by 1 or more biological clocks. But light exposure -- again consider the emergency department nurse who reports sleep problems when working the night shift -- is well recognized as a primary controller of circadian rhythm.
Light affects sleep in the following manner: The endogenous activity rhythms of the suprachiasmatic nucleus (SCN) in the anterior hypothalamus are primarily synchronized with the environment by ambient light. This structure, the SCN, functions as the synchronizing "body clock" in humans and most other mammals. People who work at night and sleep in the daytime often have sleep disorders because of the effects of light on the SCN. Moreover, light exposure explains why jet lag occurs.
Information regarding light reaching the retina is conveyed to the SCN directly through the retinohypothalamic tract and indirectly through the intergeniculate leaflet of the lateral geniculate body. Changes in light intensity, especially at dawn and dusk, are particularly important in synchronizing endogenous oscillators controlling rhythms of the sleep-wake cycle, cortisol, melatonin, and core body temperature with one another and with the outside world.[9]
The Sleep-Wake System. The propensity, character, and duration of sleep are closely related to the phase position of the underlying circadian oscillator. If the daily temperature curve is used as a measure of the phase position of the biological clock, sleep in general and REM sleep in particular occur most commonly near the low point of the temperature rhythm. Thus, in persons who have a "conventional" sleep schedule (sleeping from about 11 pm to about 7 am), REM sleep is more common in the last half of the night, when core body temperature is lowest, than in the first half, and more likely in morning naps than in afternoon naps. Furthermore, subjects tend to awaken on the rising phase of the temperature rhythm.[9]
Appropriate exposure to light and darkness can change the phase position of the underlying biological oscillator or, in some circumstances, the amplitude of circadian rhythms, a process called entraining.[11] Bright light at the beginning of the subjective evening and dark during the subjective morning delay and reset the phase position of the temperature, cortisol, melatonin, and sleep-wake rhythms; dark in the subjective evening and bright light in the subjective morning have the opposite effect.
The phase position of the circadian oscillator can also be estimated in humans by the 24-hour rhythms of cortisol or melatonin secretion. Currently, a number of strategies are under experimental development with the hope that appropriate administration of light-dark cycles, melatonin, vitamin B12, or specific medications will entrain the circadian oscillator so that it can better manage clinical disorders of sleep-wakefulness, such as jet lag, delayed sleep syndrome, and shift-work problems.[12,13]
Age-Related Changes in Sleep Patterns
As adults enter middle age and old age, sleep patterns often change.
Table 2. Sleep Stages
| | |
| --- | --- |
| Stage I sleep | A brief transitional state of sleep between wakefulness and sleep, characterized by low-voltage, mixed-frequency electroencephalogram (EEG) and slow eye movements; about 5% of total sleep time |
| Stage II sleep | Characterized by K complexes and sleep spindles (12-14 per cycle rhythms) in the EEG; usually about 45% to 75% of total sleep time |
| Stages III and IV sleep | Sometimes referred to as delta sleep, based on amount of sleep delta waves in EEG, 20% to 50% of an epoch (ie, 30 or 60 seconds) for stage III, more than 50% for stage IV; amount per night declining from about 20% to 25% of total sleep time in adolescents to nearly zero in the elderly |
Adapted from Gillin JC, et al.[9]
With increasing age, stages I and II (Table 2) and wake time after sleep onset tend to increase; REM latency and stages III and IV decline, probably at an earlier age in men than in women; this might be related to changes in brain structure and metabolism.[14,15] Daytime sleepiness and napping usually increase with age, often as a function of disturbed nocturnal sleep. The elderly frequently choose an "early-to-bed, early-to-rise" pattern reflecting, in part, an apparent phase advance of the circadian clock. Even when they retire at the same time that they did when they were young, older individuals will nonetheless tend to wake up early, thus sleep-depriving themselves. This can lead to daytime sleepiness and napping. Although the average total sleep time actually increases slightly after age 65 years, greater numbers of persons fall into either long-sleeping (> 8 hours) or short-sleeping (< 7 hours) subgroups.
Clinicians should always consider the role of chronobiological factors when evaluating patients with sleep disorders, especially the elderly, who have more sleep-wake complaints than younger persons. The elderly sleep-wake patterns of early bedtimes, short REM latency, sleep fragmentation at night, and napping during the day may reflect a phase-advance and reduced amplitude of the circadian oscillator.[16,17]
Life Change Often Means Sleep Change
Factors that could contribute to these age-related patterns include loss of influence from factors, such as light exposure, work schedules, social demands, and physical exercise, as well as weaker signals from the circadian oscillator to the effector systems. Indoor living conditions or loss of hearing and sight may deprive individuals of cues that synchronize the circadian system. In a significant number of totally blind persons, for example, the circadian oscillator free-runs in the normal environment, with resulting regular periods of insomnia and hypersomnia every 3 weeks as the circadian oscillator delays by about 45 minutes each 24 hours while the subject tries to maintain a normal sleep period (11 pm to 7 am).[18]
Evaluating the Patient
When assessing the patient with a sleep disorder, start with these simple questions:
Is your sleep restorative?
Does sleep or fatigue intrude in your daily activities?
The next step is to establish the duration of the sleep problem. Transient insomnia and short-term insomnia are both common among patients undergoing stressful life events, such as bereavement, a job change, or a move. The common causes of transient insomnia are: change in sleeping environment (the most common cause), excessive noise, jet lag, shift work, unpleasant room temperature, withdrawal from central nervous system depressants, stressful life events, acute medical or surgical illnesses, ingestion of stimulant medications (eg, theophylline, beta-agonists, corticosteroids, bronchodilators, and thyroxine).[18]
This is a likely factor in the case of the 35-year-old lawyer who reports increasing fatigue and difficulty in concentrating when job stressors increase. Likewise, travel -- especially air travel -- or changes in medications can trigger transient insomnia.
History and Physical
Does the patient suffer from any preexisting or comorbid disorders? Does another condition cause the sleep complaint, modify a sleep complaint, or affect possible treatments? In general, because common sleep disorders are frequently secondary to underlying causes, treatment should be directed at underlying medical, psychiatric, pharmacologic, psychosocial, or other disorders. (See the Figure for an algorithm for management of sleep disorders.) Depression is often a factor in sleep disorders, so it is useful to include a brief depression assessment, such as the Folstein Mini-Mental State (MMS) exam.[19]
The office evaluation of chronic sleep complaints includes:
Detailed history and review of the sleep complaint: predisposing, precipitating, and perpetuating factors;
A review of difficulties in falling asleep, maintaining sleep, and awakening early;
Timing of sleep and wakefulness in the 24-hour day;
Evidence of excessive daytime sleepiness and fatigue;
Bedtime routines, sleep setting, physical security, preoccupations, anxiety, beliefs about sleep and sleep loss, and fears about consequences of sleep loss;
Medical and neurologic history and examination, routine laboratory examinations: look for obesity, short fat neck, enlarged tonsils, narrow upper-oral airway, foreshortened jaw (retrognathia), and hypertension;
Social and occupational history, marital status, living conditions, financial and security concerns, and physical activity;
Sleep-wake diary for 2 weeks; and
Interview with bed partners or persons who observe patient during sleep.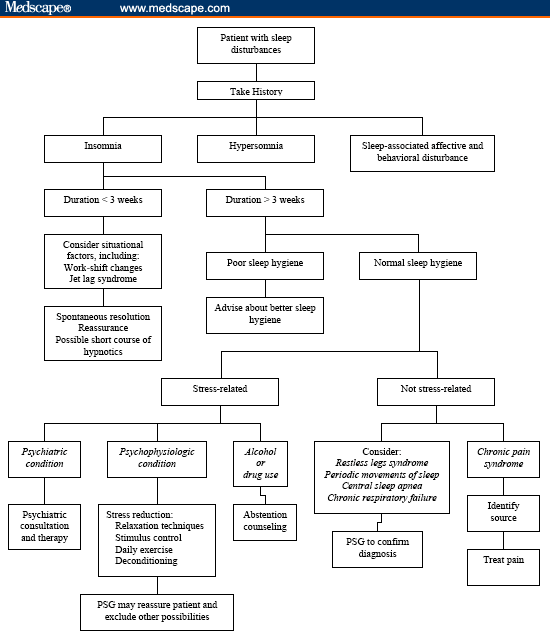 Figure. Algorithm for management of sleep disorders.
When evaluating patients, it is also necessary to carefully assess the use of prescription and nonprescription drugs. For example, clonidine, propranolol, atenolol, and methyldopa can cause sleep disturbances as can hormone treatments -- including oral contraceptives, thyroxine, cortisone, and progesterone.
Asthma medications, such at theophylline, albuterol, and salmeterol, are also linked to sleep problems as well as prednisone and hexadrol. Additionally, levodopa, quinidine, and phenytoin are known to cause sleep disturbances in some patients.
A number of over-the-counter drugs contain caffeine -- Anacin, Excedrin, Empirin, and NoDoz, for example -- and thus should be avoided. The emergency department nurse described above should, therefore, be advised about the use of over-the-counter medications for osteoarthritis. Many cough and cold medications marketed in nondrowsy formulations also contain stimulants and should be avoided.
In addition to assessing both prescription and nonprescription medication use, patients should also be evaluated for alcohol use. Often patients will self-medicate with alcohol because it can cause sleepiness, but using alcohol as a sleep aid is likely to result in poor sleep quality and nighttime wakefulness. Illegal drugs, such as cocaine, amphetamines, and methamphetamines, also disturb sleep, so a complete evaluation should include information about these drugs as well.
Physical examination should include evaluation for systemic hypertension, upper-airway disorders, hypothyroidism, or elongated uvula, all of which are markers for obstructive sleep apnea syndrome. Tachycardia, tremor, proptosis, and thyroid enlargement suggest hyperthyroidism. In men, enlarged prostate suggests nocturnia, which disturbs the natural sleep cycle. Increased fluid intake in men and women also contributes to nocturnia; thus, it may be necessary to restrict fluid intake.
It is especially important to evaluate any pain complaint -- remember pain from any condition is likely to lead to fragmented sleep.
The assessment should also include checks for neuromuscular weakness, pain, and chest wall disease.
Polysomnography and multiple sleep latency testing are costly tests, but patients with suspected sleep apnea, restless legs syndrome, and narcolepsy should be referred for these tests to establish a firm diagnosis and direct appropriate therapy.
Restless legs syndrome is a lifelong condition for which there is no cure. Symptoms are thought to worsen with age, and the most disabling feature of restless legs syndrome is the sleep onset insomnia associated with the condition. For this reason, elderly patients should be carefully evaluated for restless legs syndrome. Massage and application of cold compresses may provide temporary relief. Medications, such as levodopa-carbidopa, bromocriptine, pergolide mesylate, ropinirole, oxycodone, propoxyphene, and codeine, are often effective in relieving the symptoms. However, many of these medications have side effects. Current research suggests that correction of abnormalities of iron storage or intake may improve symptoms for some patients.
In Part 2 of this review in the next issue of this CME-accredited special report, we will examine a stepwise treatment for insomnia.
References
Institute of Medicine. Sleeping Pills, Insomnia, and Medical Practice. Washington, DC: The National Academies Press; 1979.
Mellinger GD, Balter MB, Uhlenhuth EH. Insomnia and its treatment. Prevalence and correlates. Arch Gen Psychiatry. 1985;42:225-232.
Barthlen GM. Sleep disorders. Obstructive sleep apnea syndrome, restless legs syndrome, and insomnia in geriatric patients. Geriatrics; 2002;57:34-39.
Weilburg JB. Approach to the patient with insomnia. In: Goroll AH, Lawrence A, eds. Primary Care Medicine: Office Evaluation and Management of the Adult Patient. 3rd ed. New York, NY: JB Lippincott Co; 1995:1062.
Ancoli-Israel S, Roth T. Characteristics of insomnia in the United States: I. Results of the 1991 National Sleep Foundation Survey. Sleep. 1999;22:S347-S353.
Roth T, Ancoli-Israel S. Daytime consequences and correlates of insomnia in the United States: II. Results of the 1991 National Sleep Foundation Survey. Sleep. 1999;(suppl2):S354-S358.
Coleman, RM, Roffwarg HP, Kennedy SJ, et al. Sleep-wake disorders based on a polysomnographic diagnosis. A national cooperative study. JAMA. 1982;247:997.
Diagnostic Classification Steering Committee, Thorpy MJ. International Classification of Sleep Disorders: Diagnostic and Coding Manual. Revised. Rochester, Minn: American Sleep Disorders Association; 2001.
Gillin JC, Ancoli-Israel S, Erman M. Sleep and sleep-wake disorders. In: Tasman A, Kay J, Lieberman JA, eds. Psychiatry. 2nd ed. Philadelphia, Pa: WB Saunders Co; 1996.
Kryger MH, Roth T, Dement WC. Principles and Practice of Sleep Medicine. Philadelphia, Pa: WB Saunders Co; 2000.
Czeisler CA, Kronauer RE, Allan JS, et al. Bright light induction of strong (type 0) resetting of the human circadian pacemaker. Science. 1989;244:1328-1332.
Lewy AJ, Sack RL. The dim light melatonin onset as a marker for circadian phase position. Chronobiol Int. 1989;6:93-102.
Czeisler CA, Johnson MP, Duffy JF, Brown EN, Ronda JM, Kronauer RE. Exposure to bright light and darkness to treat physiologic maladaption to night work. N Engl J Med. 1990;322:1253-1259.
Feinberg I. Changes in sleep cycle patterns with age. J Psychiatr Res. 1974;10:283-306.
Feinberg I, Thode HC, Chugani HT, March JD. Gamma distribution model describes maturational curves for delta wave amplitude, cortical metabolic rate and synoptic density. J Theoret Biol. 1990;142:149-161.
Duffy J, Czeisler CA. Age-related change in the relationship between circadian period, circadian phase, and diurnal preference in humans. Neurosci Lett. 2002;318:117-120.
Duffy J, Zeitzer JM, Rimmer DW, Klerman EB, Dijk D, Czeisler CA. Peak of circadian melatonin rhythm occurs later within the sleep of older subjects. Am J Physiol Endocrinol Metab. 2002;282:E297-E303.
Chokroverty S. Insomnia. In: Clinical Companion to Sleep Disorders Medicine. 2nd ed. Boston, Mass: Butterworth-Heinemann; 2000:81-89.
Folstein MF, Folstein SE, McHugh PR. Mini-Mental State: a practical method for grading the state of patients for the clinician. J Psychiatr Res. 1975;12:189-198.