An Evidence-Based Evaluation of the Benefits and Risks of HRT
Charles Hammond, MD
Introduction
The changing demographics of the United States continue to focus increasing attention on women and menopausal health. Because of a gradual increase in life expectancy, women now spend about one third of their lives after menopause. As such, perimenopause offers an opportunity to prevent disease and prolong a high quality of life for women.
Successful management of menopausal health requires an evolving appreciation of the options that enhance quality of life and extend life expectancy. This review summarizes new and emerging information regarding menopausal health, the science of estrogen, and the relative benefits and risks of hormone replacement therapy (HRT). In particular, the role of HRT in both cardiovascular disease and breast cancer is examined in depth.
Replacement therapy can be in the form of estrogen alone (estrogen replacement therapy [ERT]) or estrogen combined with a progestin (HRT). These regimens offer differing short- and long-term benefits and risks to menopausal women. As such, a judicious and individualized approach to menopause management is essential.
Menopause At a Glance
Menopause, the occurrence of the last spontaneous menstrual period, results from the loss of ovarian function. The term "perimenopause" refers to the period before the menopause. Because menses rarely cease suddenly, perimenopause usually lasts for a number of years, during which fluctuations in menstrual cycles and hormone levels occur. During perimenopause, symptoms of estrogen loss begin to surface. Vasomotor instability in the form of hot flushes and night sweats are typically the early symptoms of estrogen loss (Table 1). These vasomotor symptoms can have psychological effects, including sleep disturbances, irritability, and mood disorders such as depression.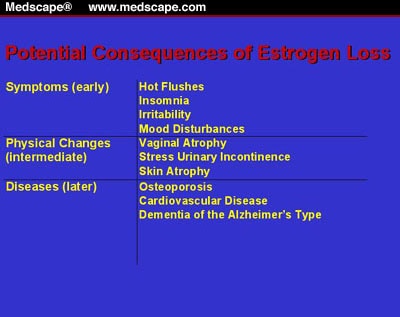 Table 1.
Long-term consequences of estrogen loss, however, are the most significant concern. Current theories indicate that estrogen has extraordinarily complex biological effects. Clinically, this translates into a variety of actions in diverse tissues. Growing evidence suggests that estrogen affects tissues of the skeletal, urogenital, digestive, cardiovascular, ocular, and nervous systems.
The Evolving Science of Estrogen
Evolving knowledge about the mechanism of action in estrogen represents an important scientific advance. Research points to wide-ranging differences between estrogens and estrogen-like compounds. The most important points are summarized as follows:
Different estrogens appear to exhibit different activities in different tissues.
Potency and specificity of a specific estrogen can vary from tissue to tissue.
Individual women respond differently to the action of estrogen in various tissues.
Until recently, it was believed that all cellular estrogen-induced activity was mediated by a single high-affinity nuclear estrogen receptor (ER), ER-alpha. Identification of a second ER, ER-beta, has significantly modified and expanded the model of estrogen action.
[1]
ER-alpha and ER-beta have different structures and are expressed at differing levels throughout tissues.
[2,3]
The presence or absence of ER determines whether a cell is estrogen-responsive.[4,5] When an ER ligand (a compound that binds to an ER) binds to an ER, the result is receptor activation. The estrogen-activated receptor complex binds to DNA and stimulates gene transcription. ER-alpha and ER-beta, however, differ in the way in which they interact with ER ligands. As such, the biologic effect of an ER-ligand in a specific tissue is determined by the relative expression of ER-alpha and ER-beta in that tissue.
Recent studies have demonstrated that the activity of an estrogen is not proportional to its ER binding affinity, as was once believed.[6,7] The activity of each estrogen must be viewed individually. In vitro studies of the components of conjugated estrogen, shown in Table 2, illustrate this point. For example, although delta 8,9-dehydroestrone has 1% of the binding affinity of estradiol, it exhibits high estrogenic activity.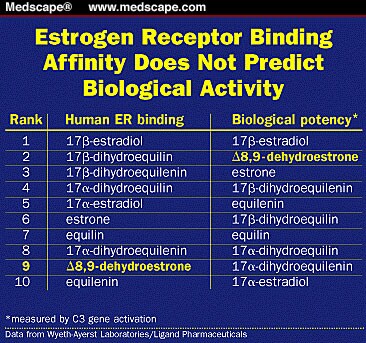 Table 2.
In addition, some estrogens function as antagonists in some tissues and as agonists in others. For example, tamoxifen, which is an antagonist in breast tissue, acts as an estrogen agonist in bone.[8,9] Thus, tamoxifen has been termed the first selective ER modulator (SERM) because it shows tissue selectivity. The SERM raloxifene functions similarly to tamoxifen in the bone, breast, and cardiovascular system but exhibits minimal agonist activity in the uterus.[10]
Varying interactions between ligands and ERs also provide that estrogens can manifest different activities in different tissues. Different ligands bind and force receptors into various shapes with distinct biologic activities. At least 3 distinct classes of antiestrogens have been identified. For example, because SERMs bind with receptors to create a shape slightly different than that of estrogen, they will have distinct effects in different tissues.[11-13]
Adapter proteins expressed in certain tissues can also modify the biologic response. Once a ligand binds to an ER, the alpha-dimer assumes a unique configuration. The dimer binds to specific adapter proteins that allow contact with the target gene control region. Adapter proteins recognize only specific ligand/receptor configurations.[14,15] More than 15 adapter proteins have been identified.
In summary, research demonstrates that estrogens exhibit different activities in different tissues for several reasons:
there are at least 2 ERs
ligands alter the binding properties of the receptor
the ligand/receptor complex is not recognized in the same way in all cells or tissues.
Short-term Benefits of Estrogen Replacement
It is well established that estrogen replacement is effective at alleviating short-term menopausal symptoms such as hot flushes, some psychological symptoms, and urogenital atrophy.
Vasomotor Symptoms. Recent data suggest that hot flushes occur in as many as 75% of women.[16] Prevalence is highest during the first 2 postmenopausal years, and episodes generally lessen with time. The precise etiology of the hot flush remains controversial, but it is associated with a drop in estrogen concentration.[17]
The challenge for physicians is in deciding which regimen is best for each individual. Simon and colleagues[18] recently compared the efficacy of estrogen-androgen therapy with estrogen-only therapy in relieving vasomotor symptoms. Study results showed that relief with the lower-dose estrogen-androgen treatment was similar to that achieved with the higher-dose estrogen-only treatment. In addition, this study suggested that 1.25 mg/day oral conjugated equine estrogen (CEE) can produce a hypoandrogenic state as a result of the reduced bioavailability of testosterone (caused by an increase in the circulating levels of steroid hormone binding globulin).
Estrogen replacement can be delivered orally or transdermally. Both means have disadvantages, including variable bioavailability, intestinal and hepatic first-pass effects (oral), and dermatologic reactions (transdermal). Many recent studies suggest that intranasal estrogen, designed to avoid these drawbacks, is as effective as oral and transdermal applications.[18-20] Studd and coworkers[20] found that intranasal E2 was significantly more effective than placebo and about as effective as oral E2 in relieving menopausal symptoms and was well tolerated. Even more recently, Mattsson and colleagues[21] conducted a double-blind, parallel-group study in which 659 postmenopausal women were assigned to receive intranasal estradiol, oral estradiol or placebo. The number and intensity of hot flushes decreased similarly in the 2 treatment groups, with less frequent mastalgia and uterine bleeding in the intranasal group and without the metabolic changes of the first-pass effect.
Urogenital Atrophy
Estrogen loss causes cytologic, bacteriologic, and physiologic urogenital changes. The vagina produces fewer secretions and the urethra is easily irritated. These changes enhance the likelihood of trauma, infection, and pain. Estrogen replacement can significantly improve these symptoms in some women.
Several studies indicate that estrogen delivery via the vaginal route is most effective for treatment of atrophic changes.[22-30] The estradiol-releasing vaginal ring is safe and effective and is associated with high compliance.[22, 24-26] The estradiol-releasing ring decreases vaginal epithelial pH, induces maturation of vaginal and urethral mucosal cells, and decreases the frequency of urinary tract infection.[25-26] In addition, some recent studies suggest that estrogen replacement may improve postmenopausal urinary incontinence.[31]
Osteoporosis, Osteoarthritis, and Tooth Loss
In industrialized western countries, more than one third of women over the age of 65 years old has problems resulting from osteopenia/osteoporosis. Bone loss itself causes most symptoms and may result in fractures or tooth loss. Estrogen deficiency plays a major role in this bone loss. Loss of trabecular bone as a result of estrogen deficiency is greater than cortical bone loss. In addition, estrogen deficiency also increases the risk of oral bone loss in some postmenopausal women.
[32]
The benefits of ERT as both prevention and treatment for bone loss are well established.
The 1998 National Osteoporosis Foundation (NOF) guidelines make recommendations for the assessment, diagnosis, prevention, and treatment of osteoporosis.[33] The 4 key factors in determining the risk of hip fracture independent of a woman's bone mineral density (BMD) are as follows:
personal history of fracture as an adult
fracture history in first-degree relative
current cigarette smoking
Low body weight (< 127 lbs)
A number of drugs, including aluminum, anticonvulsants, cigarettes, alcohol, thyroxine, glucocorticosteroid and adrenocorticotropin, gonadotropin-releasing hormone agonists, heparin, lithium, and premenopausal tamoxifen, are associated with an increased risk of osteoporosis.
The NOF guidelines recommend BMD testing for all postmenopausal women with fractures (Figure 1). In addition, BMD testing is recommended for postmenopausal women under 65 years of age with 1 or more risk factors as well as for all women over the age of 65. In addition, BMD testing may often facilitate a decision in women who are undecided about therapy.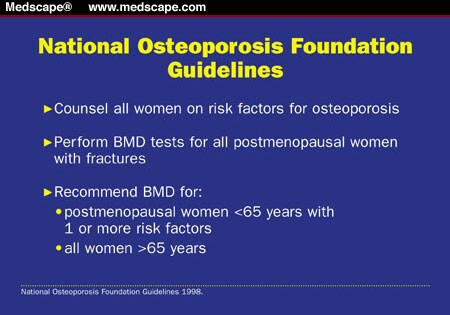 Figure 1.
Nonhormonal Interventions and Osteoporosis . There are many nonhormonal options for the prevention and treatment of osteoporosis including diet, exercise, and vitamin and mineral supplementation (Figure 2). Adequate calcium and vitamin D are important additions to treatment and prevention of osteoporosis. However, it should be noted that vitamin D supplementation alone does not appear to prevent lumbar bone loss.[34,35] The results of some small studies suggest that vitamin D plus HRT and possibly vitamin K2 may provide a better bone-sparing effect than that of HRT alone.[35-37]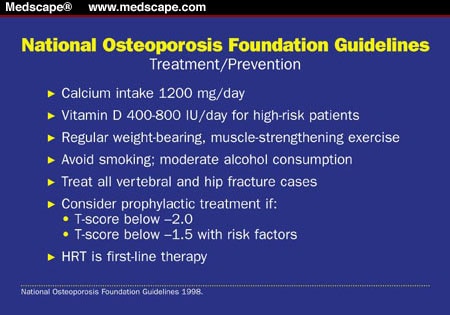 Figure 2.
Calcium supplementation is also essential and should begin before menopause. Current guidelines recommend that postmenopausal women consume at least 1000 mg of elemental calcium daily through diet and supplementation. A recent study, however, demonstrated that calcium alone was not effective in preventing BMD loss in early menopause.[38] This underscores the fact that calcium alone is not effective as primary prevention.
Antioxidants, such as vitamins E and C, have been shown to help prevent bone loss. Weight training is also beneficial for postmenopausal women. Regular exercise has been shown to increase BMD, reduce osteoporotic fracture risk, and prevent falls in older women.[39,40]
Update: HRT and Osteoporosis. Several recent studies add to the current knowledge about HRT and osteoporosis. For example, an observational study by the Swedish Hip Fracture Study group found that compared with nonusers, current estrogen users (with or without progestin) had an odds ratio (OR) of 0.35 (95 % CI: 0.24 - 0.53) for hip fracture.[41] Former users had an OR of 0.76 (95 % CI: 0.57 - 1.01).
A 5-year prospective study evaluated the relation between nonvertebral fractures and HRT in 464 postmenopausal women assigned randomly to HRT alone, HRT plus vitamin D, and placebo.[34] Compared with the placebo group (adjusted by femoral BMD and previous fractures), the estimated risk of new nonvertebral fractures for women treated with HRT alone was 0.29; with vitamin D alone, it was 0.47; and with HRT plus vitamin D, it was 0.44. The reduction in incidence was significant in women with HRT alone (P = .032) when adjusted by baseline BMD and previous fractures and when the HRT groups were pooled.
Another recent randomized, double-blind, placebo-controlled trial study evaluated the bone-sparing effect of low-dose HRT in 128 elderly women.[37] The HRT regimen included continuous therapy with CEE, 0.3 mg/d, and medroxyprogesterone, 2.5 mg/d, or placebo. Calcium and vitamin D supplementation was given to all 3 groups. During 3.5 years of observation, spinal BMD increased by 3.5% (P < .001) in an intention-to-treat analysis and by 5.2% among patients with greater than 90% adherence to therapy. Significant increases were also seen in total-body and forearm bone density (P < .01).
Combination Therapy and Alternative Agents in Osteoporosis. Data are emerging on the use of combining drugs to treat osteoporosis. Alendronate and CEE have similar effects on BMD. On average, treatment with estrogen or alendronate alone increases BMD by 4% to 5%, which translates into an improvement in T scores of only 0.3 to 0.5.
In a recent prospective, double-blind, placebo-controlled, randomized, 2-year study, the combination of these 2 agents produced greater increases in BMD than either CEE or alendronate alone (Figure 3).[42] Placebo-treated patients showed a mean 0.6% loss in lumbar spine BMD, compared with mean increases in women receiving alendronate, CEE, and alendronate plus CEE of 6.0% (P < .001 vs placebo), 6.0% (P < .001 vs placebo), and 8.3% (P < .001 vs placebo and CEE; P = .022 vs alendronate), respectively.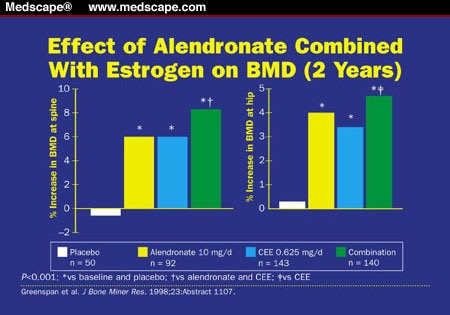 Figure 3.
Numerous studies have shown that alendronate (5 mg/day for prevention; 10 mg/day for treatment) significantly increases bone mass compared with placebo at various skeletal sites, regardless of age, race, baseline rate of bone turnover, or baseline BMD. In addition, many studies show that it reduces the rates of both vertebral fractures and nonvertebral fractures.[43] The International Committee for Osteoporosis clinical guidelines state that alendronate appears to be the most effective antifracture agent.[44] However, there are also conflicting studies. A 4-year trial reported that in postmenopausal women with low BMD and no vertebral fracture, alendronate did not significantly reduce the incidence of vertebral and peripheral fractures, except in women with low hip BMD.[45-47] Alendronate can produce gastrointestinal side effects such as pain, esophagitis, dyspepsia, and peptic ulceration.
Data continue to emerge on the role of raloxifene, an SERM in bone loss prevention and fracture risk reduction in postmenopausal women. In a blinded, placebo-controlled trial, 6828 women were randomized to raloxifene or a placebo.[48] In addition, all women received supplemental calcium and vitamin D. Risk of vertebral fracture was significantly reduced in both study groups receiving raloxifene, roughly by 50%. The risk of nonvertebral fracture, however, for raloxifene vs placebo did not differ significantly. Compared with placebo, raloxifene increased BMD in the femoral neck by approximately 2.2% and by 2.6% in the spine (P < .001 for all comparisons). This change in BMD, however, is much less than is expected with alendronate or estrogen.
Raloxifene is an effective option for the woman with an intact uterus as it does not stimulate endometrial proliferation. There is, however, an increased risk for venous thrombosis with raloxifene. Because women have different needs, however, raloxifene remains an excellent option for women at high risk for osteoporosis or with a history of breast cancer.
As noted above, estrogen loss also places postmenopausal women at increased risk for tooth loss and periodontal disease. Studies suggest that estrogen may provide protection against tooth loss and periodontal disease.[49-51] In the Nurses Health Study, for example, the relative risk (RR) of tooth loss for current estrogen users was 0.76 (95%CI:0.72-0.80). This protection disappeared with time after HRT cessation.
HRT and the Central Nervous System
ERs are abundant in the brain, and estrogen is known to play a role in many brain processes. Estrogen is important for cerebral blood flow, cerebral glucose utilization, synaptic activity, neuronal growth, the survival of cholinergic neurons, as well as such complex functions as cognition.
Alzheimer's Disease and HRT. There is evidence to suggest estrogen exerts beneficial effects on central nervous system (CNS) function. In particular, many studies have evaluated the effects of estrogen on Alzheimer's disease (AD). This disease is the leading cause of lost independence and institutionalization and is a major health issue for women.
To investigate whether estrogen during the postmenopausal period affects the risk of AD, Tang and colleagues[52] studied 1124 elderly women who were initially free of AD, Parkinson's disease (PD), and stroke. The age at onset of AD was significantly later in women who had taken estrogen than in those who did not and the relative risk of the disease was significantly reduced.
Many studies demonstrate that estrogen reduces the risk of AD. Five studies show a 40% to 60% reduction in the risk of AD in women who have taken ERT.[53-57] The reduction in risk of AD appears to be directly proportional with duration of estrogen use. It should be noted that many of these studies were small, case-control studies, and thus more likely subject to bias.
There are also numerous conflicting studies.[58] For example, Wang and colleagues[59] recently examined the effects of estrogen on AD in a double-blind, placebo-controlled trial. Fifty women with AD were randomized to either estrogen (1.25 mg/day) or a placebo. After 12 weeks of treatment, the authors found no significant differences between the groups in terms of cognitive performance, dementia severity, behavior, mood, and cerebral perfusion after 12 weeks.
Further long-term, randomized trials are needed to understand whether estrogen has a positive effect on women with AD.
Parkinson's Disease and HRT. In related studies, estrogen replacement has been shown to reduce symptoms of PD and levodopa dosage in some women.[60-63] In a recent double-blind, placebo-controlled study, 8 postmenopausal women with mild to moderate PD were randomized to 17beta-estradiol or placebo.[60] After 10 days of treatment, a significant reduction was observed in the antiparkinsonian threshold dose of levodopa. Estradiol, however, did not consistently alter dyskinesia. The data on estrogen and PD are still preliminary. There is, however, sufficient suggestion of beneficial effects to warrant further study in well-designed clinical trials.
Vision Problems and HRT
Several studies demonstrate an increased incidence of vision-threatening conditions in postmenopausal women.
[64,65]
Idiopathic full-thickness macular degeneration, for example, predominantly affects women older than 60 years. There appears to be a hormonal component, because symptoms become more severe with menopause.
Age-related macular degeneration is the leading cause of legal blindness in the United States. Some studies suggest estrogen use may reduce its incidence.[66-68]
In the Beaver Dam Eye Study, a community sample of people ages 43 to 84 years (N = 4926) were evaluated for age-related eye diseases.[69] Data on the women were examined for a possible association between estrogen and lens opacities (cataracts), which are more common in women than in men of the same age. Their results showed that current use of ERT is associated with a decreased risk of more severe nuclear sclerosis. In addition, severity decreased with increasing duration of ERT use.
HRT and Colon Cancer
Colon cancer is the third leading cause of cancer incidence and cancer deaths in women. The frequency of this cancer rises at age 40 and peaks at ages 60 to 75 years in women. The vast majority of studies on evaluating the relation between current or recent HRT use and its effect on colorectal cancer have demonstrated a decreased risk (Figure 4).
[70-78]
Two recent meta-analyses, including data from these studies, show that the risk of colon cancer is reduced by one third in current and recent users of HRT.
[79,80]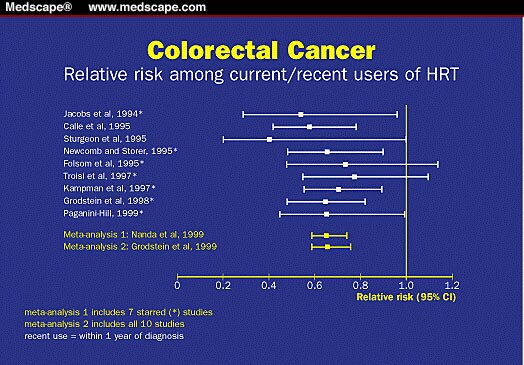 Figure 4.
HRT and Endometrial Cancer
In a population-based, case-controlled study of endometrial cancer in postmenopausal women, Weiderpass and colleagues
[81]
obtained information on HRT from 789 patients with endometrial cancer and 3368 population controls. After multivariate adjustment, oral use of estriol (1-2 mg daily) without progestin increased the relative risk of endometrial cancer and endometrial atypical hyperplasia: the ORs for at least 5 years of use compared with never-use were 3.0 (95% CI: 2.0-4.4) and 8.3 (95% CI: 4.0-17.4), respectively. The excess relative risk was lost after cessation of treatment. On the other hand, only weak associations were observed between vaginal application of low-potency estrogen formulations and relative risk of endometrial neoplasia. The authors concluded that oral, but not vaginal, treatment with low-dose estrogen increases the relative risk of endometrial neoplasia.
Burger and colleagues[82] reviewed studies of HRT in women treated for gynecologic malignancies. With respect to endometrial cancer, they concluded that HRT might be used in women after stage I or II endometrial cancer without increasing the risk for recurrence or death, although the claim can only be made on the basis of circumstantial evidence. As is the case with every woman, the decision to prescribe HRT for a person who has been treated for gynecologic cancer must be made on the basis of her medical and family history.